TV & Showbiz
Controversial BBC drama starring Steve Coogan as Jimmy Savile spotted filming in Bolton
The 55-year-old Alan Partridge star looks unrecognisable with bright blonde hair and dressed in Savile's characteristic jester costume.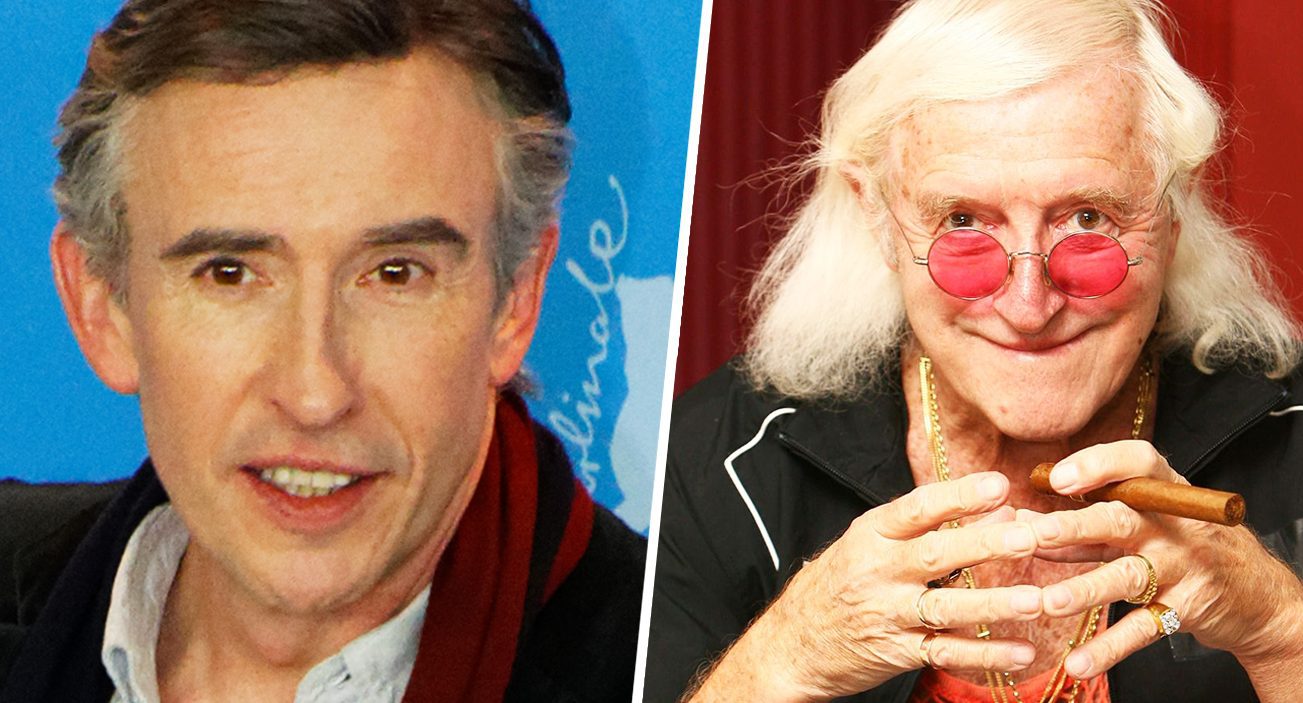 The first images of Steve Coogan's transformation into Jimmy Savile for an upcoming BBC drama have been shared online.
The eerie photos emerges as filming commences in Bolton town centre.
The 55-year-old comedian and Alan Partridge star looks unrecognisable having been transformed with bright blonde hair and spotted dressed in the disgraced TV and radio presenter's characteristic jester costume in a break during filming in Bolton.
The town centre's Le Mans Crescent – which has been a popular filming spot in recent years, with Peaky Blinders, Channel 4's It's A Sin, and the currently-airing BBC drama series Ridley Road all making use of the location – is believed to be doubling as Stoke Mandeville Hospital where Savile, who had full access to all parts of the hospital, sexually abused more than 50 people, including an eight-year-old child.
The behind-the-scenes photos of Coogan snapped through the hospital set window have been published by many media outlets, and shared to Twitter by @NewsForAllUK.
The BBC drama mini-series, titled The Reckoning, will follow Savile through his early years as a DJ in the dance halls of North England, tell the story of how he rose from a working-class background to become one of the biggest stars in television, and the years of sexual abuse and the impact it had on his victims.
As is to be expected, the upcoming show has caused a fair bit of controversy.
Production has been widely slammed, with many hitting out at the BBC in particular, as this was where Savile spent many years of his career before his death in 2011.
"To play Jimmy Savile was not a decision I took lightly. Neil McKay has written an intelligent script tackling sensitively an horrific story which – however harrowing – needs to be told," Steve Coogan said of his casting to BBC News.
The show's director Sandra Goldbacher added: "The Reckoning is a unique opportunity to give Savile's survivors, the people who inspired this project, a voice [and] I feel sure that Steve Coogan's powerful performance as Savile will create a debate around how the cult of celebrity cloaked him from scrutiny."
The production team have said that they are working closely with people whose lives were impacted by Savile to ensure that their stories are told with sensitivity and respect.
Featured Image – Wikimedia Commons | YouTube