TV & Showbiz
Diane Morgan delivers hilarious and heartwarming speech as she accepts honorary doctorate from the University of Bolton
It's no surprise, really — Philomena Cunk is one the greatest academics this world has ever seen.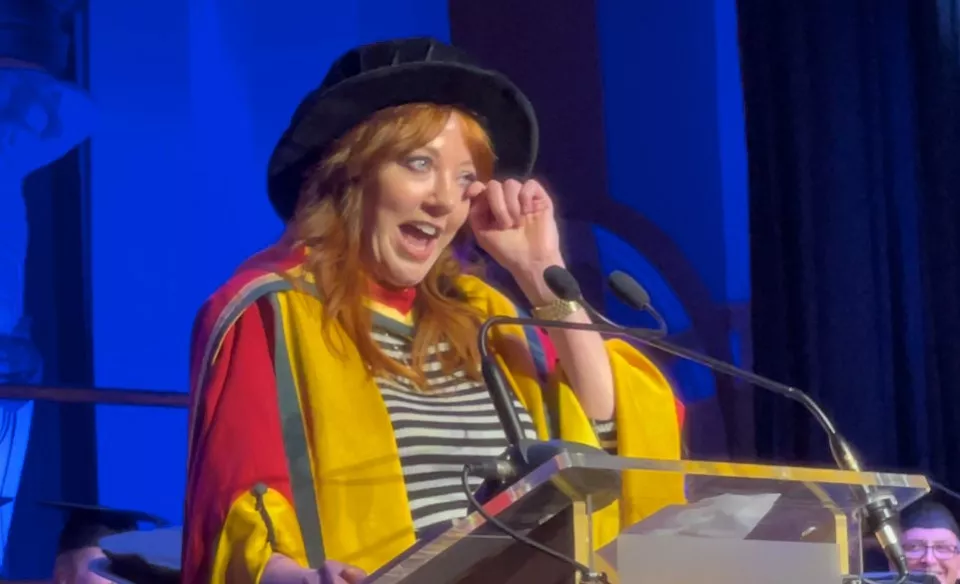 Local actor, comedian and writer, Diane Morgan, recently accepted an honorary doctorate from the University of Bolton and her acceptance speech is as heartwarming as it is funny.
Born in Farnworth, Bolton, Diane Morgan has gone on to become a well-known stand-up comedian, actor, TV presenter and writer, among many other things over the past two decades.
Probably best known for her appearances on numerous UK panel shows, Netflix's Afterlife and as her Bafta-nominated character Philomena Cunk, she is, without doubt, one of the most prominent comics in the country — a fact which was acknowledged by her local university in a ceremony last week.
Presented with the degree during the institution's final day of annual graduation ceremonies last week, the Cunk on Earth star gave a short, sweet and humorous speech to her fellow graduates, joking, "I should not be here".
Starting by saying, "There's been a dreadful mistake", Morgan was happy to self-deprecate and she accepted the surprise honour, adding, "I got a G in maths. A G!"
Nevertheless, she expressed her gratitude to the university for their "generosity" and went on to shed further light on her long and winding road to success.
Regaling the audience with the story of how she "bumped into Maxine Peake who is also a Boltonian, when [they] were both auditioning to get into Manchester Polytechnic for the acting course" over 30 years ago, she explained that "neither of [them] got in" and it took "three long years" to be accepted.
In the time between bumping into Peake outside Bolton Town Hall and getting into drama school, she detailed her various jobs, from "packing worming tablets, selling fish and chips" and even spending time working as "an Avon Lady". She also confessed she was sacked from almost all of them.
Read more:
Quipping that she lost one job at Bolton's local Last Drop Village tea rooms because she didn't know what a cream tea was, she went on to add: "I am here to tell you that anything is possible. If you've got passion and you work hard, you can do absolutely anything.
"Everyone told me that I wouldn't be able to make it as an actress, that it was an impossible dream, that you'd need maths. You don't need maths; you don't need maths for anything… Take that Rishi Sunak!"
Having cracked up the crowd throughout, that final comment — a dig at the Prime Minister's remarks that this country suffers due to an "anti-maths mindset" — was met with rapturous applause in a room filled with people who appreciate the arts just as much as they do numbers and the hard sciences.
We pass on our congratulations to Diane Morgan on her honorary doctorate and well-deserved moment of recognition, and hope her story can serve as a reminder that you can do whatever you put your mind to. We didn't do well in maths either — suck it, Rishi.
For all the latest news, events and goings on in Greater Manchester, subscribe to The Manc newsletter HERE.
Featured Image — mia (via TikTok)/Netflix/University of Bolton