TV & Showbiz
Cocaine Bear: the 'ridiculous' new film that premiered with a perfect Rotten Tomatoes score
Kind of like Winnie the Pooh but, you know — this geezer got into a different kind of honey pot...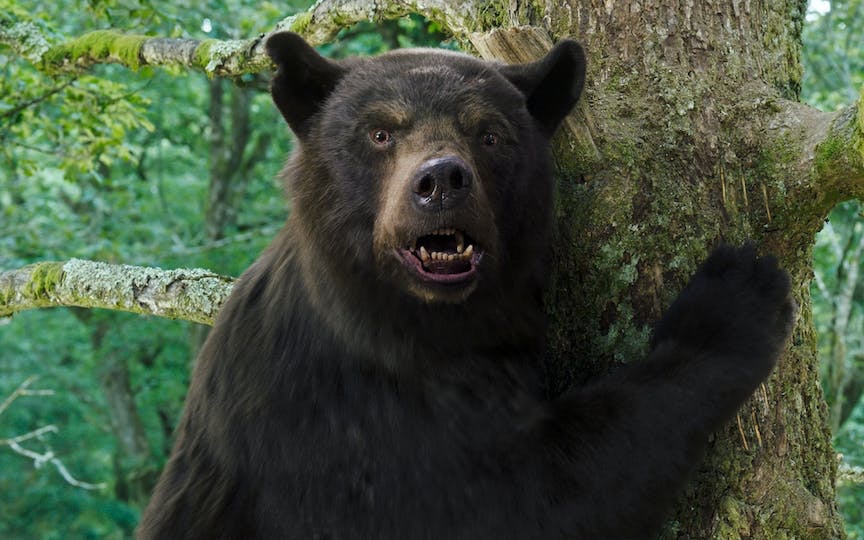 The most talked about movie of the year, Cocaine Bear might be the best-worst idea for a film we've ever heard. Nevertheless, people have been obsessed with it ever since it was announced.
As it turns out, that obsession may have been warranted as, according to Rotten Tomatoes, Cocaine Bear might actually be… good?
Now, we know there are a lot of 'good-bad' films within this prevailing sci-fi horror-comedy genre that so many people like to spend their free time watching: Sharknado, Zombeavers, Sharktopus; Piranhaconda, Sand Sharks, Arachnoquake, Dinoshark—basically, there's usually a shark involved.
However, Cocaine Bear in particular has managed to capture the imagination of millions and while many might have been preparing to like this film for all the wrong reasons, now the reviews are in it seems as though people are just generally enjoying it for the "hilarious", "outrageous", "ridiculous" romp that it is.
As well as some pretty good scores from outlets across the board, Cocaine Bear not only managed to debut as 'certified fresh' on Rotten Tomatoes but after the first batch of user reviews and even half a dozen critics, it actually landed a perfect score of 100%.
Obviously, this wasn't going to last forever and this thing isn't Citizen Kane; it soon slipped down to 88% and now, after a little over a week since its release, it has ultimately levelled out at 74% in terms of audience score and a 69% on the official Tomatometer — because of course it had to be that number.
With a rather impressive cast behind it, including Keri Russell, O'Shea Jackson Jr, Alden Ehrenreich and even Ray Liotta's final performance before his tragic passing, not to mention comedy veteran Elizabeth Banks' third feature film as director, there was plenty of added appeal to grab a ticket.
But perhaps one of the main selling points behind this crazy cocaine-fuelled comedy is that it's actually based on a true story. Sort of…
That's right, this unbelievable script is loosely inspired by the bizarre 1985 story of a 175lb black bear that stumbled across a sweet-smelling suspicious package in the woods after a smuggler's shipment was dropped mid-flight as his plane ultimately crashed into a mountain in North Carolina.
The pilot himself was found dead in someone's back garden in Knoxville, Texas after presumably jumping from the plane but as for the 70 pounds of cocaine — estimated to be worth around $15 million — they landed in a forest in Georgia where the bear just so happened to come across the drug-filled duffel bag.
After apparently consuming around $2m worth of the contents, the animal was dubbed 'Pablo Eskobear' and his unbelievable tale went on to become a Hollywood movie script.
Safe to say, people were sold on it the second they heard the words 'cocaine' and 'bear' in the same sentence.
So, the question is, how accurate is this utterly batsh*t story? Well, not very, but by all accounts, it is a hilarious, action-packed depiction of an extremely unlikely situation.
The actual story of poor Pablo was that after ingesting seriously excessive amounts of cocaine, he sadly overdosed shortly after and did not go on to take part in a murderous rampage like in the movie.
When you strip back the undeniably comedic element behind this utterly nonsensical film, it's actually quite a sad story that ended up claiming the life of an innocent animal.
In fact, Banks herself said that despite seeing the obvious potential in the script, she said she felt sorry for the bear who wound up as "collateral damage in the crazy war on drugs" and wanted to tell a more "uplifting version of that story". For her, the bear isn't the villain: he's the hero (at least in spirit, anyway).
Read more:
Regardless of the vague air of controversy behind it, Cocaine Bear has gone on to become a box office hit, grossing over $38m worldwide in its first week alone, all through sheerly embracing its own ridiculousness.
The film is doing so well in fact that it's spawned its own line of highly collectable Funko POP! bobbleheads and there's already talk of sequels and spin-offs, with Banks reportedly more than willing to take on what many people have labelled as a spiritual successor in the making, 'Cocaine Shark'.
Two words: yes and yes.
All we know is that with more than a few fans of these trashy, 'so bad their good' films in our office, we'll definitely be giving it a watch.
As for what we make of it, we'll get back to you.
For all the latest news, events and goings on in Greater Manchester, subscribe to The Manc newsletter HERE.
Featured Image — Universal Pictures