What's On
A timeline of free daily activities for kids by celebs during UK lockdown
[siteorigin_widget class="SiteOrigin_Widget_PanelImage_Widget"][/siteorigin_widget]
[siteorigin_widget class="SiteOrigin_Widget_PanelText_Widget"][/siteorigin_widget]
What's On
Canal-side Manchester hotel named one Britain's best just one year after opening

Daisy Jackson
One of Manchester's newest hotels has been named as one of the best in Britain just a year after it opened.
Leven, a canal-side spot in the Gay Village, only opened its doors for the first time last December and has already gained itself some serious recognition.
The Times has published its list of The Best Places to Stay 2023, and Leven was the only Manchester hotel to get the nod from the prestigious guide.
Leven took over a former 20th century warehouse on the corner of Canal Street and Chorlton Street last year and turned it into a stylish, luxurious hotel.
Each room includes a free pair of limited-edition branded socks as well as a breakfast smoothie, plus bespoke furniture, natural mattresses and fast wifi.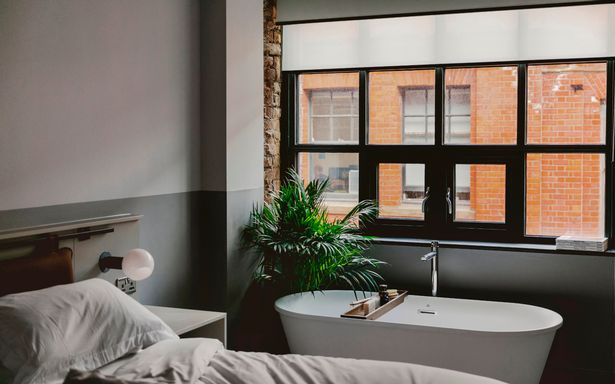 Its penthouse suite sprawls over two floors, complete with sitting room, large kitchen and dining area, plus a terrace, two bedrooms, and three bathrooms.
Just this week, Leven unveiled plans for an ambitious art deco restaurant on its ground floor.
Maya will take over three floors, from a canal-side brasserie space serving modern-European classics to a lower ground-floor, elegantly designed dining room that will centre around an ingredient-led, locally sourced and seasonal menu.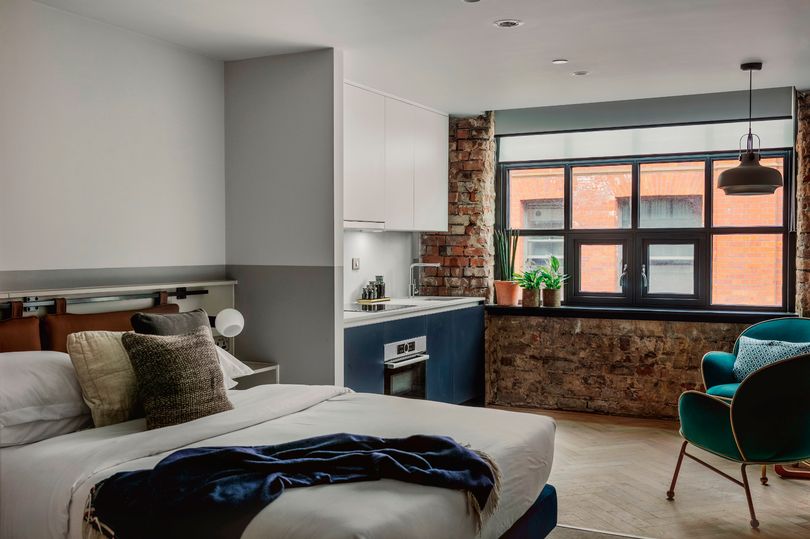 In its review, The Times said: "The Leven is housed in a handsome red-brick, former cotton warehouse on Canal Street. It's now a mix of an intimate boutique hotel and an aparthotel, with an industrial design that provides personality without fuss.
"This is the spot for the kind of person who might book an Airbnb but wants the services, style and location of a hotel. Many of the rooms come with handy kitchens and are great value for money if you want an apartment without the price tag.
"Bedrooms come with tone-on-tone greys, black Crittall windows, exposed brick, green velvet sofas and blue velvet bed frames."
Read more
The paper was particularly impressed with Leven's location, writing: "This is where the Leven really scores. It's on pedestrianised Canal Street in Manchester, alongside the Rochdale canal, lined with alfresco tables and chairs and strung with overhead lightbulbs — great for a glass of wine and people-watching.
"The Gay Village has a thriving LGBTQ+ community, where Saturday night spills over into Sunday afternoon.
"The Leven looks over the canal towards Kampus — a cluster of newly renovated warehouses on cobbled streets that's home to indie outlets such as Pollen sourdough bakery, Beeswing wine bar, Kampus General Store, and Madre for tacos and tequila."
You can find out more about Leven and book a room here.
Featured image: Mariell Lind Hansen
What's On
Celine Dion diagnosed with 'very rare' incurable stiff-person syndrome and reschedules Manchester gigs again

Daisy Jackson
Celine Dion has been forced to cancel and postpone another batch of tour dates after being diagnosed with an incurable neurological disease.
The Canadian superstar updated fans on her health with a video message posted on her social media platforms today.
She has already had to move her two concerts at Manchester's AO Arena several times, once for Covid restrictions and again for her health.
She last moved the dates because she was 'experiencing spasms' and had planned to be back on stage on 5 and 6 April.
But in her video message, a visibly emotional Celine told fans she was too ill to perform for the time being.
Her Manchester shows have now been moved to 9 and 10 April, 2024.
She revealed that she's been diagnosed with the 'very rare' stiff person syndrome, which she says only affects one in a million people.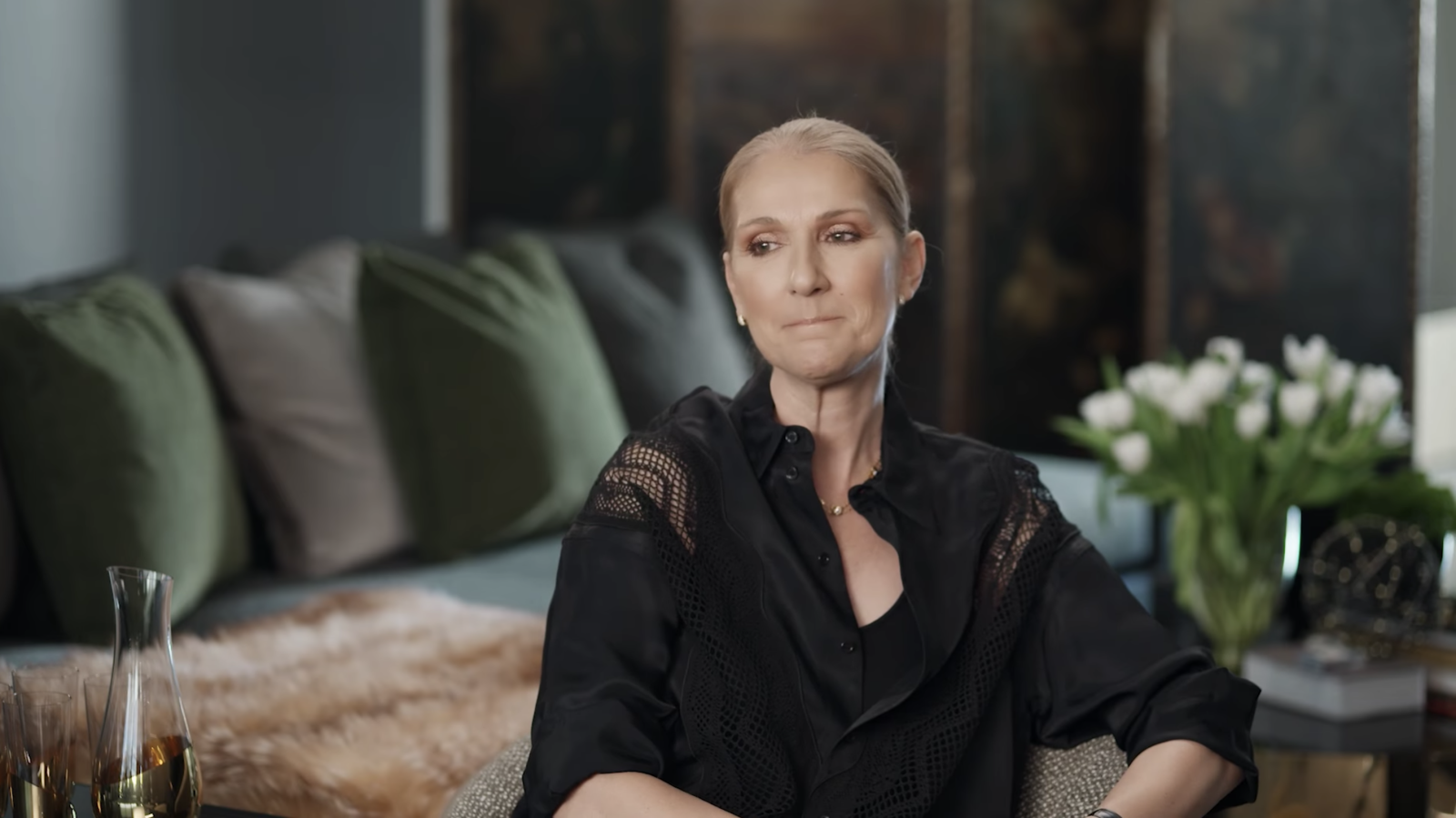 The condition has caused her to experience spasms, which have affected everything from her ability to walk to her vocal chords.
She said: "As you know, I've always been an open book and I wasn't ready to say anything before, but I'm ready now.
"I've been dealing with problems with my health for a long time and it's been really difficult for me to face these challenges and to talk about everything that I've been going through.
"Recently I've been diagnosed with a very rare neurological disorder called stiff person syndrome, which effects something like one in a million people.
"While we are still learning about this rare condition we now know this is what's been causing all of the spasms I've been having.
"Unfortunately these spasms affect every aspect of my daily life, sometimes causing difficulties when I walk and not allowing me to use my vocal chords to sing the way I'm used to."
Celine continued: "I have a great team of doctors working alongside me to help me get better, and my precious children who are supporting me and giving me hope," she said. "I'm working hard with my sports medicine therapist every day to build back my strength and my ability to perform again, but I have to admit it's been a struggle.
"All I know is singing, it's what I've done all my life and it's what I love to do the most. I miss you so much, I miss seeing all of you, being on the stage, performing for you. I always give 100% when I do my shows but my condition is not allowing me to give you that right now."
The star added: "This is my focus and I'm doing everything that I can to recuperate. I want to thank you so much for your encouraging wishes of love and support on my social media. This means a lot to me. Take care of yourselves, be well. I love you guys so much. And I really hope I can see you again real soon."
Featured image: Instagram, @celinedion