What's On
Manchester's Giant Santa has returned at last – here's where to find him
Welcome home, Giant Santa.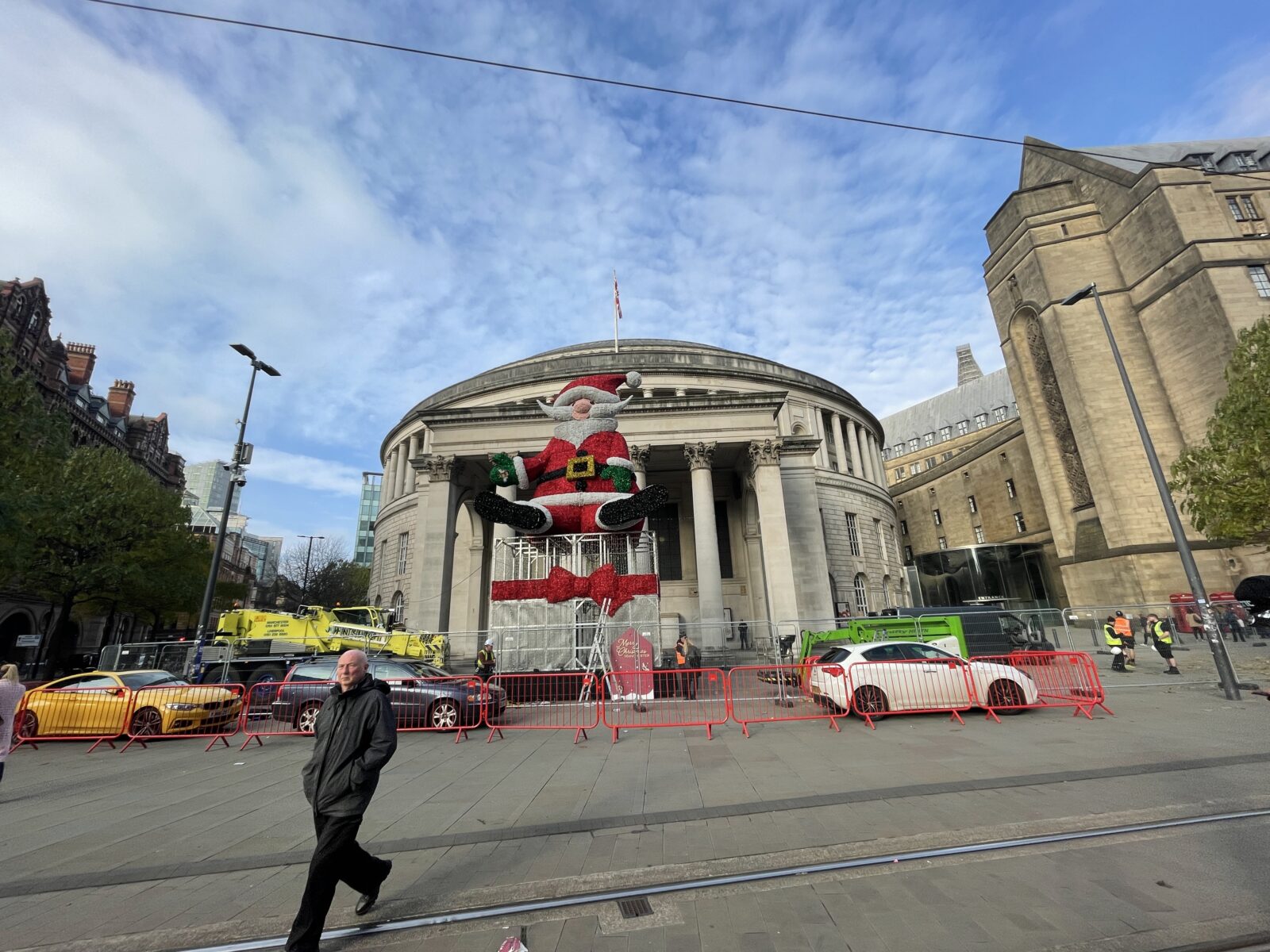 Manchester's most gigantic festive mascot has reappeared in the city centre at long last, watching out over the seasonal celebrations.
Our Giant Santa is back in his rightful place, standing at a whopping 12 metres tall and weighing in at more than 2.3 tonnes.
Perched atop his big twinkly present plinth, Giant Santa was the replacement to Manchester's beloved long-time mascot, Zippy, who retired in 2019.
For another year, our big festive pal is in position outside the Central Library at St Peter's Square, rather than in Albert Square which is still undergoing renovation works.
Commuters this morning noticed the moustachioed Santa being installed bit-by-bit by a crane.
He's powered by low-energy LED lightbulbs and will make up part of the trail of light sculptures in place until after the New Year.
The trail of giant baubles, stars and bees will go from Winter Gardens (Piccadilly Gardens), to Cathedral Gardens, Exchange Square, Brazennose Street, Albert Square and St Peter's Square.
Giant Santa's one of the main attractions once again, but there are some new things to discover along the trail too.
New this year is a section of the light trail that was designed by the city's young people – those who won a competition have had their designed turned into lights by Blachere Illuminations.
Read more
Councillor Pat Karney, Manchester City Council's Christmas Spokesperson, said: "It's snow joke that Santa Claus is back in the capital of Christmas for the holiday season. No one does Christmas like Manchester and Santa knows that!
"This year there are lots of Christmas lights- dotted around the city centre. Perfect for those wanting to make some festive Christmas memories.
"I'd encourage everyone to get down to the city centre to see our Giant Santa and our wonderful illuminations. If you miss them, yule be sorry."
Featured image: The Manc Group