Audio
Legendary Salford poet John Cooper Clarke awarded freedom of his home city
The 74-year-old was chosen for the honour in recognition of his contributions to the world of poetry and the arts.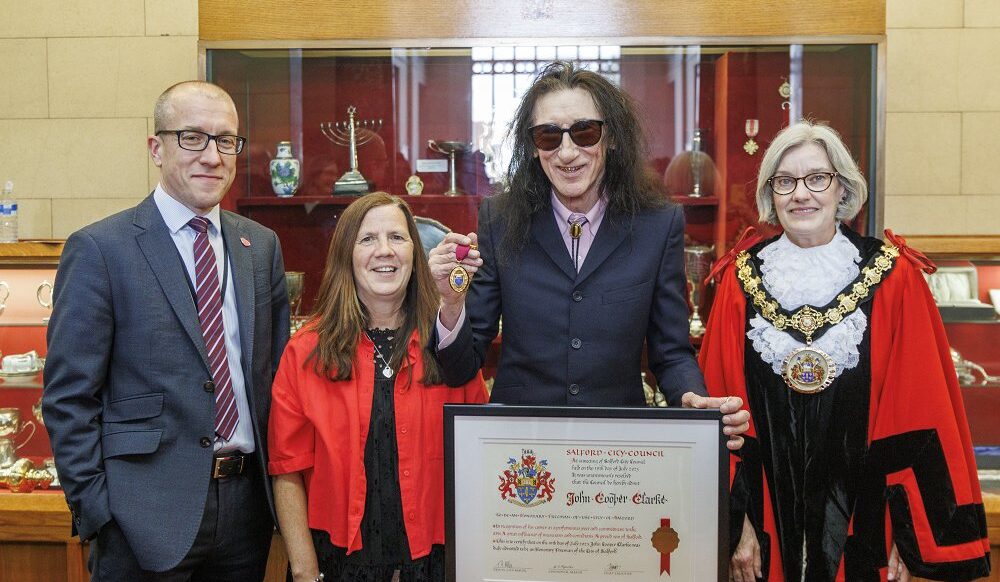 Legendary Salford poet and musician Dr John Cooper Clarke has been awarded the freedom of his home city.
With a stellar and multi-award-winning career spanning nearly four decades, and after firmly cementing his place as a true local legend within Greater Manchester culture, it was only right that the 74-year-old Salfordian be given the prestigious honour of the Freedom of the City of Salford.
Cooper Clarke has been chosen for the honour in recognition of "his contributions to the world of poetry" and for his "unwavering commitment to the arts".
If you're unfamiliar with his work, Cooper Clarke was born in Salford and grew up in the Higher Broughton area, where he became interested in poetry after being inspired by his English teacher, and eventually went on to become an affectionately-named 'punk poet' in the late 1970s.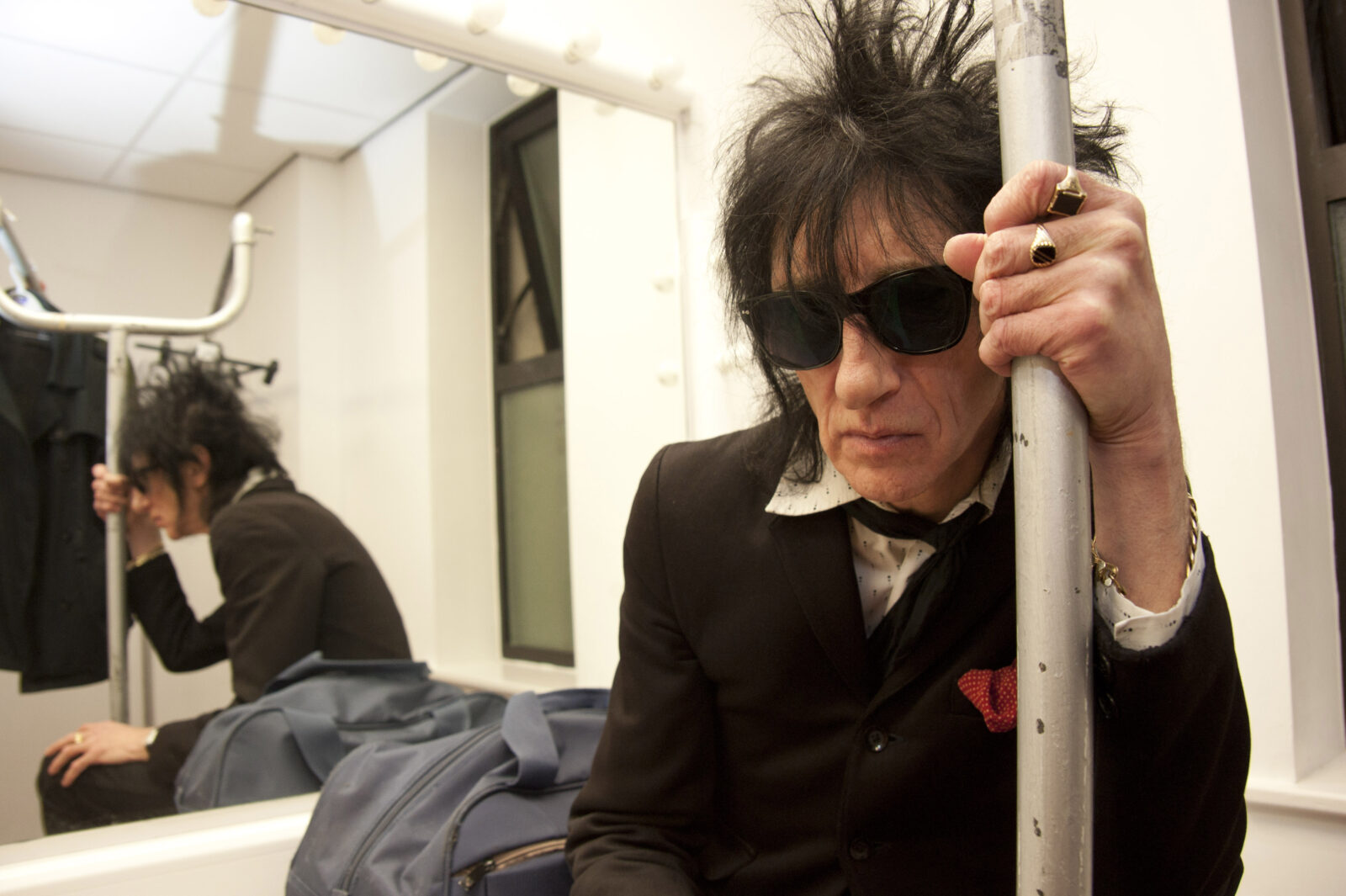 Since then, he has toured with major musical artists throughout his career – including Sex Pistols, The Fall, Joy Division, and New Order – and has undoubtedly captivated audiences worldwide with his distinct vocal style, wit, and social commentary.
Sir Paul McCartney, Peter Hook, and Alex Turner from the Arctic Monkeys – who notably covered one of his most famous pieces, I Wanna Be Yours, on their 2013 album AM – are just some of the famous names Cooper Clarke is able to name as fans and admirers of his work.
Cooper Clarke was presented with the honour of the Freedom of the city of Salford during a meeting with Ceremonial Mayor of Salford, Cllr Gina Reynolds, and other members of Salford City Council yesterday (19 July) in the council chamber.
It was also attended by local councillors and officers, and of course, Cooper Clarke's friends and family.
The legendary poet described his latest honour as "wonderful", adding in his acceptance speech: "I've circumnavigated the globe 10, count em 10 times, reciting poetry all the way and coming back here to my home town of Salford is always a treat…
"But this one, wow – thank you everyone."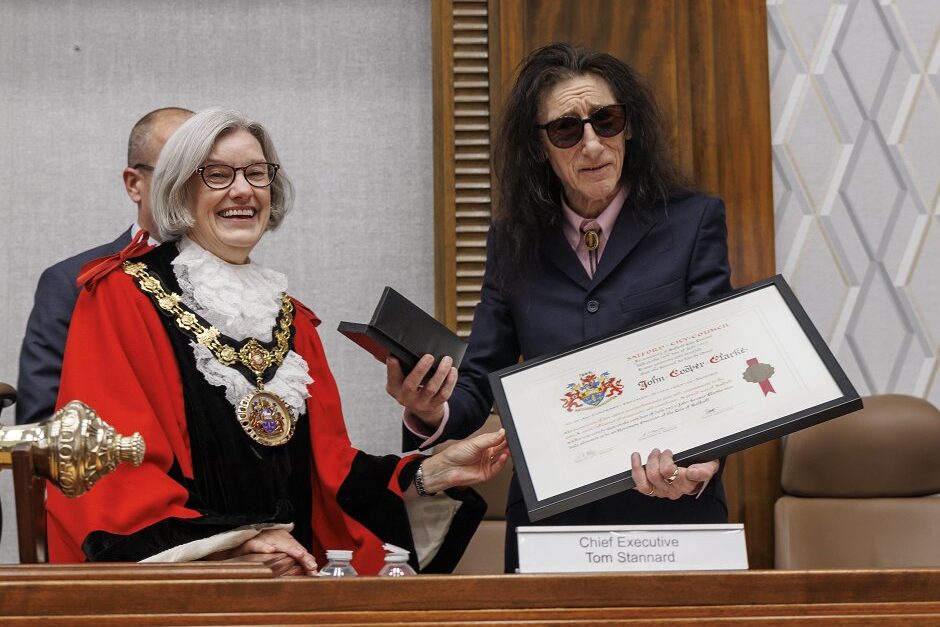 Ceremonial Mayor Gina Reynolds described Cooper Clarke as "an icon not only in Salford but throughout the country".
She added: "His remarkable literary contributions, infused with his unique Salfordian charm, have made a lasting impact on the world of poetry and beyond [and] he has inspired countless artists, musicians and writers with his incredible talent and has given a voice to the working-class spirit within his verses.
"John's words have inspired us, challenged us and been a motivator for change."
Read more:
Cooper Clarke joins an impressive notable figures who have been honoured with Freedom of the City of Salford for their "outstanding achievements and contributions to society" – including Nelson Mandela, Harold Riley, LS Lowry, and Alan Henning.
Featured Image – Salford City Council