City Centre
This is what AI thinks Manchester will look like in future — and Piccadilly Gardens is stunning
Well, it looks like it got the rain right, at least.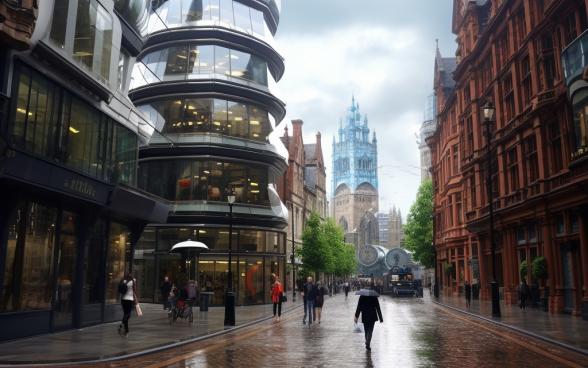 Technology never fails to amaze us and if you've been paying attention to AI and what people are doing with it for fun at the moment, you might have seen people asking it what cities will look like in the future — naturally, Manchester is one of them.
While there are obviously endless different uses for artifical intelligence, not to mention multiple different automated programmes that can create these kind of automated impressions of the future, the People's Postcode Lottery chose the 'Midjourney' AI tool to create theirs.
The lottery company and UK charity asked the AI system to re-imagine the city centre in 100 years time and, we'll tell you now, the Manchester of the future is looking pretty cool.
Here's what it reckons Oxford Road and what we can only guess is a generic street in town will look like in the year 2123:
Like any of these programmes, Midjourney harvests existing data and images surrounding Manchester and what the city centre looks like at present when calculating how it could be transformed in the years to come — it certainly looks like it got the rain-soaked streets right in the left image, anyway.
Commenting on the AI images and the potential the city already has, Chris Lawson — Managing Director and Senior Designer at CK Architectural — said: "With a good vertical emphasis, [Manchester] can add retail space, a great outlook for the future, and not rely on larger floor areas.
"Introducing a section of greenery could give a level of decarbonisation and biodiversity too. This is something that I am a firm believer will have to lead future architecture in cityscapes just like this one, so I do understand the AI inspiration here. Within the Oxford Road image, the elongated glass and mirrored structures do feel like a step into the future.
"The curved mirrors would help bring sunlight and energy to typically shaded places in cities… This is of course not to forget reflecting and enhancing the exciting historic buildings that make the fabric of this city. Creating a solid harmony of modern and traditional architecture will be the future of most major UK cities." All that being said, Piccadilly Gardens seems like a bit of a stretch.
Read more:
Obviously, it goes without saying that there isn't much substance to these images beyond how much stock you put in AI and it's creative capacities, but you have to admit the architectural imagery it has come up with seems fairly plausible.
This isn't the first time we've seen technology and art come together to give us an idea of the what our city might look like in years to come, of course, with a digital artist doing something similar with Adobe earlier this year.
In fact, even looking at how the Manchester skyline has developed over the years is something we find mind-blowing enough, and if there ever-growing sea of cranes and soon-to-be-skyscrapers is anything to go by, some parts of town could look unrecognisable in the next few years.
For all the latest news, events and goings on in Greater Manchester, subscribe to The Manc newsletter HERE.
Featured Image — Supplied/Midjourney