Eats
The nation's first Christmas dinner in a cup will be sold at Boxing Day football match
Move over Bovril.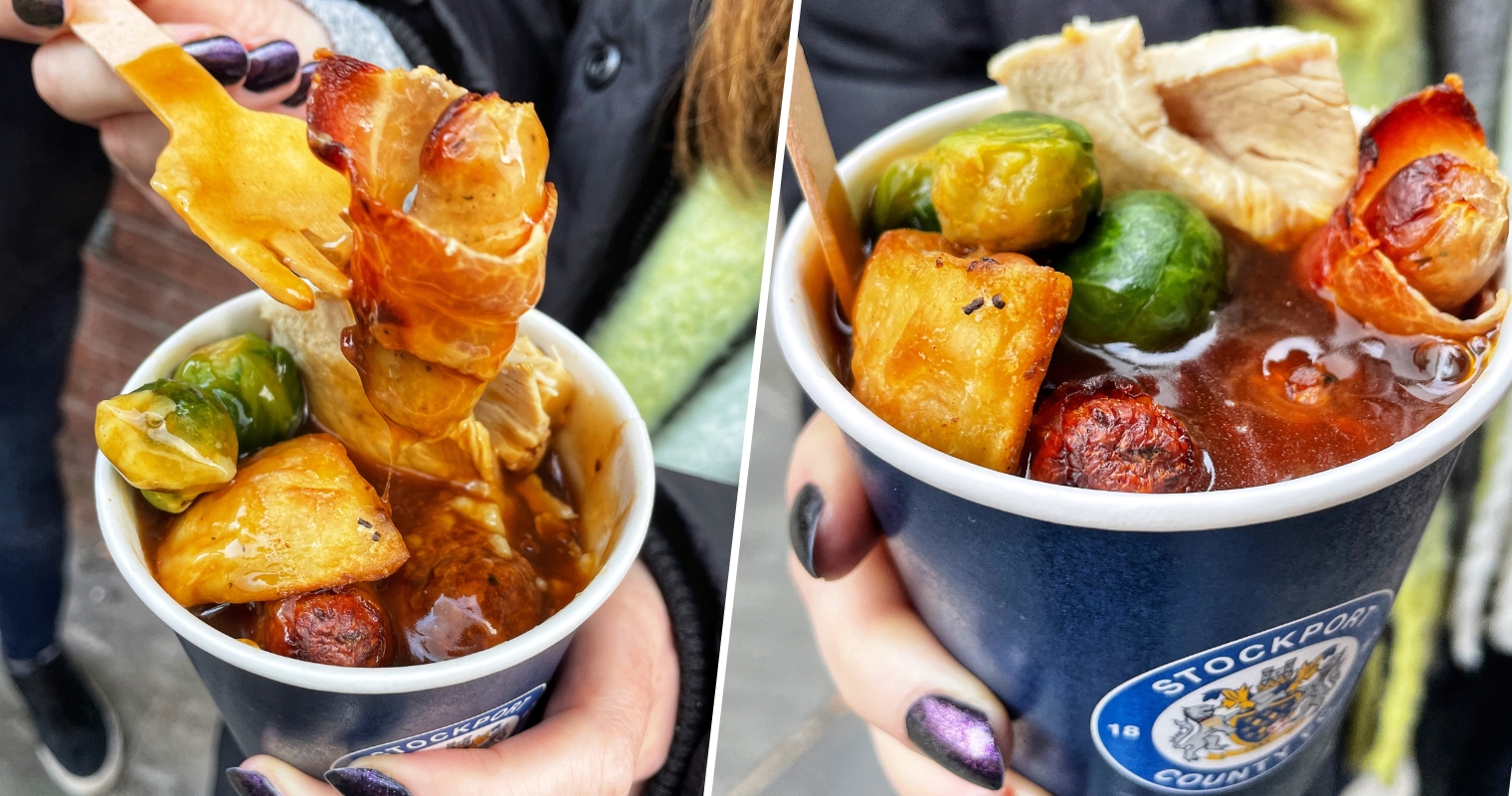 It's finally time for Mancs to get their hands on the greatest footy scran of all time – a Christmas dinner in a cup.
Stockport County FC first unveiled the incredible handheld meal earlier this month (and sent us one to try out) and planned to debut it at the club's clash with Gillingham.
But that big freeze saw the game called off, and our dreams of eating a Christmas dinner in a cup at Edgeley Park were crushed.
The good news is that they're bringing it back for the Boxing Day match, so all those thousands of people who lost their minds at our pictures can finally try it for themselves.
Stockport County say their creation is set to rival Bovril, adding a festive twist to the warming drink.
Each cup features all the usual trimmings, from roast turkey to pigs in blankets to stuffing to Brussels sprouts, nestled in a bed of mash and swimming in gorgeous meaty gravy.
And it's priced at just £4.50 which is an absolute bargain whatever way you look at it.
The Christmas dinner in a cup was dreamt up to coincide with and celebrate the launch of the County Courtyard fan zone.
Jonathan Vaughan, CEO for Stockport County said: "Fusing Christmas traditions with winter football traditions, Christmas dinner in a cup has been designed to bring some festive cheer to Edgeley Park, adding to County's already electric atmosphere.
"Created especially for our fixture against Gillingham, fans visiting the County Courtyard will be able to tuck into delicious festive warmer pre-match, getting them ready to cheer on some tasty action on the pitch."
One person tweeted us to say: "I suddenly have an urge to visit Stockport."
Read more
Another wrote: "Sorry whoever is infront of me cos im gonna end up throwing this 30 feet informt of me wen madden scores his third tmrw."
Someone else said on TikTok: "Saw this on Facebook but to see a video of it makes me want one even more. Great idea and great value. Well done Stockport."
Featured image: The Manc Group