Eats
Here's 12 of the best 'at home' DIY food kits to see us through Tier 3
DIY kits are the revolutionary new wave dining experiences born out of lockdown.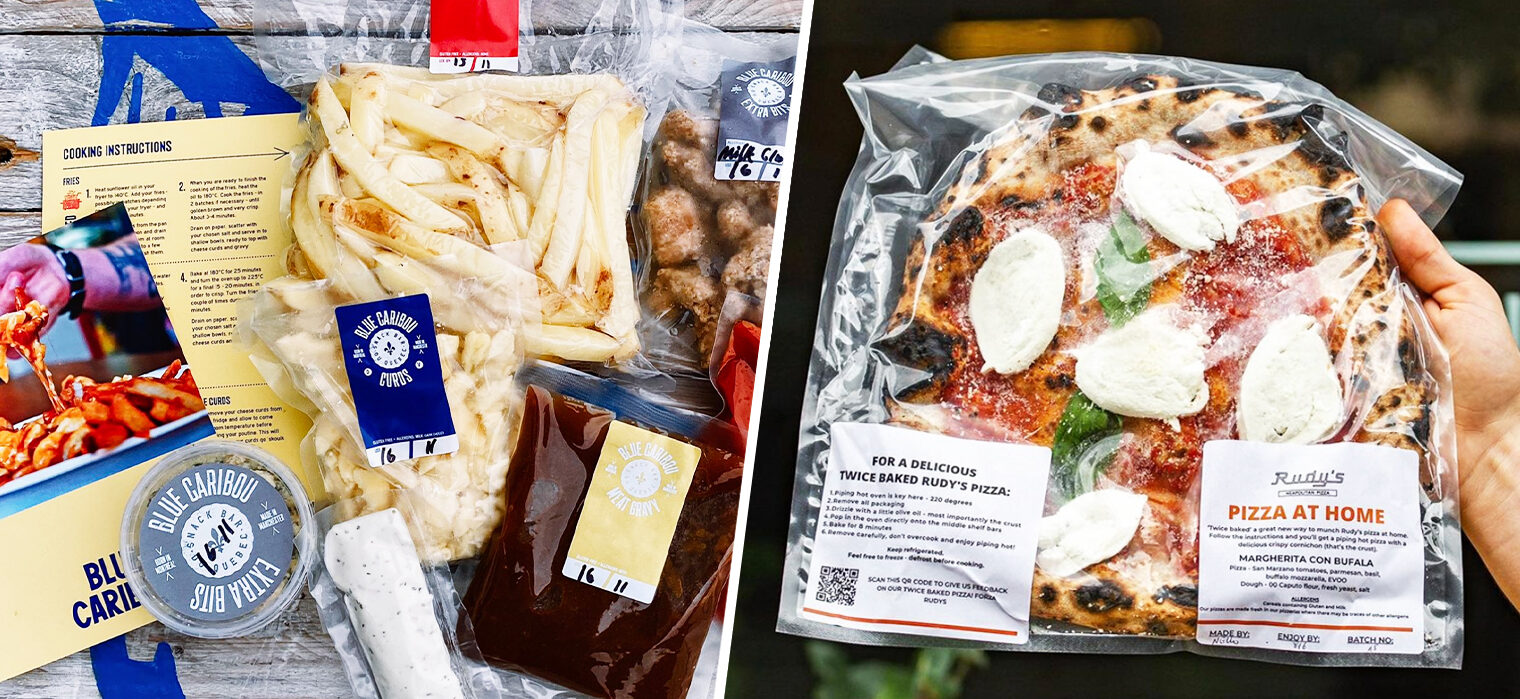 There's no denying that 'at home' kits have really taken off this year, and of course, there's no denying why that is the case either.
They are the revolutionary new wave dining experiences born out of lockdown.
'At home' / D.I.Y kits allow you to become the chef of your favourite restaurant from the comfort of your own home, with the ingredients for delicacies you know and love delivered right to your front door.
And just as England gears up to exit out of its second national lockdown, and Greater Manchester prepares to enter back into Tier 3 restrictions from the start of next month, the good news is that 'at home' / D.I.Y kits will be sticking around for a little bit longer.
There's plenty to get yourself stuck into, so we've rounded up 12 of the best on the market.
___
Home by Nico
£60
From the creators of Six by Nico – with a popular Manchester city centre home on Spring Gardens – Home by Nico menus will deliver a restaurant experience that "gives you a taste of culinary delights from around the world in the comfort of your own home".
Now delivering right across the UK, Home by Nico will explore 12 new cities with 12 exciting menus, so you can expect your home dining experience to be "rich in culture and filled with explosive flavours".
Up until 31st December 2020, you can experience the Taste of Bangkok for just £60 (x2 people).
You can find more information and grab your Home by Nico – Taste of Bangkok experience via the Six by Nico website here.
___
Northern Soul G.I.Y Kits
£30
Northern Soul is "grilled cheese done right".
And with the help of the the home-cooked ingredients G.I.Y (Grill It Yourself) kits, isolating Mancs can whip up sandwiches in their own homes and it's already proved to be a dizzying success – even scooping the award for 'Best DIY Home Kit' at the 2020 Manchester Food & Drink Awards.
Christmas is on the horizon too, so Northern Soul has tweaked the kits to give them some fresh, festive flavour.
As well as the star-of-the-show Crimbo Dinner Pack, there are four other fantastic-sounding festive options, including the Signature Soul Secret Santa, the Classic Flava kit (including roast ham & pickle; caramelised red onion chutney; and 'Mac Attack' w/ Jalapenos), the Get Your Goat (with goat's cheese and chutney), and The New Yorker (with pastrami, pickles and pretzels).
You can find more information and grab your G.I.Y Kits via the Northern Soul website here.
___
Wood at Home
£95 – £110
Wood at Home's Five Course Tasting Menu is your chance to treat yourself, your family, or a loved one to indulgent night and have a bit of fun plating these beautiful, tasty and carefully-created tasting dishes.
A part of the Autumn offering, the Five Course Tasting Menu for Two – Standard, Vegetarian or Vegan – boxes comprise all the pre-prepared ingredients needed and full cooking and plating instructions, and wines recommended by Wood's sommelier can also be ordered, as can the hugely-popular cheese board.
Everything you need for a very special 'night out' meal at home from £95.
Menus must be ordered for delivery on Friday or Saturday.
Collection is available from the Manchester city centre restaurant on Saturdays only between 9 – 11am.
You can find more information and grab your Five Course Tasting Menu experience via the Wood Restaurants website here.
___
Rudy's Bake at Home
£6.90
Rudy's Bake at Home pizzas have been hugely popular during lockdown.
Believing Neapolitan pizza to be the best in the world, Rudy's dough is made fresh daily using Caputo 00 flour – which has been left to ferment for at least 24 hours – alongside the best quality ingredients imported twice a week from Naples, including San Marzano tomatoes grown on fields next to Mount Vesuvius, and Fior di Latte mozzarella.
So of course, the Bake at Home pizzas are hand-made by pizzaiolos using those same fresh ingredients as the award-winning restaurant uses in the pizzeria itself.
The Bake at Home range is available at all Rudy's restaurants for nationwide delivery, or click and collect.
You can grab yours via the Rudy's website here.
___
Grandad's Sausages DIY Boxes
£14 & £20
Grandad's Sausages' DIY Boxes are currently available for delivery all around Manchester.
As well as the Classic Edition – which features everything you could wish for from a hot dog box – the real stand-out is the Breakfast Burger Boxes, made up of brioche buns, Olde English sausage meat, Bury black pudding, eggs, cheese, ketchup, mustard, and streaky bacon.
Each box contains enough for two 'big boy' burgers or four singles, and they are now available to order directly for home delivery on Fridays and Saturdays.
You can find more information and grab your DIY Boxes here.
___
Blue Caribou Poutine Kits
£11 – £15
There's currently
Classic Poutine Kit (Meat / Vegetarian / Vegan) – £11
General Tao Poutine Kit – £15
Doner Poutine Kit (Vegetarian / Vegan) – £15
Korean Poutine Kit (Vegetarian / Vegan) – £15
Reuben Poutine Kit – £15
Buffalo Poutine Kit – £15
There's also plenty of sides and extras available to order for delivery as well if you fancy taking your homemade poutine to the next level, and delivery is free if you spend over £35.
You can grab your Poutine Kits from the Blue Caribou website here.
___
Proove @Home
£9.50
Proove @Home kits have everything you need to recreate the restaurant's signature pizzas yourself.
Each kit comes with a part-cooked Proove pizza dough (vegan and gluten-free options available), and a mix-and-match selection of any toppings from the menu – featuring the finest and freshest ingredients – all boxed up in a convenient little parcel ready to pop in the fridge and cook later.
They couldn't be more perfect for cosy nights in, weekend treats, or pizza-making fun with the kids.
All you need to do is order online for home delivery, or pick up your Proove @Home pizza parcel from one of the restaurants local to you.
You can grab yours via the Proove Pizza website here.
___
KALA Bistro at Home
£95 – £368
The new Elite at Home offering by Elite Bistros – home to Manchester's KALA Bistro – gives you the chance to enjoy the fine dining experience without leaving the house.
All you'll need to do is provide the atmosphere and charming conversation, and KALA will deliver the food – which will have been prepared for you to finish simply in your own kitchen – right to your front door. Drinks can also be arranged, and plus, they have made some recommendations for wines that work well with particular dishes too.
You really won't be spoilt for choice with this menu, and you can bag yourself free delivery on all orders over £80 too.
Find more information and order your Elite at Home Bistro dining experience here.
___
Hawksmoor at Home
£105 – £165
Hawksmoor has been working hard since lockdown began to bring its unique dining experience into homes nationwide with the Hawksmoor at Home series, offering easy-to-make meal kits and some of its most popular cocktails mixed by bartenders, along with special edition spirits and different products added regularly.
The original Steak Fillet Box (£125) has proven so popular over the last few months that now, Hawksmoor has taken a Christmas twist.
The Festive Box is now available to order, and inside is everything you need for an easy-to-prepare steak night.
Pre-dinner cocktails are followed by smoked salmon and champagne, fillet steaks with sides, Hawksmoor beers and a bottle of Pulenta Malbec, and finished off with a huge sticky toffee pudding to share. It also comes with easy-to-follow instructions and a bar code to access videos by Matt Brown – Executive Group Chef at Hawksmoor – for anyone needing extra help with cooking.
The Hawksmoor at Home – The Festive Box starts at £105, and you can grab yours here.
___
Pizza Punks
Bake at Home, PUNK DoughIY & Xmas Pizza Party in a Box
£16 – £29
Creating your own sourdough pizza at home has never been easier with one of Pizza Punks' home-cooking kits.
The Bake at Home and PUNK DoughIY kits includes two 48-hour proofed sourdough bases, San Marzano tomato, basil & garlic Sauce, and mozzarella, plus you can then choose four from the 25 toppings on offer, including some festive specials like pigs in candied blankets, garlic and sage turkey with Stuffing, and shredded sprouts with bacon.
There's loads of other wacky toppings too, from onion bhajis to chocolate pulled beef.
The Xmas Party Starter kit also features some killer in-house cocktails, as well as Christmas playlist that can be downloaded straight from the pizza box to create the ultimate at home party.
You can grab yours for home delivery nationwide via the Pizza Punks website here.
___
Maray at Home
£45
Maray at Home allows you to experience authentic Middle Eastern-inspired food "from your gaff".
The Maray at Home Kits are suitable for carnivores, veggies and vegans and generously serve two people, and you can select either Lamb Kofta with Cherry Puree and Green Tahini. or Aubergine Shawarma with Tahini and Date Balsamic Glaze as the main component of your box.
All boxes come with pepper cashews, whipped goat's cheese with pickled grapes & breadsticks (muhammara for vegan option), hummus and flatbreads, pickles, falafel sharer kit, and tabbouleh fattoush.
Finished off with a lemon & lime posset with candied pistachios (chocolate tart for vegan option).
You can grab yours via the Maray website here.
___
Burger & Lobster DIY Kits
£22 – £48
The Burger & Lobster DIY Kits provide you with fresh restaurant produce delivered straight to your door, alongside all the trimmings to cook to perfection at home.
You can become "the master of your own kitchen" using the step-by-step video tutorials that will guide you through getting the best out of your kit, and to accompany these videos, Burger & Lobster has also put together a collection of cooking instruction cards, which you can download and print off to make life even easier.
Both Lobster Roll and Original Burger kits are available from £22 for nationwide home delivery.
Get your hands on them via the Burger & Lobster website here.