Eats
I tried the giant £20 Manchester 'mystery' sandwich weighing over 1kg
Filled to the brim with quality imported Italian ingredients, Ad Maiora's giant three layer XXL schiacciata will set you back a pretty penny - but it's so worth it.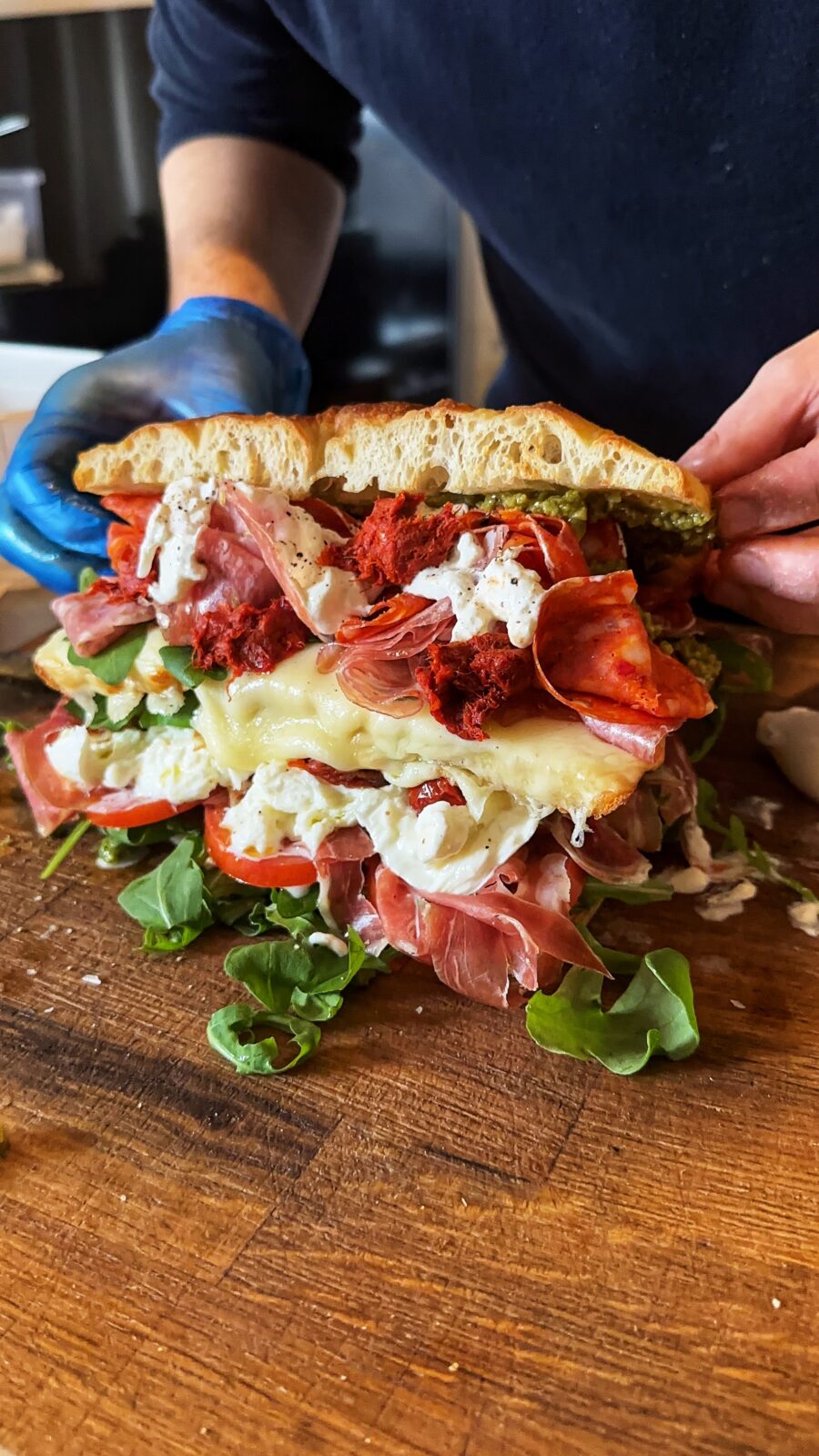 Over in the backstreets of Manchester's Northern Quarter, there's a couple slinging out some of the best sandwiches in the city from their tiny third-floor flat.
Sardinian couple Daniela Steri and Enrico Pinna have been at it for eight months now after quitting their jobs to become full-time sandwich dealers at the end of 2022.
Before long, they'll be moving on to new beginnings as they take over a kitchen at the new Kargo food hall inside Salford's Central Bay – and Daniella, for one, is very excited to be getting their home back.
Currently, it's piled high with meat slicers and dough mixers, giant bags of flour, multiple ovens, and metal shelves stacked with all the Italian ingredients your heart could possibly desire, with a forgotten flat-screen TV sulking in the back corner.
As of 14 August, though, they're expecting to be officially up and running on the Quayside – moving into the new development from Liverpool's successful GPO and Sheffield's award-winning Cutlery Works alongside the likes of Bab K, Tang Hot Pot, Rio Mex and Nila's Burmese Kitchen.
Ahead of the move, the pair has just released a new, updated sandwich menu that sees all of their old favourites sit side by side with some new additions – not least, an epic three-layer giant XXL 'Misteriosa' schiacciata which I quickly nickname 'the Beast.'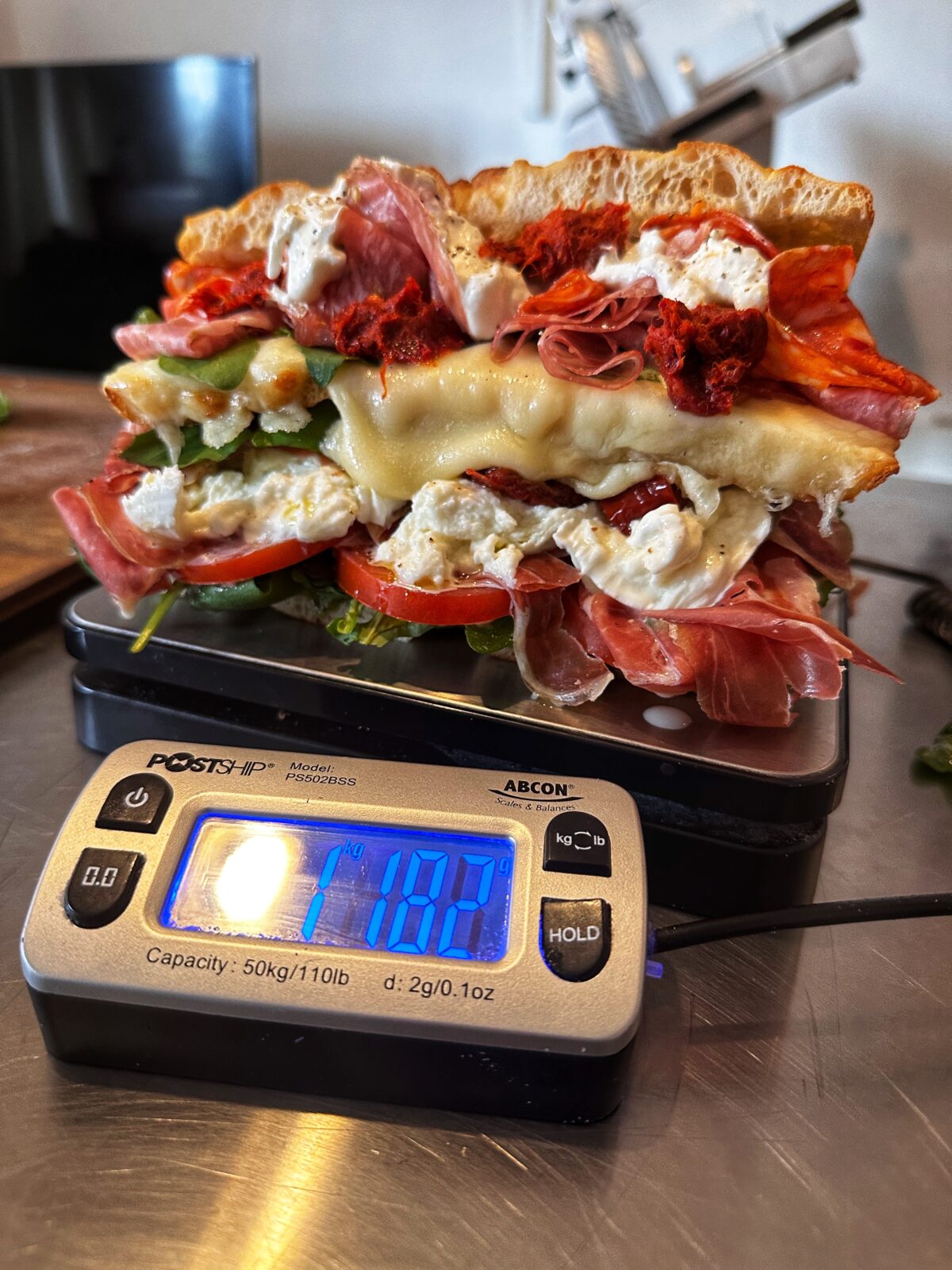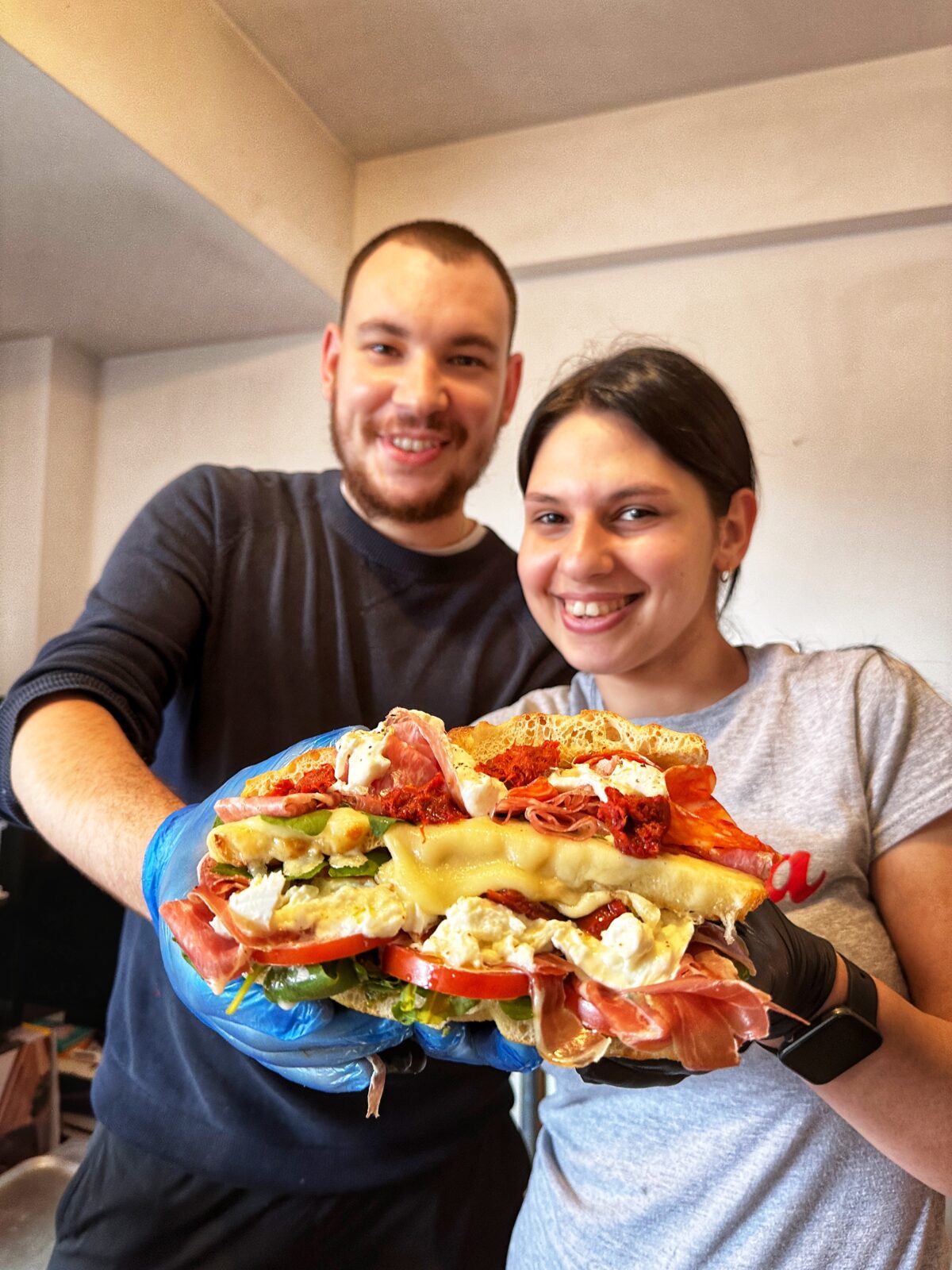 Weighing in at over 1kg, it takes more than ten minutes to prepare from scratch using giant slabs of schiacciata bread baked freshly by the couple that morning.
Excitedly, I watch Eric lovingly prepare it: toasting three layers of bread, layering basil pesto onto one, and melting scamorza on another. In case I don't go on about it enough I bloody love a sandwich, and I'm yet to find a bigger one than this.
Read more: Meet the couple who quit their jobs to sell sandwiches from their Northern Quarter flat
Onto "the first floor" (as he calls it) go a host of traditional Italian flavours: rocket, freshly cracked black pepper, thick slices of beef tomato, followed by fistfuls of prosciutto, an entire ball of buffalo mozzarella, sundried tomatoes, olive oil, basil, and more black pepper.
Next comes the 'spicy floor', starting with a slice of toasted bread simply oozing with melted cheese that drips all down the front.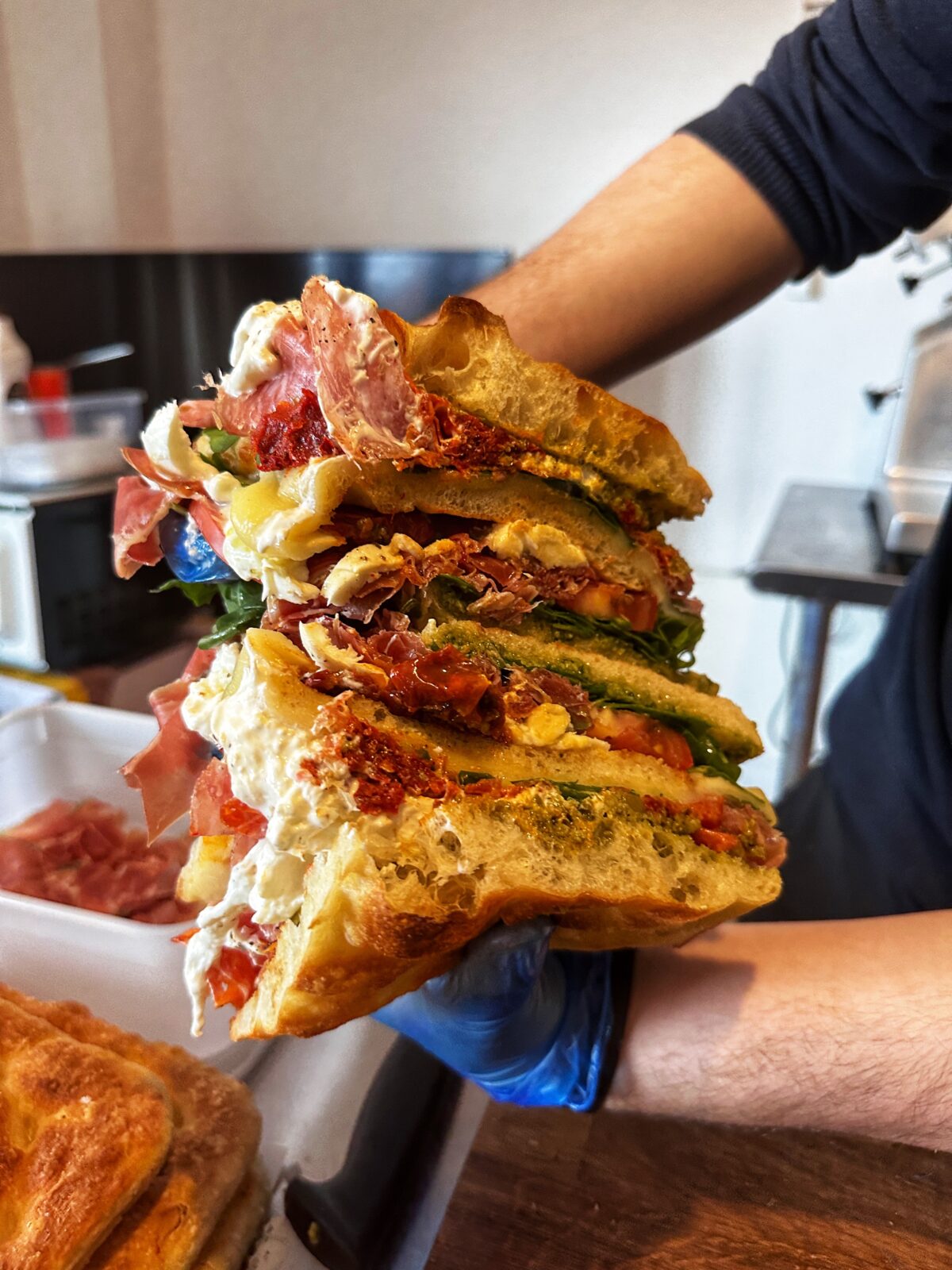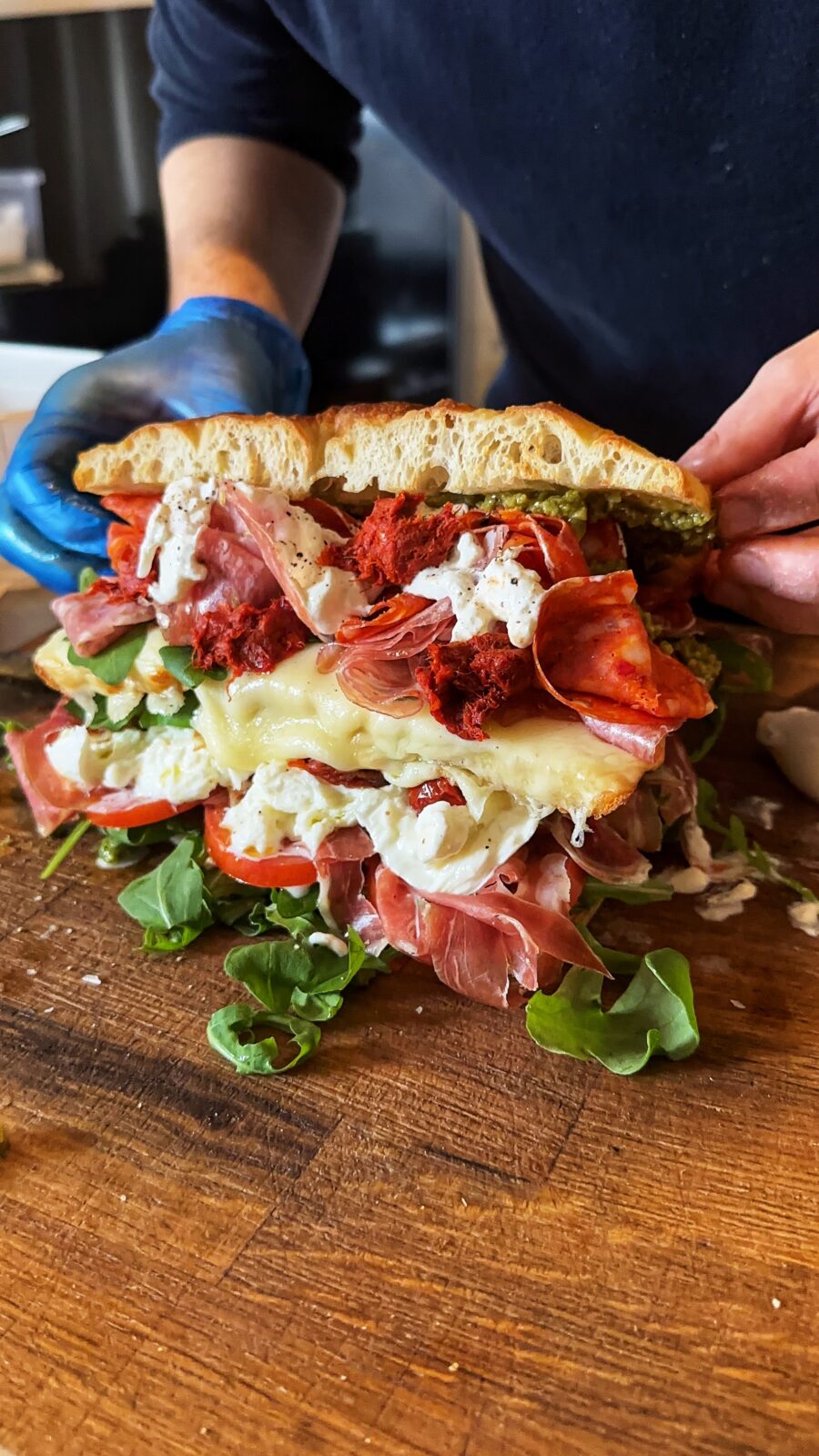 Stacked above is more rocket, several handfuls of fennel salami, salami Napoli (sliced freshly in front of us. no less), spicy nduja, more mozzarella, and then to finish more pesto on the top.
A beast it really is. Of course, it's worth noting that you don't get the same every time. Quite the opposite, really. It's a sort of 'pot luck' sandwich, as the name 'Misteriosa' implies – with every order set to be different from the last.
Daniela explains: "Yes so it's like chef's idea, maybe two people are going to order the same but we cannot give the same. It's a mystery so everybody gets something different.
"I never mention on the box because it's a mystery, they're going to open the box and say 'oh, what is going on?'"
The inspiration, I'm told, comes purely from customer demand. "People ask can you put more salami, more … so, they want [it] bigger," says Eric.
"They want you to mix everything from salami to parma ham, everything mixed," agrees Daniella.
Read more: Manchester bar launches £2.99 cost of living menu to 'put two fingers up'
To me, this sounds like the order of an indecisive person who feels that everything looks so good, they want it all in one – and I say as much. Not that I'm complaining. If it wasn't for those people, the XXL Misteriosa may never have come into being and I would not be fidgeting excitedly on their sofa preparing to eat it.
But whilst I spend the next half an hour running around town trying to cram a 1.1kg butty into my mouth, apparently there are others in Manchester who find even the regular-sized schiacciata too large for them.
Keen to cater to all stomach sizes (as well as those, like me, with eyes sometimes bigger than their bellies), Ad Maiora's legendary sandwiches can now also be ordered to share with the option to choose two different flavours from the menu for £6.50.
Elsewhere, further new additions include the A Tutto Tonno – an 'Italian twist' on the English staple with mozzarella replacing our traditional melted cheddar – and the Selvatica with olive tapenade, grilled courgettes and artichoke.
Read more: You can eat a four-course luxury meal while riding a steam train through Greater Manchester
For butty lovers in the Northern Quarter, there is little competition. Fat Pat's, famed for their Philly Cheesesteaks and meatball subs, does a very strong trade on the other side of town but the two menus are absolute chalk and cheese.
These are classic Italian sandwiches served on crisp focaccia-style bread, built from scratch in a house where Amato – the incredibly Italian wholesaler behind Piccadilly – is king. Long live Ad Maiora.
Featured image – The Manc Eats