Eats
Where to find the best vegan food in Manchester
From fine dining to gastro pub settings and a whole host of 'dirty' junk food, Manchester's a great place to be a vegan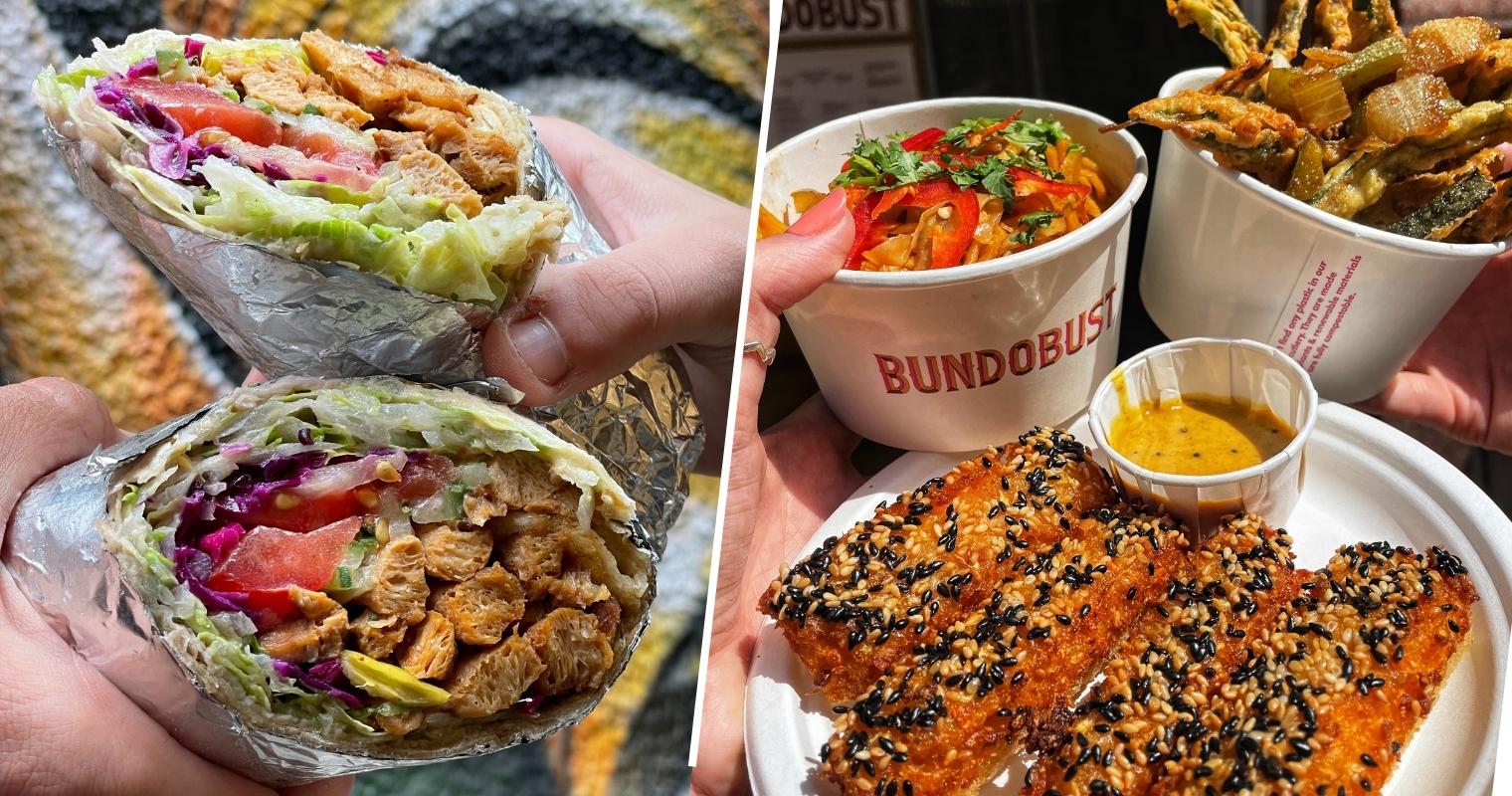 Manchester is one of the best places in the country to eat out if you're trying to go vegan – be that for veganuary, or any other time of the year.
The city has some great dedicated vegan restaurants, serving up everything ranging from 'dirty' plant-based fast food to sit-down gastropub and fine dining-style restaurants, giving those exploring a plant-powered diet a real boost when it comes to eating out.
But beyond that, you can even trust that most restaurants in the city – even if they're not designed for vegans – will have one or two suitable dishes on their menu.
Truth be told, the time has just gone when you can get away with not catering to this ever-growing group of foodies. Or it has in Manchester at least.
If you're thinking of exploring a more plant-led diet, or simply curious as to where you might find the best vegetarian and vegan restaurants in Manchester, keep reading – we've pulled out a list of must-visit places for you to try below.
The Allotment
This award-winning plant-based restaurant takes vegan food in Manchester and reimagines it in a gastro-pub style, with dishes like 'fish and chips' (made with battered banana blossom), miso and maple hassleback squash, and chestnut bourginion on its main menu.
Elsewhere, you'll find small plates like king oyster mushroom scallops, almond satay tofu skewers, cauliflower wings and smoked carrot salmon. At lunchtime Monday to Friday, you can get two dishes and a hot drink for £10 here too – bargain.
Four Side Vegan Pizza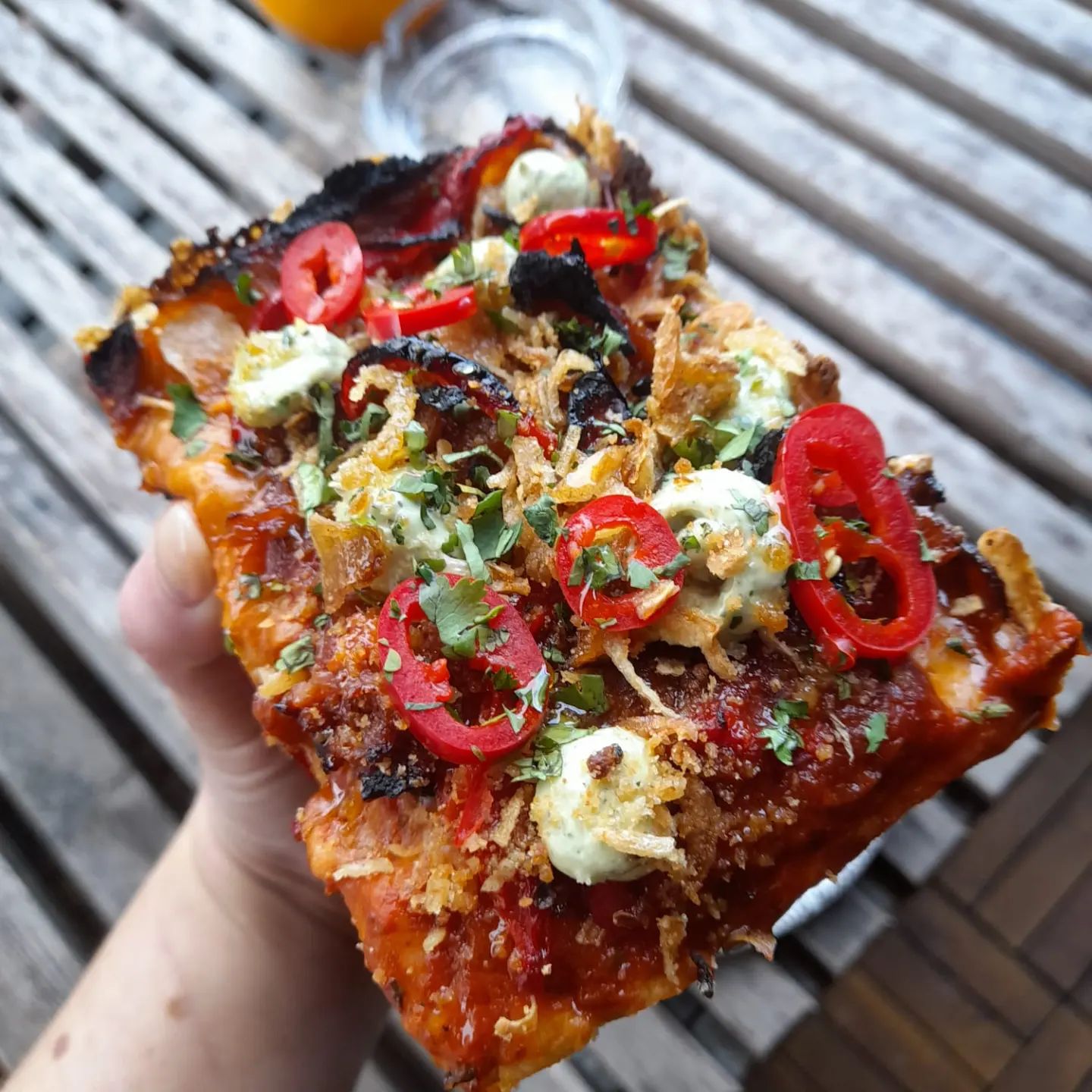 This Detroit-style vegan pizzeria in Cheetham HIll was one of the summer's biggest lockdown success stories – especially where Manchester's vegans were concerned. There's so much to try here but the garlic miso butter dough balls and inventive pizza menu have won Four Side some serious fans in the city already.
Vegan Shack
Another opening to land in Manchester during lockdown, Vegan Shack can be found on Piccadilly Gardens slinging out shakes, burgers, vegan fried chicken wraps and more.
What The Pitta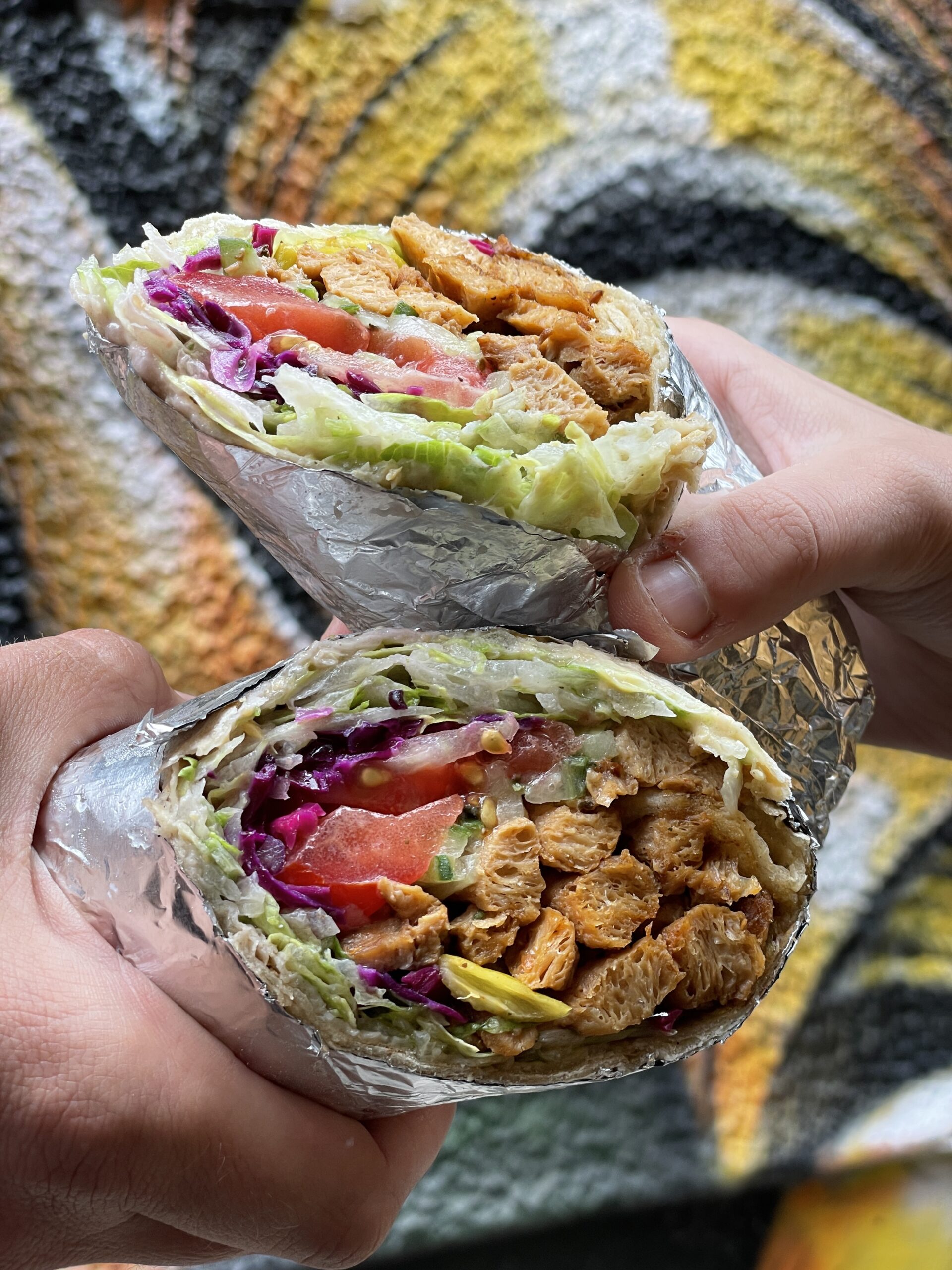 Known for its amazing vegan kebabs and soft-serve ice cream, What The Pitta has been a resounding hit with local vegans since landing in Manchester at the end of 2020.
Having been voted the UK's number one kebab at the British Takeaway Awards last year, it's not too surprising. The classic vegan doner recipe was, apparently, passed down to WTP's co-founder Roj Gul by his uncle in Berlin and is considered to be one of the elites.
This & That cafe
Manchester's favourite curry house and the home of the rice and three, This & That has been a favourite since it was established in 1984. Here you'll find a huge choice of delicious curries, with loads of vegan options to boot.
Tucked away on Soap street, you might have a job to find it – but once you do, trust us, you'll never look back. It's a local treasure for a reason.
Doner Summer
The go-to in Yorkshire for a vegan junk food treat, Doner Summer is also now in Manchester – serving up its dirty vegan takes on takeaway classics like the Berlin doner kebab and fried chick'n and chips to the masses.
Buttermylk fried chick'n can be ordered with a variety of different sauces – think buffalo hot, salt and pepper, Korean BBQ, hon'y butter and more – whilst kebabs come with three different variations. As for sides, opt for garlic or regular fries, with a host of homemade sauces available to buy on top.
Lotus Plant Based Kitchen
First established in 2014 as a vegetarian Chinese takeaway, Lotus now caters to vegans with an extensive selection of plant-based dishes – following a rebrand that saw them search high and low to source vegan alternatives used in traditional Chinese and Asian recipes.
No dishes contain onion or garlic here due to the owner's personal beliefs, but the food here is still packed with flavour. From an extensive dim sum list, to sharing platters, rice and noodle dishes and a large list of mains including hot pots, sweet and sour, kung po and more, the menu is, quite frankly, huge.
Herbivorous
First beginning life as a street food trader, Herbivorous now has its own restaurant down in Withington selling all the naughty vegan food you could possibly want.
Bundobust
Bundobust has long been a favourite on Piccadilly Gardens since it came across from Leeds, but now diners have two options in Manchester after the eatery opened a second site on Oxford road earlier this year.
Inside the new restaurant, they've also installed a brewery, bringing over Dan Hocking from the Netherlands' Uiltje Brewing Company to take the reigns and create them some tasty, unique beers. Head down for Indian street food favourites like okra fries, vada pavs, bundo chaat, paneer tikka and more.
Purezza
First originating in Brighton, Purezza has been packed non-stop since opening its doors inside the former Dough site in Manchester's Northern Quarter earlier this year.
The all-vegan pizzeria is known for its mozzarella, created for Purezza in a laboratory by scientists over a number of years. The special recipe is apparently unrivalled, so if you're a vegan who still loves cheese you simply have to put this one on your list.
The Eighth Day
An institution on the Oxford road, The Eight Day cafe has long been a haven for non-meat eaters – way before the rest of the city caught on.
Upstairs, the shop sells a range of different food products, perfect if you're doing veganuary and need to top up your store cupboards with new ingredients. Whilst downstairs, a cafe serves hearty soups, sandwiches and more – all catered to vegetarian and vegan diets.
Go Falafel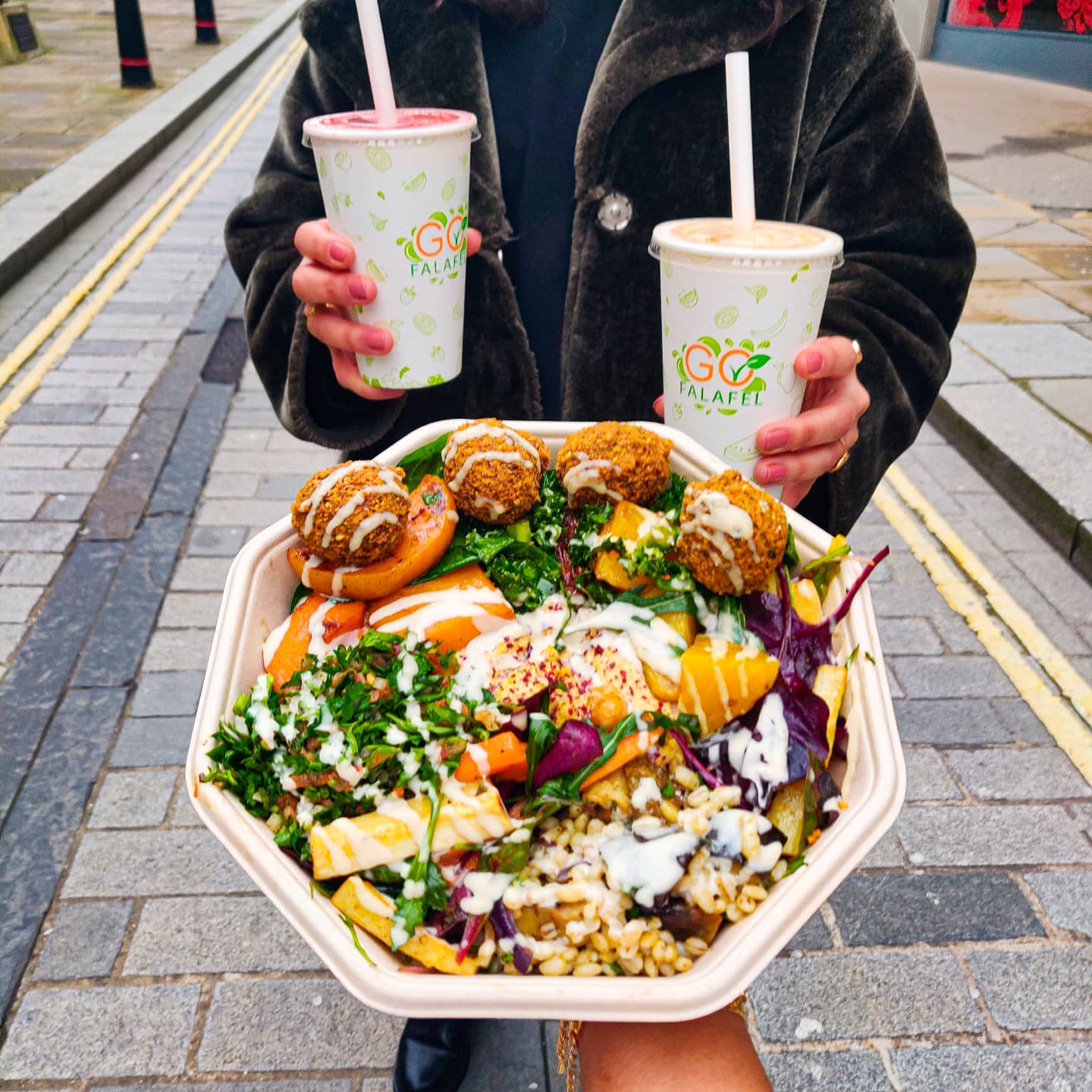 Great for a quick grab-and-go lunch, Go Falafel has several sites dotted across Manchester and is pretty reasonably priced with a medium wrap costing you £5.50. For that, you'll get fresh falafels, house pickles, red cabbage, hummus, salad, chilli and tahini, with the option to add on fried aubergine or vine leaves for an additional sum.
Not feeling a wrap? There's also some hearty salad bowls on offer here, as well as a wide range of freshly made juice blends for those planning on starting the year on a serious health kick.
The Pasta Factory
One of Manchester's pasta OGs, The Pasta Factory is up there as one of the best in the city for vegans thanks to the fact the team make their own (brilliant) vegan parmesan here. Of course, that's not all – they also make their own pasta and sauces, too.
Think a large selection of pasta dishes, with plenty of choices for vegans, plus regularly changing specials, traditional starters, and bags of freshly-made pasta available to take home, and you'll soon see why locals love this spot so much.
Fuel Cafe Bar
This little spot in Withington is a long-standing veggie and vegan treasure trove. Ahead of the curb, it's been dishing our vegan breakfasts well before most of the places on this list even opened their doors.
From breakfast to dinner, there's loads of dishes to suit on the menu here – think cakes, burgers, fry ups, soups, you name it – and if you stay late, you might even catch a gig too. They're pretty well known for putting on good acts here.
Read more
Lily's
Family-run business Lily's has been an institution in Manchester since it opened in 1972. Starting their journey at a small shop selling Indian sweets and savourites on Cotton Street East, Ashton–Under–Lyne, today Lily's is an award-winning restaurant known far and wide for its vegetarian cuisine.
The restaurant is named in Lily's honour, as she sadly passed away before seeing it open. Chefs here come from all over North India, South India, Rajastan, and their passion ensures that each dish exudes authentic Indian flavours.
Ruyi Vegetarian House
Fusing together vegetarian and vegan oriental cuisine, Ruyi Vegetarian House is as delicious as it is affordable with a three-course tea time deal currently priced at just £12.50 per person.
There's no meat insight here, despite an extensive menu selection spanning hot pot, appetizers, sizzling plates, mains, dim sum, soups, sides, rice and noodles. Instead, expect a mix of traditional and fusion meals, created using soy-based substitutes and lots of vegetables.
Sanskruti
Listed amongst The Sunday Times and The Guardian's best restaurants, Sanskruti is already a go-to for local veggies and vegans in the know.
Serving everything from street food, daal, and thali to punjabi and gujurati mains, rotis/naan, thali and more, the menu here is extensive – and there's plenty for those with particular dietary requirements. With the majority of dishes also vegan friendly, you just can't go wrong.
Featured image – The Manc Group