City Centre
These restaurants serve the best Sunday Roast dinners in Manchester
Salad season is over. Time to bring out the red wine, roasted meats and cheese.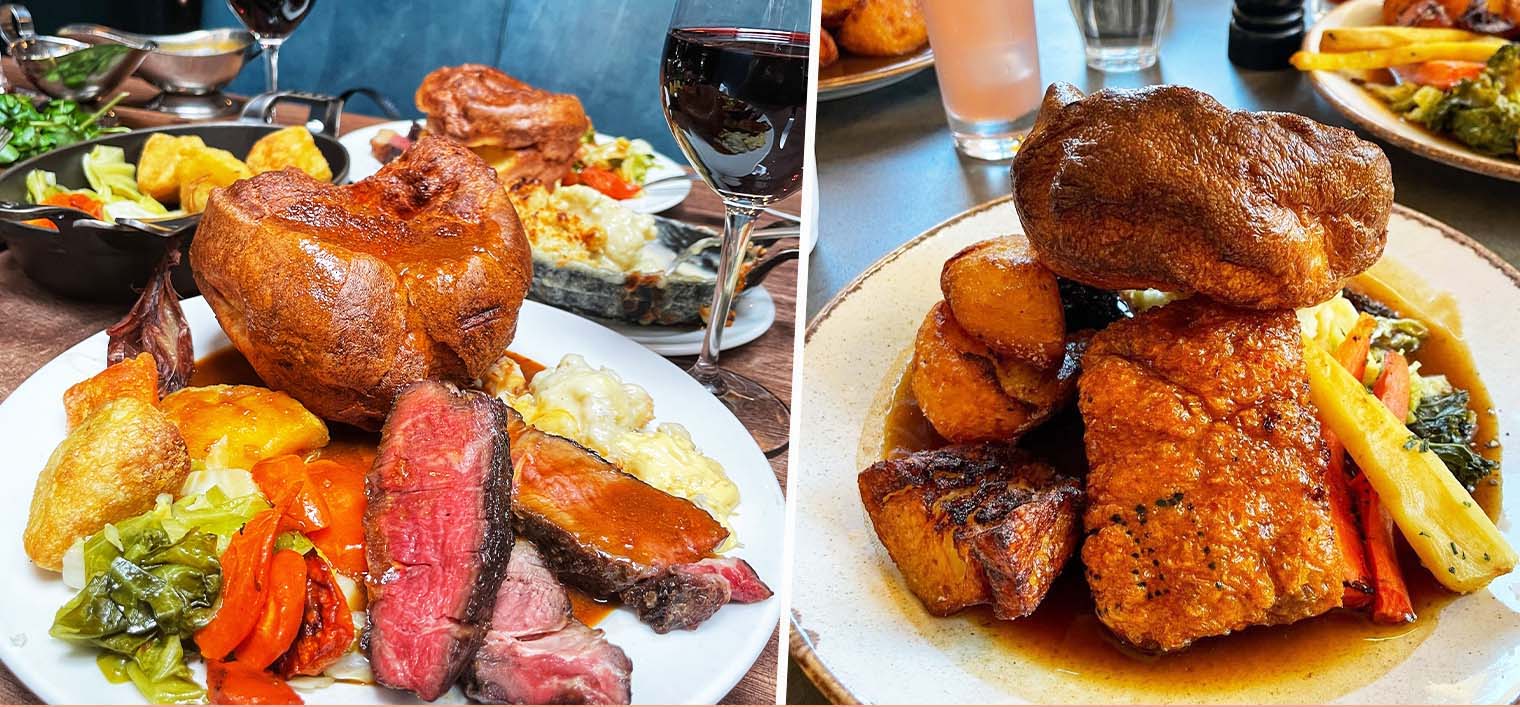 With the nights starting to draw in and 'big coat' season lurking just around the corner, we can't help but turn our thoughts to Sunday roasts, steaming jugs of gravy and big glasses sploshing over with red wine.
It might be way too early to be uttering the 'C' word, but after one of the hottest and driest summers on record we're very ready to get cosy, and nothing says that better on a wet and miserable day than a giant plate piled high with roasted meats, vegetables and gravy.
One of the most simple pleasures in life, there's not much more comforting than this classic English staple. Let's just say, we're very keen for Manchester's Sunday roast season to recommence in full.
Keep reading to discover our top picks for the best Sunday roasts in Manchester. It's officially red wine season, baby. Dig in.
Where to go for a roast in Manchester city centre
The Jane Eyre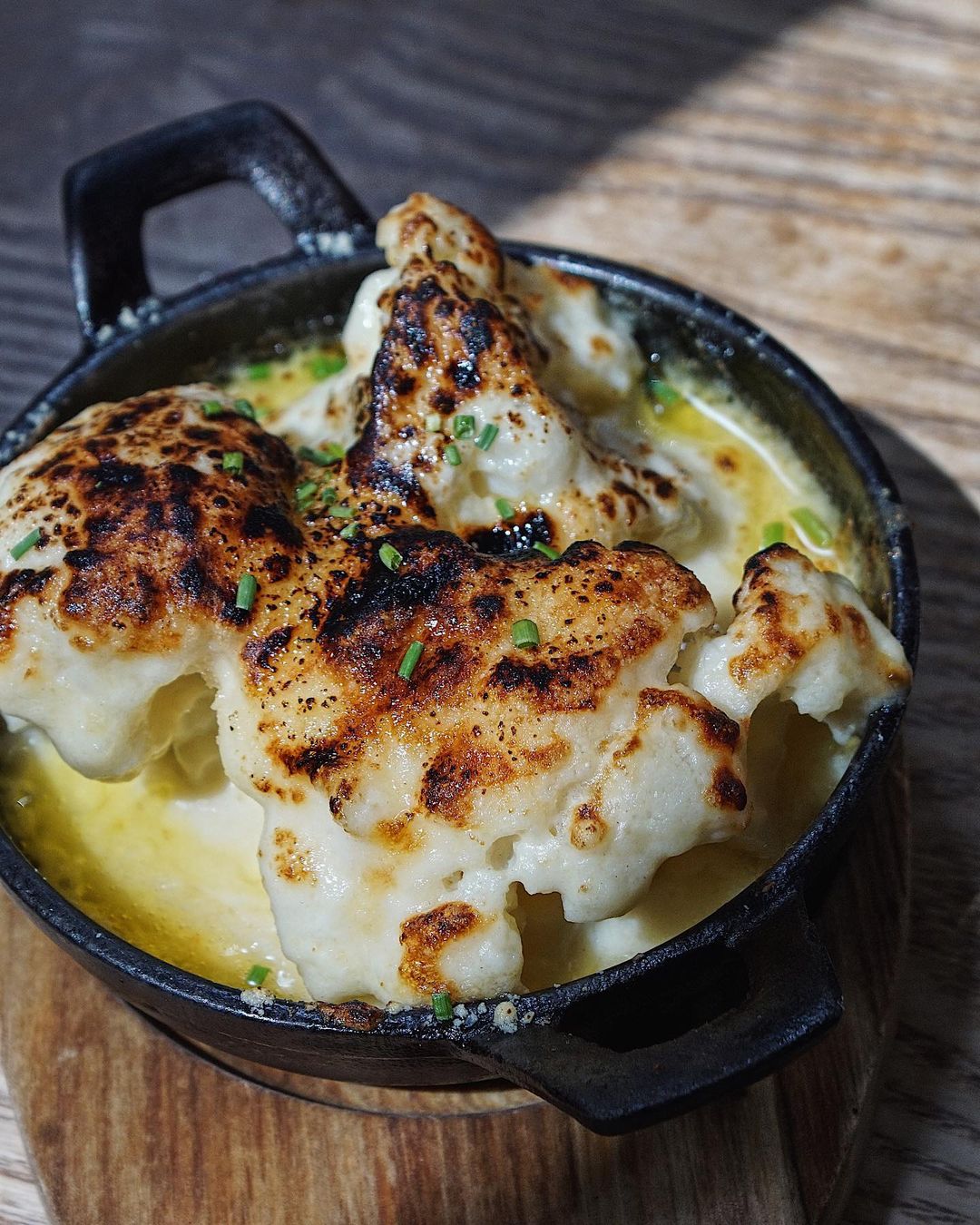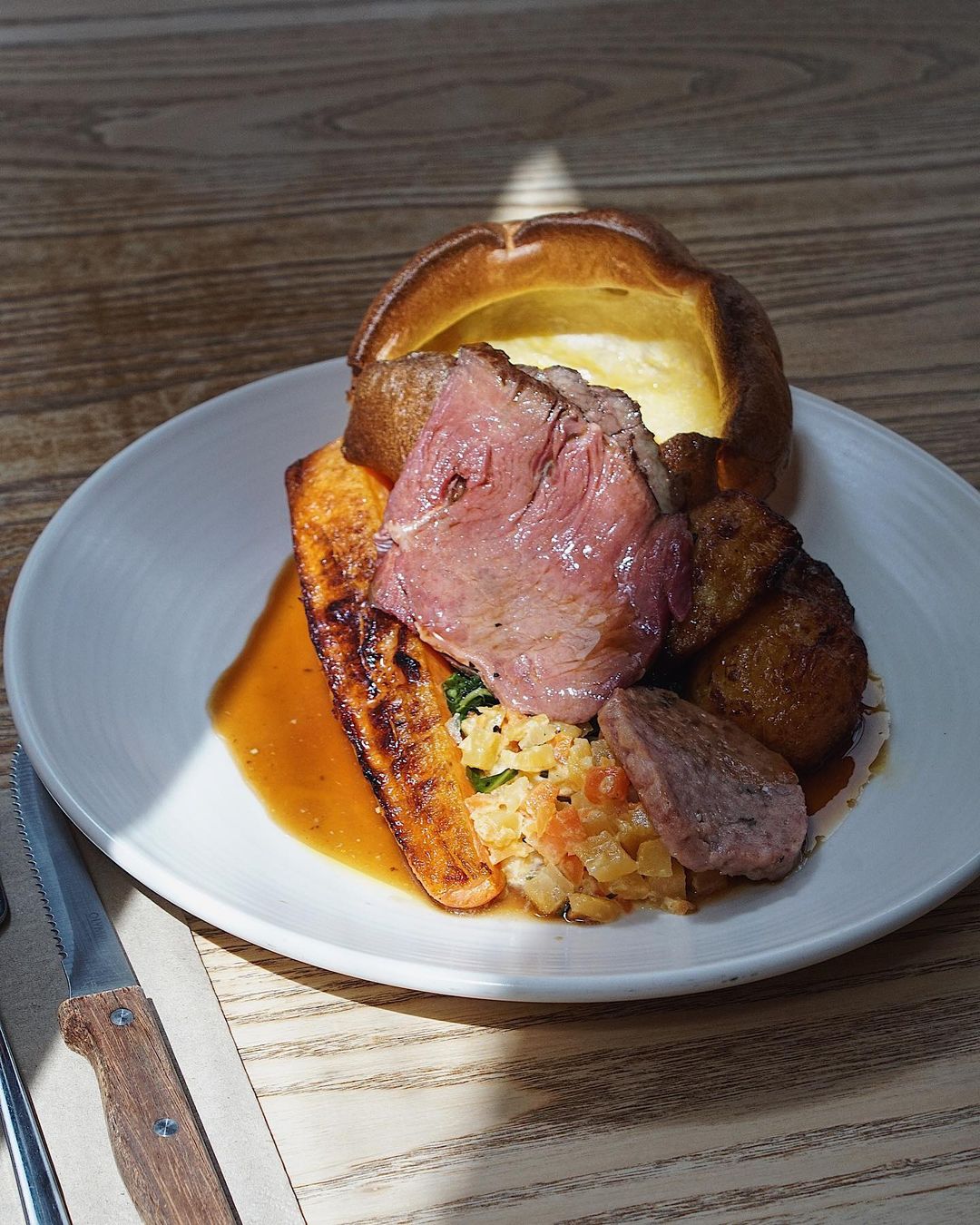 Not a reference to Charlotte Bronte, but rather to the owners' mum, neighbourhood kitchen and cocktail bar The Jane Eyre is a must for any self-respecting cocktail lover. It also serves a cracking Sunday roast.
Start with ham hock and manchego croquettes or a salad of fennel, chilli and crab, before moving onto roast sirloin (£18), nut roast (14) or the selected 'roast of the day' (£18), all served with duck fat potatoes, honey roasted carrots, greens, carrot & swede mash, pork stuffing, Yorkshire puddings and gravy.
We'd recommend springing for sides, too. An extra £4.50 will get you a skillet of house cauliflower cheese or truffled potato puree. As for dessert, think tarte tatin (£7) or chocolate biscuit cake (£5), both served with ice cream on the side.
Hawksmoor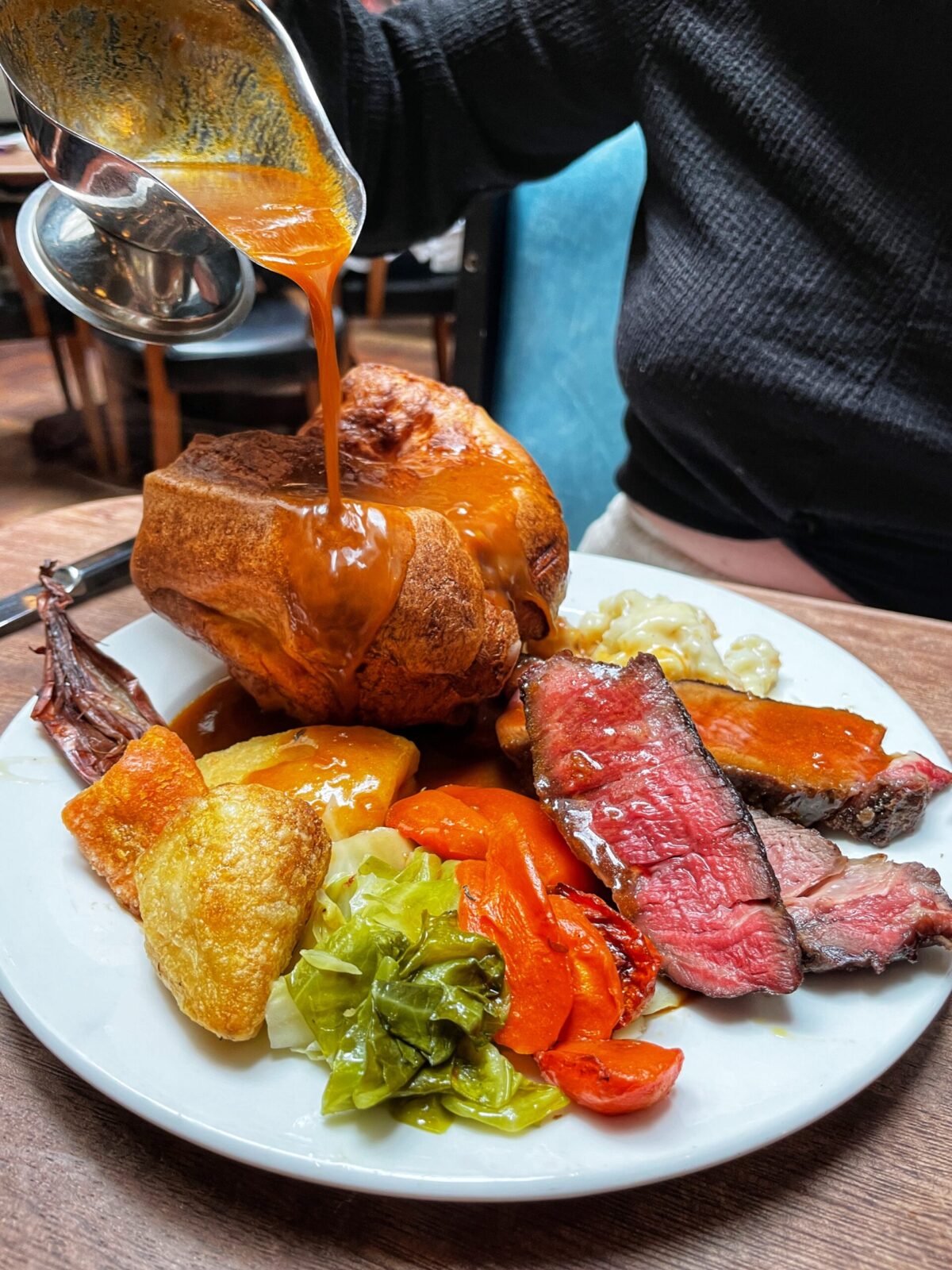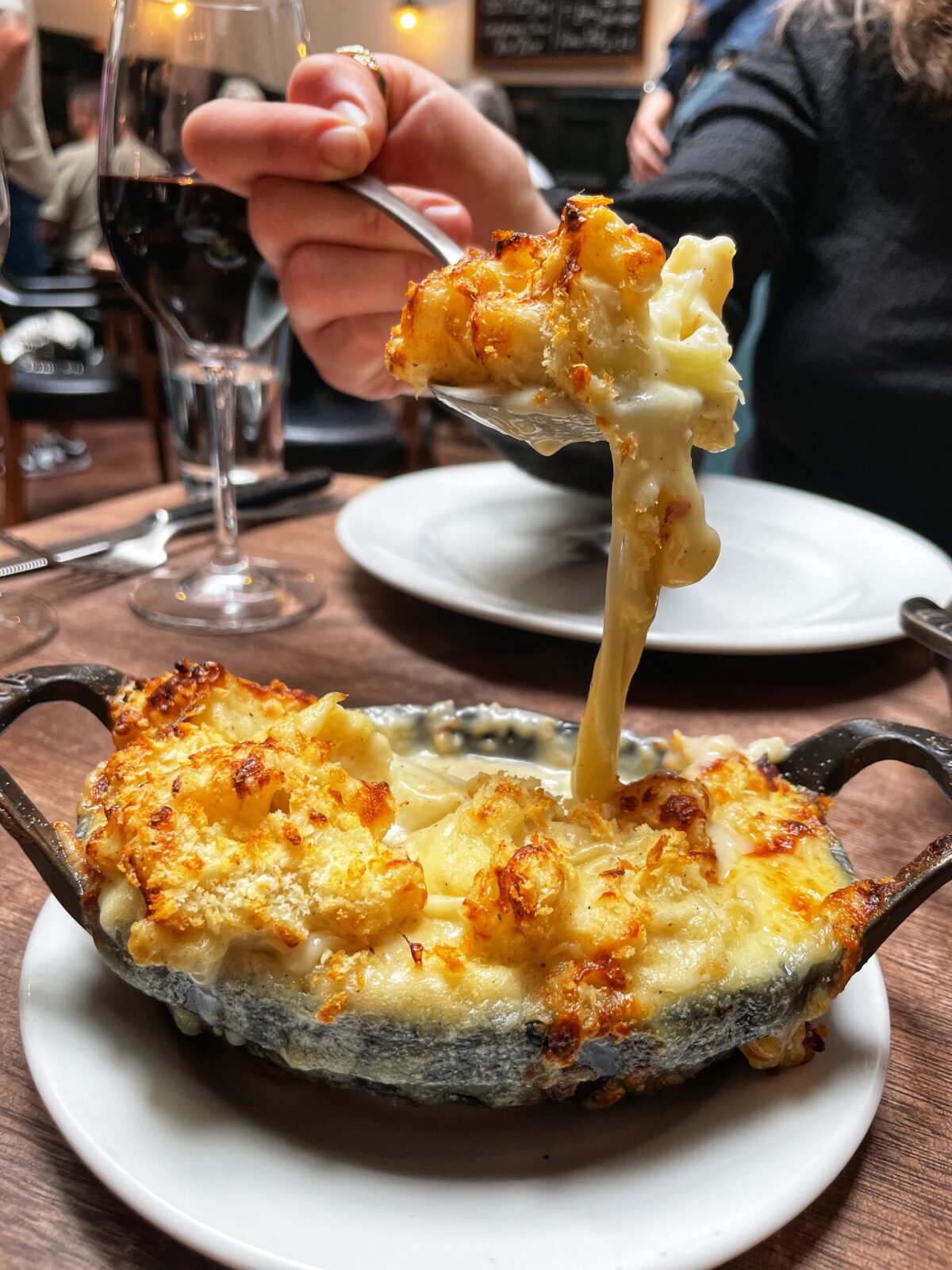 Read more: Why this Manchester restaurant is the undisputed king of the Sunday roast
Housed in a former Victorian Courthouse on Deansgate, Hawksmoor manages to be chic, glamorous and entirely unpretentious all at once. Designed to share, roasts here can be split between two or three people – with starters, mains, sides and puddings all included and priced from just £50.
Mains choices include perfectly-pink cuts of bone-in prime rib, chateaubriand and sirloin, as well as Dartmouth lobster with garlic butter, whilst sides span the likes of creamed spinach, macaroni cheese, grilled bone marrow, carrots, roasties, cabbage and – or course — giant Yorkshire puddings.
We're talking Yorkshire puddings bigger than your face, crispy beef fat roasties, unlimited jugs of bone marrow gravy, and an oozing skillet of cauliflower cheese made with a four-cheese blend of Ogleshield, mozzarella, Stichelton and 'good Cheddar'.
Carnival at Escape to Freight Island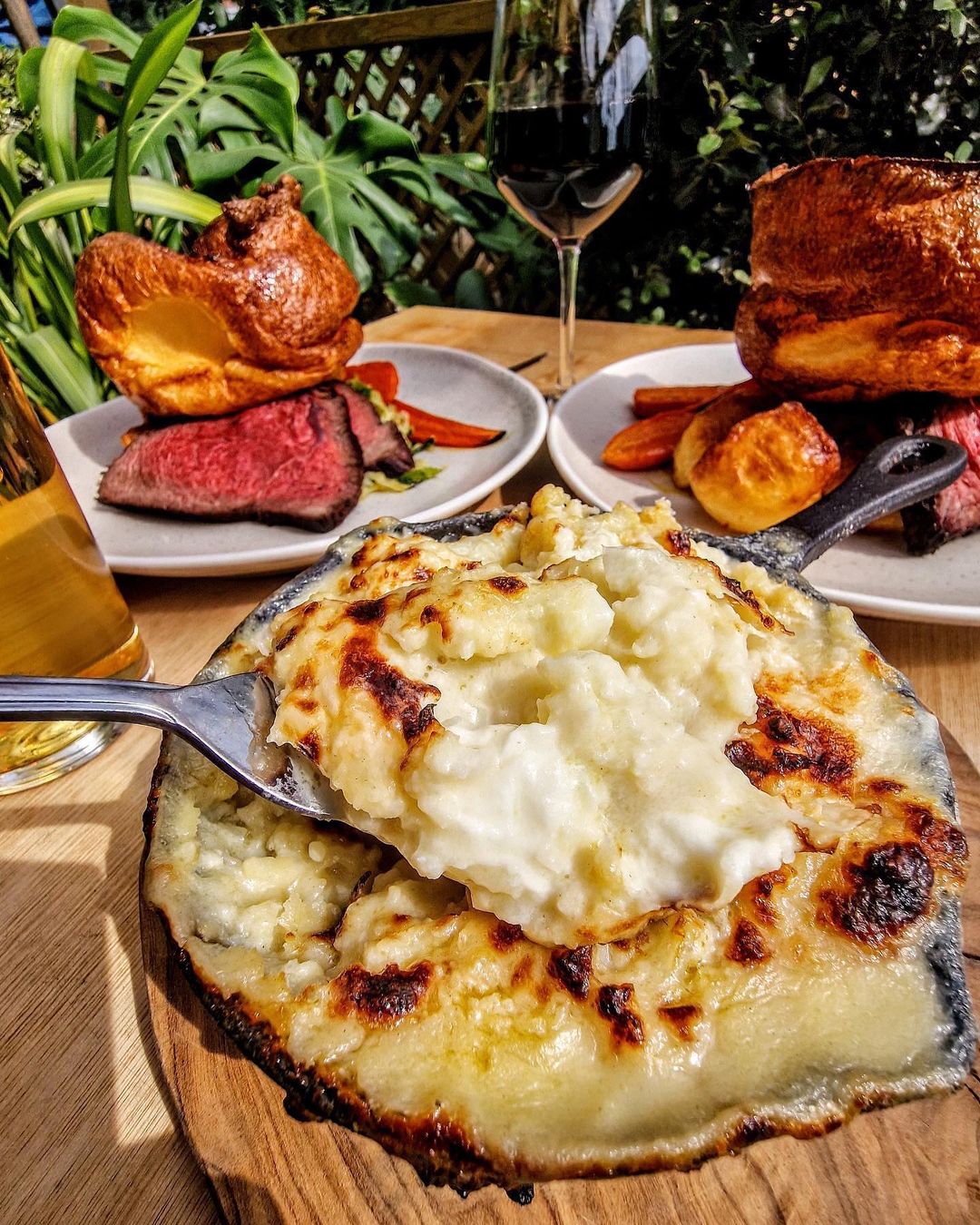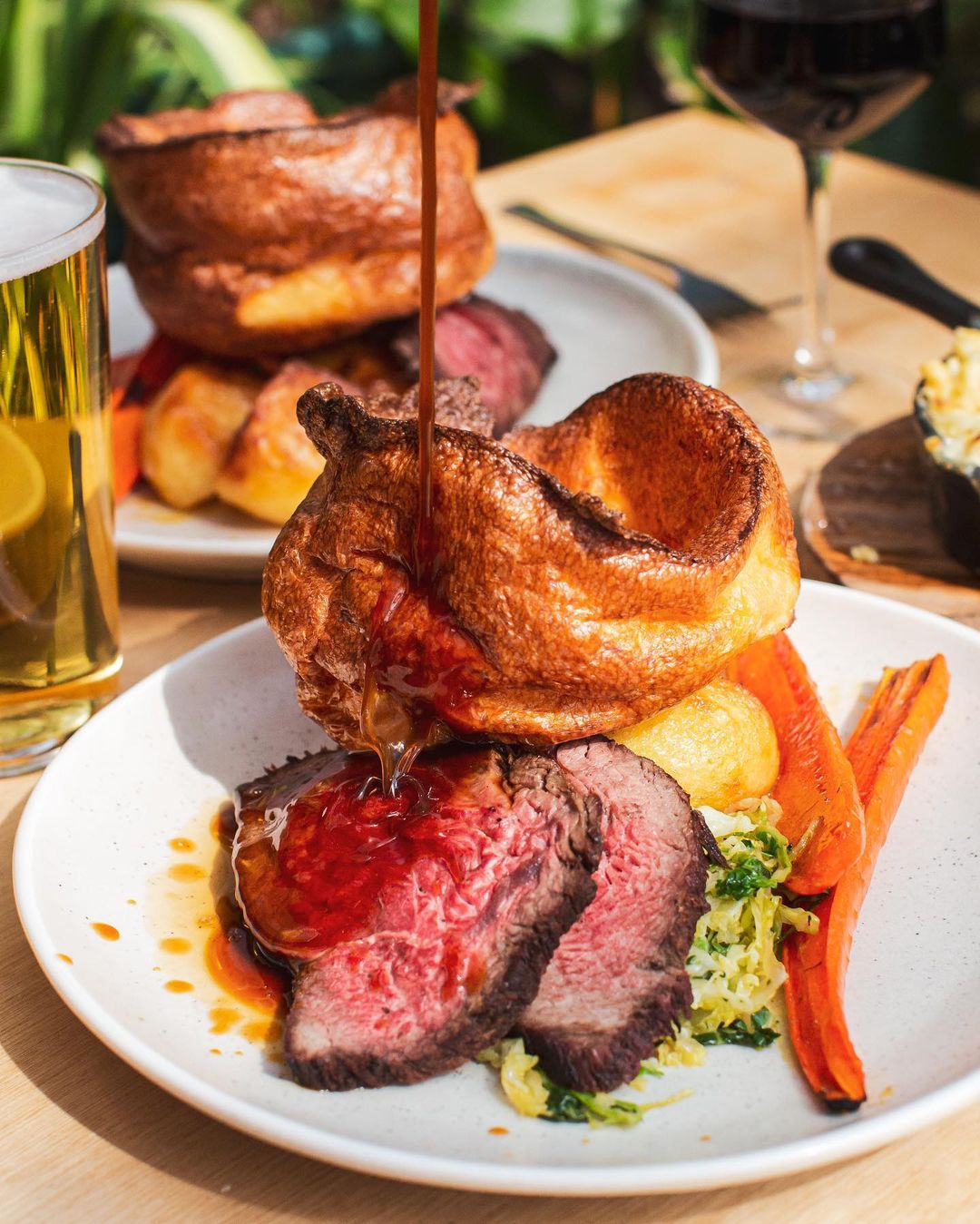 Brought to Escape to Freight Island by Hawksmoor co-founder Richard Turner and the team behind iconic Liverpool bistro Belzan, Carnival celebrates open fire cooking and offers a Chef's table experience like no other with a full view of the grill.
Priced at 2 courses for £25 or 3 for £29, mains choices include 34 day-aged rump of beef (served pink), roasted porchetta stuffed with peach, sage and pancetta, Mrs Kirkham's cheese and onion pie, or two-person sharer 'The Beast', a chargrilled 1kg porterhouse steak with extra cauliflower cheese.
All served with orange–glazed carrots, summer greens, roasties, Yorkshire puddings and plenty of gravy, extra sides include grilled tenderstem with garlic butter, Lancashire cheese mash potato and herb crumbed cauliflower cheese.
The Bull & Bear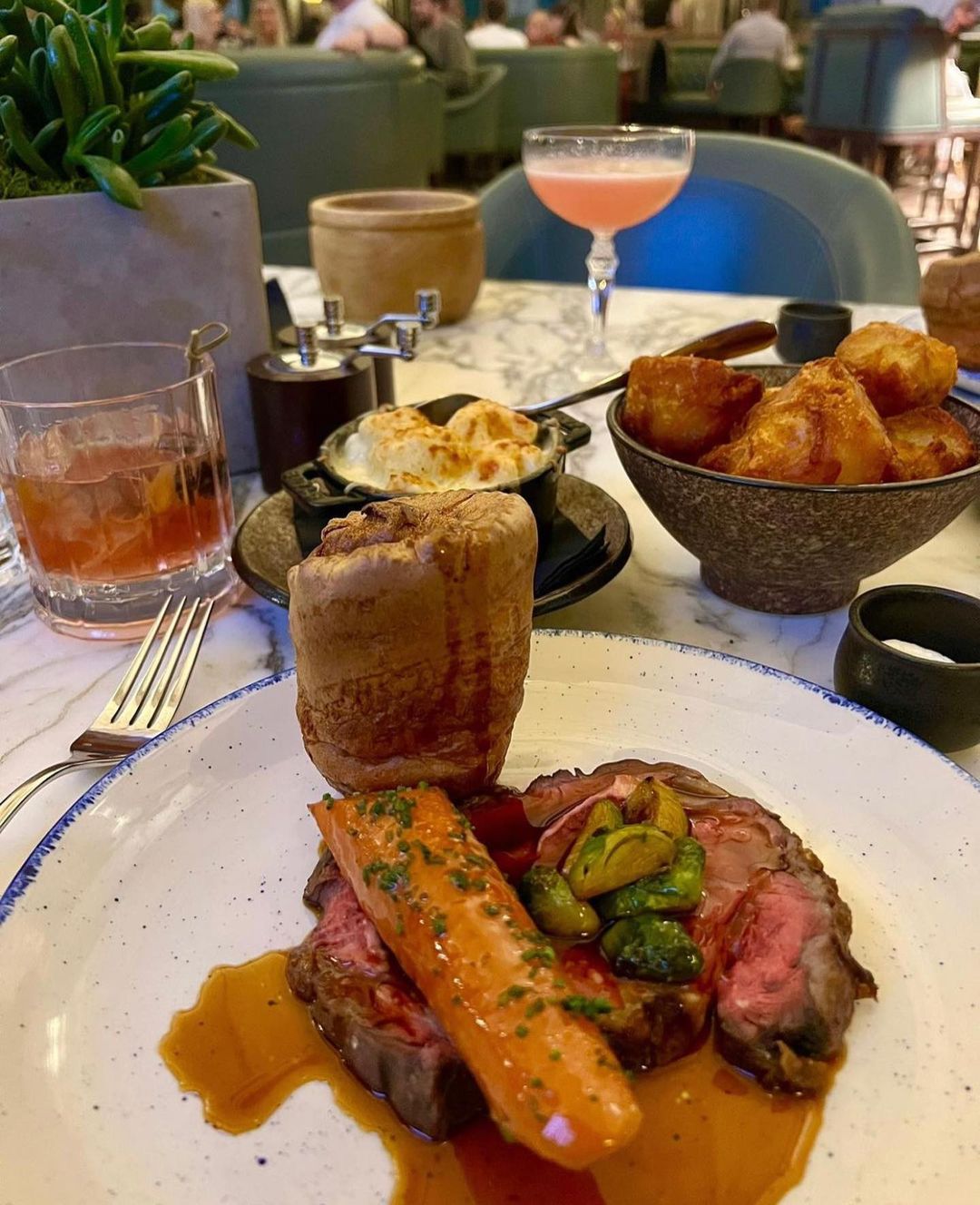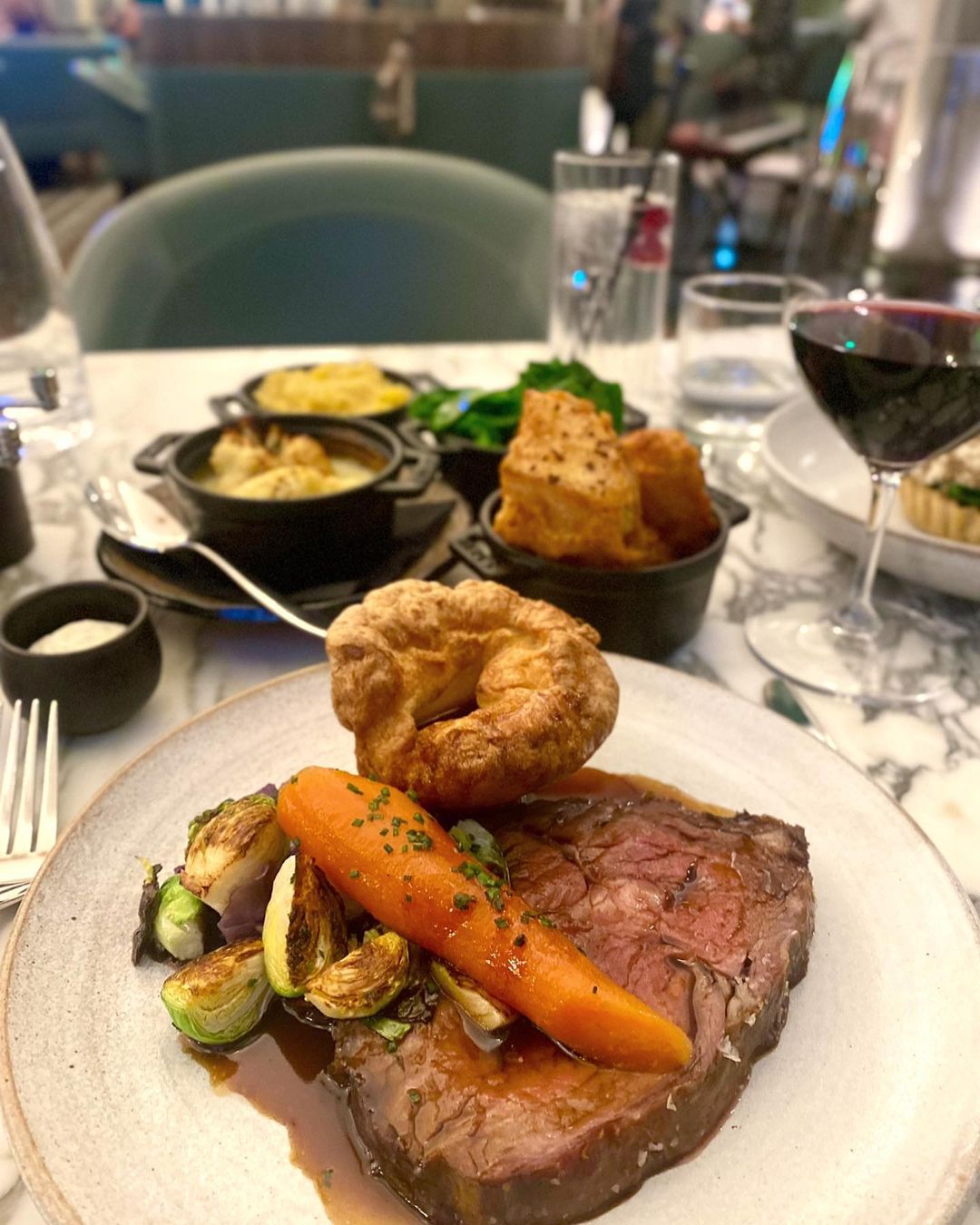 £39.50 for two courses or £46.50 for three, think indulgent mains like salted aged pork belly, dry-aged Hereford sirloin of beef, and confit autumn mushroom tart.
Each dish comes with its own selected sides, with add-ons like crushed black pepper swede, buttered sprout tops, and cauliflower cheese available at no extra cost.
Puddings, meanwhile, feature the likes of chocolate orange choux with hazelnut, Bailey's ice cream and salted caramel sauce, "lemon meringue pie" with blackcurrant sorbet, as well as a cheese plate of truffled Baron Bigod, quince tart and truffle honey.
The Refuge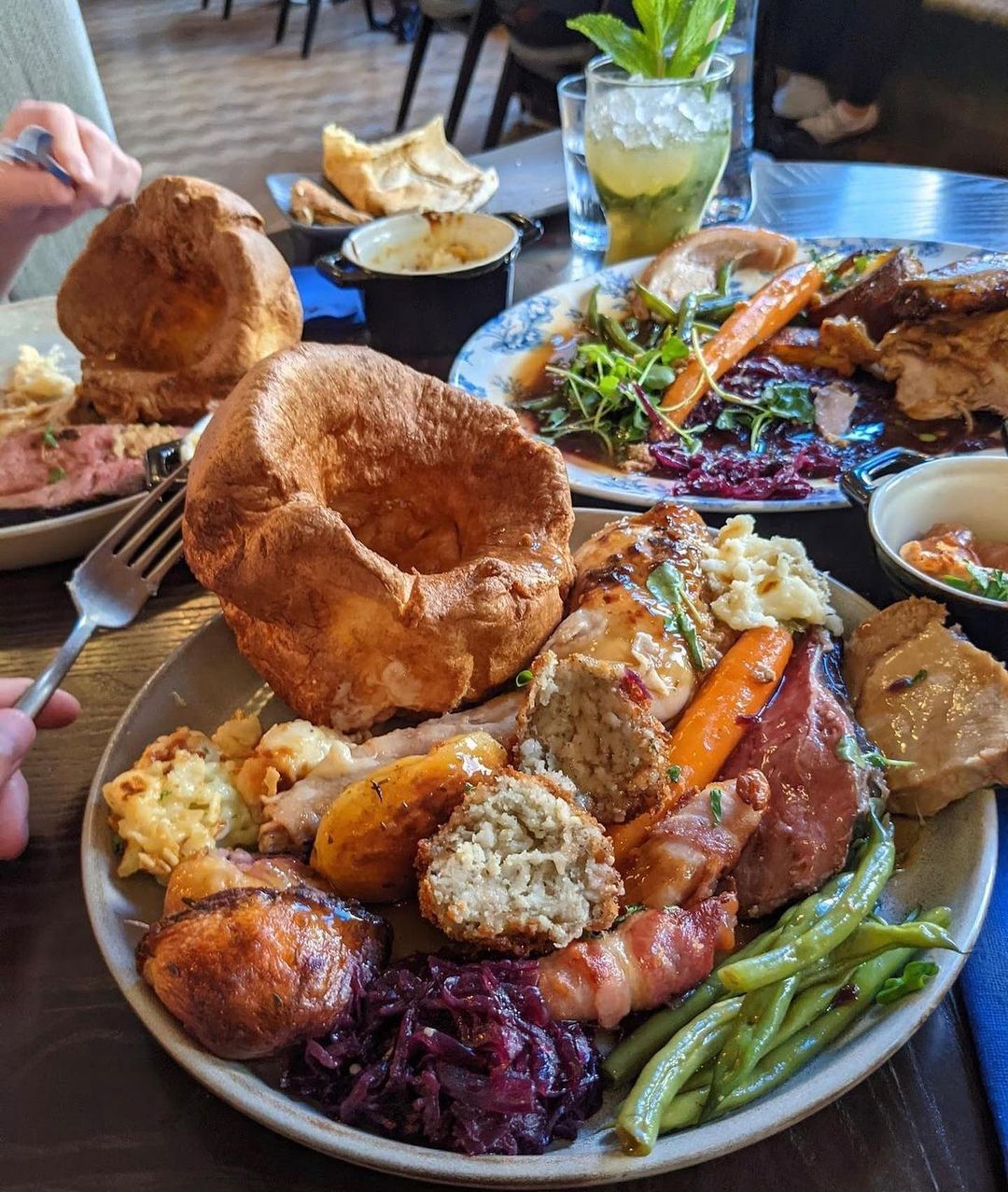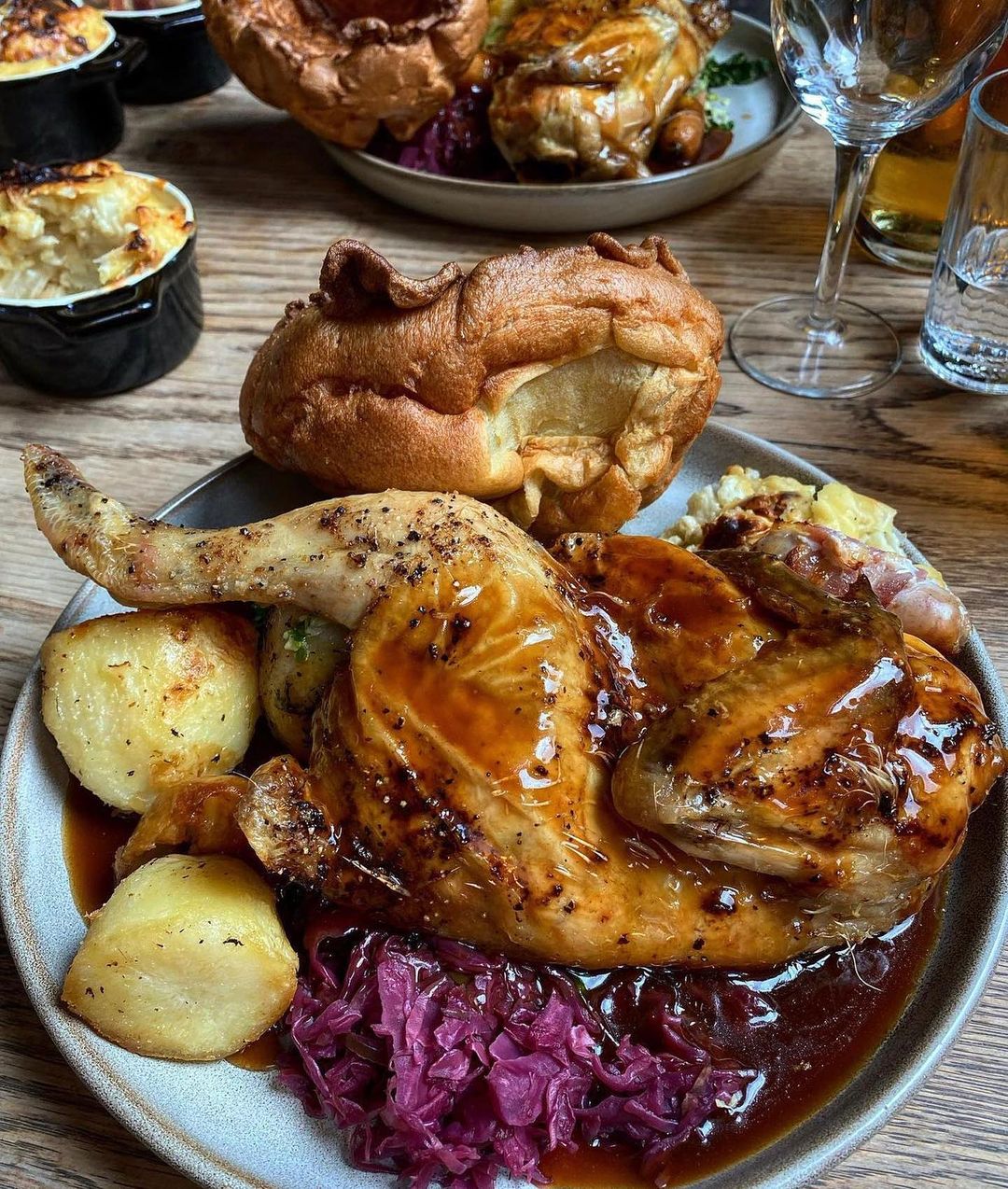 With the option to share a roast platter between two or order individual plates, The Refuge is not messing about with its roast dinners.
With a choice of Lancashire beef, rare breed pork loin, half-roast Cumbrian chicken, or a gorgeous vegan pithivier, prices start from £17. All roasts include a Yorkshire pudding, a selection of vegetables and gravy, but further sides like crispy stuffing balls, pigs in blankets and cheesy mash will set you back extra.
As for the roast platter (£44), order this and you can enjoy all three meats with thyme and salt roast potatoes, Vimto-braised red cabbage, glazed carrot, seasonal greens, Yorkshire pudding, cauliflower cheese, and a big pan of gravy. Not too shabby.
Evelyn's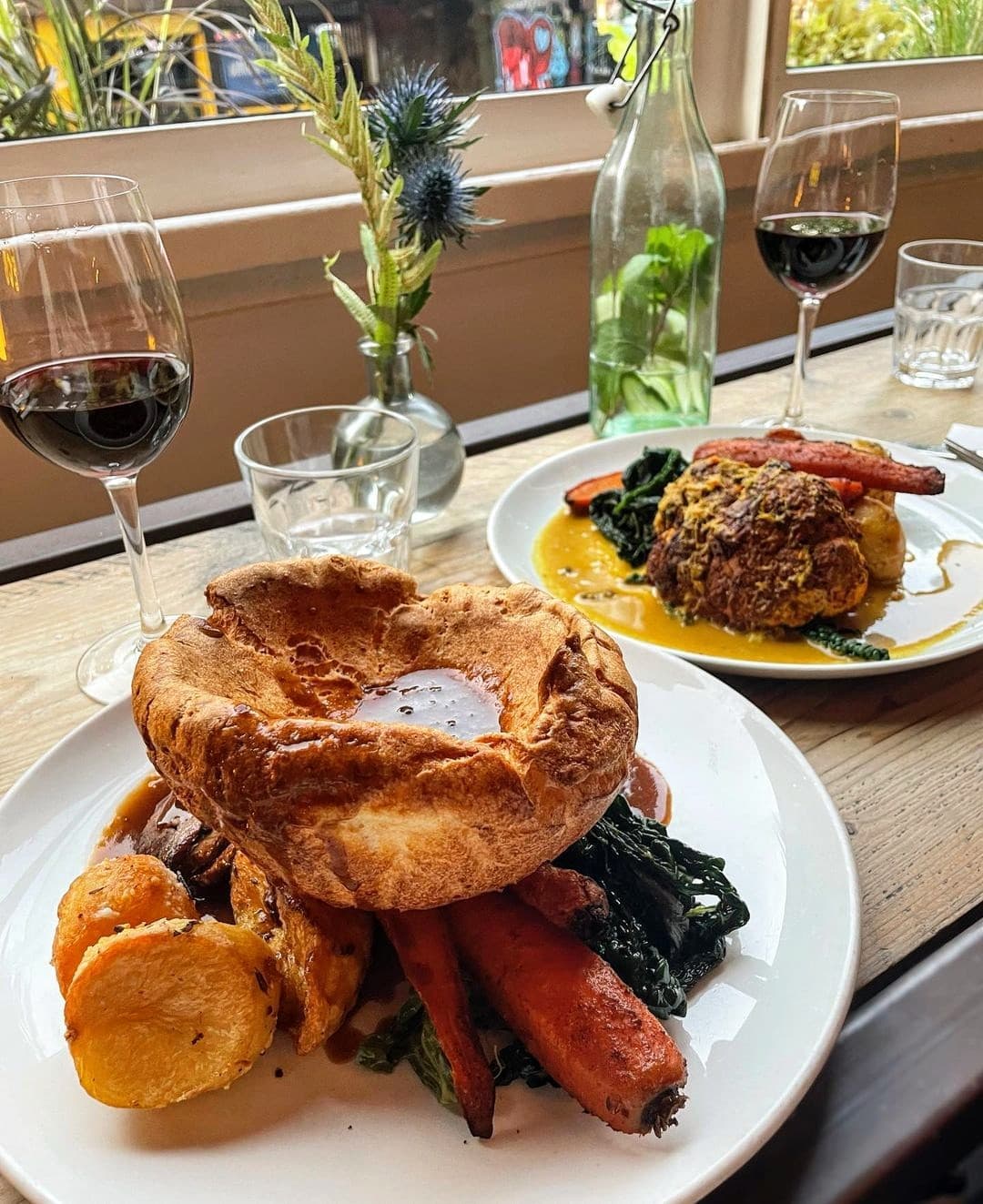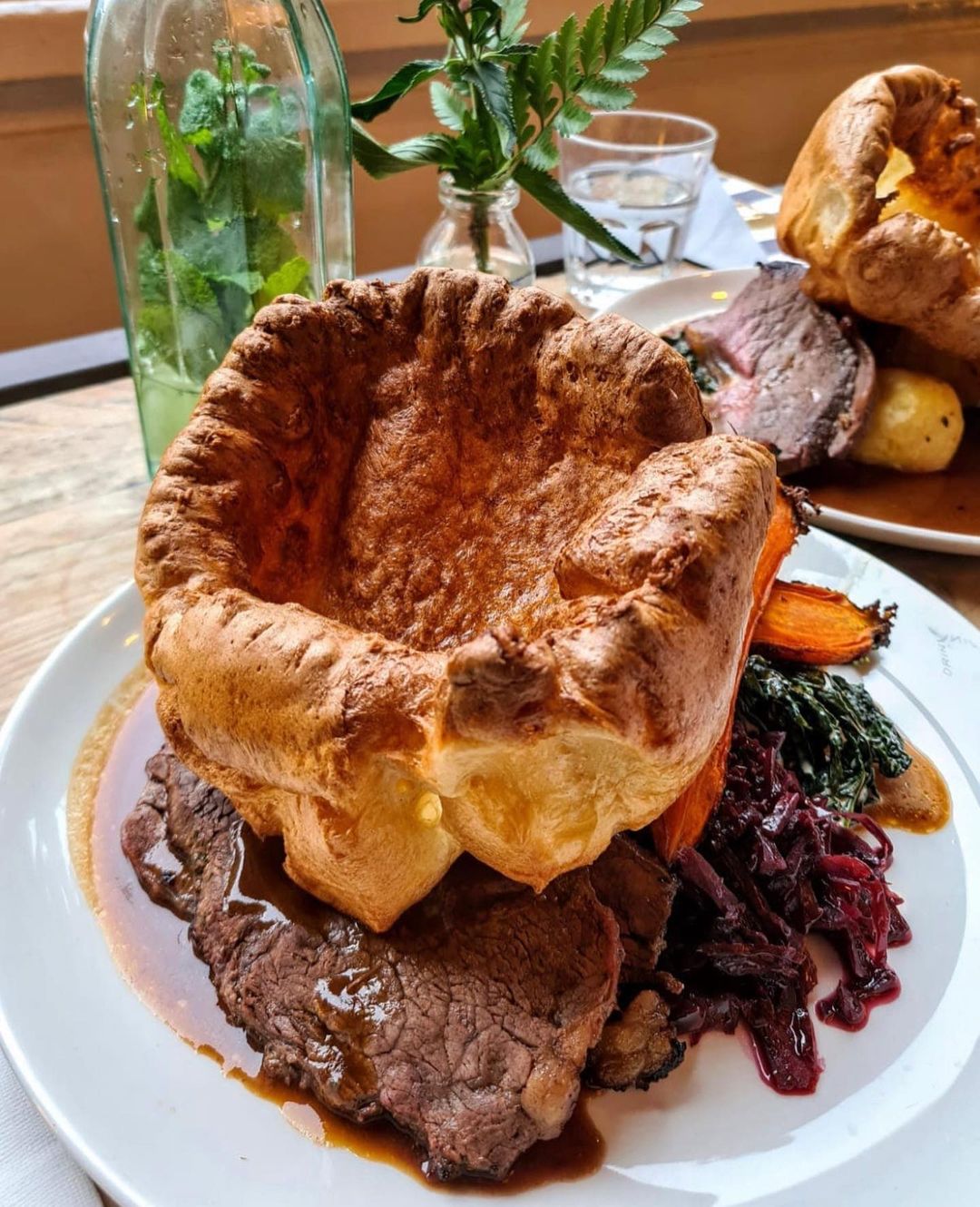 Served from 12pm, Sunday roasts at Evelyn's put a twist on the traditional British weekend fare with a choice of exotic rubs and marinades. Choices here include mustard-rubbed beef sirloin, harissa buttermilk roast chicken, Morrocan marinaded lamb, all served with seasonal root veg and Evelyn's gravy.
As for vegans, there's a roasted cauliflower option served with all the trimmings and a special laksa gravy on offer, and if you don't fancy that, the restaurant also serves a varied menu – with late brunch dishes available until 3pm.
Elnecot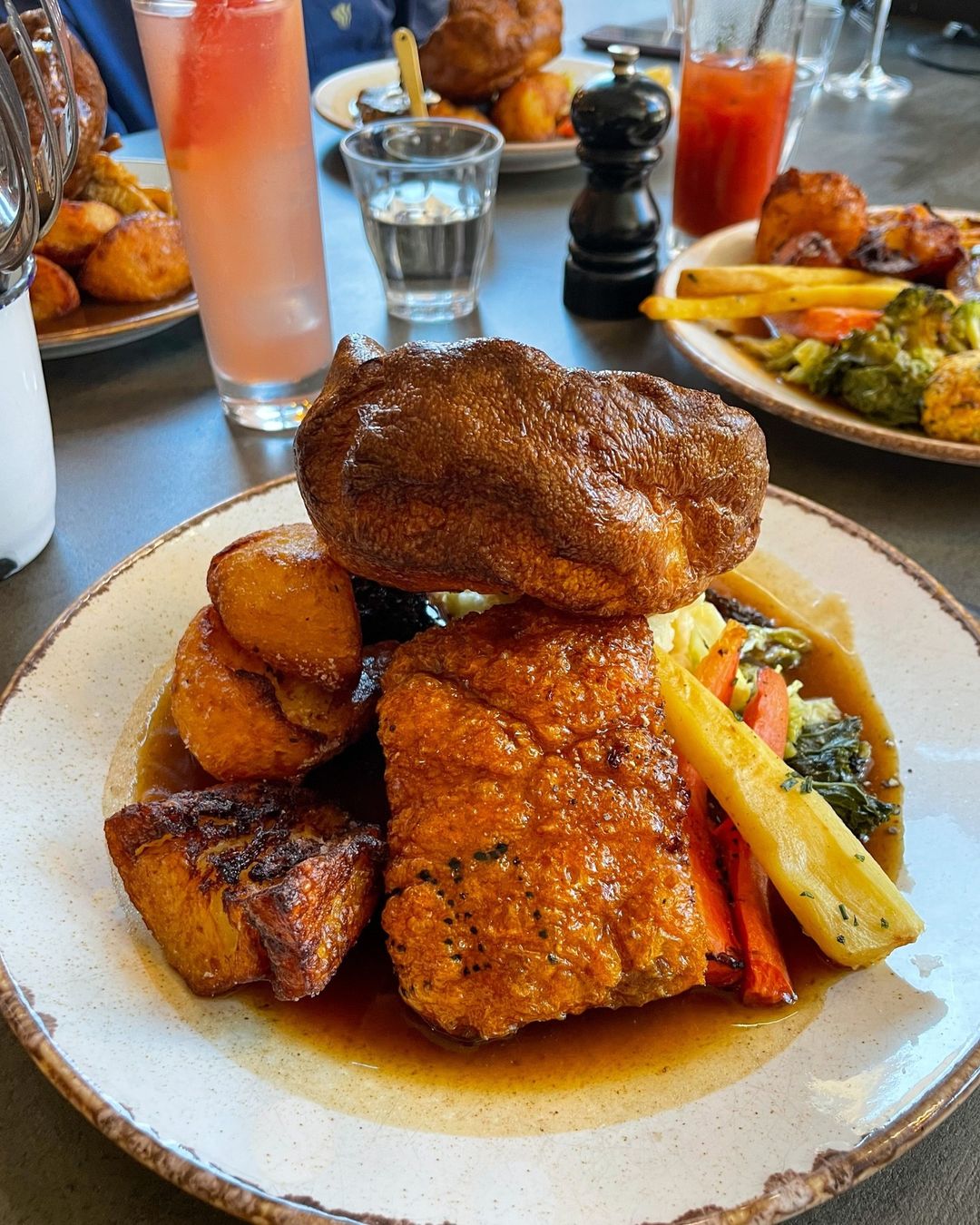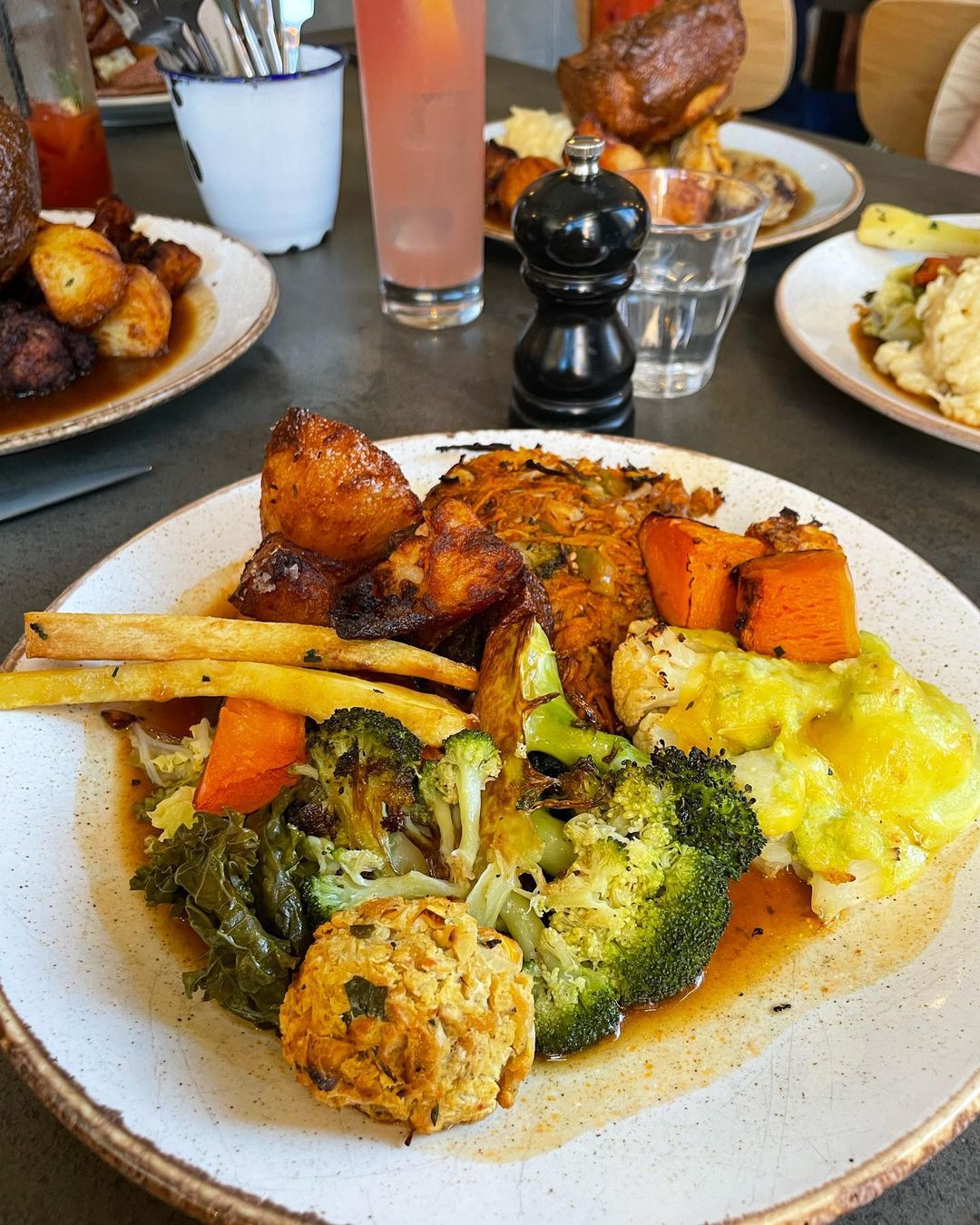 If you're a person who cares about where your food is sourced from, Elnecot is the place to come. Owner Michael Clay has excellent connections to local suppliers and celebrates quality British produce in every dish.
Served from 1.30pm until they run out, roast choices at this Ancoats favourite include dry aged Welsh wagyu beef, lemon and thyme corn fed Goosnargh chicken, crispy Yorkshire pork belly, slow-cooked shoulder of Yorkshire lamb and a vegetarian or vegan nut roast.
All served with roasties, fluffy Yorkshire puddings, stuffing, roasted carrots and parsnips, sauteed greens, cauliflower cheese and a rich gravy, prices start from £14.50 for nut roast and £16 for pork.
Kala
Gaucho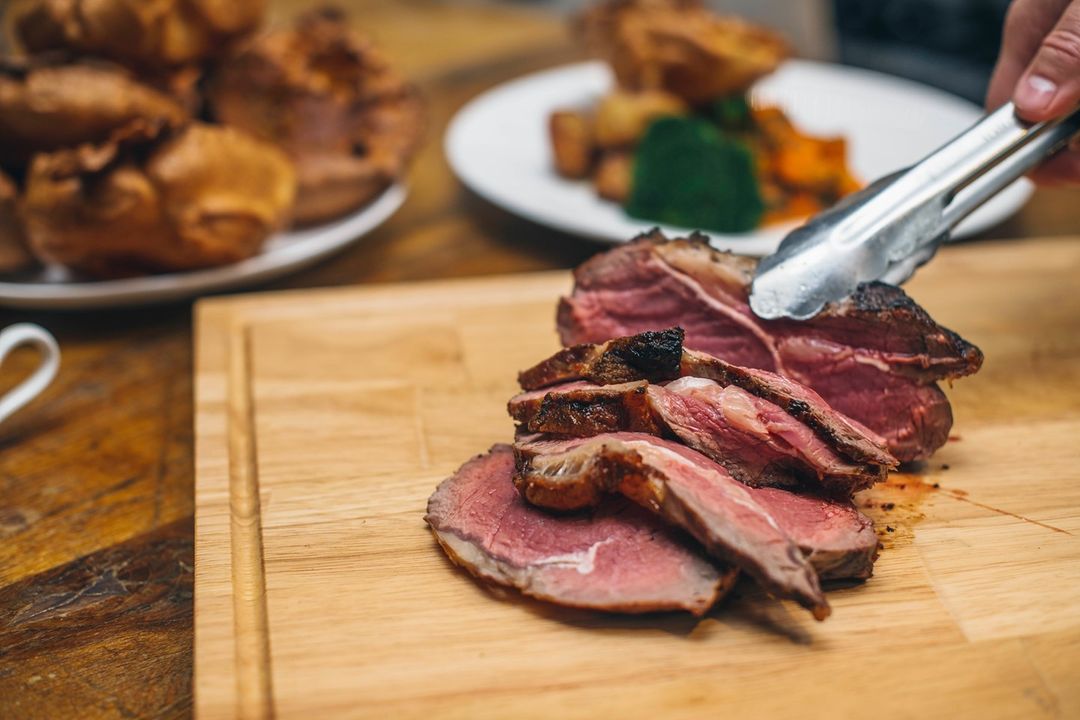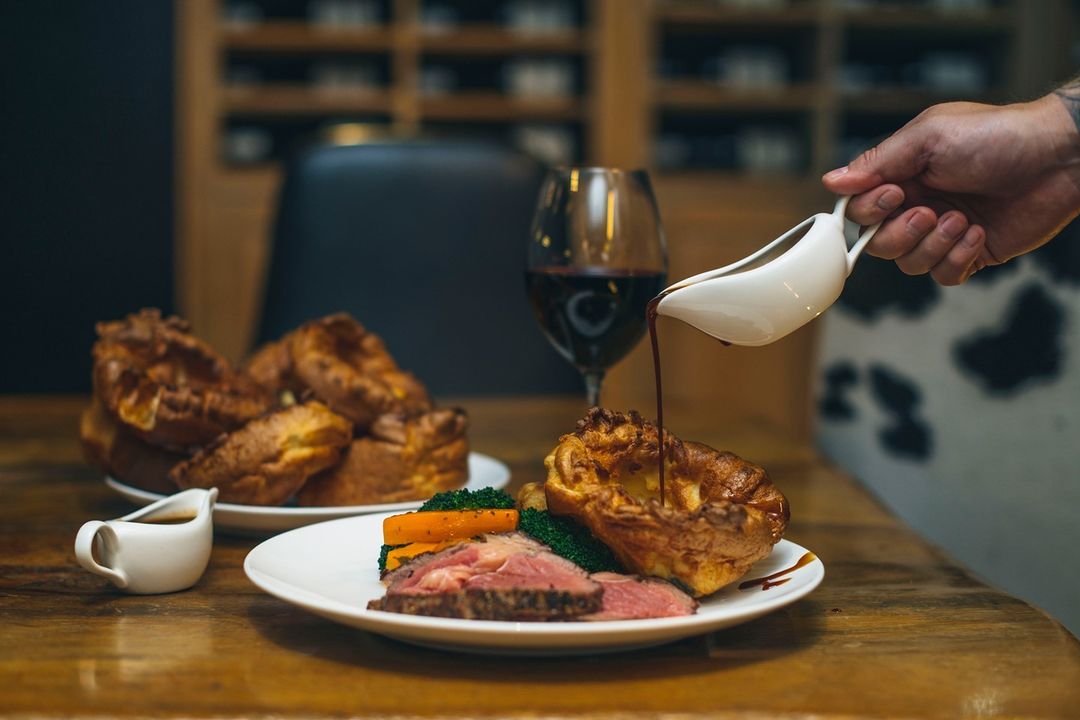 On Sundays between 12-6pm, Argentinian steakhouse Gaucho serves up its bottomless roast dinner. Specifically designed for overindulging, choose from three different joints of meat to enjoy with unlimited quantities of seasonal vegetables and Yorkshire puddings.
All Gaucho's meat originates from Argentina and comes from premium Black-Angus cattle, bred at hand-selected farms in the southern province of La Pampa, South America. Every cut is cooked in its own drippings, then presented on steak boards alongside all the usual trimmings.
Priced at £32.50 per person, here you can. enjoy 90 minutes of non-stop feasting on prime steak (and make sure you really get your money's worth).
The Firehouse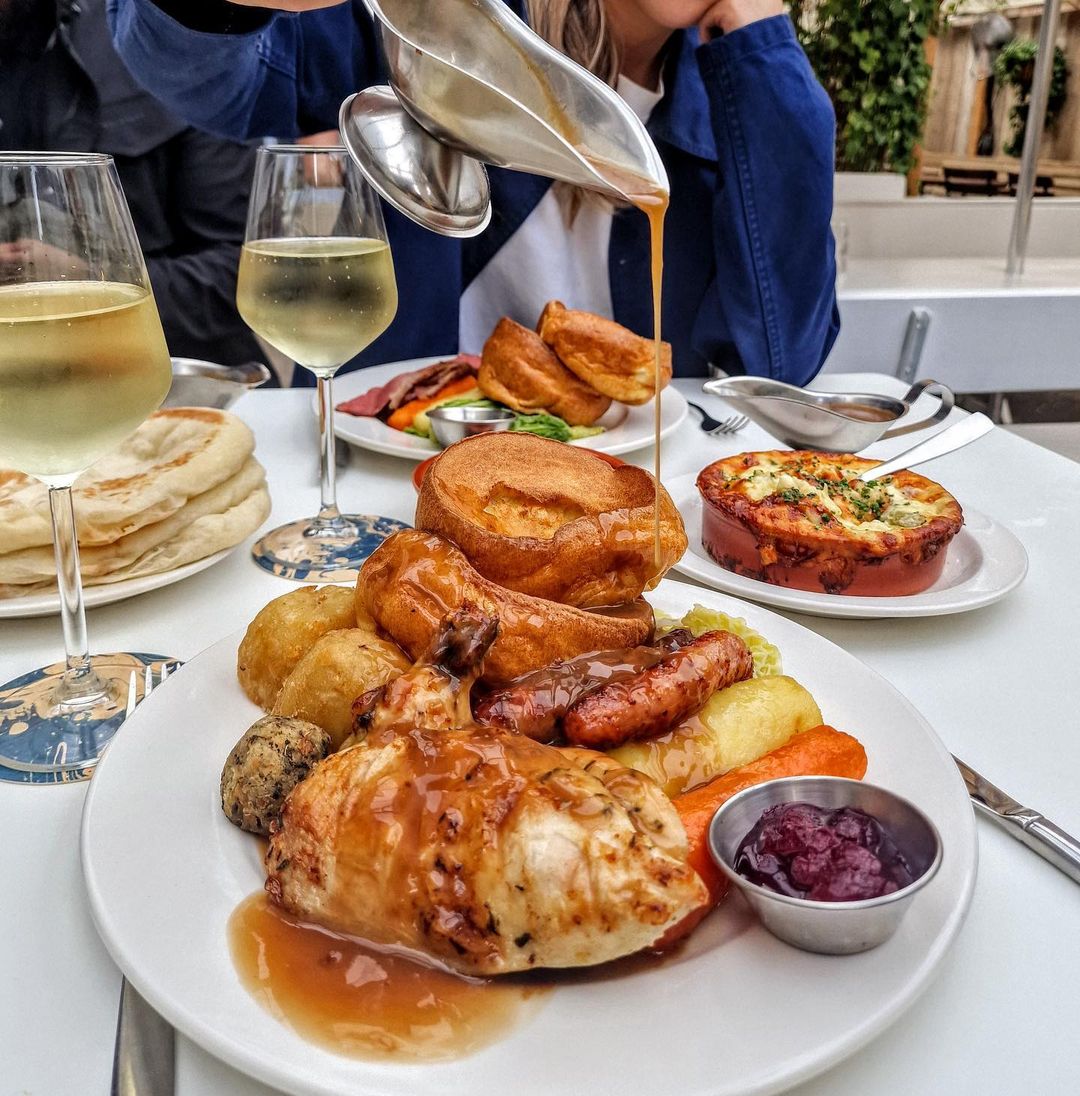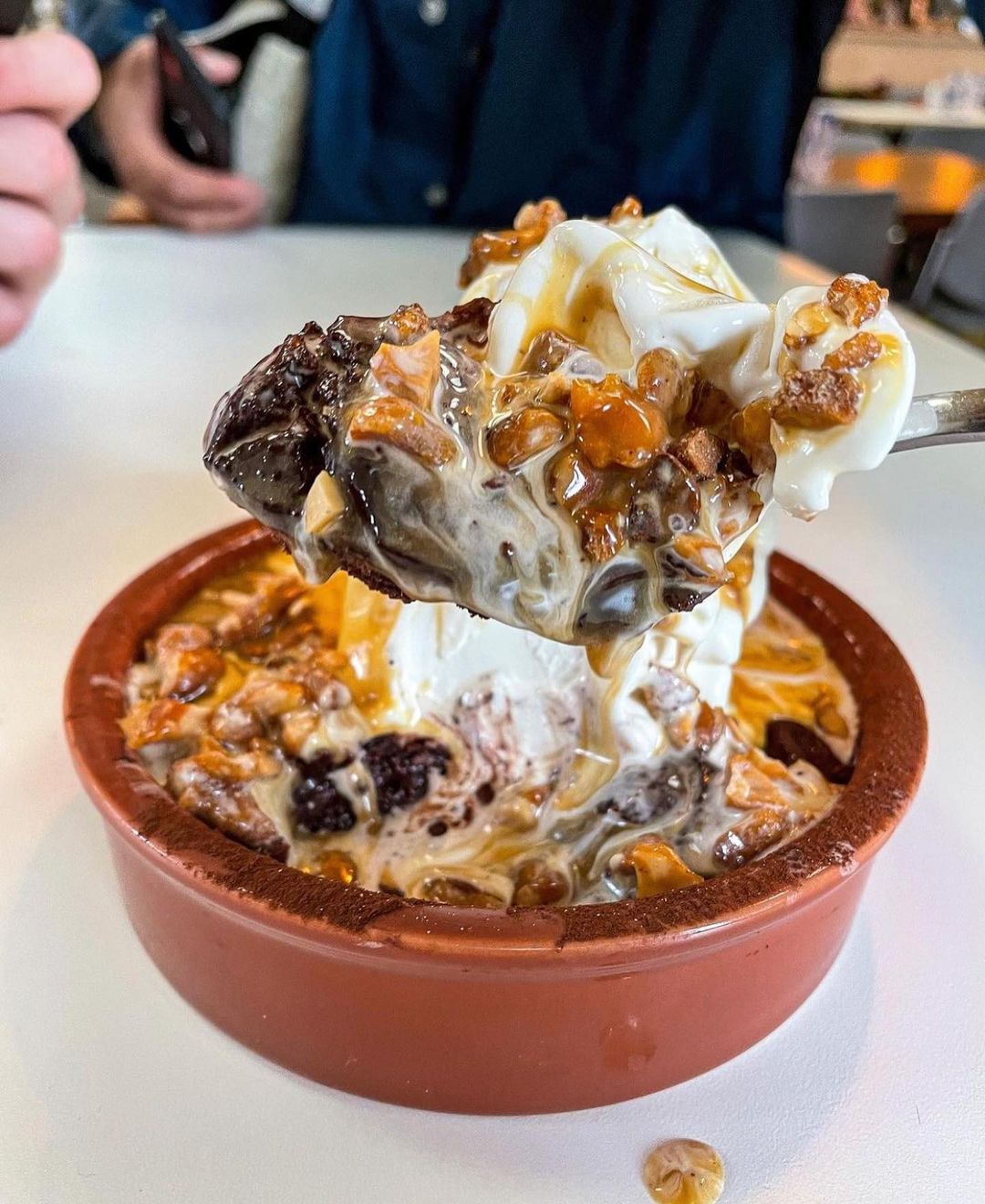 With its own dedicated margarita and wild spirits bar, The FIrehouse on Swan Street is one of Manchester's coolest new venues. Attached to Detroit pizza Ramona, it's housed inside an old MOT garage and offers (as the name suggests) a selection of wood-fired meats alongside fluffy pittas and sides.
Come Sundays, though, the team also offers a roast with roast Cheshire beef rump, garlic and thyme chicken, slow-cooked lamb shoulder or vegan oyster mushroom wellington, with sides including Yorkshire puddings, crisp roast potatoes and flamed chipolatas
Elsewhere, think buttered greens, melting pots of cauliflower cheese, honey-roasted carrots and parsnips, and lashings of house gravy.
Where to go beyond the city centre
Station South, Levenshulme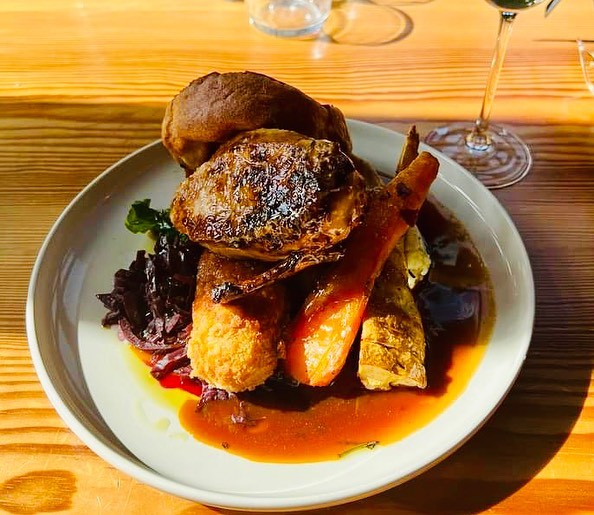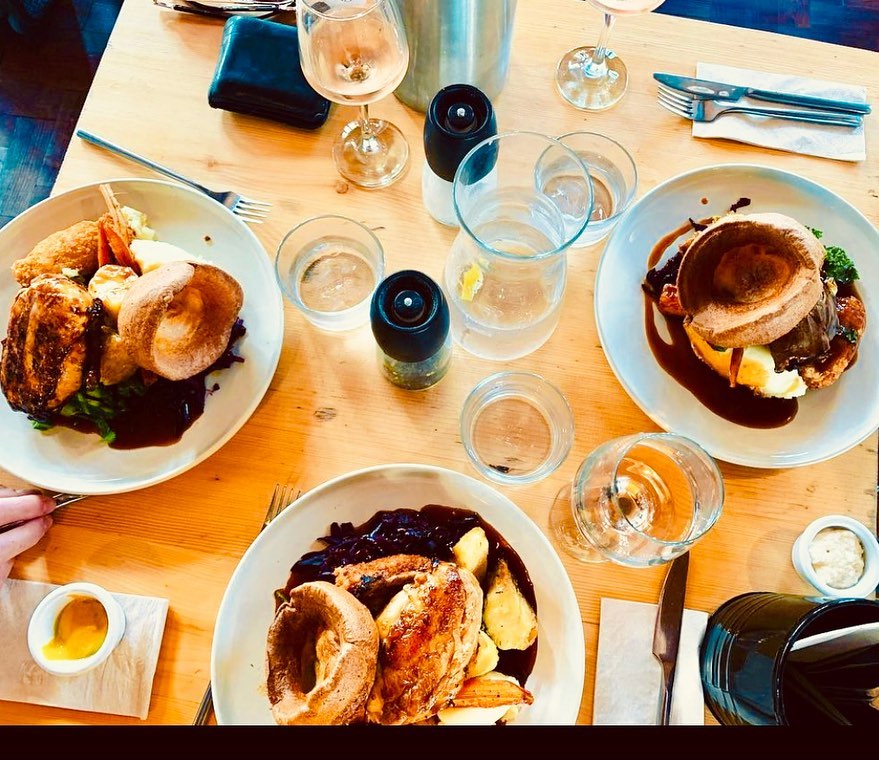 The gravy at Station South is so good, that some customers famously drink it from the glass. The 'cycle cafe for everyone' has become something of a neighbourhood favourite since opening its doors this summer, and now we've got another reason to go. Roasts.
With giant Yorkshire puddings, heaps of potatoes and greens, the plates here are very generous – but you will have to spring an extra £1.50 for a jug of additional gravy. We reckon it works out fair enough though, thanks to the huge portion sizes.
Hispi, Didsbury Village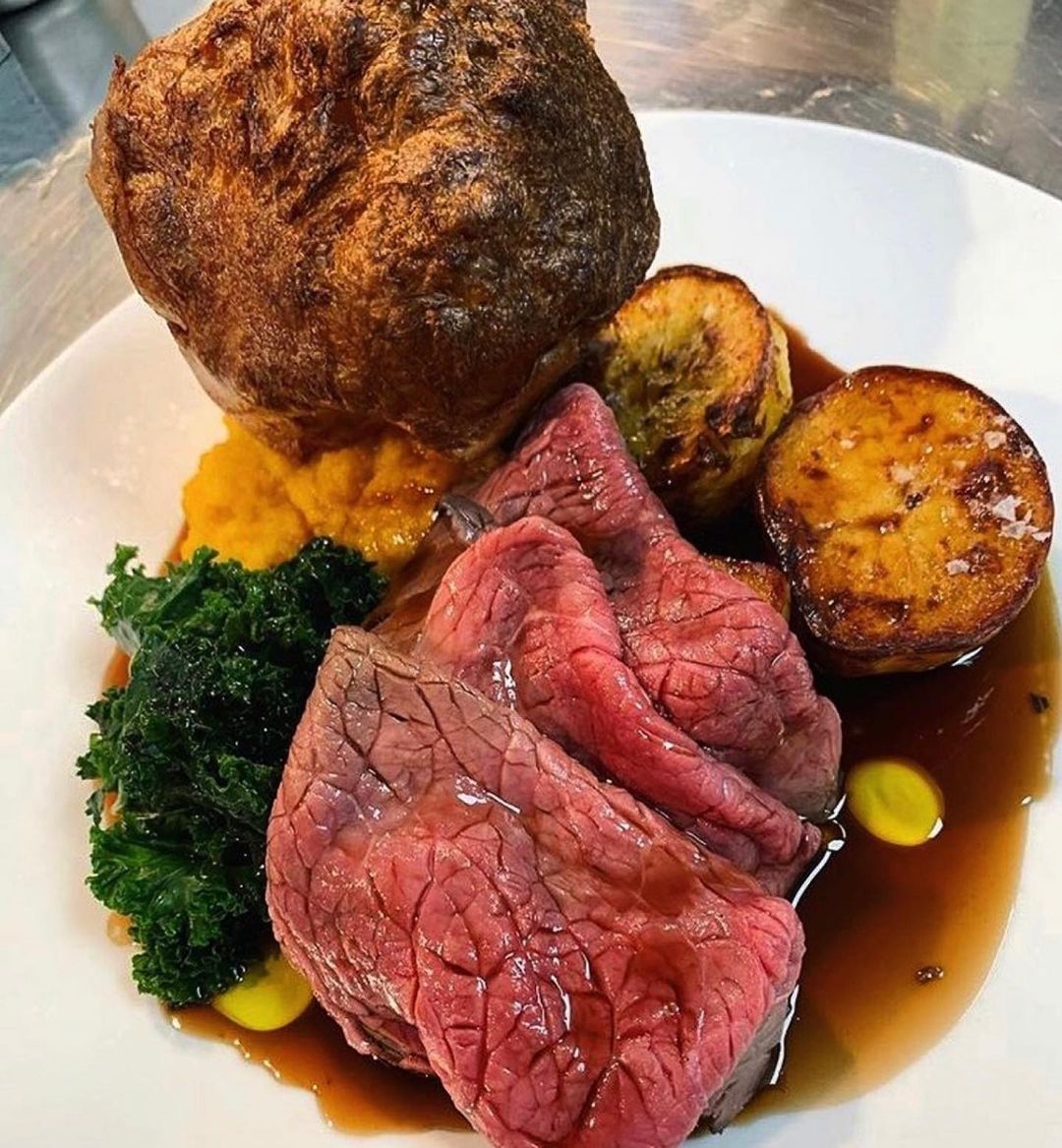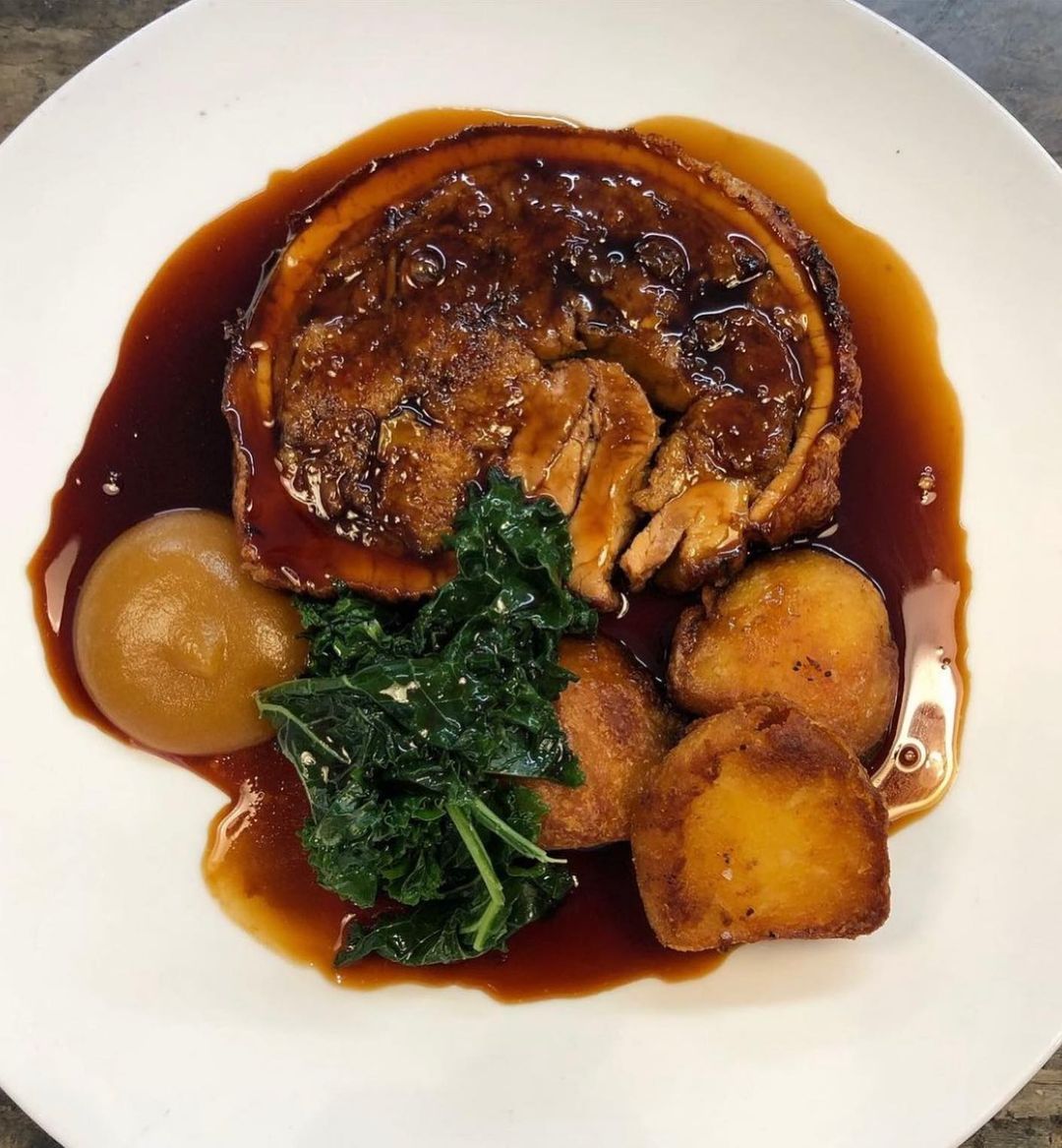 From the Elite Bistro team behind Sticky Walnut and Kala, this charming neighbourhood bistro in Didsbury Village is, without a doubt, one of the best places to grab a roast south of the city centre.
Priced at 2 courses for £25 or three for £29, mains include roast beef, pork belly, sirloin (for two) and chicken, each served with their own dedicated list of perfectly paired sides.
Elsewhere, you'll find confit chicken terrine, beer battered salt pickles, pan-fired sea bass in a langoustine bisque and a chestnut mushroom and goats curd linguine. A must-visit this, trust us, and if the egg tart is on simply order it and don't look back. You're welcome.
The White Hart, Lydgate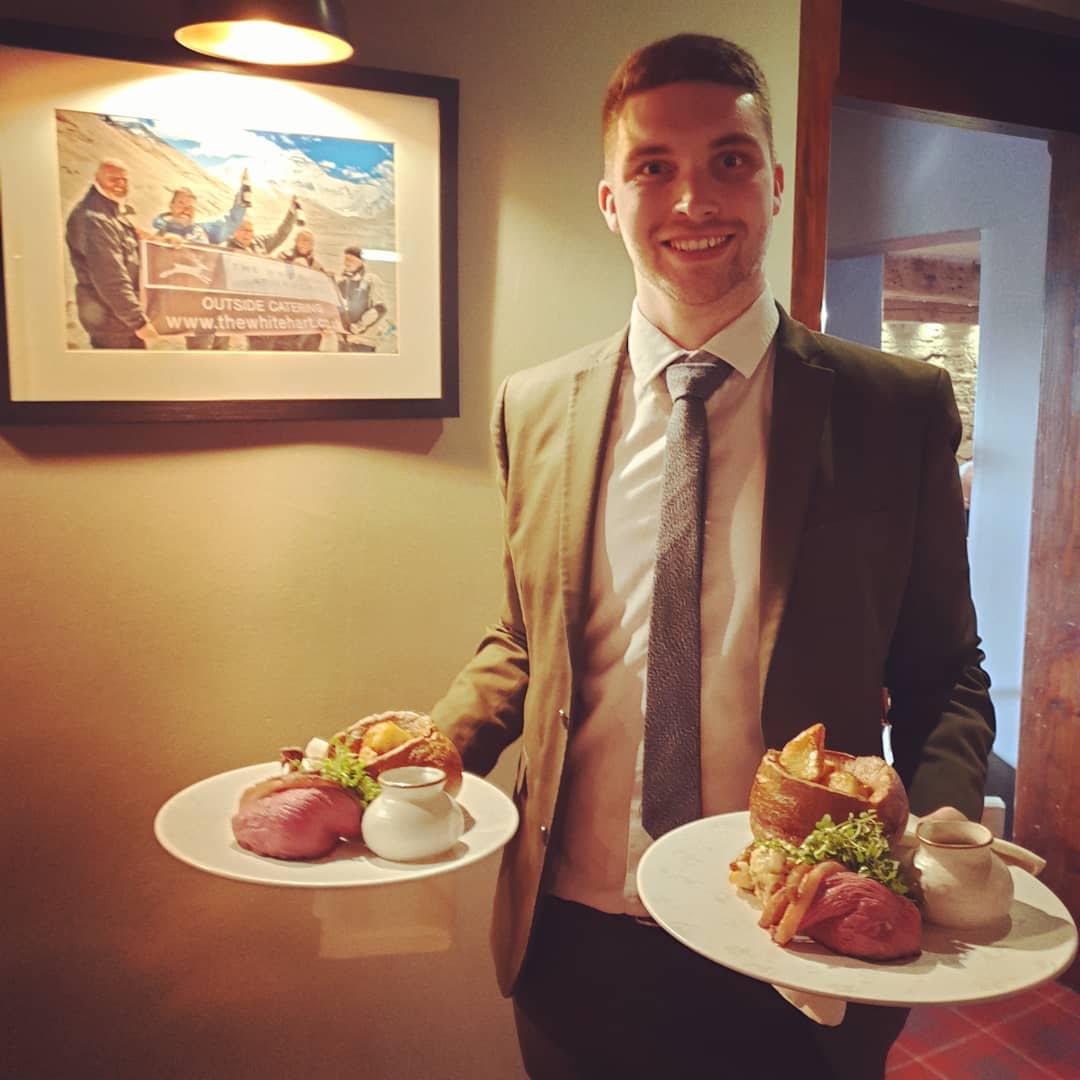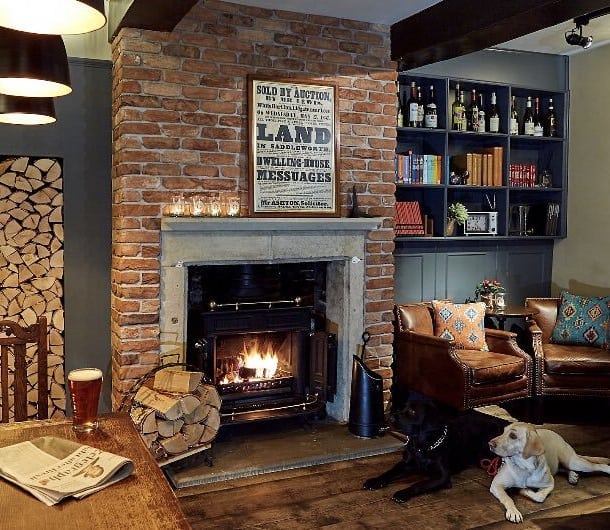 For proper country feels, head to The White Hart at Lydgate for a bang-up Sunday feast. Priced at £29 for 2 courses or 3 for £35, those after a traditional roast can tuck into grass fed Hereford rump of beef, Easingwold pork belly or roasted Yorkshire chicken.
All roasts are served from 12-8pm with Yorkshire puddings, roasted potatoes, cauliflower cheese, honey glazed carrot, savoy cabbage, crispy stuffing, apple and red wine sauce. Alternatively, swing for the coronation cauliflower, crispy haddock and chips or pan-fried stone bass if you fancy something a little different.
The Pack Horse, Hayfield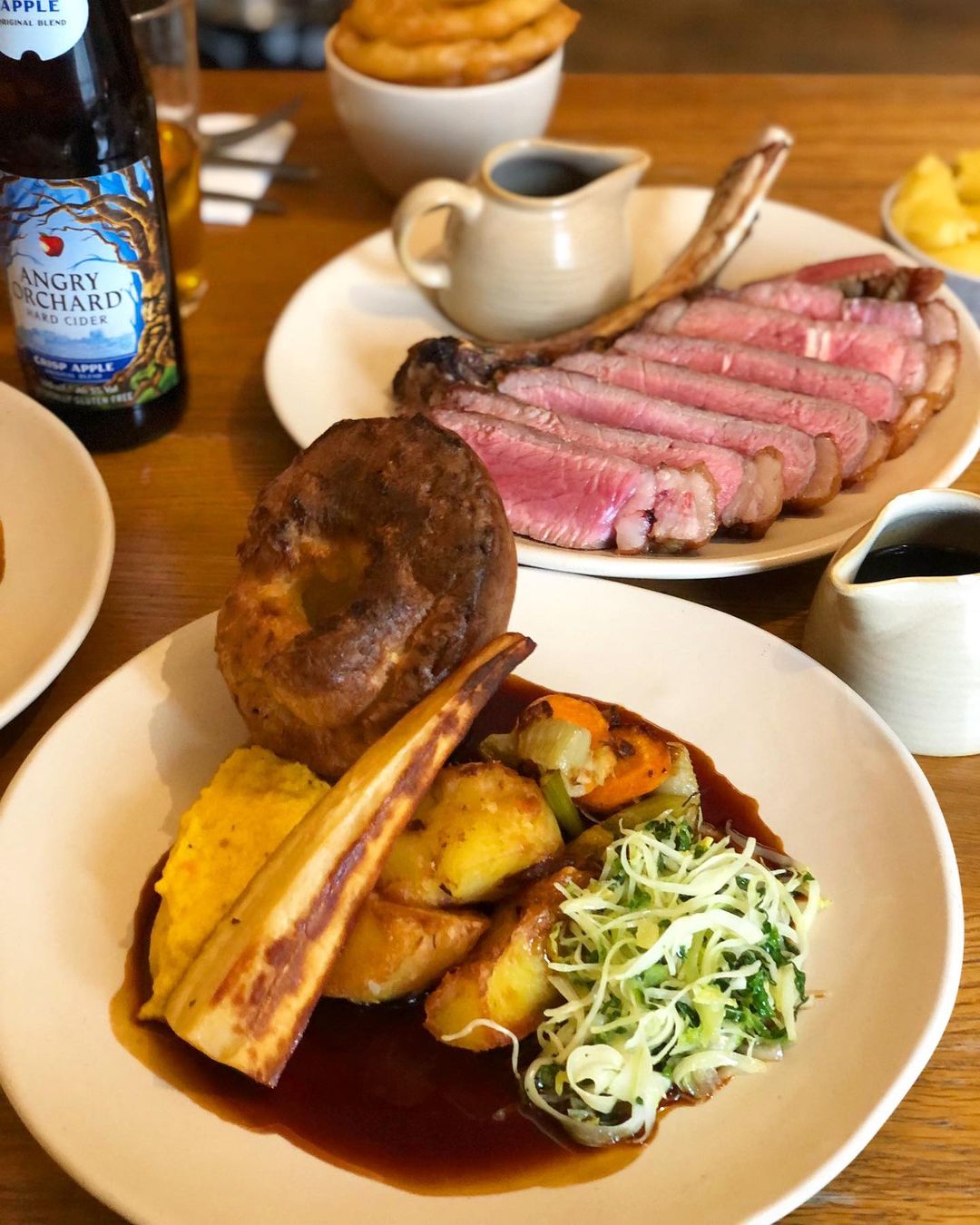 This multi-award-winning country gastropub has had some impressive accolades of late, not least an ebullient new inclusion in the Michelin Guide.
All roasts here come served with crispy potatoes, carrot and swede mash, braising vegetables, buttered cabbage, Yorkshire pudding and gravy. Choose from Derbyshire beef sirloin, High Peak lamb shoulder slow roasted overnight, or a 'chicken of the woods' mushroom and truffled Baron Bigod tart with seaweed gravy.
A regular haunt of some of Glossop's most esteemed foodies, technically it's not in Manchester but we're not letting that get in the way of a great scran – and neither should you.
Feature image –