Eats
Where to find the best vegan food and restaurants in Manchester
From fine dining to gastro pub settings and a whole host of 'dirty' junk food, Manchester's a great place to be a vegan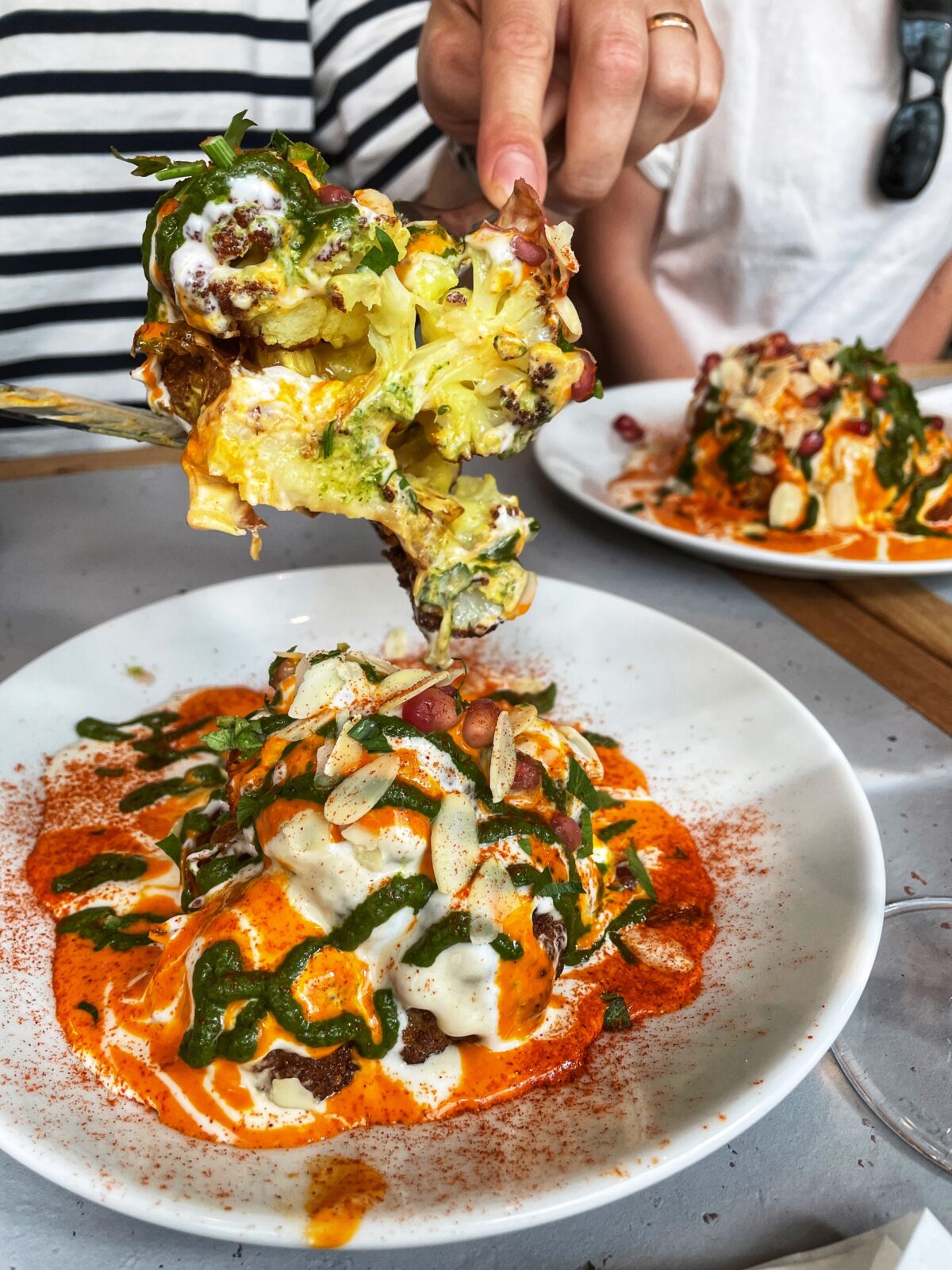 Manchester is one of the best places in the country to eat out if you're trying to go vegan – be that for veganuary, or any other time of the year.
The city has some great dedicated vegan restaurants, serving up everything ranging from 'dirty' plant-based fast food to sit-down gastropub and fine dining-style restaurants, giving those exploring a plant-powered diet a real boost when it comes to eating out.
But beyond that, you can even trust that most restaurants in Manchester – even if they're not designed for vegans – will have one or two suitable dishes on their menu.
Truth be told, the time has just gone when you can get away with not catering to this ever-growing group of foodies. Or it has in Manchester at least.
If you're thinking of exploring a more plant-led diet, or simply curious as to where you might find the best vegetarian and vegan restaurants in Manchester, keep reading – we've pulled out a list of must-visit places for you to try below.
Desert Island Dumplings – Afflecks
These are not your average dumplings – the little parcels of joy served up at Desert Island Dumplings are inspired by other foods like cheeseburgers, salt and pepper chick'n, and even overnight oats. And they're all vegan.
The plant-based cafe has opened up inside Afflecks, kitting it out with tons of The Simpsons memorabilia, including a Gamecube loaded with the original Simpson's Hit & Run.
Wholesome Junkies – Victoria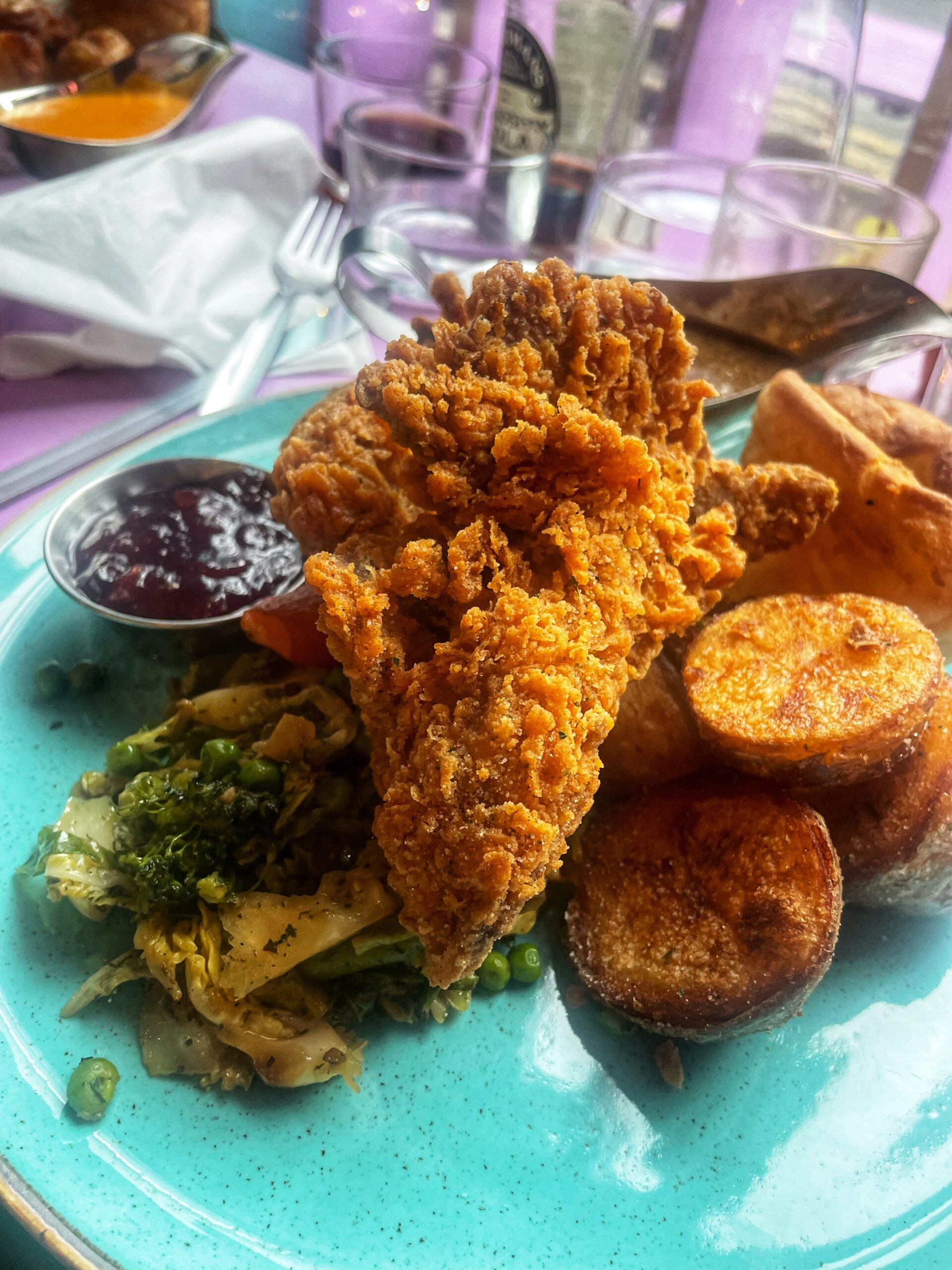 Wholesome Junkies was a firm favourite of the Arndale Market during its years there, and they've now branched out to open their own restaurant, complete with a vegan roast dinner.
You can expect plenty of delicious meals made with mock meat, from a hearty Sunday lunch to bao to burgers, with plenty of pop-ups around town as well as their own site behind Manchester Victoria.
Unit 4 Mirabel St, M3 1PJ
The Vurger Co – Northern Quarter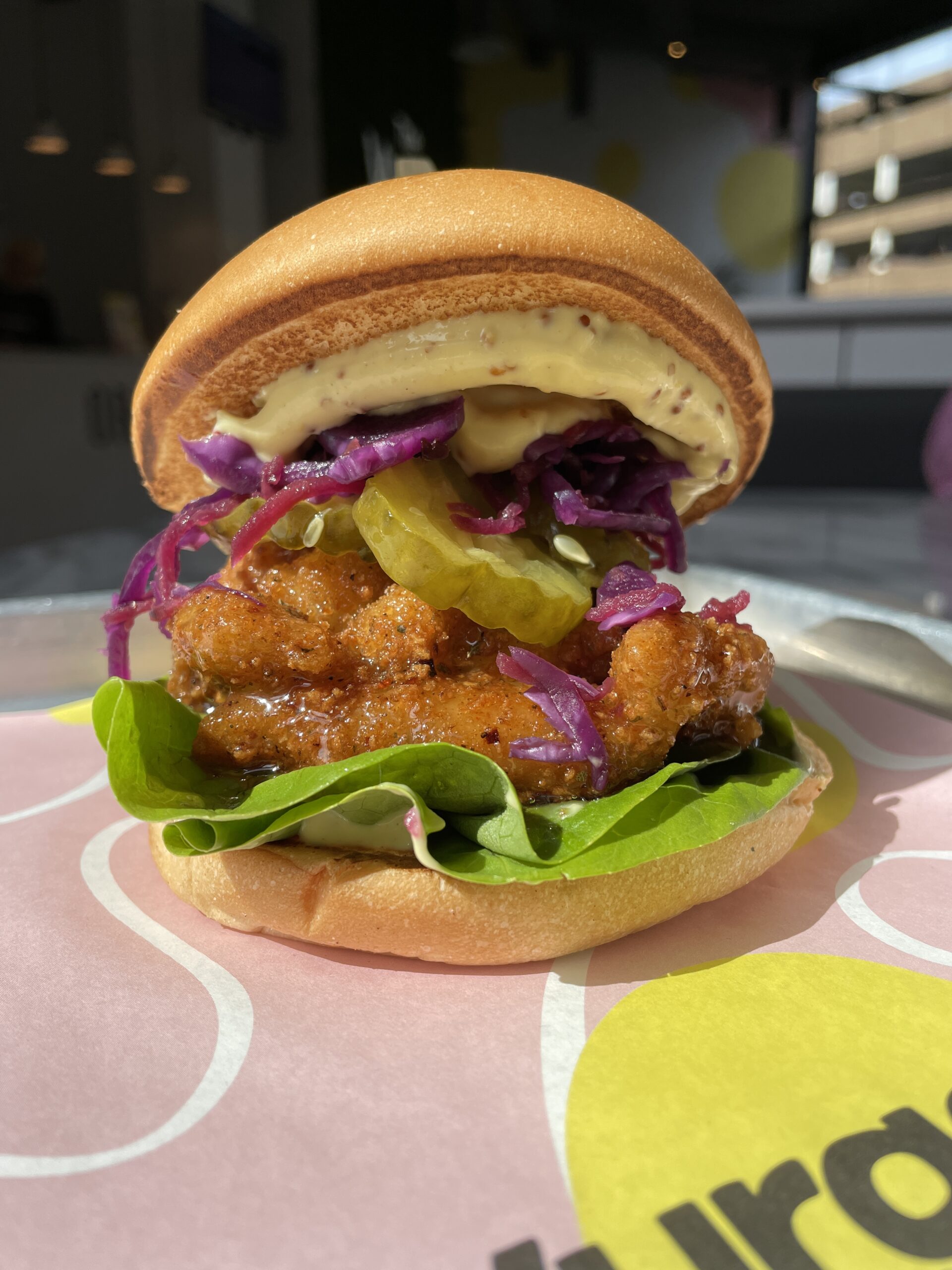 Parking up inside a new building in the Northern Quarter is The Vurger Co., a burger joint that's already hugely popular in London and Brighton.
Think indulgent burgers like their classic New York Melt, Buffalo Vurger (crispy 'chicken' patty dipped in buffalo hot sauce) and Hunny Chicken (house-made vegan honey, drizzled over The Vurger Co's chicken patty, with honey mustard aioli, gherkins, and fresh brioche).
Unit 2, Transmission House, 11 Tib St, M4 1AE
Maray – Albert Square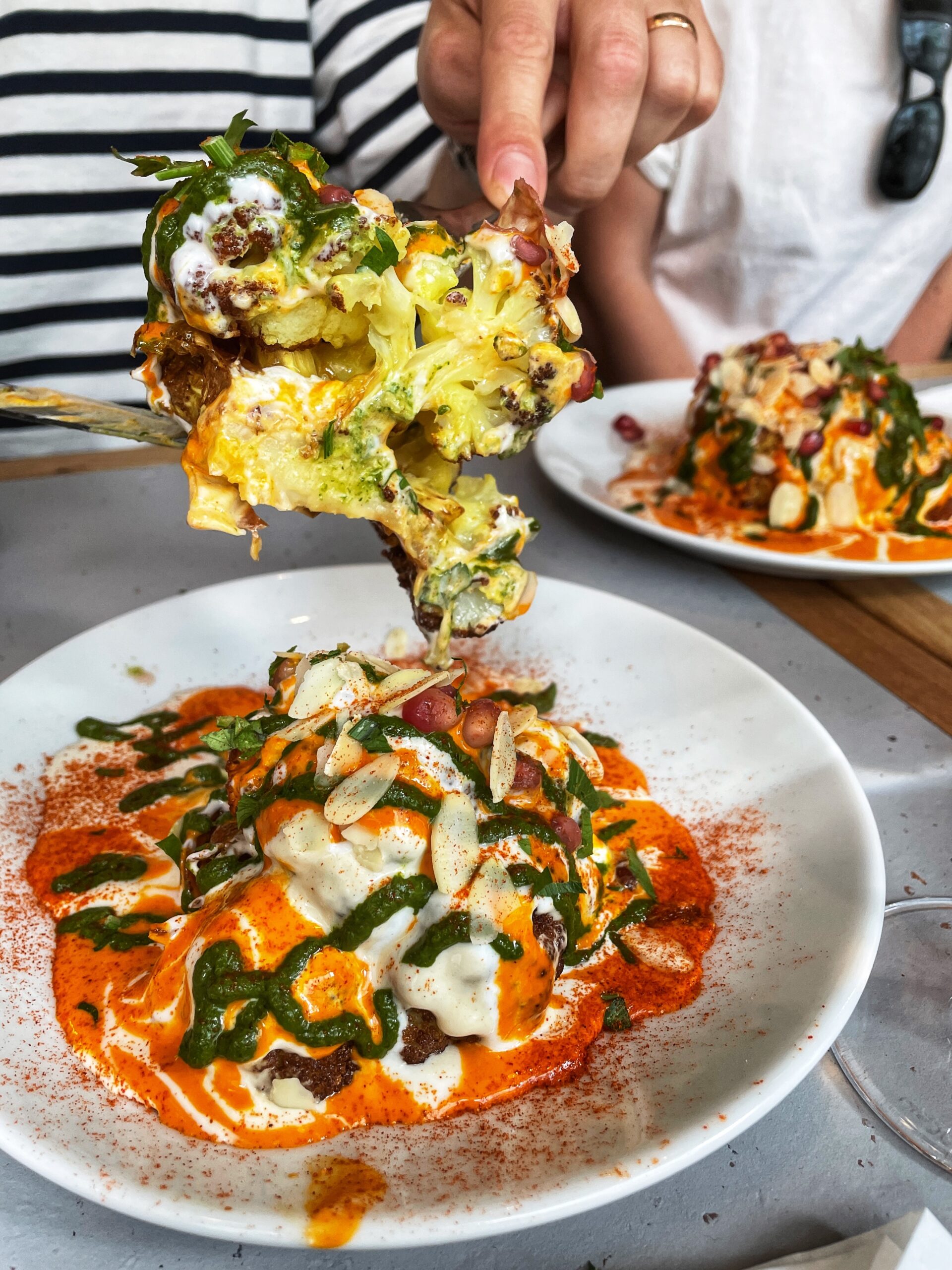 Middle Eastern / Parisian restaurant Maray is a must for its veggie and vegan small plates, brilliant cocktails and spiced falafel roast dinner.
Must-tries here include the signature Disco Cauliflower, which comes baked whole and loaded with sauces and pomegranate seeds, the warm garlic flatbread, hummus and bright green house falafels.
14 Brazennose St, M2 6LW
Banh Vi – New Century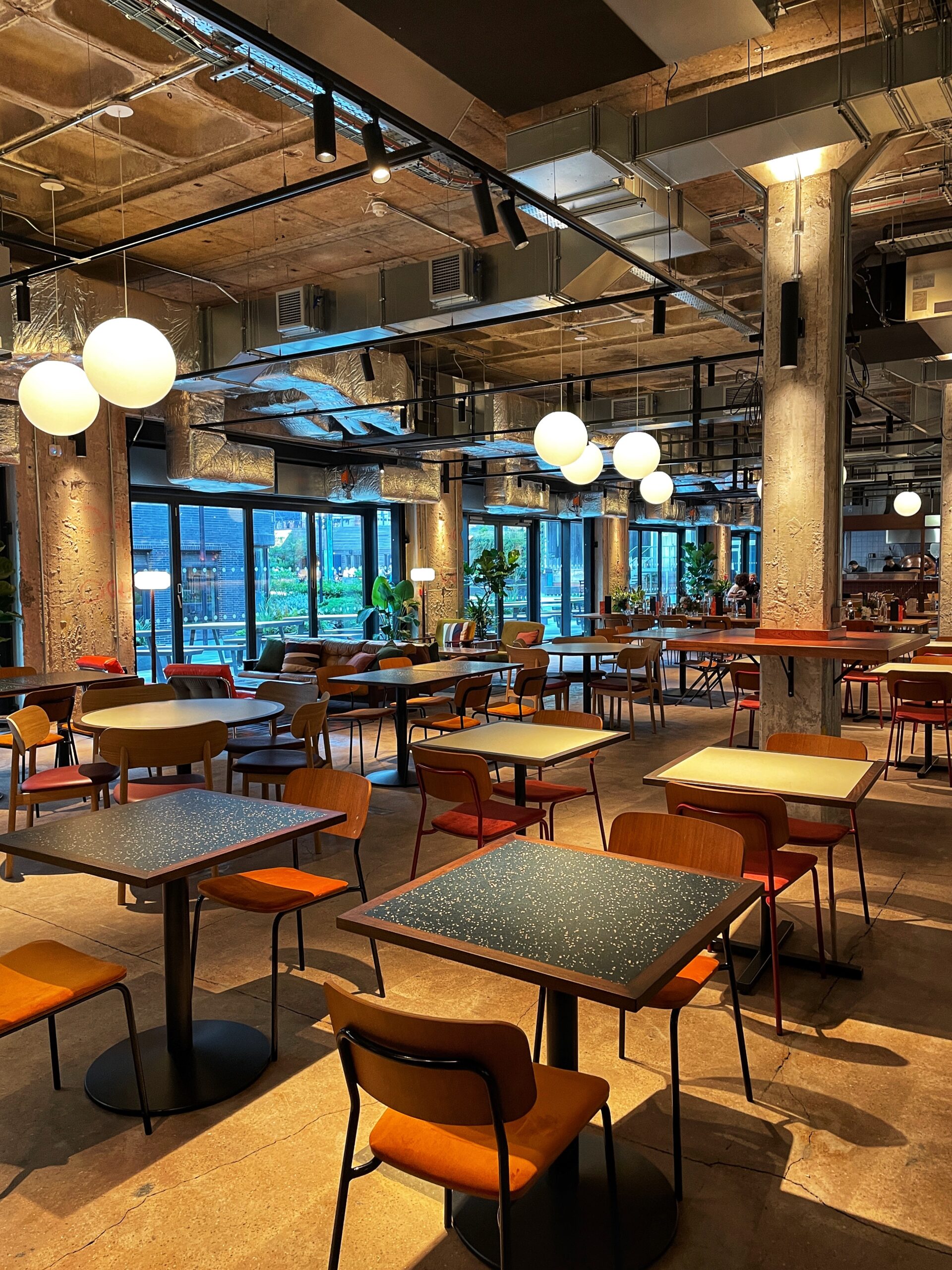 Banh Vi's menu used to be entirely plant-based, and although they've branched out to include some non-vegan options along the way, this is still the most flavourful meat-free sandwich in Manchester.
Their Vietnamese sandwiches are filled with pickles, plant-based pate and Asian-style vegetables and proteins, served alongside summer rolls, oyster mushroom wings, and even breakfast banh mi.
New Century, Corporation St, M60 4ES
Little Aladdin – Northern Quarter
This Indian Cafe has developed quite a cult following in the 25 years it's been in the heart of the Northern Quarter, with its authentic Indian curries and wraps.
And everything on the menu is vegan, as of four years ago – much to the surprise of unsuspecting meat-eaters who wander in searching for a quick late-night scran.
72 High St, M4 1ES
Gooey – Northern Quarter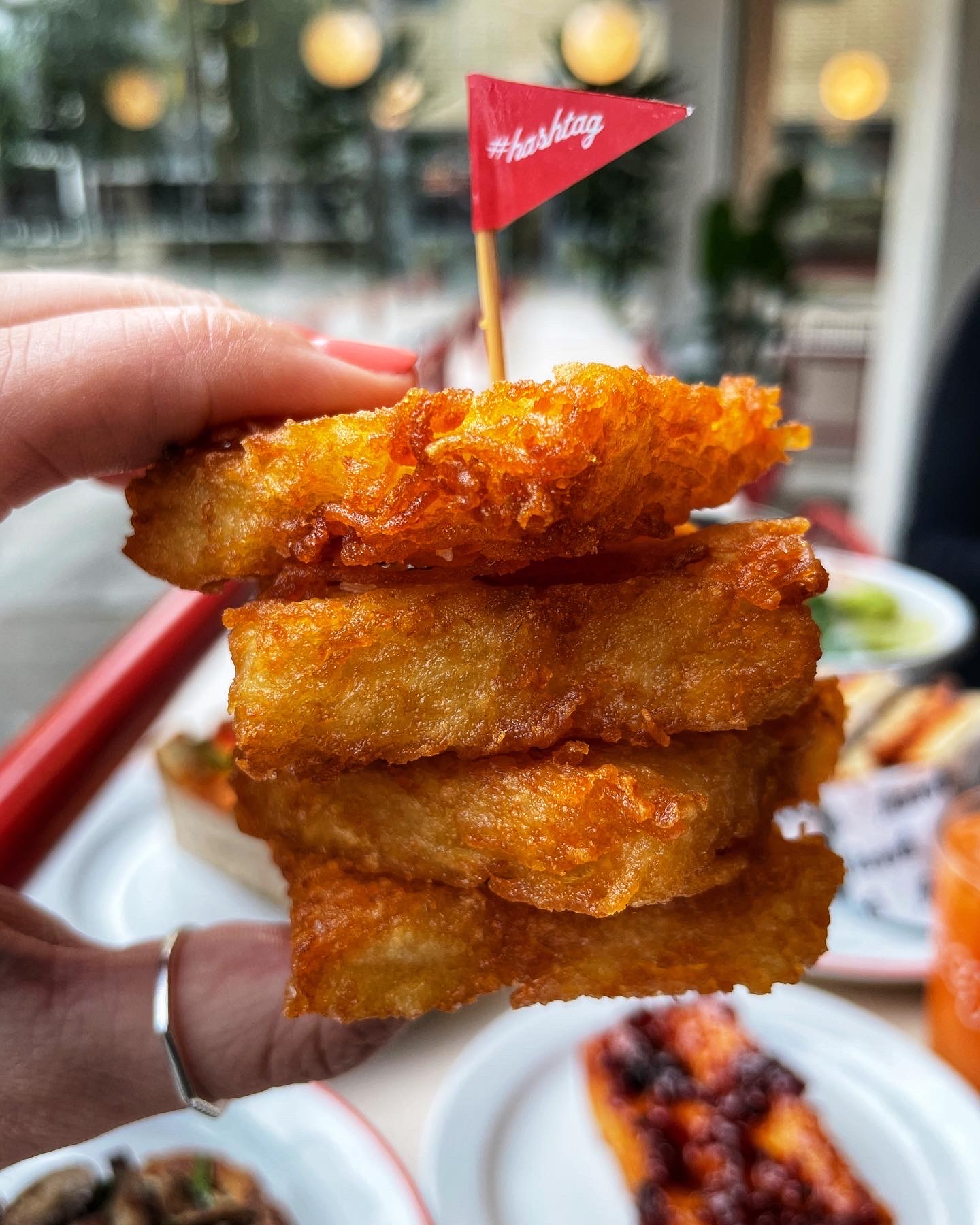 While Gooey might be best-known for its fat cookies studded with chocolate, and for its enormous slabs of French toast, it's also got a lot on offer to suit vegans… including Lizzo, who raved about its plant-based offering while staying in Manchester.
Their vegan crispy tofu sando (especially when served Lizzo-style with a side of hash browns) is the stuff of legend.
The Allotment – Manchester Cathedral
This award-winning plant-based restaurant takes vegan food in Manchester and reimagines it in a gastro-pub style, with dishes like butternut lasagne, chestnut bourguignon, and a brown sugar-glazed tofu 'ham'.
Elsewhere, you'll find small plates like cauliflower wings, satay tofu skewers, miso maple mushrooms and a plant-based take on a prawn cocktail. At lunchtime Monday to Friday, you can get two dishes and a hot drink for £15 here too – bargain.
1-3 Cathedral Gates, M3 1SW
Vegan Shack – Manchester Piccadilly Gardens
Another opening to land in Manchester during lockdown, Vegan Shack can be found on Piccadilly Gardens slinging out shakes, burgers, vegan fried chicken wraps and more.
Their hero dishes include 'bacon' loaded fries, Fillet Faux Fish, and chick'n bites.
One Piccadilly Gardens, M1 1RG
What The Pitta – Northern Quarter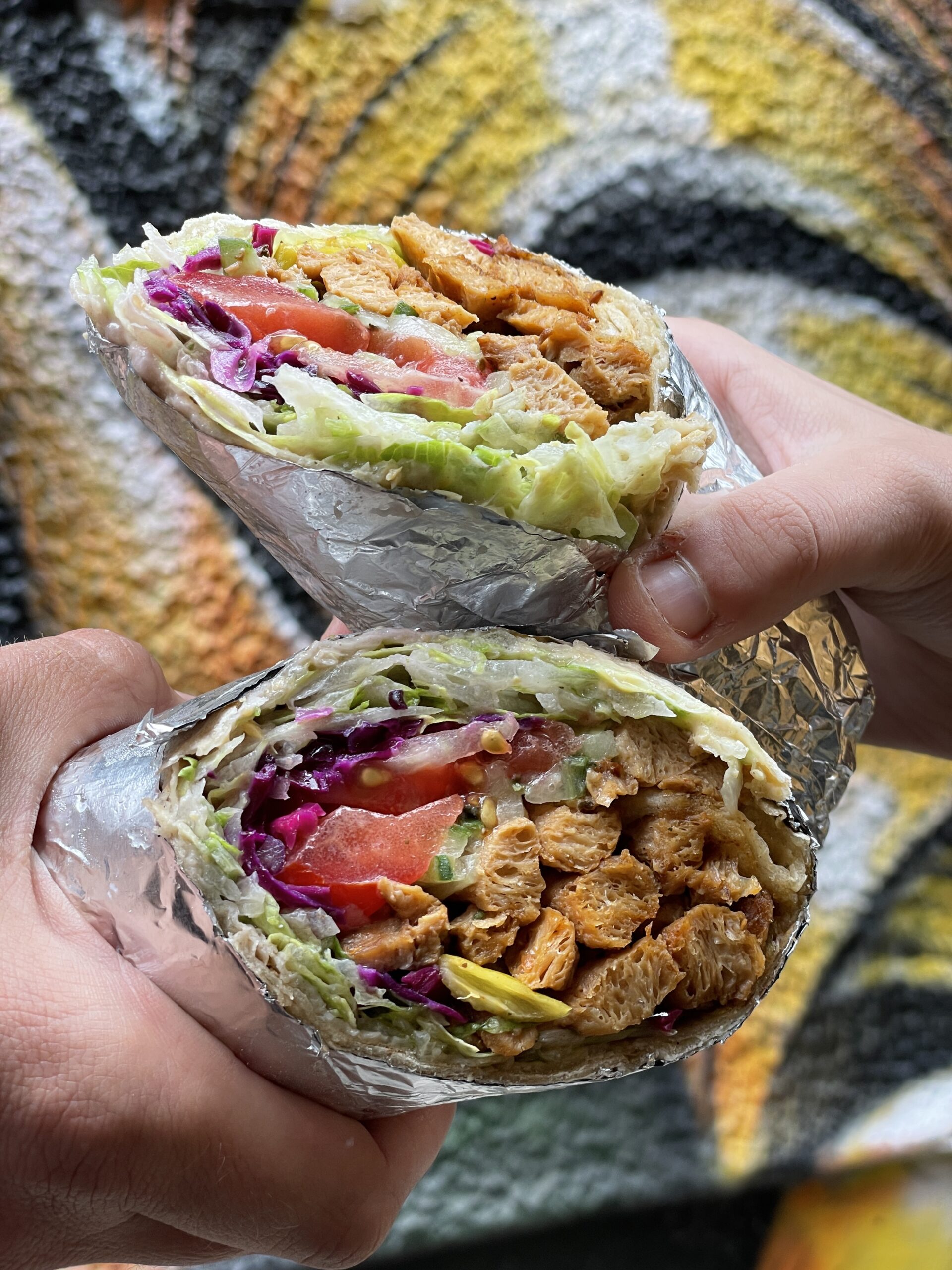 Known for its amazing vegan kebabs and soft-serve ice cream, What The Pitta has been a resounding hit with local vegans since landing in Manchester at the end of 2020.
Having been voted the UK's number one kebab at the British Takeaway Awards in 2020, it's not too surprising. The classic vegan doner recipe was, apparently, passed down to WTP's co-founder Roj Gul by his uncle in Berlin and is considered to be one of the elites.
42 Back Turner St, M4 1FR
This & That Cafe – Northern Quarter
Manchester's favourite curry house and the home of the rice and three, This & That has been a favourite since it was established in 1984. Here you'll find a huge choice of delicious curries, with loads of vegan options to boot.
Tucked away on Soap street, you might have a job to find it – but once you do, trust us, you'll never look back. It's a local treasure for a reason.
3 Soap St, M4 1EW
Lotus Plant Based Kitchen – Withington
First established in 2014 as a vegetarian Chinese takeaway, Lotus now caters to vegans with an extensive selection of plant-based dishes – following a rebrand that saw them search high and low to source vegan alternatives used in traditional Chinese and Asian recipes.
No dishes contain onion or garlic here due to the owner's personal beliefs, but the food here is still packed with flavour. From an extensive dim sum list, to sharing platters, rice and noodle dishes and a large list of mains including hot pots, sweet and sour, kung po and more, the menu is, quite frankly, huge.
36 Wilmslow Rd, Withington, M20 4BY
Herbivorous – Withington and Oxford Road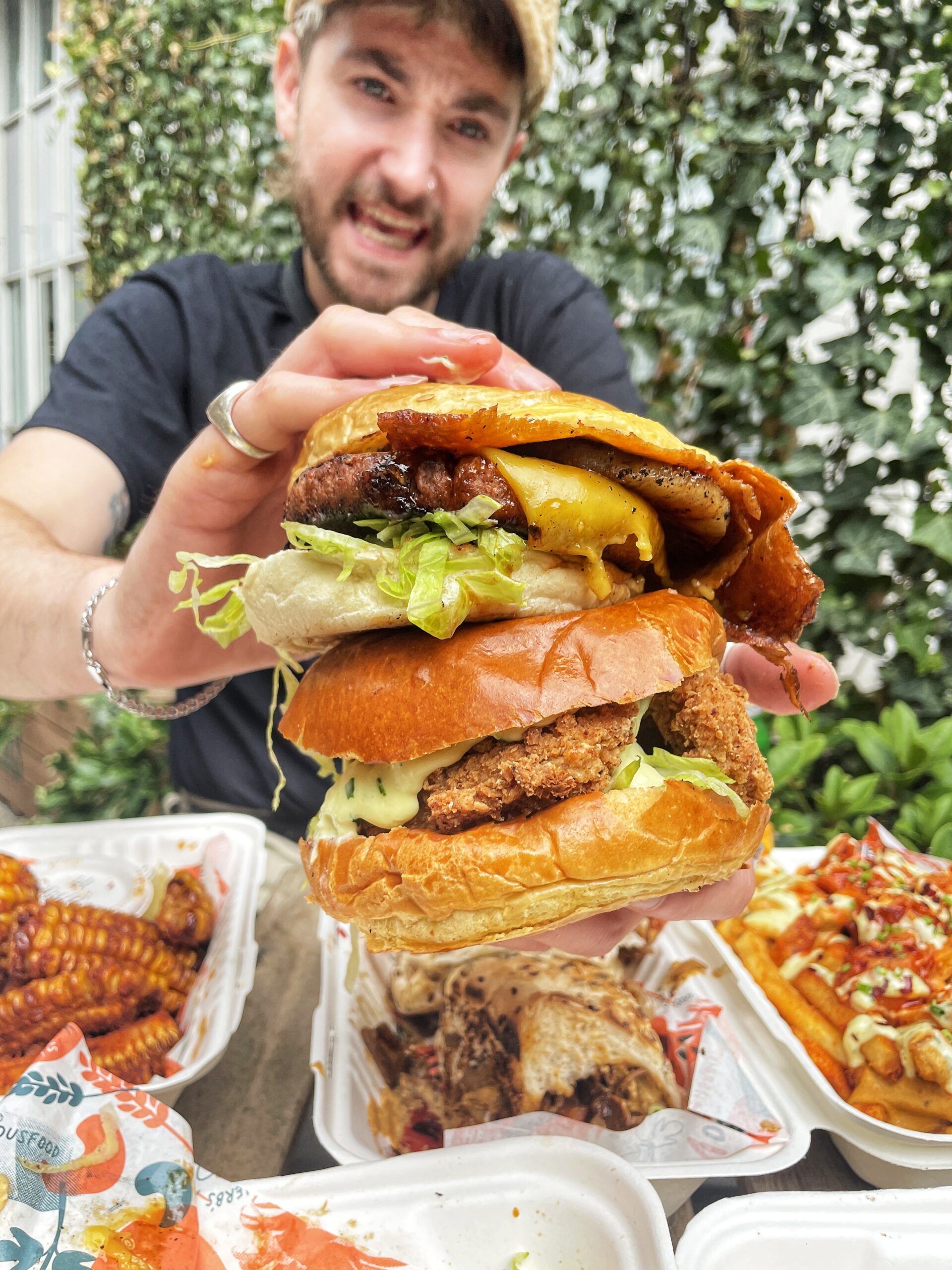 First beginning life as a street food trader, Herbivorous now has its own restaurant down in Withington selling all the naughty vegan food you could possibly want.
They were recently part of the group of operators turfed out of Hatch when it closed suddenly, but have also found a new home down on Oxford Road.
445 Wilmslow Rd, Withington, M20 4AN; and Big Hands, 296 Oxford Road, M13 9NS
Bundobust – Piccadilly Gardens and Oxford Road
Bundobust has long been a favourite on Piccadilly Gardens since it came across from Leeds, but now diners have two options in Manchester after the eatery opened a second site on Oxford Road – with a brewery inside.
Head down for Indian street food favourites like okra fries, vada pavs, bundo chaat, paneer tikka and more.
61 Piccadilly, M1 2AG; and St James's Building, 61-69 Oxford St, M1 6EQ
Purezza – Northern Quarter
First originating in Brighton, Purezza has been packed non-stop since opening its doors inside the former Dough site in Manchester's Northern Quarter.
The all-vegan pizzeria is known for its mozzarella, created for Purezza in a laboratory by scientists over a number of years. The special recipe is apparently unrivalled, so if you're a vegan who still loves cheese you simply have to put this one on your list.
75-77 High Street, M4 1FS
The Eighth Day – Oxford Road
An institution on the Oxford Road corridor, The Eight Day cafe has long been a haven for non-meat eaters – way before the rest of the city caught on.
Upstairs, the shop sells a range of different food products, perfect if you're doing veganuary and need to top up your store cupboards with new ingredients. Whilst downstairs, a cafe serves hearty soups, sandwiches and more – all catered to vegetarian and vegan diets.
111 Oxford Road, M1 7DU
Go Falafel – Northern Quarter, Deansgate and Rusholme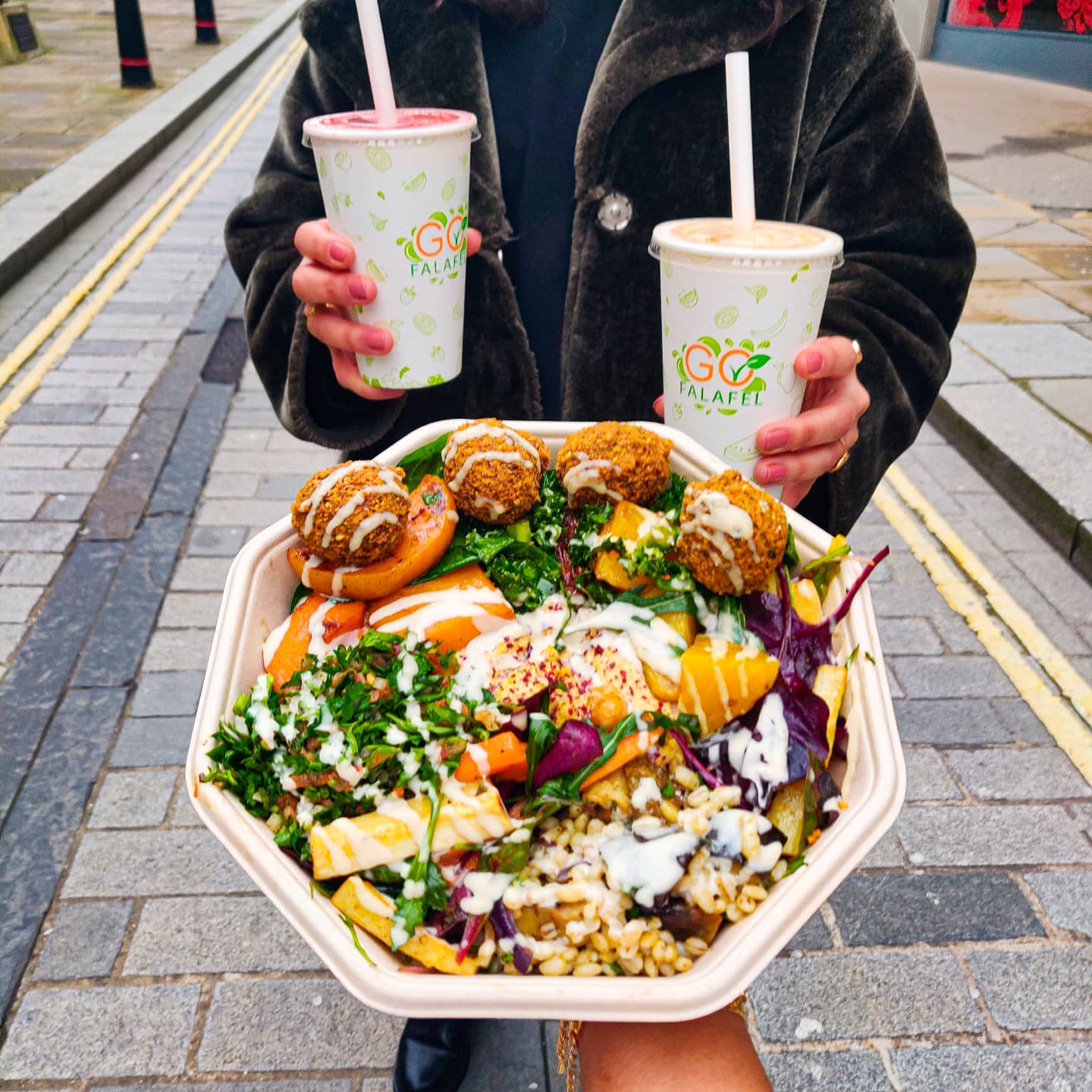 Great for a quick grab-and-go lunch, Go Falafel has several sites dotted across Manchester and is pretty reasonably priced with a medium wrap costing you £6.95. For that, you'll get fresh falafels, house pickles, red cabbage, hummus, salad, chilli and tahini, with the option to add on fried aubergine or vine leaves for an additional sum.
Not feeling a wrap? There's also some hearty salad bowls on offer here, as well as a wide range of freshly made juice blends for those planning on starting the year on a serious health kick.
99 Deansgate, M3 2BQ; 3 Newton St, M1 1HW; and 6 Wilmslow Rd, M14 5TP
The Pasta Factory – Shudehill
One of Manchester's pasta OGs, The Pasta Factory is up there as one of the best in the city for vegans thanks to the fact the team make their own (brilliant) vegan parmesan here. Of course, that's not all – they also make their own pasta and sauces, too.
Think a large selection of pasta dishes, with plenty of choices for vegans, plus regularly changing specials, traditional starters, and bags of freshly-made pasta available to take home, and you'll soon see why locals love this spot so much.
77 Shudehill, M4 4AN
Fuel Cafe Bar – Withington
This little spot in Withington is a long-standing veggie and vegan treasure trove. Ahead of the curve, it's been dishing our vegan breakfasts well before most of the places on this list even opened their doors.
From breakfast to dinner, there's loads of dishes to suit on the menu here – think cakes, burgers, fry ups, soups, you name it – and if you stay late, you might even catch a gig too. They're pretty well known for putting on good acts here.
Read more
Lily's – Ashton-under-Lyne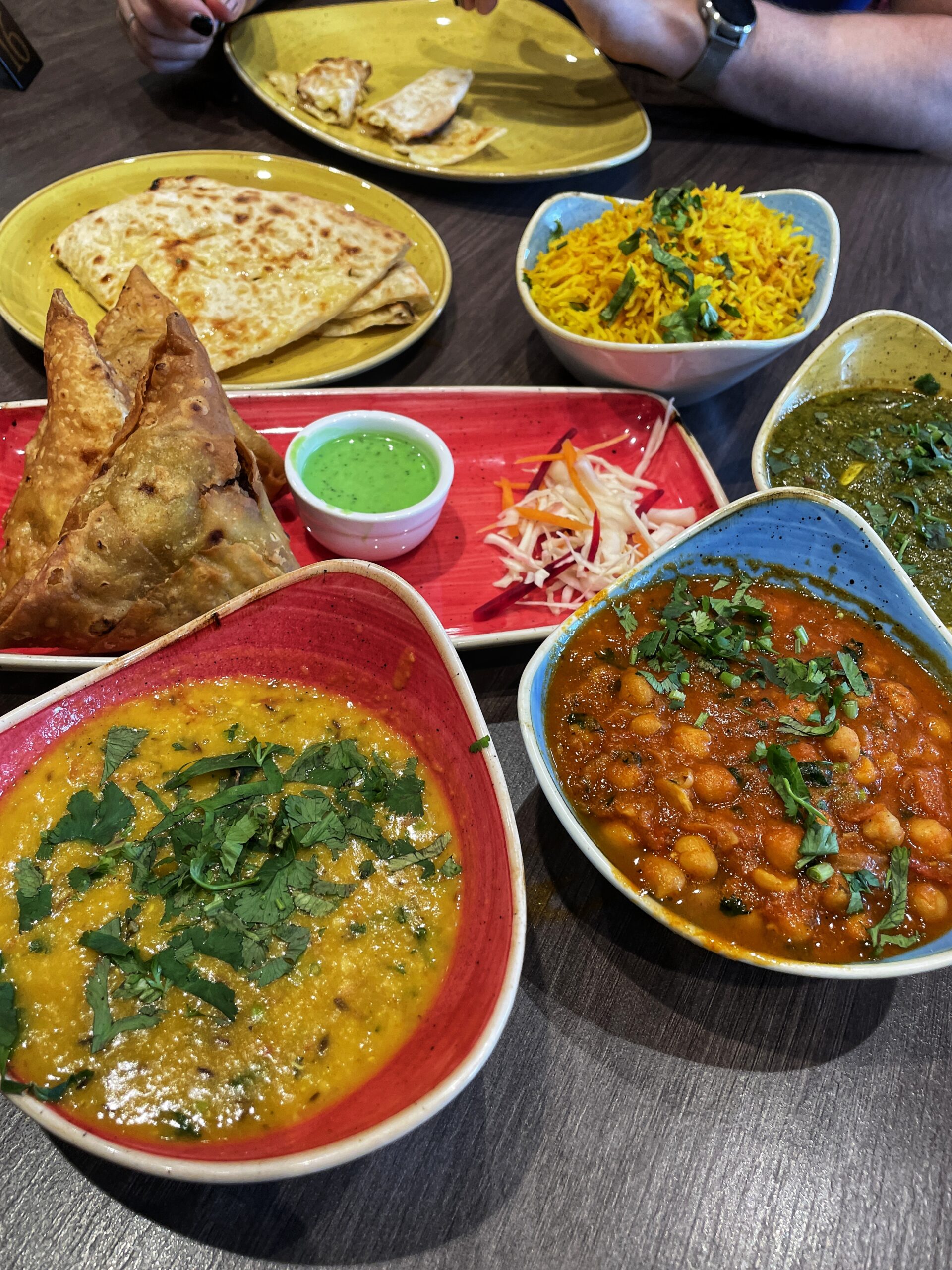 Family-run business Lily's has been an institution in Manchester since it opened in 1972. Starting their journey at a small shop selling Indian sweets and savouries on Cotton Street East, Ashton–Under–Lyne, today Lily's is an award-winning restaurant known far and wide for its vegetarian cuisine.
The restaurant is named in Lily's honour, as she sadly passed away before seeing it open. Chefs here come from all over North India, South India, Rajastan, and their passion ensures that each dish exudes authentic Indian flavours.
85 Oldham Rd, Ashton-under-Lyne, OL6 7DF
Ruyi Vegetarian House – Chorlton
Fusing together vegetarian and vegan oriental cuisine, Ruyi Vegetarian House is as delicious as it is affordable with a three-course tea time deal currently priced at just £12.50 per person.
There's no meat insight here, despite an extensive menu selection spanning hot pot, appetizers, sizzling plates, mains, dim sum, soups, sides, rice and noodles. Instead, expect a mix of traditional and fusion meals, created using soy-based substitutes and lots of vegetables.
101 Manchester Rd, M21 9GA
Sanskruti – Withington
Listed amongst The Sunday Times and The Guardian's best restaurants, Sanskruti is already a go-to for local veggies and vegans in the know.
Serving everything from street food, daal, and thali to punjabi and gujurati mains, rotis/naan, thali and more, the menu here is extensive – and there's plenty for those with particular dietary requirements. With the majority of dishes also vegan friendly, you just can't go wrong.
93-95 Mauldeth Rd, M14 6SR
Featured image – The Manc Group