Feature
27 years ago, the IRA detonated a 1,500-kilogram lorry bomb on Corporation Street
Over a quarter of a century later, locals still tell tales of that fateful day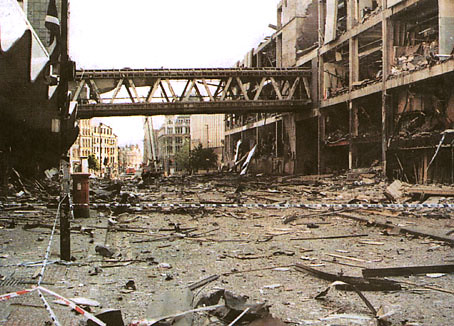 Today marks 27 years since an explosion from the inside of a lorry parked on Corporation Street shattered windows and destroyed buildings across the city centre.
Causing an evisceration that stretched for miles, when the 1,500kg IRA bomb went off in 1996, it was the biggest detonation in Great Britain since the Second World War.
Following the explosion, the city fell silent – leaving rack, rubble and ruin in its wake. Famously, one red post box was left standing – today fitted with a memorial plaque in remembrance of the tragedy.
The bomb caused an estimated £700 million worth of damage to Manchester's infrastructure and economy, and over a quarter of a century later locals still tell the stories of where they were when it went off – and of the devastation it left behind.
Notably, one resident of the Cromford Cout maisonettes on top of the Arndale – a 77-year-old RAF veteran suffering from the flu – didn't even bother to get up when the telephone warning to evacuate hit, considering himself to have survived much worse feats during his time in service.
Having been a rear gunner in a Lancaster in the war, he reportedly told police and authorities "he was buggered if he was going to let a small bomb affect him."
In subsequent years, Danny O'Neill has become a part of an urban legend surrounding the bomb as his story has been told time and time again.
Read more: Never-before-seen footage of the IRA bomb aftermath – and the legendary pub landlord who witnessed it all
Around 90 minutes prior to the detonation, the Provisional Irish Republican Army had telephoned in warnings – meaning that around 75,000 people were able to be evacuated from the area before the bomb went off.
However, the bomb squad were unable to defuse it in time – leading to over 200 injuries from people still left in the area.
Thankfully, despite those injuries, there were no fatalities and many of those reported traumas came from the shattering of thousands of windows, and other damage to buildings in which unsuspecting people were getting on with their days.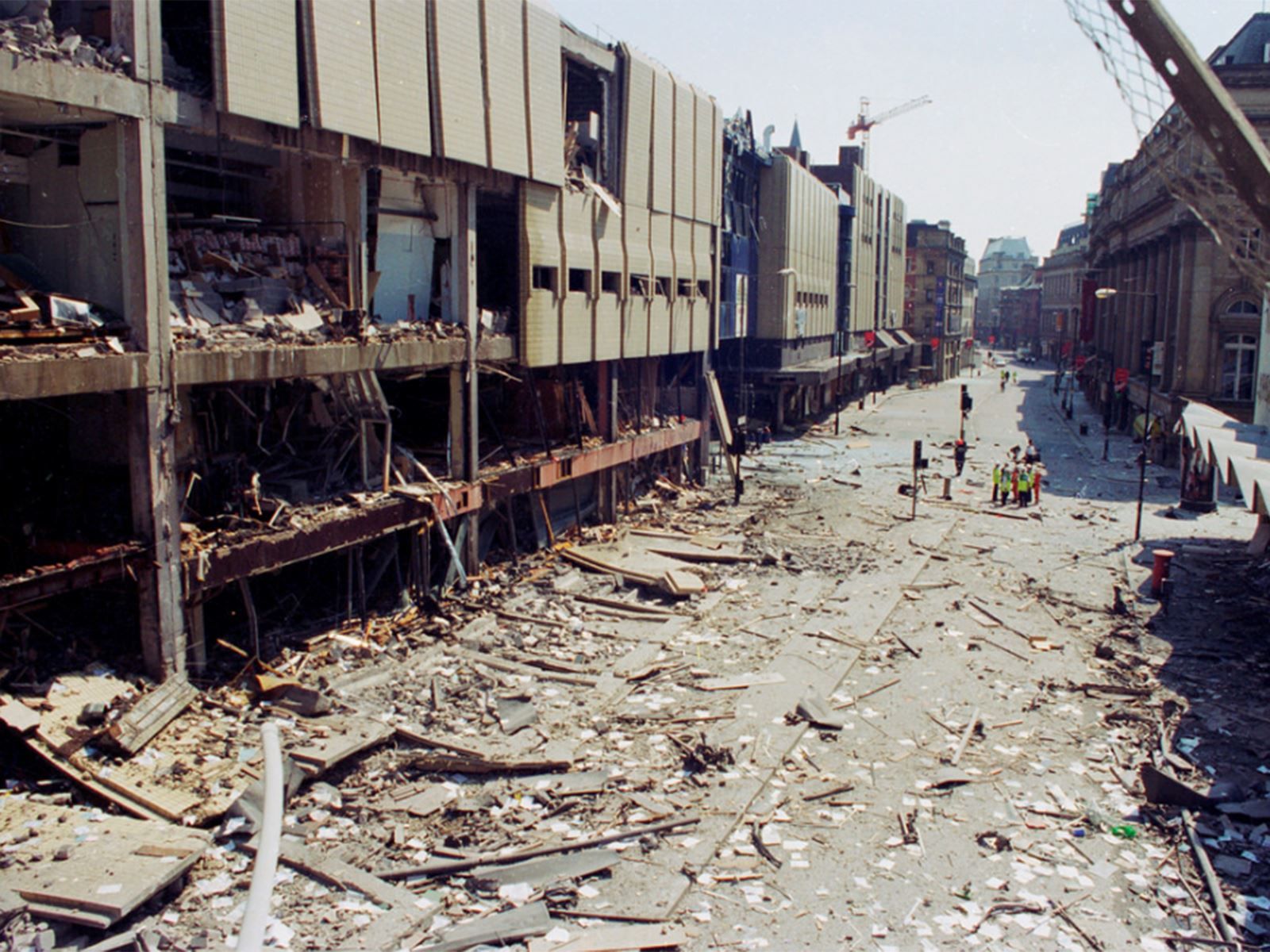 Several buildings near the explosion were damaged beyond repair and had to be demolished, while many more were closed for months for structural repairs and this prompted the biggest regeneration of Manchester city centre ever – something that is arguably still continuing today.
The city lay dormant for days after the explosion, as people came to terms with what had happened, and kept their distance. Many moved out of the centre for a period of time, while many more simply decided not to visit for fears of another incident.
It was a desolate place, eerily quiet, and in need of some serious TLC.
According to Home Office statistics, an estimated 400 businesses within half a mile (0.8 km) of the 1996 blast were affected, 40% of which did not recover.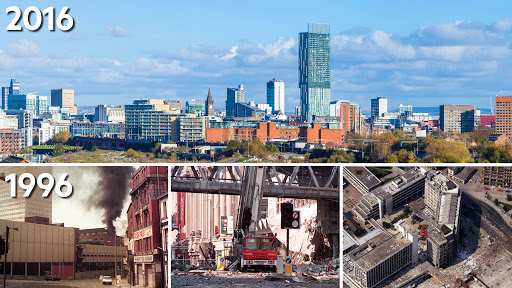 Market Street – near the explosion and at that time the second-busiest shopping street in the UK – was considered by some a "fearful" place, and one that was to be "avoided like the plague".
The prospect of pulling Manchester's bustling city centre out of its darkest depression was not casually approached by those in charge.
It was acknowledged as a mammoth task from the get go.
But Greater Manchester has never let anything get in its way.
Read more: The story behind the maisonettes that once sat on top of the Arndale
Despite how steep the hill is that we're standing at the base of, we always manage to reach the peak ready to go again.
Feature image – Supplied