Feature
The forgotten Manchester suffragist who inspired a teenage Emmeline Pankhurst
At the forefront of women's suffrage, Lydia was subject to merciless teasing – particularly from politicians and the press.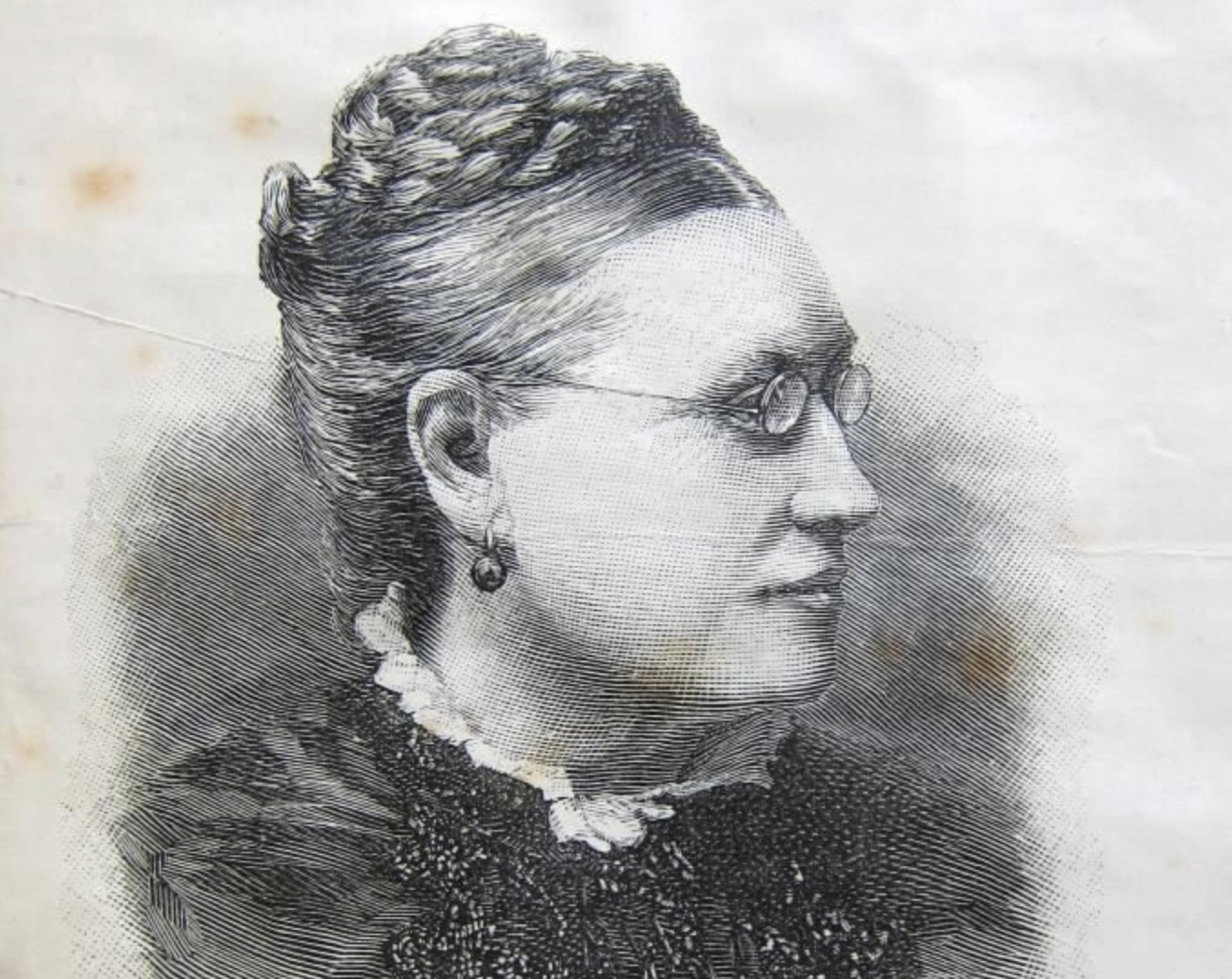 Whenever anyone thinks of the Suffragette movement, particularly in Manchester, one of the first names to come to mind is Emmeline Pankhurst.
Her story is well known – a girl from Moss Side, born into a politically active family, was introduced to the suffrage movement aged just 14 and ultimately helped British women to win the vote and create historic change.
The Pankhurst's name today is synonymous with women's suffrage, as are the Kenneys of Saddleworth.
But in the early years of the suffragette movement, before it had a name and was just a few pesky women making some political noise, there was another figure – oft-forgotten – who inspired the women around her to make history.
Her name was Lydia Becker and she hailed from Accrington.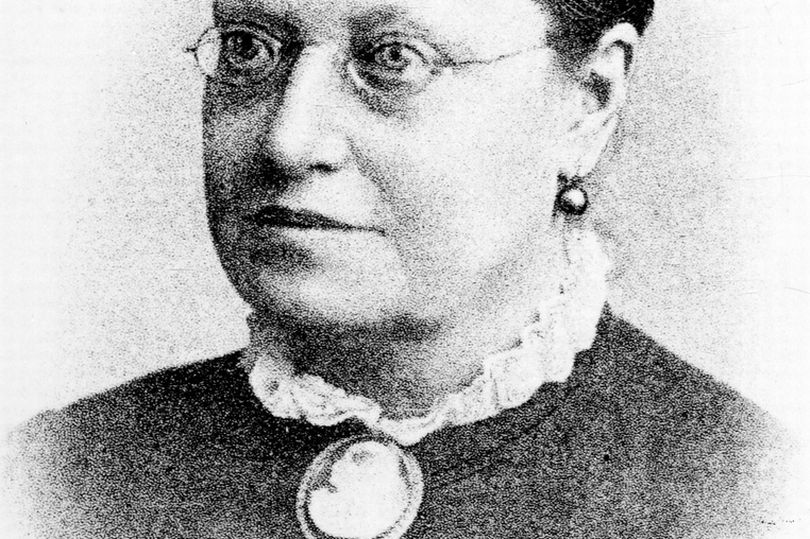 Born in 1827 to a large middle-class family, as a young girl Becker was home-schooled alongside her siblings and took a big interest in nature and botany.
She often wrote to Charles Darwin with questions and the two developed a friendly correspondence, with Lydia sometimes sending him samples of plants from around Manchester to study.
But as well as growing into a noted botanist, as a young woman she was fascinated by politics and got involved in the suffrage movement at a very early stage.
Having studied in great detail the reproductive science of plants, in particular the bisexual and hermaphrodite species, she soon turned her mind to the gender politics of society.
Inspired by a fellow sister scientist, Barbara Bodichon, who had published a paper entitled The Enfranchisement of Women in 1866, Lydia moved to found the Manchester Women's Suffrage Committee – the first of its kind in the country.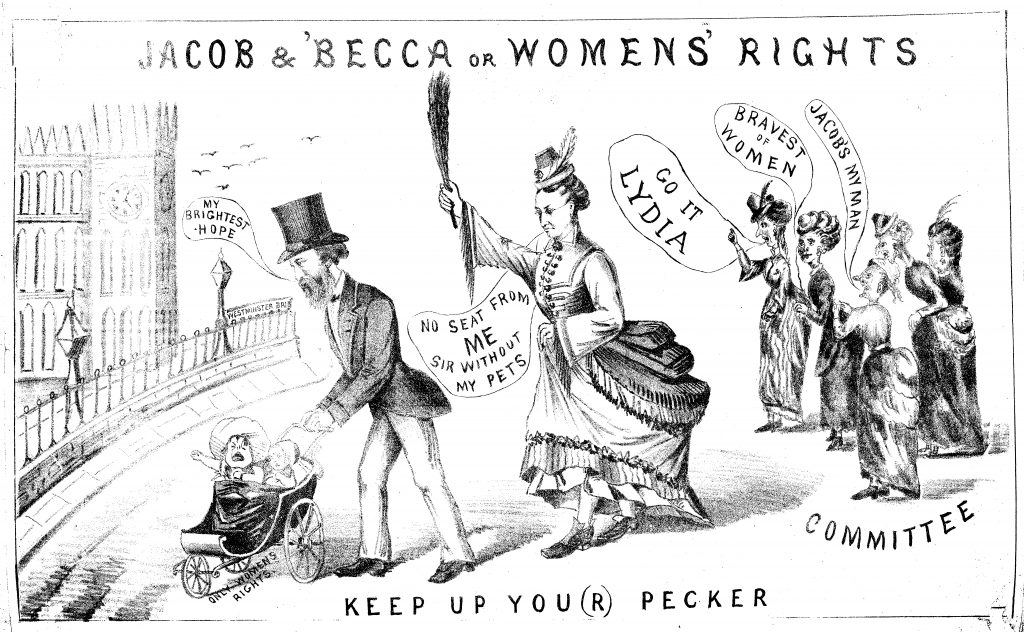 Not much time after founding her committee, Lydia heard about a local woman – a widow – whose name had appeared by accident on an electoral roll. Sensing an opportunity, she and Lily Maxwell went to the polling station together and demanded she be allowed to cast a ballot. She was, and it caused a ruckus.
Spurred on, soon enough Lydia was encouraging all female heads of household to do the same – and was ultimately instrumental in bringing their petitions to court.
The following year, she was one of the central organisers and speakers at the first-ever meeting of the National Society for Women's Suffrage and soon found herself undertaking speaking tours across the country.
This was years before the Pankhursts and at a time when it was completely unheard of for women to get involved in politics in any way. To even suggest that a woman should vote in elections was to completely put yourself out on a limb.
Simply put, politics was for men – it was not considered 'ladylike' for a woman to stand up in a public place and spout her opinions. Lydia didn't let this put her off, though.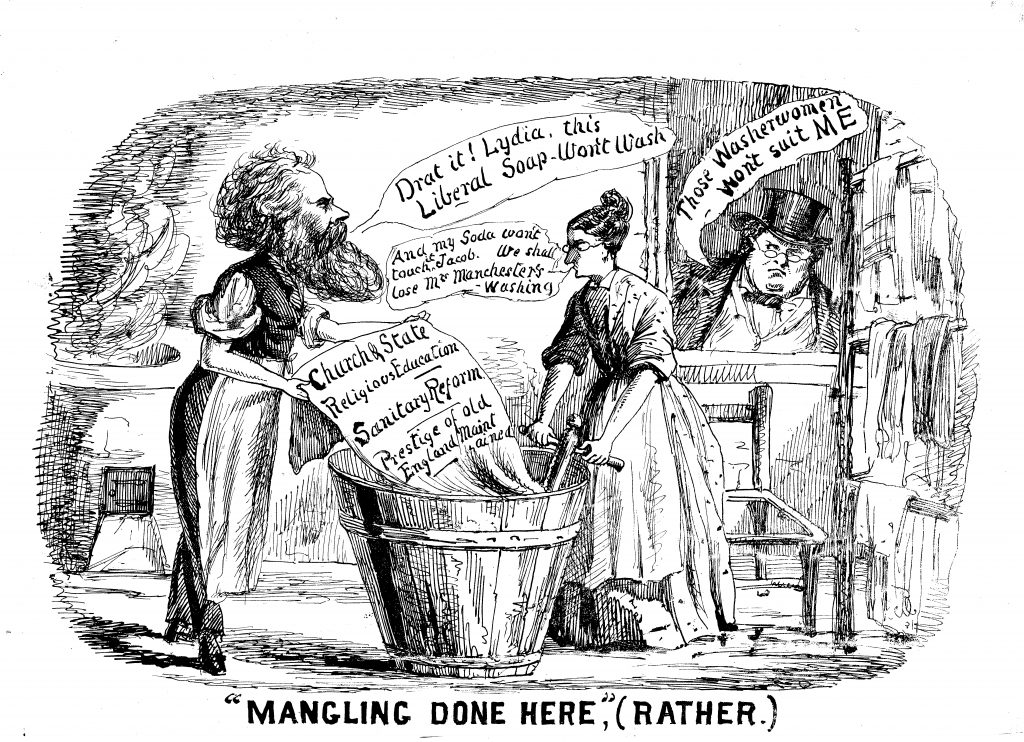 She simply ignored the naysayers (and there were a lot of them) and kept on going on her tours up and down the country after forming the Women's Suffrage Journal in 1870, alongside Jessie Boucherett.
At one of these meetings in 1874, there was a young girl sitting in the audience. A fifteen-year-old Emmeline Pankhurst, who from that day forward would be completely committed to the cause after hearing Lydia speak.
As the movement began to gather pace, one thing that set Lydia apart from her counterparts was her ardent support for the vote of single and unmarried women. These women, she argued, were more in need of the vote than their married counterparts (who ultimately secured the vote first in 1918).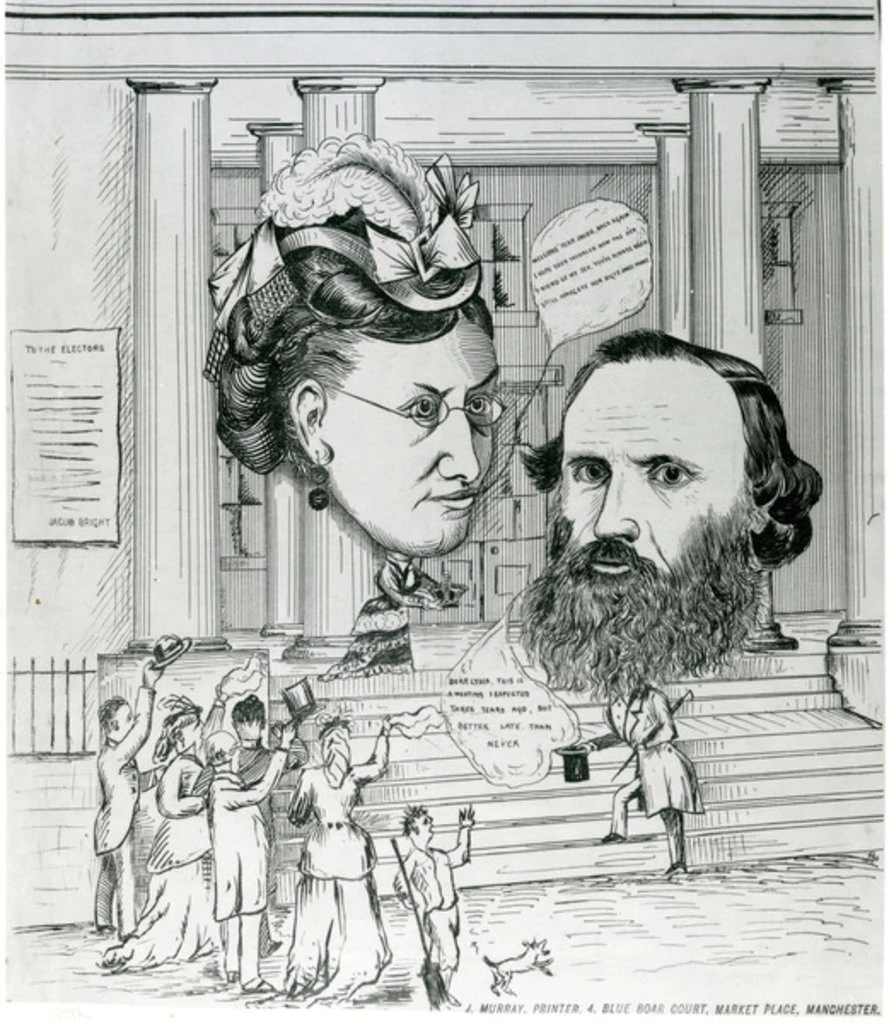 It was a point on which she and Emmeline Pankhurst were to disagree, but just as with everything else, Lydia stuck to her guns on her opinions – no matter what ridicule she faced. And there was a lot.
Just as women today who speak or act out against the status quo are often maligned (Jameela Jamil springs to mind, but there are many more), Lydia was subject to merciless teasing – particularly from politicians and the press.
She wore wire-framed glasses and was made into somewhat of a caricature by cartoonists, who ridiculed her "extreme" views and looks. One cartoon cruelly depicted her being thrown out of parliament wrapped in the Women's Suffrage Bill.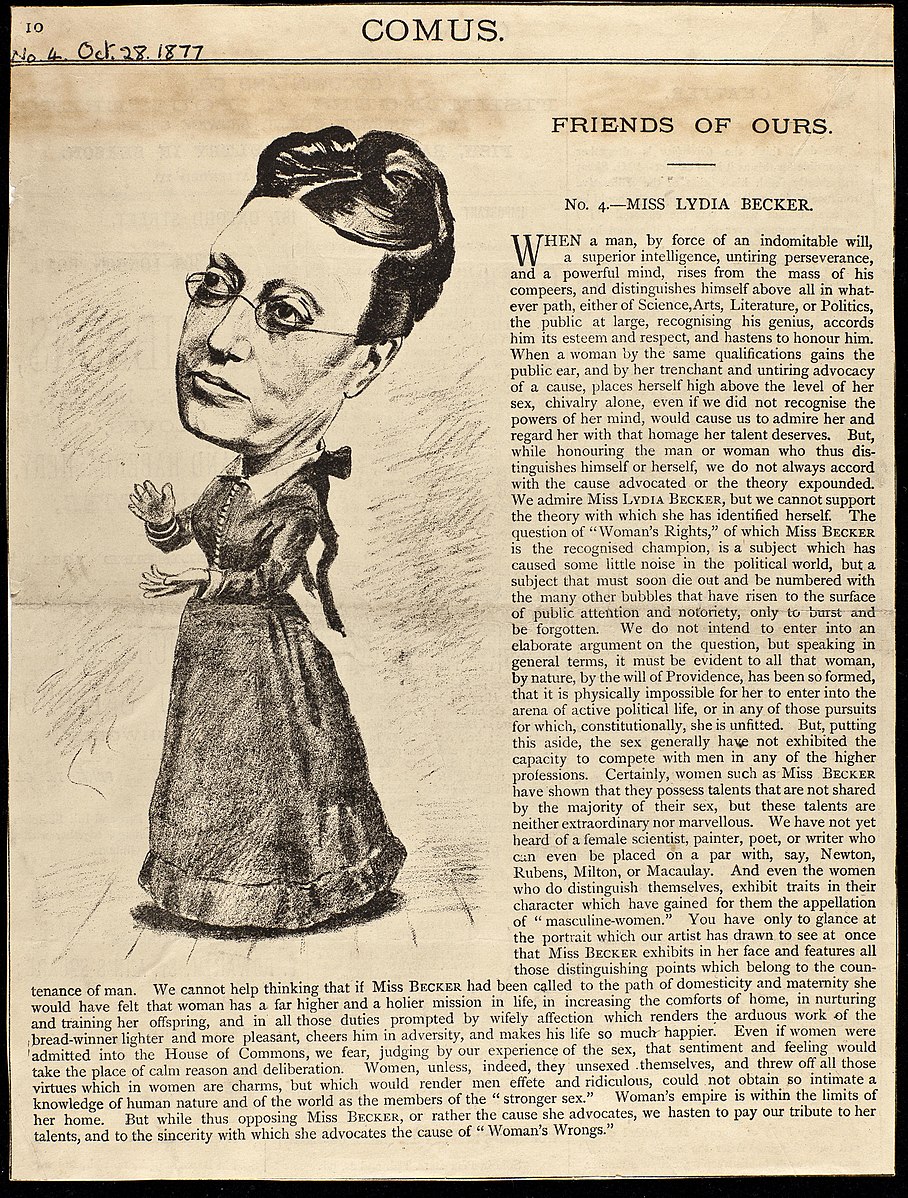 She also used her position as an educationist to champion the idea that there was no difference in the intelligence levels of men and women, a position that was considered truly revolutionary at the time.
She passed away aged 63 at Aix-les-Bains in 1890, and her name can be found today on a family headstone in St James, Altham. Quite rightly, it can also be found on the Reformers' Memorial in Kensal Green Cemetery, London, alongside other great reformers and innovators.
Although Lydia died several decades before women would win the right to vote, if it wasn't for her then we might still be the second-class citizens we were in the 1800s.
Roger Fulford best sums it up In Votes for Women: The Story of a Struggle, when he writes: "The history of the decades from 1860 to 1890 – so far as women's suffrage is concerned – is the story of Miss Becker."
A true pioneer and an inspiration for many women, her name deserves to be remembered.
Featured Image – Alchetron