Feature
Miss Kick: The story behind the UK's first all-female football brand
Former Man City star Grace Vella has created an incredible community that's uniting women in sport.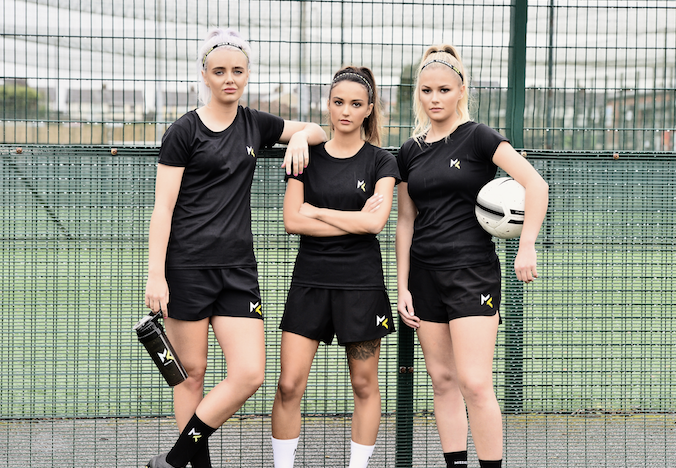 The watershed moment for women's football appeared to have already happened by 2011.
Participation was on the rise. Matches were on television. Movies such as Bend It Like Beckham had put female footballers on the big screen. The top tier in England was even being revamped as the 'Women's Super League' – marking an exciting new chapter for the domestic game. It felt like Britain was readily embracing women's football again.
But then, in January 2011, Sky Sports presenters Richard Keys and Andy Gray were caught live on air scoffing at the very idea of a female comprehending the offside rule.
The leaked audio – in which Keys and Gray agreed the "game had gone mad" for including women as officials – was widely condemned, culminating in their departures. The pair protested that the comments had been taken out of context, but admitted it looked bad. If two of the most respected personnel in football punditry weren't willing to take women's opinions seriously, there was little hope for others.
Perhaps women's football had a bit further to go after all.
In the ten years since that infamous sexism row that rocked English football, more than a few things have changed. The number of female officials in English football has risen by 72%. Viewership is higher than ever before (with the latest women's world cup enticing a global audience of 1 billion spectators in total according to FIFA). Women pundits occupy seats on mainstream analysis shows including Sky Sports – with female stars also enjoying better coverage from their own clubs and in the wider media.
More women have voices in football than they have in over a century. And part of the reason for that progress is down to the people fighting for change at grassroots level: Companies like the one based at Manchester's old Granada Studios called Miss Kick.
Grace Vella
Founded by a University of Manchester student who wanted to give the women's game another nudge in the right direction, Miss Kick has evolved from just another sports logo into a badge of honour for all female footballers in Britain.
The company sells sports gear and accessories that are specially-designed for females – but is quickly morphing from a clothing store into a tight-knit women's football community with thousands of members.
Owner Grace Vella was balancing her psychology degree with her sports career when she set up Miss Kick in 2017; scribbling revision notes in the back of a car en route to business expos.
Between training and studying she barely had time to lace up her boots, never mind run a business. But Grace persevered – feeling like it was something she had to do.
Around this time, women's football was spreading into more places and enjoying another resurgence. But it needed something to keep it connected – a place in which all female players and ambassadors could unite under a single umbrella and push the game into exciting new territory together.
That was the vision for Miss Kick.
Grace had grown up knowing her future lay in football – playing regularly with her brother and cousins as a kid before signing a dream deal at Liverpool aged just 13. She moved to Man City four years later and had a spell at Chorley, but despite her successes in football, Grace was left frustrated at the sight of boys being carried up the pyramid whilst she was forced to navigate all the hurdles herself.
"I used to think – 'If I was a boy I'd get all my allowances paid, my travel, my kit, and get football boot sponsorships,'" Grace tells us.
"Girls always have to pay for that stuff."
"Growing up I was always given a boys' kit to train in and felt like I had fewer opportunities just because I was a girl.
"I thought: 'I want to change that. I want to change the way society sees womens' sport.'"
In her third year at university, Grace got the brainwave for Miss Kick – the UK's first all-female football brand – and immediately headed out to expos across the north to spread the word.
The company has continued to grow ever since – with Grace's old uni housemate Katie signing on in September and the latest recruit, Yasmin, recently joining as a Digital Executive.
Despite its relative youth, it's clear Miss Kick has struck a chord.
"I've got quite a few professional players and friends in the game – and I knew there wasn't really a brand out there for girls," Grace tells us.
"So I thought: Why not give it a go?
"My dad organises one of the biggest girls' football tournaments in the country, so I thought I'd turn up with my little tent and it went down really well!
"Football has always been seen stereotypically, with boys put first with better treatment.
"I quickly realised that there were so many other girls in sport who felt the same way and have gone through the same experiences as me; whether that's being bullied for liking football or picked last in the team.
"Our message – that anyone should be able to play football – has resonated with people."
Women's football is not so much a new trend as a rekindling of a long-dormant passion.
Female matches once pulled in bigger crowds than men's games, with over 150 women's football teams in England.
But the game quickly fell into disrepute in 1921 after the FA deemed football "quite unsuitable for females and ought not to be encouraged". It took fifty years for the ban to be lifted. And another forty years passed before the official formation of the Women's Super League. But throughout the century, women continued to play – even if it meant flying in the face of convention and ill-founded assumptions that females didn't have the technical ability or knowhow.
Slowly but surely, women's football has gained a new foothold. But there remains a strong element of stigma nonetheless – particularly when the men and women's games crossover.
Jeff Stelling, another football figurehead at Sky Sports, has admitted it's still tough for women to appear on his Gillette Soccer Saturday results show, calling the social media response 'horrendous' at times.
He told The Guardian: "There's this blinkered idea – 'It's a woman, what can she know about football?'
"Twenty years ago I was also sceptical. But my view has changed and obviously we've had very good reporters like Michelle Owen, Bianca Westwood and Jacqui Oatley. They're really experienced.
"There's no reason why women shouldn't feature more."
Another part of Miss Kick's mission is about retaining this mindset and sense of momentum in the women's game that's empowering the people who play. A love for football isn't something that girls have to hide anymore; and Grace believes the Miss Kick brand acts like a "hero cape" they can proudly carry through life.
"The growth of the womens' game has been incredible," Grace says.
"They've professionalised the WSL now. When I was growing up you couldn't be a pro. You had to juggle it with something else. Now you can go and make a living from it – which I think is huge.
"We're doing much better – but I still feel there is stigma. You do still see trolls picking on people."
"The leagues below the WSL need more finance and support – and there's a big gap from the top league to the bottom.
"There is a bit of reluctance for investment because women's football won't develop a return straight away. But there's no reason [the game] can't be like it is in America where it's really popular.
"In general, I think the womens' game needs more opportunities to grow – and more needs to be done to challenge perceptions.
"That's what we're trying to do."
It's been a thrilling period for Miss Kick, but COVID has caused its fair share of complications – which is unsurprising for a sports brand that primarily deals with people face-to-face. Nonetheless, instead of standing still, Miss Kick is using the opportunity to evolve its offering and expand its membership base online in the meantime.
"We're not just a clothing brand – we're a community," Grace emphasises.
"We want to become a place that shares womens' content and news; moving into digital space and creating a movement rather than just being a logo on a t-shirt.
"We want to inspire across generations and inspire as many women and girls as possible – including the young stars coming through."
"We're in talks about partnering with clubs, too."
The future for female footballers looks brighter than ever now. But the game will still need to evade some lunging challenges in the years ahead.
Grace thinks female football is ready for it. Miss Kick definitely is.
"Growing up being a girl in football you do develop tough skin," says Grace.
"That's spilled out into my business career. People underestimate you in both worlds.
"You almost shock them sometimes when it's clear you know what you're talking about.
"I almost use it to my advantage to prove people wrong – in sport and in business."
"It's hard work, don't get me wrong."
"But running Miss Kick, I feel like the luckiest person in the world sometimes."Learn more about Miss Kick online.