Here at The Manc, we can't hide it, we love dogs and we know you do too.
Our city is not only a great place for us, but also for our four-legged family members, but from swanky cocktail bars, to gastro pubs, you might actually be surprised to learn how many dog-friendly restaurants there are here in Manchester.
With a little help from a new study by Essential Living, we've rounded up a few of the more unexpected places you can take your well behaved pup out for a spot of lunch this weekend.
A gem in the bustling Northern Quarter, the venue offers an exclusive experience boasting unique cocktails, delicious japanese inspired food and some of the best DJs in the Manchester music scene. If this wasn't enough, it's also dog-friendly, so you can sip on a cocktail with your furry friend in tow.
For menus and reservations, click here.
On Thomas Street, right in the heart of Northern Quarter, The Bay Horse Tavern is a modern take on a Victorian Pub. The venue has a laid-back atmosphere making it the perfect spot for you and your pup to enjoy a home away from home. There's also a wide range of gins, craft beer and much more on offer.
For menus and reservations, click here.
The Wharf is a modern, purpose-built classic country pub with a bar serving up to nine cask ales on tap, decent wine and around 50 malt whisky options. It's a big building but there are plenty of nooks and crannies, so you and your pup can find a cosy alcove to sit and relax together.
For menus and reservations, click here.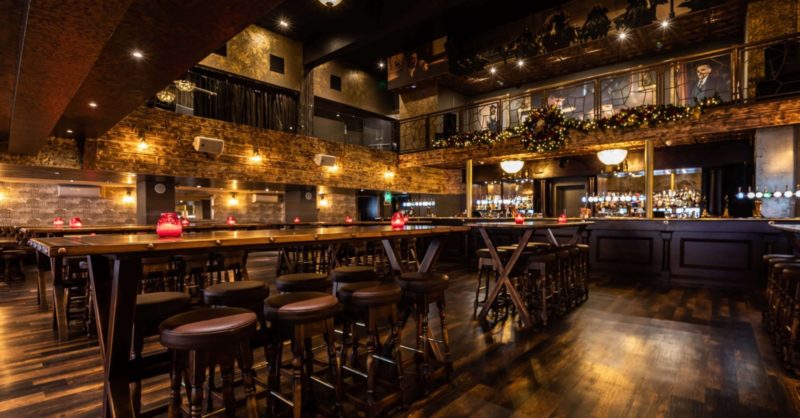 Peaky Blinders offers a luxurious and immersive 1920s experience right in the heart of Deansgate. With bespoke cocktail menus and a wide drinks selection, the venue also offers a homemade gastropub menu. Enjoy this unique venue with your pup in tow and be taken back to the roaring 20s together.
For menus and reservations, click here.
Situated across three floors, Cane and Grain has a lot to offer. If it's lunch and a beer you're after, then grab yourself a seat in the ground floor Rib Joint and get stuck in. For a more sophisticated atmosphere, head to the first floor for a few cocktails and if it's s a disco you're looking for, head to the third floor for a zombie fuelled tiki party. If that wasn't enough, the venue is also dog-friendly, so you can bring your furry friend along for the fun.
For menus and reservations, click here.
The RBG Bar & Grill provides the perfect oasis. The restaurant's open-plan and vibrant setting invites you to relax and enjoy both local and international dishes. Escape the hustle and bustle of the city with your four-legged friend on the tranquil terrace that overlooks the Green Quarter.
For menus and reservations, click here.
Overlooking St Peter's Square, The Anthologist bar and restaurant is right in the heart of the city centre. For those bringing their pup with them, the venue hosts a 'Yappy Hour' every Sunday with pawsecco, doggy treats and 15% off your food bill, making it the perfect Sunday destination for you and your furry best friend.
For menus and reservations, click here.
A venue that brings a touch of New York glamour to the corner of Hilton and Tariff Street. Taking its name and inspiration from the infamous mid-20th Century bar on East 45th Street in New York, which was popular with newspaper journalists and ad men (the original 'Mad Men'), The Pen & Pencil offers the perfect place for the NQ's creative locals and their four-legged friends to chill, meet and enjoy great food and drink.
For menus and reservations, click here.
Comments