Feature
This is what it's like to cycle from Glasgow to Manchester on a little pink bike
Wesley Hamnett cemented his place as a local Mancunian hero after completing this unforgettable 220-mile ride.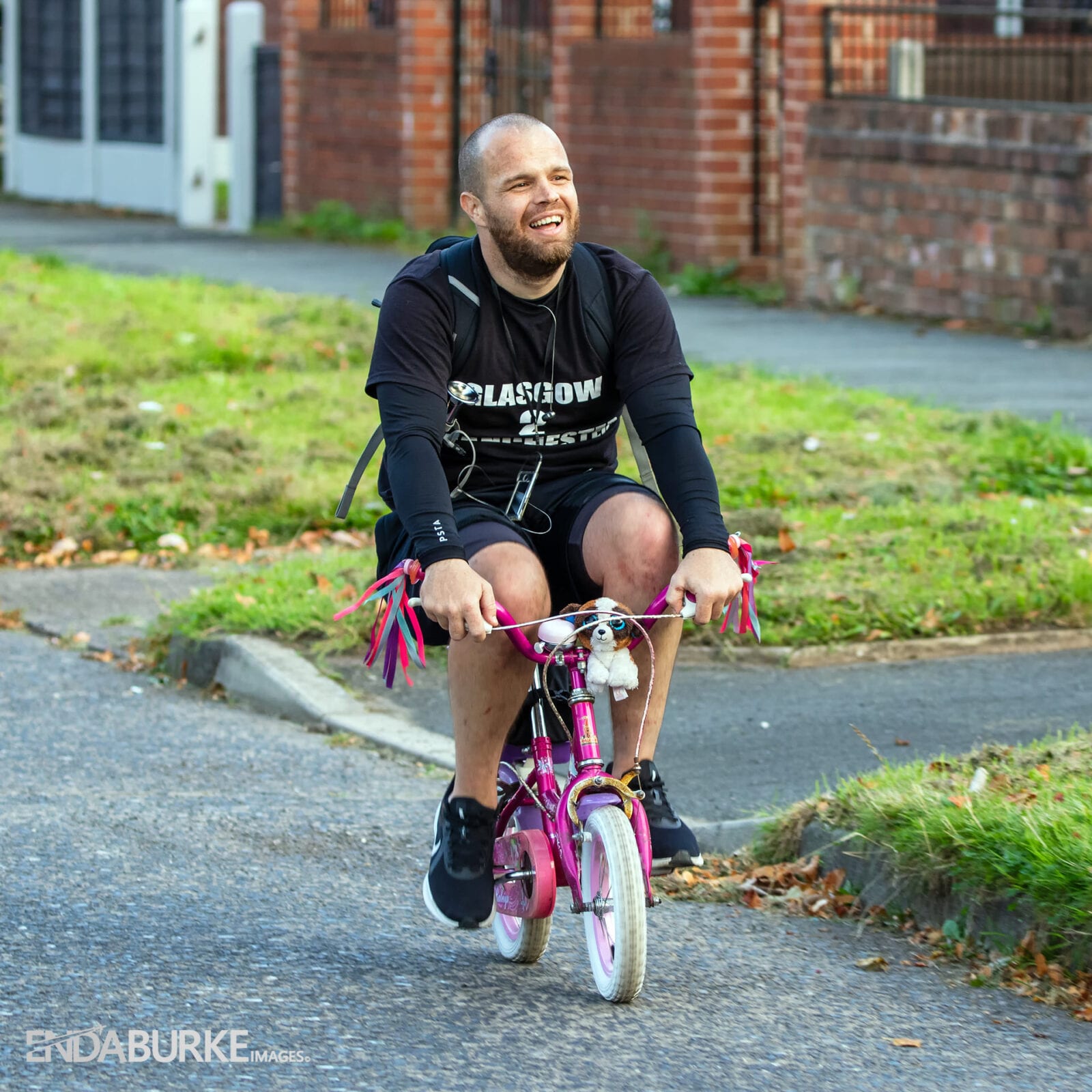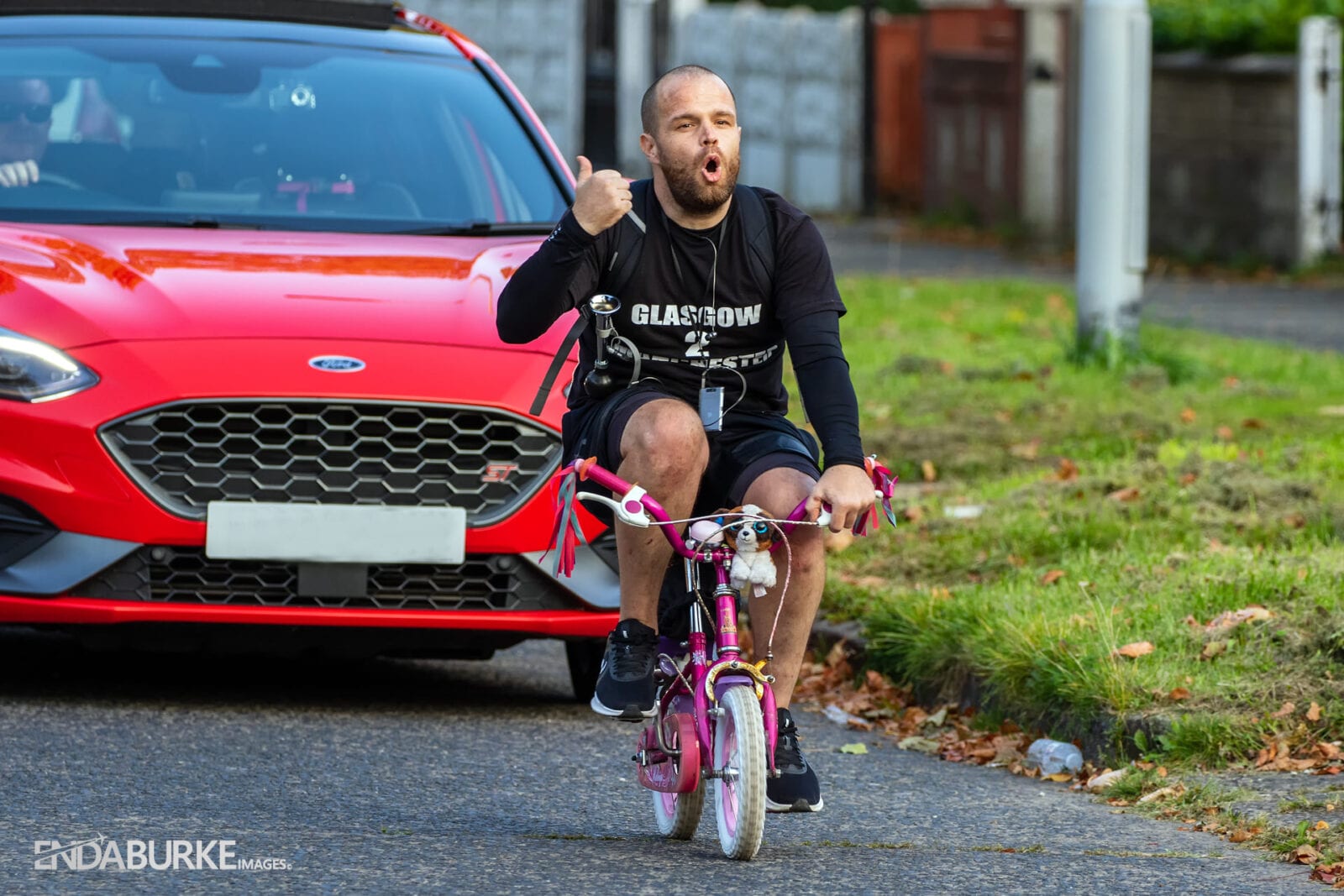 Ever wondered what it's like as a fully grown adult to cycle from Glasgow to Manchester on a little pink bike designed for a toddler?
Our guess is probably not.
It's safe to say it's not something you think about everyday, but it's certainly what's been at the forefront of Wesley Hamnett's mind over these past few days as he successfully managed to complete this incredible journey from Scotland's largest city to his home in Wythenshawe for a number of very worthy causes.
And yes, believe it or not, he did complete this full 220-mile ride on his daughter's little pink bicycle.
As mad of a challenge as it may initially seem though, there's actually a very good reason as to why the father-of-two decided to embark on the cycle of his life.
After the devastating loss of his Grandad to a second fight with cancer last year, Wesley knew he wanted to do something to pay a worthy tribute to him and his three other grandparents who are also all at peace, and it was from this that the challenge was born.
It wasn't always the Manchester-native's plan of action though.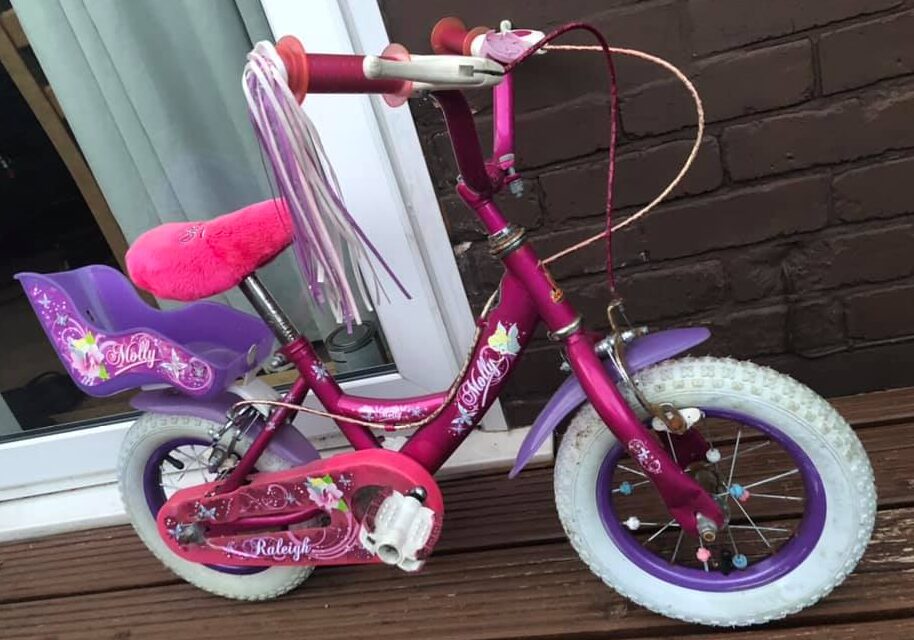 While the challenge of cycling from Manchester to Glasgow is certainly no easy feat, he had actually embarked upon the much greater task of cycling all the way to Russia instead.
This was originally due to place in a few weeks time, but just as the majority of planned events this year have had to be put on hold due to the coronavirus (COVID-19) pandemic, the veteran cyclist regrettably had to postpone the ride until Spring 2021 and so, settled on a much shorter journey instead, but with a unique twist in the form of a little pink bike.
A unique twist that has seen him become a local hero in the process.
After arriving back home to his family and deservingly tucking into a Full English Breakfast this morning, we caught up with Wesley to gather his thoughts and see how he's feeling after an experience he'll never forget.
As the sun rose on Wednesday 16th September, Wesley said goodbye to his partner and two daughters before catching the train from Manchester Piccadilly up to his starting point in Glasgow.
He then set off on his five-day journey "with seat adjustment and the kids' lucky mascot".
And what a journey it was.
A journey full of highs and lows.
"[The] highlights were definitely the help I received fixing the buckled wheels and without doubt the skydive [too], which was a last minute cancellation [and did mean] a slight detour" explained Wesley.
As well as some of the large hills he had to scale – which as you can imagine were about as tough as they come – he also admitted that the trickiest aspect of the ride was not being with his family, but luckily, he met some real characters along his travels that helped to make up for it and remind him why he was tackling the challenge after all.
"The funniest moment [of the ride] was about five miles outside of Lockerbie," he recalls.
"I saw an elderly lady stood at a very quiet village bus stop and said good morning to her so she wouldn't be scared and think I was crazy [and then] she came back waving and shouted the she had seen me on Facebook.
"[It] made my day."
After a few technical difficulties – including a buckled wheel which needed replacing – and stopping off for a quick spot of lunch at the Scottish border, he finally arrived on English soil in Cumbria on the Friday afternoon.
He then went on to make his way through some of Northern England's most-notable towns.
As yesterday evening rolled around – with the finish point in sight and eager to be reunited with his loved ones – he decided to put in a real shift on the home-stretch.
"All I could think about was seeing my [partner] and kids since hitting Manchester city centre," he said.
"[So] I picked up the speed on the last leg into Wythenshawe massively".
And then, after 32 hours of cycling and almost 229 miles later, he finally crossed the finish line outside his home.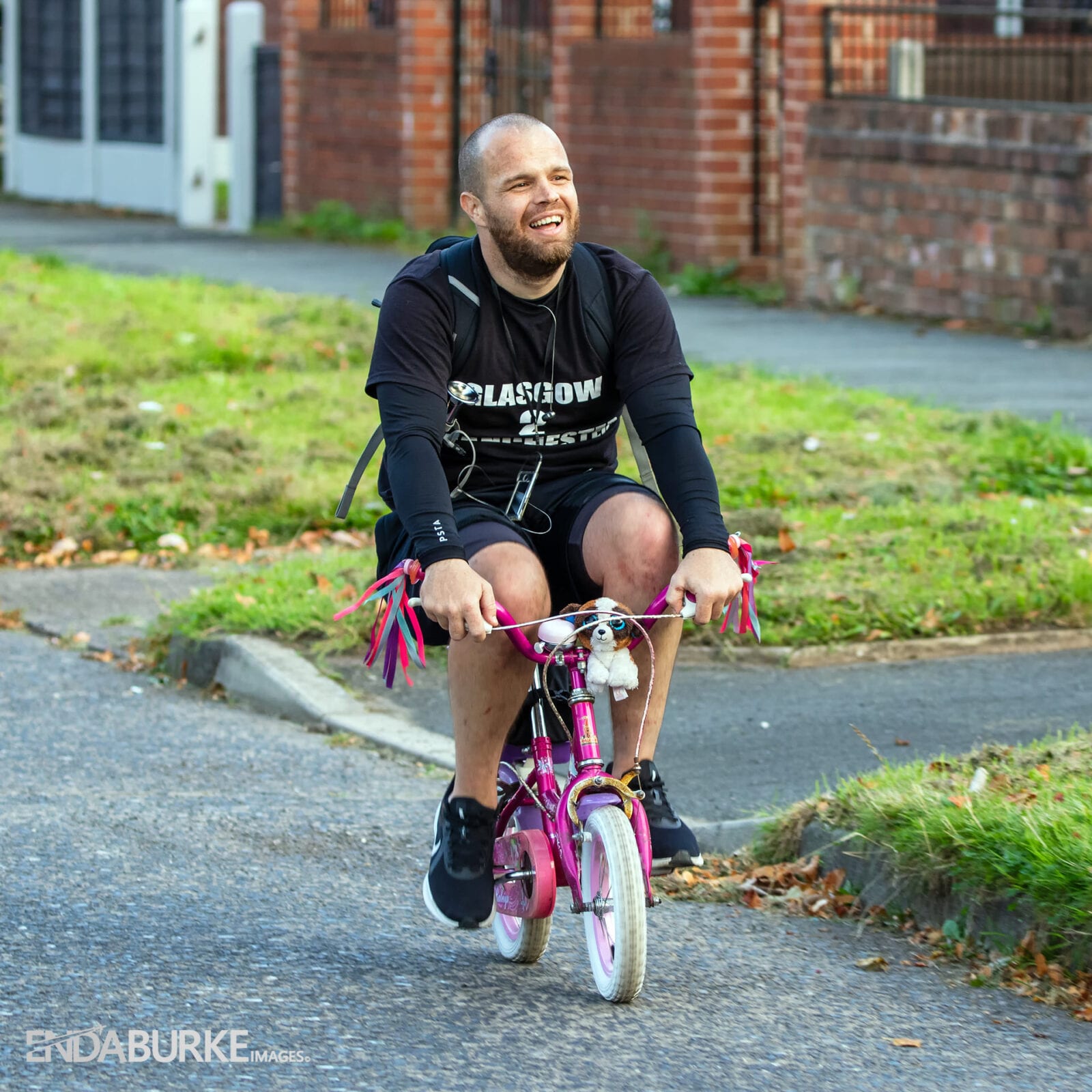 "I felt on top of the world when I finished," said Wesley.
"The general public in Scotland and England have helped me do this in how good they have been to me – I couldn't have done this without them".
As well as the funds accumulated on his GoFundMe page – which have surpassed the £4,000 mark and counting – he even managed to raise a grand total of £350.91 in notes and spare change from those he met along the way, which just proves how much the public has been rooting for him.
How brilliant is this?
It's stories like this that make Manchester so great.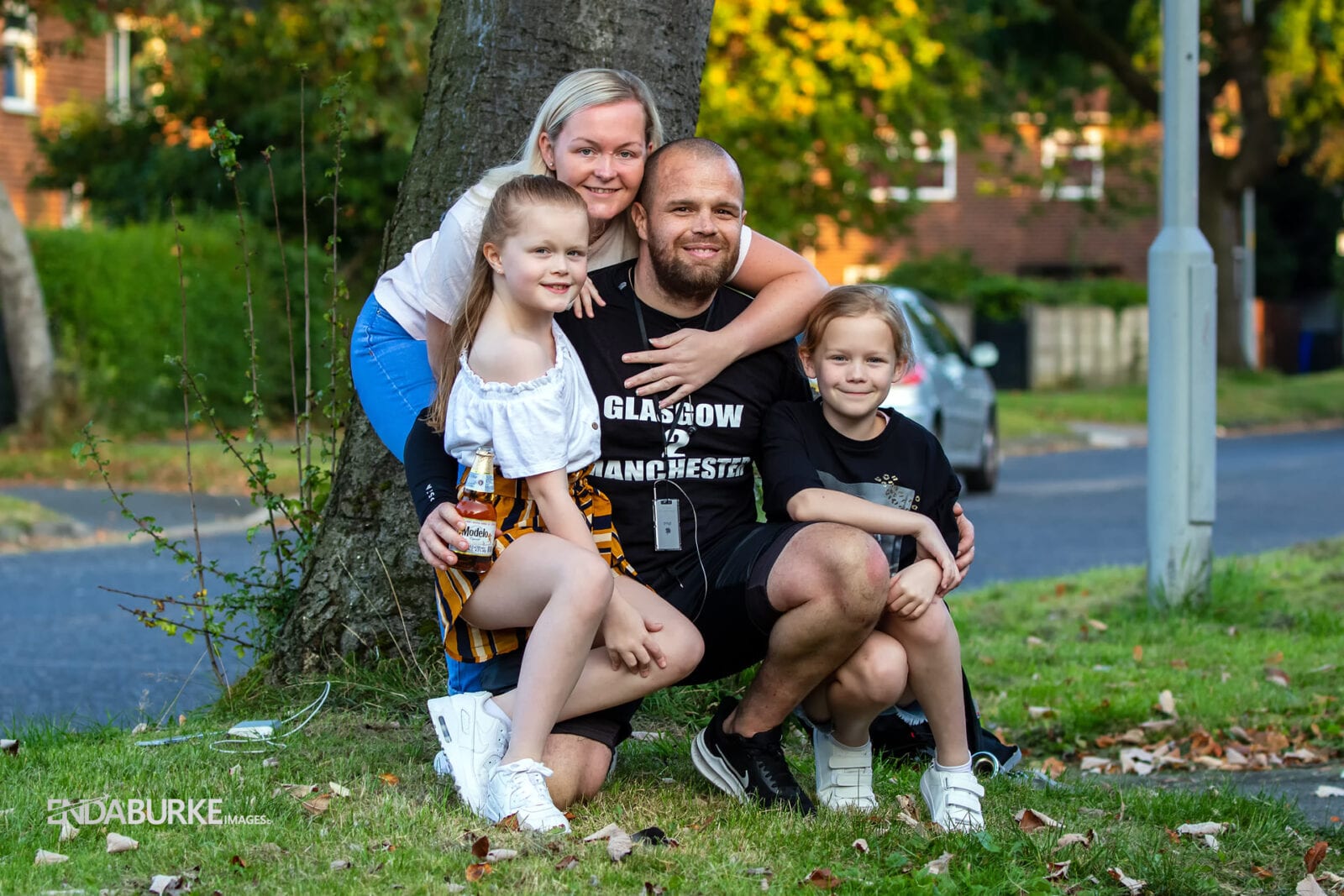 Whilst the challenge has certainly earned Wesley a place in the heart of many Mancunians, the journey was about so much more than that to him.
From his Grandparents' passings, teamed with a number of other situations he has previously experienced and had to overcome in life, Wesley identified four charities he is keen to give back to with the funds raised from the ride and the four chosen charities are Macmillan Cancer Support, the Christie Charitable Fund, the British Heart Foundation, and the MFT Charity at Wythenshawe Hospital.
And with a target set to raise £5,000, Wesley's GoFundMe page is only a couple-hundred pounds from reaching that all important milestone too.
So, if you are able to spare a few pounds, then you can find more information and donate here.
Come on Manchester – let's help out one of our own.