Food & Drink
The Manchester boozer famed around the world for its Jack Daniels collection
The Briton's Protection has more bottles of Jack Daniels than any other pub in Manchester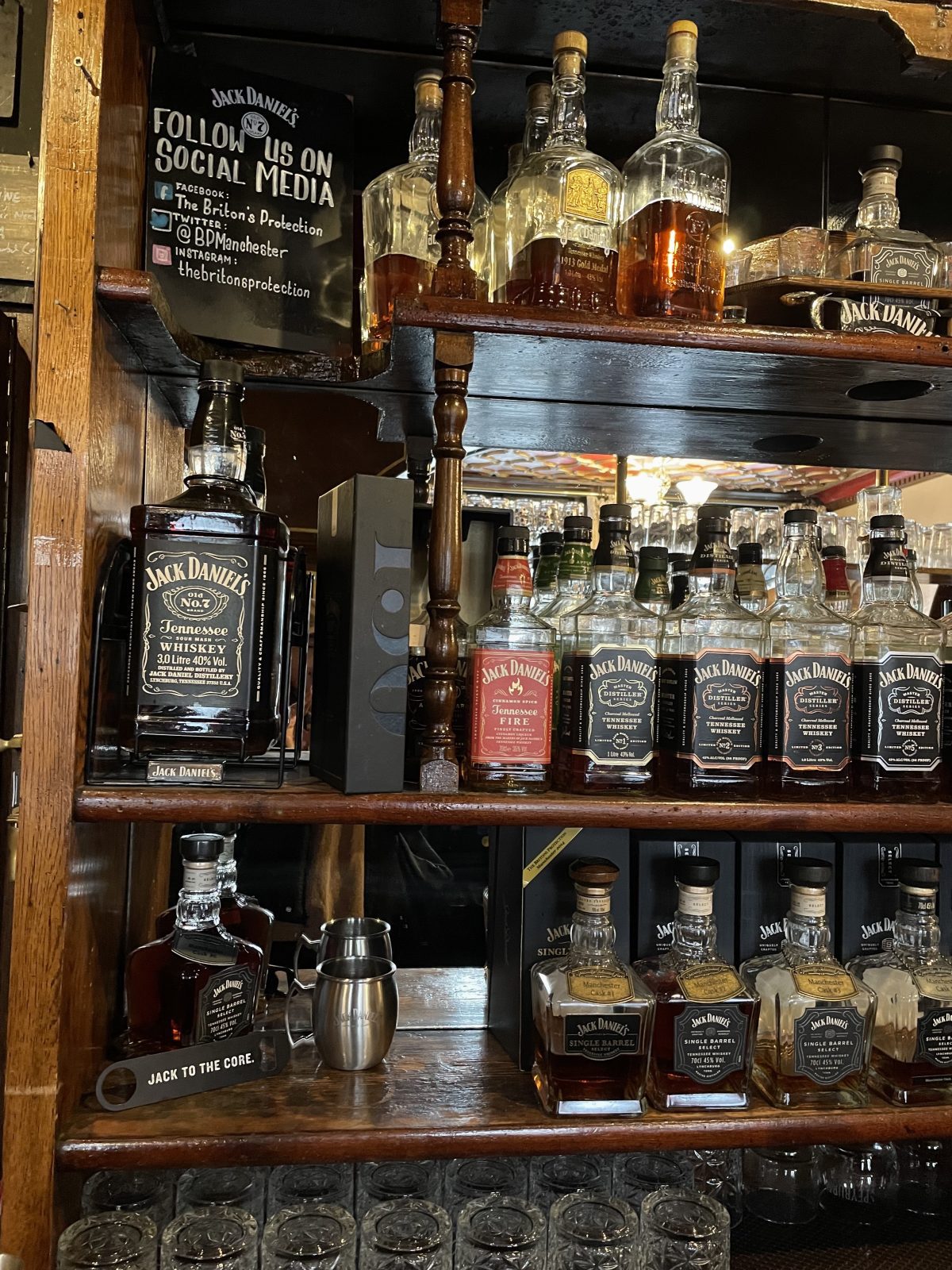 "Every time you think you've collected everything, someone else will show you something that you'e not got," says manager Allan Hudd when we meet at the Briton's Protection on a wet, rainy Friday afternoon.
The historic boozer has been serving drinkers for generations and has a legacy that harks all the way back to the Peterloo Massacre, but today we're here to talk about the pub's epic whiskey collection – which spans over 360 bottles.
When he came on board in 2013, there were already around 190 whiskies on the back bar – but under Allan's premiership, this has grown massively.
Now, alongside a hearty collection of Irish and Scotch whiskies, the pub also boasts the biggest collection of Jack Daniels in Manchester and pulls in fans and collectors from around the globe.
"These guys they know everything about it. They're a great bunch, I can't speak more highly of them, but they know every little detail," says Allan.
"It's great when they take pictures of their collection and you see that ours are in there."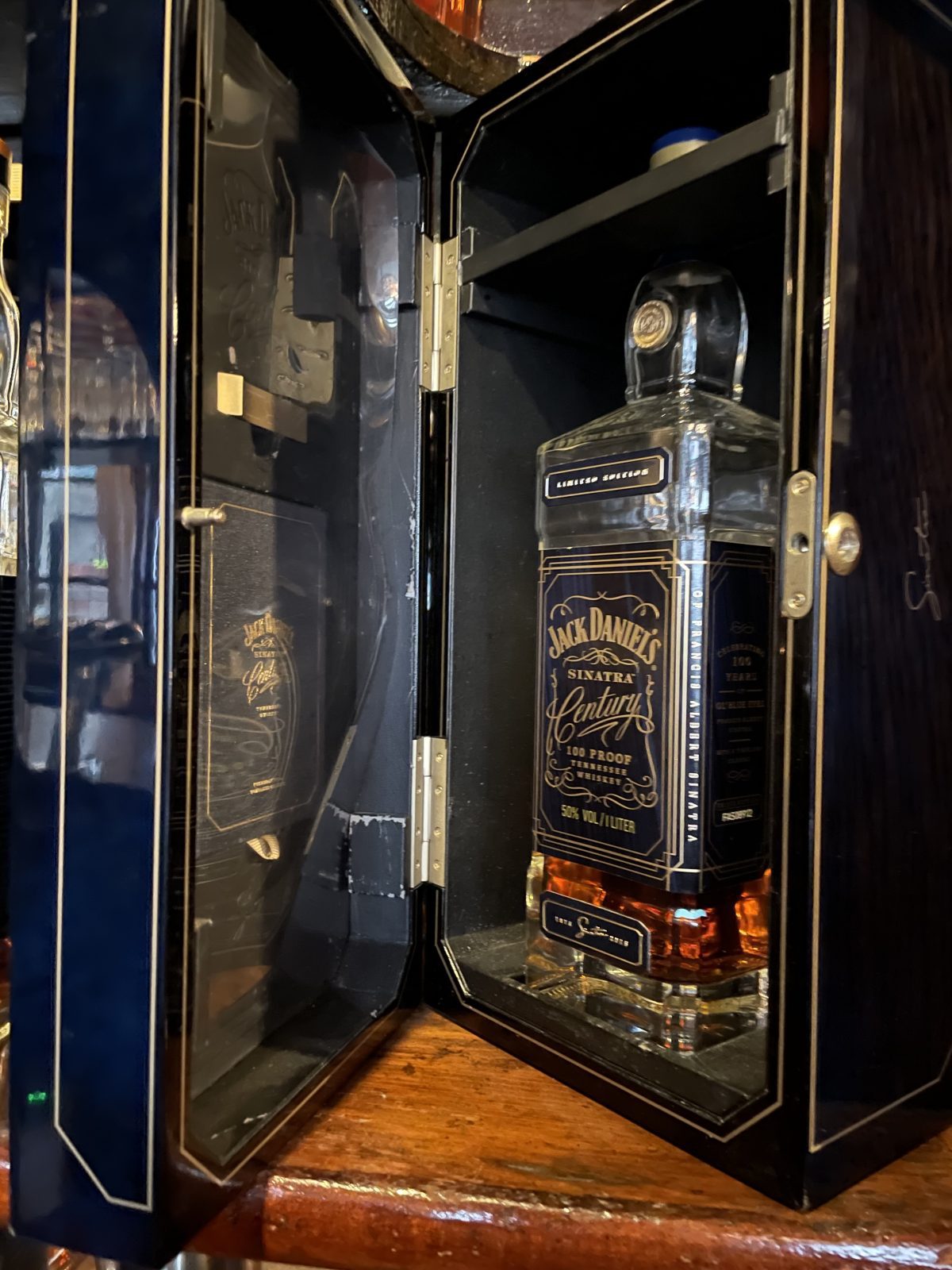 On the shelves, you'll find some super rare Jack Daniels bottles, including a special flight case of Sinatra Century that holds a tie clip with an unaired recording of one of the singer's concerts at the Sand Hotel.
The pub also holds Jack Daniels' full Master Distillers collection, a number of legacy releases, a Green Label bottle you can only get exclusively at the distillery, a bottle of no.7 from the distillery's Scenes of Lynchburg collection, a Gentleman Jack, and a Gold no. 27, barrelled in maple wood.
Of a collection totalling nearly 50 different styles, though, the real stars of the show are the Briton's Protection's own Manchester casks – which the team hand-selects every year, with the help of JD's master distiller.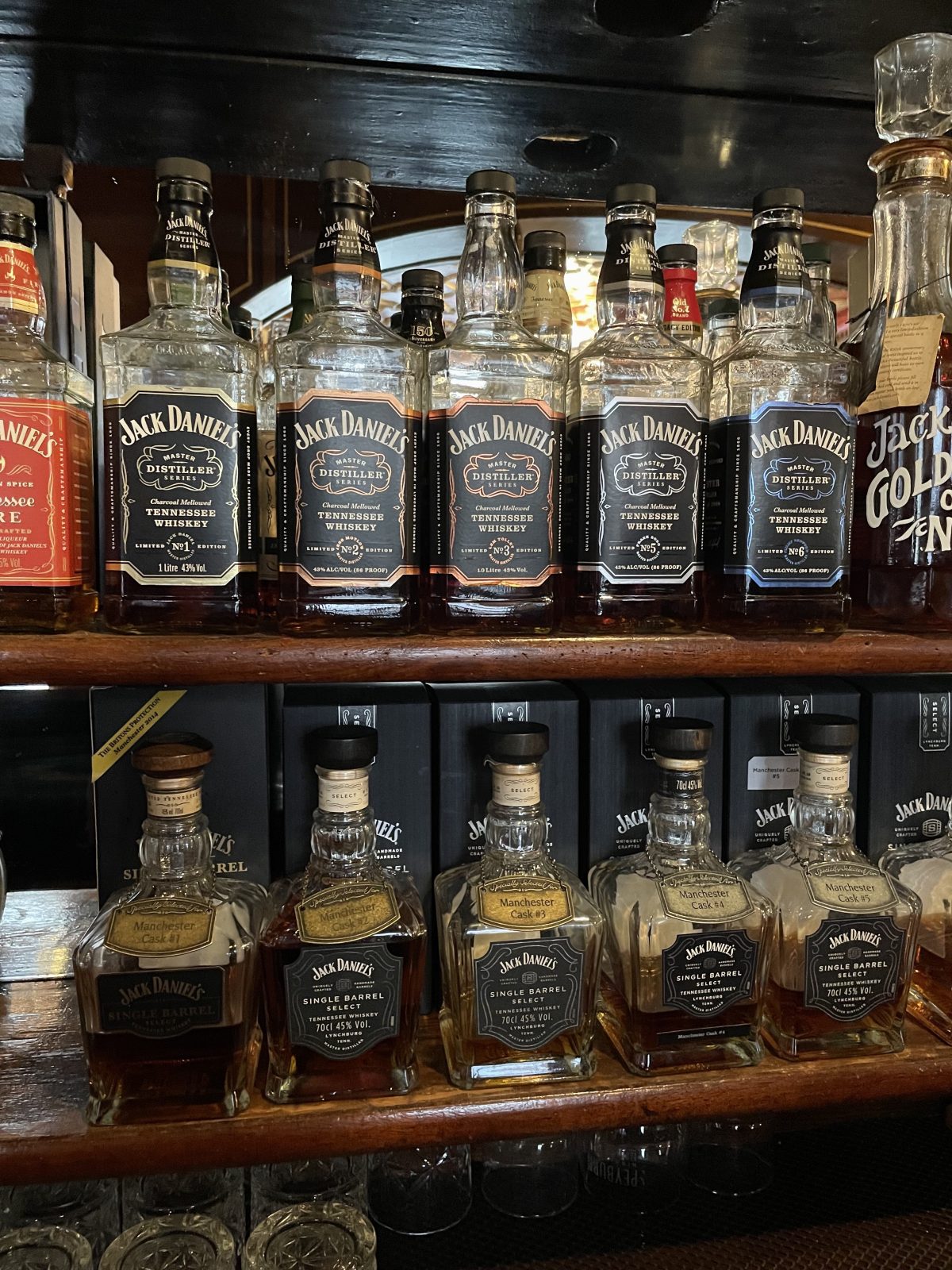 Covid aside, every year since 2014 the Britons Protection team has taken an annual trip to Tennessee to visit the distillery and conduct a series of blind tastings in order to cultivate their new barrel.
It's a process that takes roughly six months from start to finish, resulting in a unique run of around 300 bottles which they then sell on to collectors and to drinkers through the pub.
When they first began making these unique casks, Allan tells us the only other place in the UK that had done the same was The Savoy Hotel in London.
Since then, they've gone on to become the place for avid JD fans to get their fix, and have now produced six out of a planned ten exclusive Manchester casks, whilst the Savoy still only has one.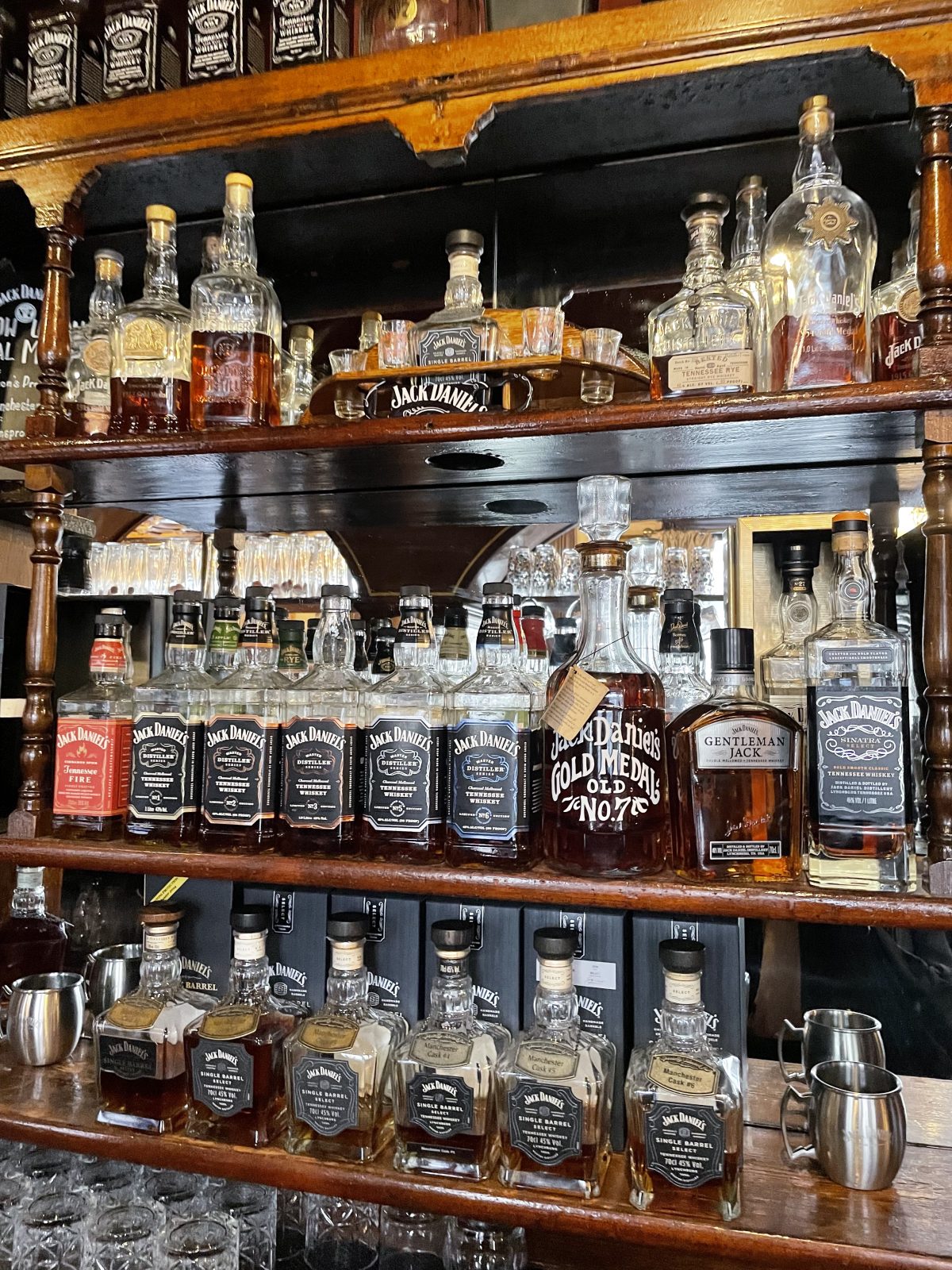 Each bottle in the range offers something a little bit different, playing with JD's three main flavour profiles. Whether you're a fan of something light and fruity, woody and oaky, or spicy, trust us – there's a cask here for you.
Asked which is his personal favourite, Allan tells us it's cask number three:
"Cask three is probably my favourite, we actually picked that with Jeff Arnett, who at the time was the master distiller [….]
"I turned my paper over and it was the same one he'd picked and I was like if it's good enough for the man who makes it it's good enough for me, that's it we're done."
Some of the casks are in incredibly high demand, not least the original cask one – which Allan confides sold so well he only has half a bottle of it left on his back bar.
Typically, they sell all of their cask bottles for £70 a pop – and for this you'll also get a nice box, some glasses etc – however, due to the demand for this particular edition, he tells us the last one he sold went to a gentleman in Norway for £1,500.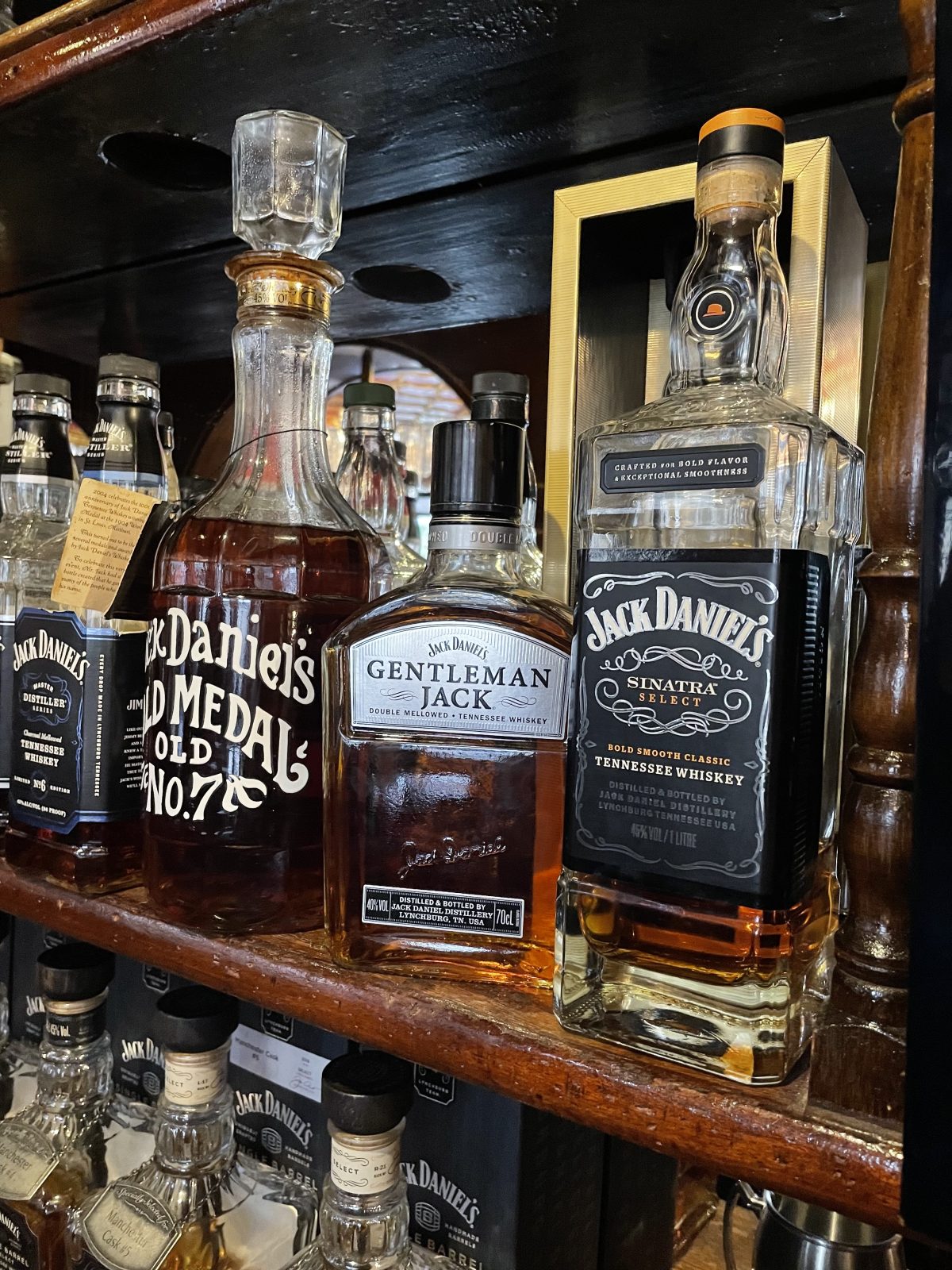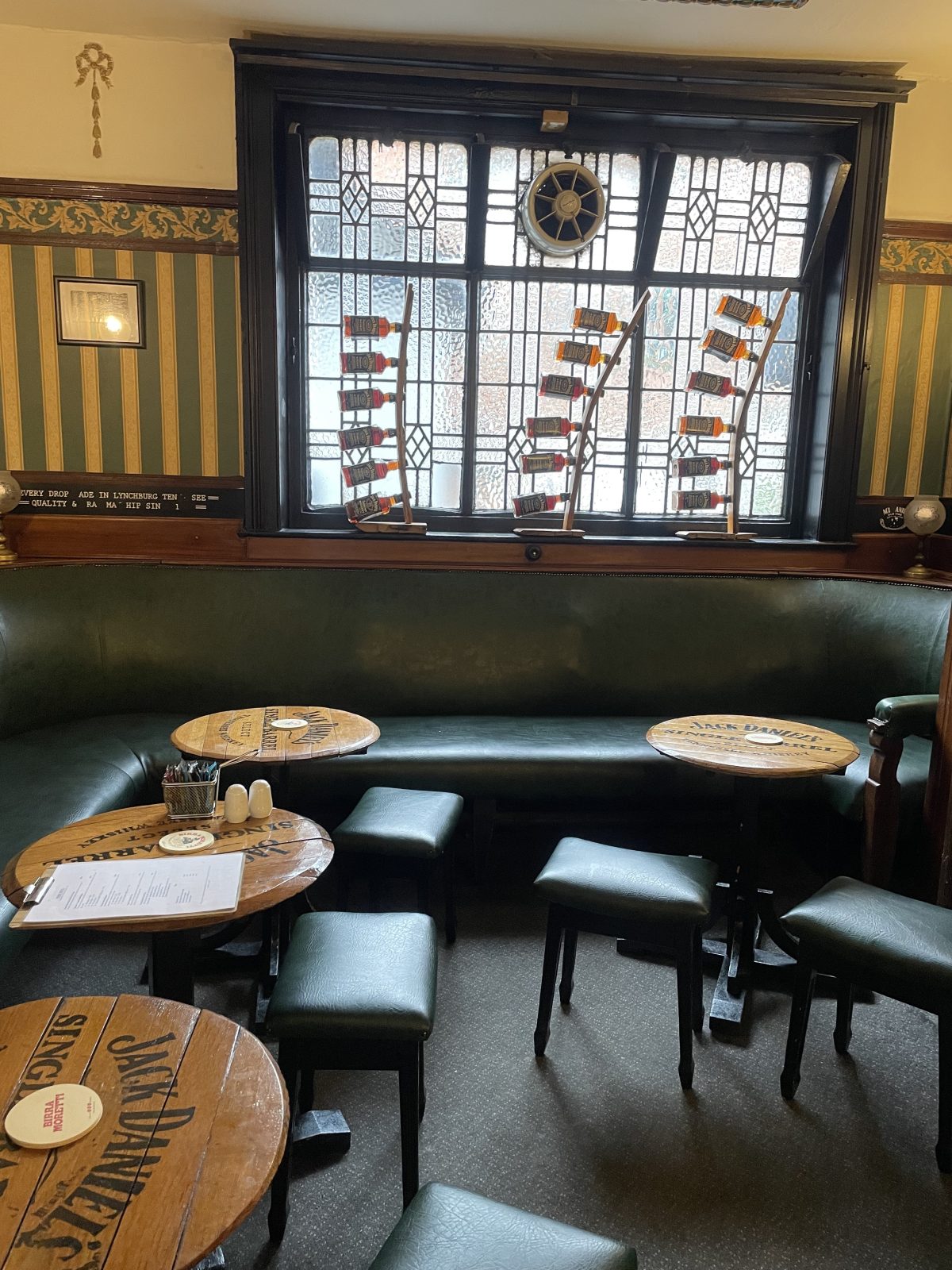 "With whisky, there's no real price band on it. It's just whatever people … if you want it, you want it," he explains.
"I've sent these all over the world… to Sweden, New Zealand…
"I sent one to Australia, it cost more to ship it than it did for the bottle but the person who bought it didn't care. He had a gift of cask 3 at the time, and he was like I need the back catalogue, I need the new ones."
"It's just great to see that dynamic of people where a friend from god knows where has come to try it and then they'll travel all the way here to see what it's about," he adds.
The pub's obsession with Jack Daniels isn't limited to the back bar, either. Behind the bar is a snug, which they call their Jack Daniels room, and it's ompletely dedicated to the brand.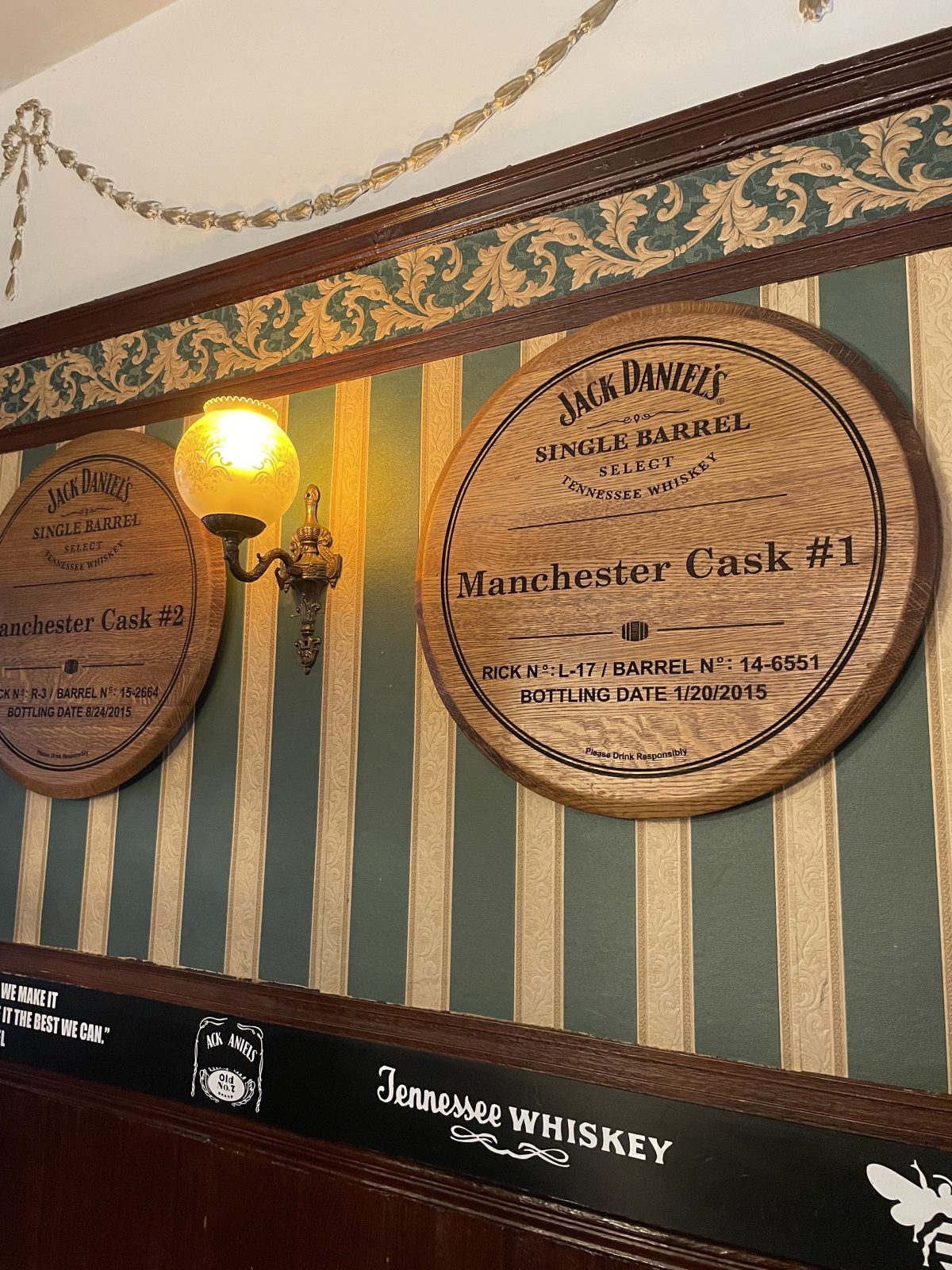 Barrel tops have been repurposed as tables, the original Manchester casks hang on the wall with their respective numbers, there are pictures from the distillery and other mementoes dotted about here and there. It's a Jack Daniels fan's haven.
The fact might come as a surprise to some, considering that the Britons Protection is also a CAMRA recognised pub with a good selection of ales – but this little gem is full of interesting discoveries.
To sample a whiskey flight or even get your hands on one of the limited edition casks, your best bet is to go down yourself and have a chat with Allan. Trust us, he is a fountain of knowledge on the subject.
Feature image – The Manc Group / Flickr
You can find the Britons Protection at 50 Great Bridgewater St, Manchester M1 5LE.