Manchester
Greater Manchester route dubbed the 'worst road in Britain' in viral TikTok
There has been plenty of people agreeing with now-viral rant.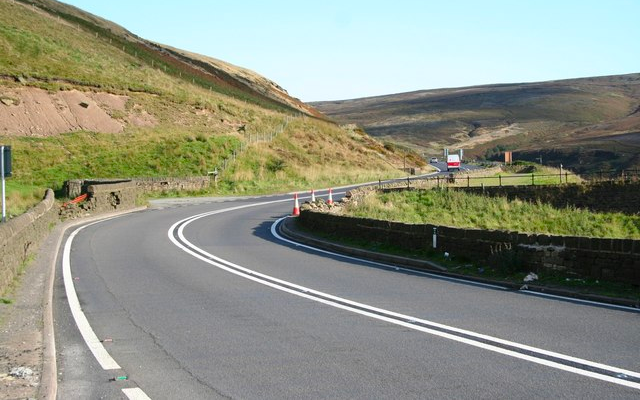 A major road that connects Greater Manchester to South Yorkshire has been dubbed 'the worst road in Britain' in a TikTok which has since gone viral.
Professional tribute act Emma Wallbank (@miwallbank on TikTok) shared her recent experience of crossing Woodhead Pass while travelling to a gig last week, explaining the series of events which led to her losing out on 'a night's work'.
As she explains in the nearly three-minute-long rant, Emma was on the way to a gig in North Wales from Yorkshire when, unfortunately, she realised she had to cross Woodhead Pass – a.k.a. 'where dreams go to die' – in order to make it to her destination.
Already a lengthy route, poor timing also played a part as she just so happened to arrive when the road was undergoing a series of unannounced roadworks following a crash on Tuesday evening.
After Google Maps had already added a further two hours onto her journey, she came across a workman that informed her she'd be better turning back around than waiting for the hold-up to clear. The worst.
While she admitted that she'd rather do a number of unpleasant albeit hilarious things involving large animals than cross the pass, it's not ideal when its basically your only route to get where you're going.
Worse still, part of the Woodhead Pass' notoriety is the lack of phone reception and Emma had to mooch for 40 minutes before she could get any kind of signal to use her maps or even contact the event to let them know she wasn't going to make it.
As she puts it, the road is in 'the middle of nowhere' and your only chance of contacting another soul would be 'by carrier pigeon'.
Despite being a bit of a favourite for truckers across the country, it would seem the road designated A628 is infamous among plenty of other drivers. One person noted how it regularly closes due to flooding and roadworks, another said 'it simply shouldn't be a road'.
Read more:
One person wrote, "I once left work 3 hours early by the time I got through congestion and traffic started moving… it was my normal finish time…", while another said they had waited more than six hours before completing the 61.48 km stretch.
Our favourite comment and perhaps the best way to sum up most people's experience of Woodhead Pass was the person who said: 'l think Sam and Frodo would turn around if they had to go through Woodhead Pass'. Petition to rename it 'Woodhead you shall not Pass?'
While it isn't on the top ten most dangerous or most problematic routes in the UK, it would seem plenty of people can empathise with her.
What do you reckon, is she right? Or is there somewhere else you think should be considered the worst road in Britain?
Featured Image – Richard Croft (via Geograph.org.uk)