News
Explained – the mysterious Batman-style bee beam of light that stunned Mancs last night
This was the talk of the town last night then.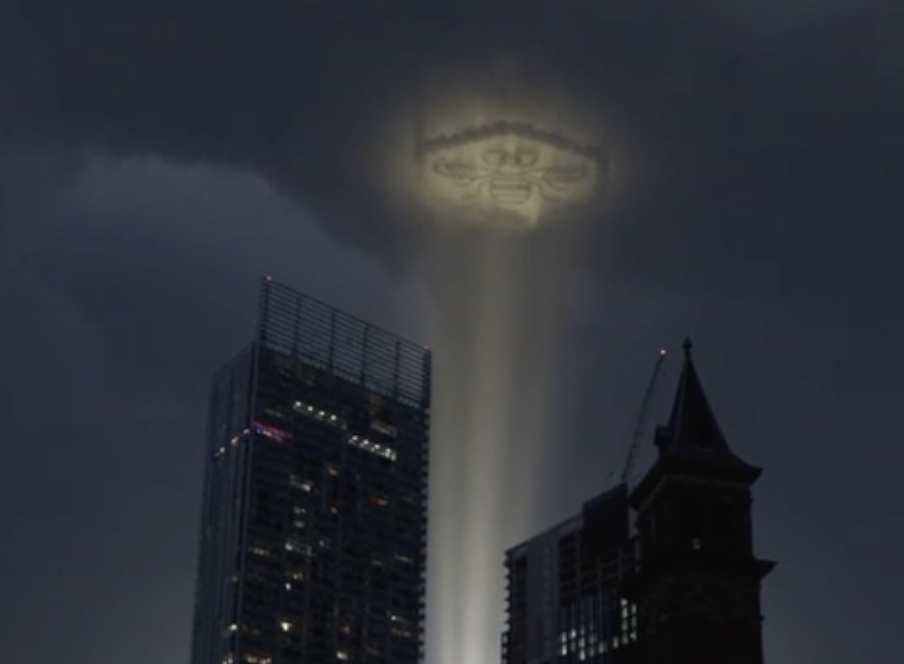 People across Manchester last night were flummoxed by the sight of a Batman-style beam of light way above the city's skyline, with a giant worker bee illuminating the clouds.
A video shared on social media by local photographer Manc Wanderer showed the bright yellow worker bee being cast into the night sky.
It towered way above the city's landmarks, including Beetham Tower (which was also in the news a bit yesterday…).
Such was the stir caused by the Bee-signal that it was even picked up by the Manchester Evening News.
So what's it all about?
Most people have already pieced it together – the gigantic bee is here to celebrate the launch of the Bee Network, and Greater Manchester's first locally controlled bus service in 40 years.
The Bee Network app launched yesterday, as well as the revamped website, a 'rate your journey' feature, and new social media channels, giving passengers across the region access to real-time bus, tram and train travel information.
It also has combined bus and tram tickets that work out 20% cheaper available 24 September.
Watch that beam of light above Manchester below:
TfGM's plans aim to deliver 50 million more bus journeys each year by the end of the decade.
The new services – including those lovely yellow buses we've started to see travelling around town – will officially start on 24 September.
Andy Burnham said: "This is a real milestone for the Bee Network coming less than a week before the first phase of bus franchising begins.
"It's a taste of how, under this new system, customers will have a much better travelling experience, with their wants and needs coming first and foremost at all times.
"Our new app and website bring passenger travel in Greater Manchester firmly into the 21st century, with timetables, tickets and live updates literally at people's fingertips."
As for that bee-shaped beam of light – did anyone actually spot it in real life?… You probably didn't, but we'll let you work out the rest 😉
Read more
Featured image: Manc Wanderer