News
Regent Road Sainsbury's in Salford suffers massive leak after thunderstorms send rain flooding into the store
Huge puddles began forming in the busy supermarket on Sunday.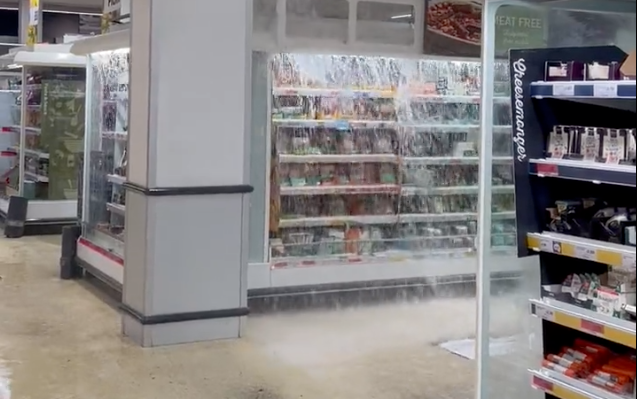 The weather has been a bit unpredictable lately, with boiling hot temperatures one day and thunderstorms another, but given how accustomed we are to showers, you would have thought most big shops were built for heavy rain — not the flooded Regent Road Sainsbury's, apparently.
After this weekend's high winds and torrential rain, the Salford Sainsbury's situated on the popular Regent Retail Park sprung a massive leak on Sunday afternoon after a large quantity of built-up rainwater got trapped in the roof.
Bursting through a hole in the ceiling and flooding multiple aisles in the busy supermarket, this particular branch became more of a swim-up shopping experience than your standard Saino's.
This wasn't just a little trickle, folks, we're talking about a massive leak.
Read more:
As former local Labour councillor Richard Critchley tweeted in the caption of his video, the "drains probably couldn't cope with the heavy rain" over the past week or so.
While the amount of water pumping into the store was pretty severe, it didn't seem to come as much of a shock to locals, with one person tweeting: "It's so run down now that store, I'm really not surprised."
Issuing a statement updating customers after videos of the flood began circulating, a spokesperson for Sainsbury's said: "Our Salford store was closed for a short period of time yesterday but is now open as usual. We are sorry for any inconvenience caused."
Funnily enough, this isn't even the first time a busy part of the borough suffered a leak this month as it was only a fortnight ago that a subway just down the road flooded after a group of kids are said to have set off the water mains. It's all happening over in Salford!
Featured Image — @oliver.hickling (via Instagram)/ Richard Critchley (via Twitter)