News
Chaos in Argentina as fans jump on team bus, players are nearly wiped out by overhead wires and thousands surround Messi's home
There aren't many nations who are as obsessed with football as Argentina, but this got way out of hand.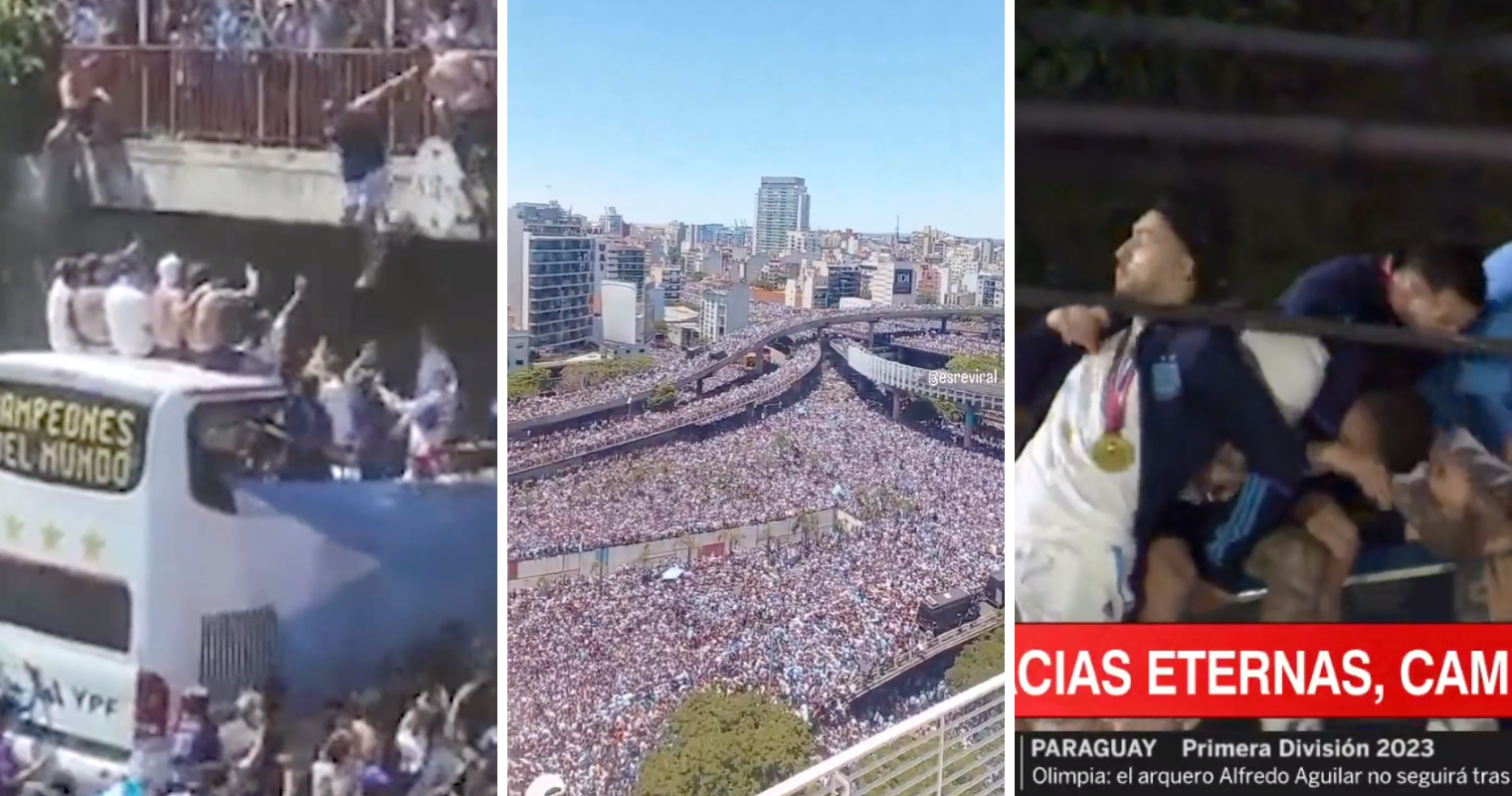 Argentina's open-top bus parade has had to be cut short following their heroic World Cup win after numerous security concerns during the celebration thus far.
Returning home from Qatar 2022 on Tuesday, the national squad were met by an incredible reception as thousands gathered around the team plane as it landed in Buenos Aires.
However, it didn't take long for the joyous scenes to get out of control as the victory parade began its journey through the capital and millions lining the streets began to swarm the bus in an attempt to meet their heroes.
In one rather incredible clip, multiple Argentine fans hanging from a bridge tried to jump aboard the team bus as it drove under the overpass, with one falling and having to be carried away on a stretcher.
Here it is from another angle:
There have also been reports of at least 31 injuries, numerous fights, 13 arrests and even projectiles being thrown after the parade route was apparently adjusted to try and deal with the crowds.
As if these chaotic scenes weren't enough, concerns were already raised for the players' safety after it became apparent that the procession route itself wasn't the most suitable, as various streets in and around Buenos Aires area threw up obstacles.
In another video, the Argentinian players can be seen celebrating on the open-top bus when they are nearly struck by an electrical wire and have to duck their heads out of the way at the last second.
This could have ended very differently:
Given the fanaticism for football in the South American country, it came as no surprise that the bedlam soon got out of hand.
To make matters worse, a 24-year-old man is said to have sadly died after falling from a roof during the chaos and a five-year-old boy fell into a coma after a chunk of marble fell from a statue as a result of the riotous celebrations.
Not only was this Argentina's first World Cup since 1986, when Diego Maradona helped the team lift the trophy for the second time but, like his predecessor, this was also Lionel Messi's first — effectively completing the set when it comes to winning everything there is to win in football.
Understandably, virtually every Argentinian would have given anything to catch a glimpse of the national hero and sporting god and literally thousands of fans turned up at his home in Rosario as the car pulled into the drive.
Read more:
In fact, Messi and his teammates only managed to return home after local police decided to cancel the remainder of the parade and airlift the players out of the capital via helicopter.
The bus was supposed to reach the Obelisk monument as its final destination but simply couldn't make it through the ridiculously large crowd, with the estimated eight-hour festivities lasting significantly longer and said to be still continuing in some parts as authorities try to restore some order.
It is said that the city centre was packed with over five million people at its peak.
Again, these lot really, really love football.
For all the latest news, events and goings on in Greater Manchester, subscribe to The Manc newsletter HERE.
Featured Image — Various (via Twitter)