News
Just Stop Oil protestor sprays orange paint all over University of Manchester building
One of the university's busiest and most central buildings was defaced as part of a protest against the institution's record regarding fossil fuels.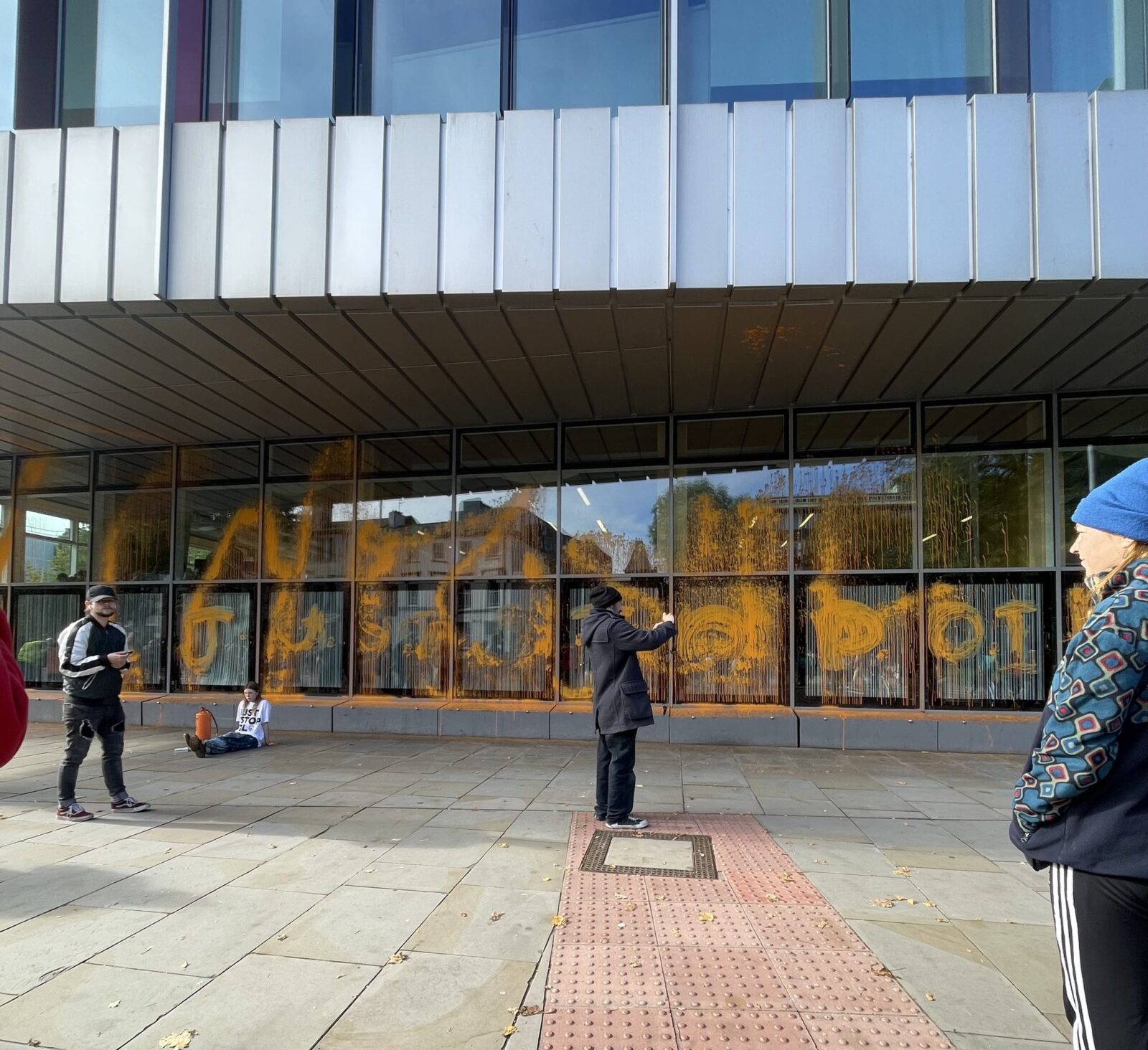 Just Stop Oil members have followed up their demonstrations at University College London on Wednesday by hitting the University of Manchester, as a protestor was filmed spraying paint all over a popular library on the main campus this Thursday.
With countless students and passers-by capturing photos and video footage of the demonstration, the Alan Gilbert Learning Commons on Oxford Road was covered in Just Stop Oil's trademark orange paint by a woman named Ruby as what they labelled the ninth act of protest carried out this week alone.
Students who support the environmental activist and protest group have been carrying out similar demonstrations all over the country since Monday and with the University of Manchester's ties to fossil fuels, despite reportedly ending investment in coal, gas and oil back in April 2022, they were the latest to be targeted.
Sharing a lengthy clip of the vandalism on their own social media account, the learning commons can be seen being soaked in orange as they encourage more uni students across the UK to take action.
After defacing the building, the activist sat down in front of the scene for several minutes before being escorted away by Greater Manchester Police, being cheered on by bystanders as they chanted "Just Stop Oil!"
According to the uni's in-house newspaper, The Mancunion, Ruby is not thought to be a UoM student and was arrested for vandalising public property.
Volunteers from the group were also said to have been handing out leaflets advertising student welcome talks as large numbers of students congregated to watch the protest.
As you can see in pictures of the aftermath, despite beginning by spraying the building aimlessly, the young protestor went on to spell out Just Stop Oil's name along the individual windows.
Read more:
It is still unclear whether the protestor has been charged with anything following her arrest and the university of yet to issue a statement following the incident.
The paint has also now been washed away and the area cordoned off.
This also is by no means the first time a student has become embroiled in a Manchester-related Just Stop Oil protest, as it was only last year that a young woman from Salford University received a suspended jail sentence for damaging a Van Gogh painting.
Furthermore, you can be certain this won't be the last protest of its kind this week.
Featured Image — Zoe Webster/Alexis Webster (via Twitter)/The Manc Group