News
Manchester Airport travellers now being warned of three-week motorway traffic delays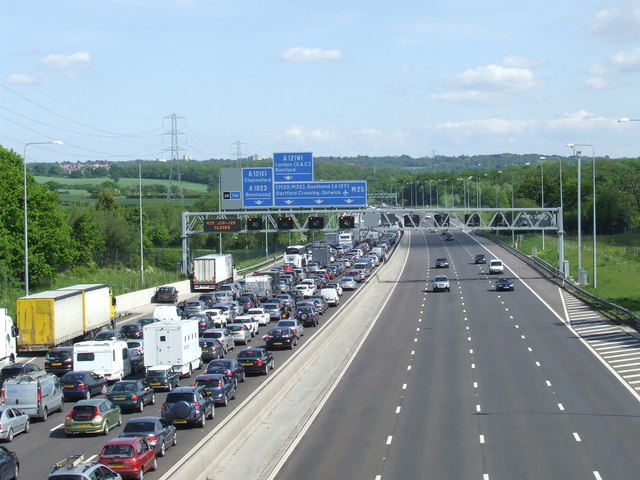 Travellers making their way to Manchester Airport are now being told to prepare for traffic delays on surrounding motorways.
After what has been scenes of chaos for holidaymakers over the last few months at the UK's third largest airport, with long delays, unplanned flight cancellations, and queues so long that many were required to turn up hours in advance and even then still miss their flights in the most unfortunate cases, it now seems the disruption isn't limited to when you step foot inside the airport.
Those travelling from Cheshire and other western parts of Greater Manchester to Manchester Airport are being urged to leave extra time for journeys starting from next week.
It's all because of ongoing overnight work on the M56 eastbound carriageway, and National Highways is saying it will effect anyone who is taking late night and early morning flights between 9am and 7pm.
Work is set to begin on Thursday 14 July and is due to finish on Friday 5 August and into Saturday 6 August.
A series of overnight closures will be in place between the two dates.
"On nights when the eastbound carriageway is closed, those good diversions will be in place but our key message for people heading to the airport for an early morning flight is to please spend a little time planning journeys before setting out and follow the diversion advice once you are approaching the airport," explained Sajjad Ali from National Highways.
Read more: 'The big issues of earlier this year are behind us' – New Manchester Airport boss speaks out
National Highways has released information on a number of diversion options for those travelling to Manchester Airport during the affected dates.
Anyone travelling to the airport from Junction 7 of the M56 at Altrincham should use the northbound A56 through Altrincham, eastbound A56, then the southbound A5144 Thorley Lane/Delahays Road and eastbound A538 Hale Road from Timperely to Hale Barns then using Runger Lane to get to the airport and junction 5.
This route is not suitable for commercial vehicles.
Drivers preferring to use the alternative motorway route should join or stay on the M6 at Lymm interchange – M56 junction 9/M6 Junction 20 – travelling north to junction 21 of the M6, and they should join the eastbound A57 Manchester Road, anti-clockwise M60 and westbound M56 for junction 5.
Read more: Manchester Airport tells travellers to 'take time' – but says hundreds of new staff are on the way
National Highways say the M56, between junction 6 at Hale Barnes and junction 8 at Bowdon, will also be closed nightly, apart from at weekends, over that same period.
"We have an ongoing conversation with the airport about our construction programme and only close carriageways when we need the space to work safely," Sajjad Ali concluded.
Featured Image – Malc McDonald (via Geograph)