News
Students pledge 'new radical tactics' after ending occupation
Groups have been protesting in the Samuel Alexander building on the University of Manchester's main campus for almost three weeks.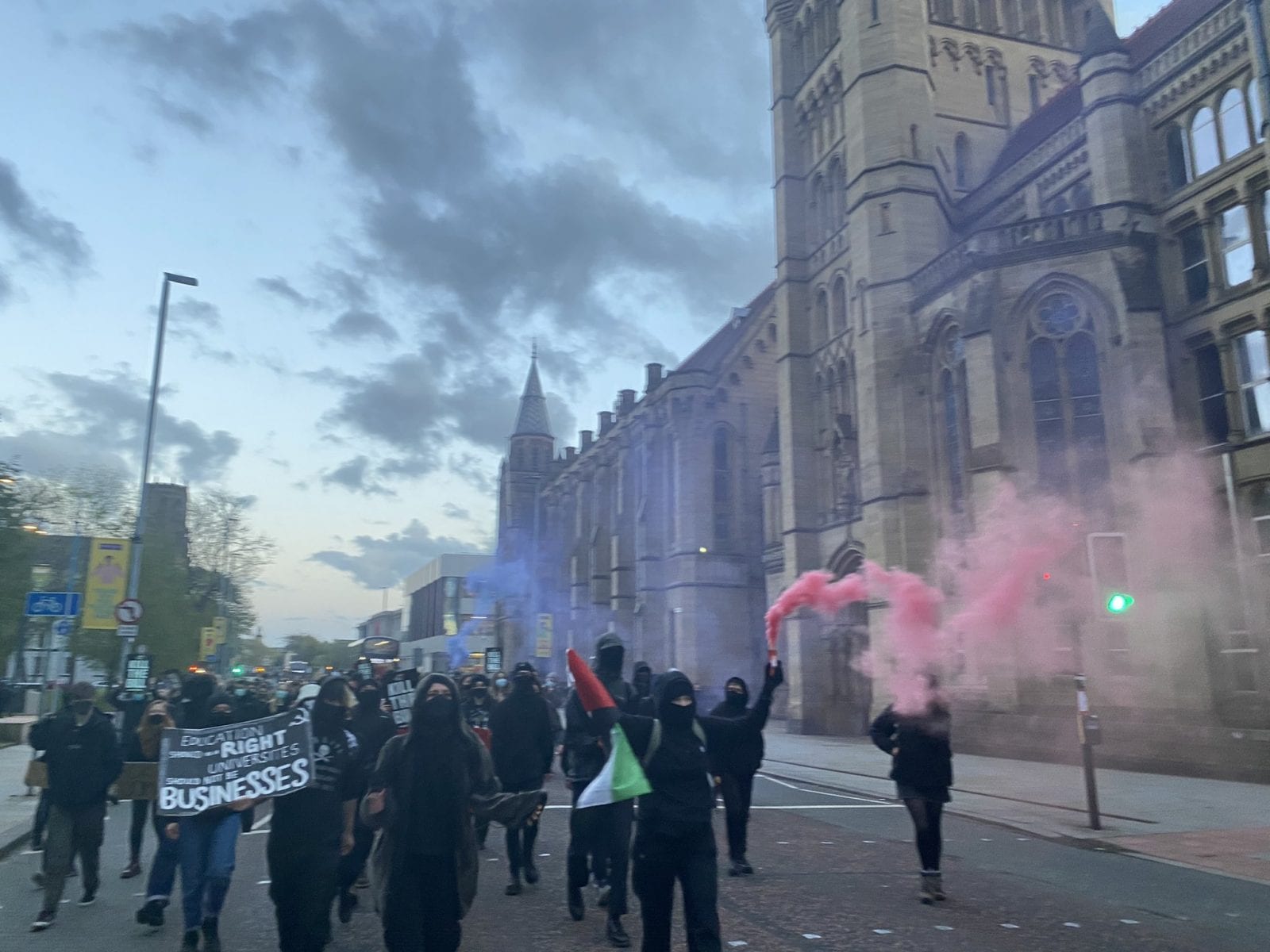 A group of students have pledged a switch to "radical tactics" after declaring an end to their 20-day protest inside a university building.
Members of UoM Rent Strike, Nancy Out! and Cops off Campus had been occupying the University of Manchester's Samuel Alexander building since April 22 in protest against the education institution's treatment of students and staff throughout the pandemic.
The group had demanded rent rebates, an end to police patrols on Fallowfield campus, and a reshuffle of leadership roles within the UoM hierarchy – but claimed the university "isn't listening".
Students confirmed they would vacate the building shortly after a roving protest took place in the surrounding area – with groups marching around the university campus and Oxford Road area as part of another general demonstration against UoM.
The university has admitted it has "not got everything right" after a troublesome 2020/21 academic year – which saw students tear down "prison" security fences at Fallowfield campus and President-Vice Chancellor Nancy Rothwell forced to apologise after a racial profiling incident.
Students staged an additional protest in the abandoned Owens Park tower in November – which culminated in a rent reduction for semester one. UoM also announced a rent pause in January for any residents unable to return to their accommodation. But the relationship between students and the university has remained fractious.
In March, students held a referendum that resulted in a vote of 'no confidence' against Rothwell, but the UoM confirmed it would stick by its President and her team.
This latest protest had seen students reside in the Samuel Alexander building for 19 nights.
UoM Rent Strike representatives said: "The University has refused to engage with the Sam Alex occupiers and has threatened us with legal action that could criminalise further occupations and lead to violent evictions.
"Senior leadership has been watching our social media and has threatened us with disciplinary action for calling out the racism of security guards, sexism within the SU and the joke that is our senior management. These are the suppressive tactics of a failing leadership.
"The uni didn't even meet with the SU execs until we had been occupying for nearly 2 weeks and has since shut down any attempts at negotiation. It's become clear to us that the university isn't listening and continuing our occupation won't change that.
"With a heavy heart, we are leaving the occupation so we can fight another day."
UoM said that security staff had been at the building "to ensure safety and welfare" during the protests.
UoM Rent Strike vowed to continue protesting and claimed "this is only the beginning."
The group stated: "If the longest occupation in Manchester since the 70s can't force change in our university, we have to escalate with new radical tactics."
A University of Manchester spokesperson said: "The students who have been occupying the Samuel Alexander Building have now left. With a full and welcome return to in-person teaching from 17 May, we will now begin the process of cleaning the building and ensuring it is COVID secure again for the use of staff and students."
Featured image: UoM Rent Strike