News
Tens of thousands of walk out today in the largest nursing strike in NHS history
"This is not something that can wait - we are committed to our patients and always will be."
Tens of thousands of nursing staff are set to walk out today in what is one of the largest strikes in the history of the NHS.
The Royal College of Nursing (RCN) – which is the nursing industry's largest union, representing over 300,000 nurses across the UK – announced last month that thousands of its members had voted to take industrial action for the first time ever in its 106-year history.
The announcement that nurses are to walk out came after the union urged its members to vote in favour of striking when the ballot first opened at the start of October, with RCN's general secretary calling it a "once-in-a-generation chance" to make real change.
Nurses are striking today in objection to "years of real-terms pay cuts" and "concerns over patient safety", the RCN said.
Up to 100,000 nursing staff are taking part in the strikes in England, Northern Ireland, and Wales today, with a further day of strike action is planned for Tuesday 20 December.
Strikes are taking place at the NHS trusts or health boards that have met the relevant legal requirements, with the union confirming that many of the biggest hospitals in England will see action taken by its members, but others "narrowly missed" the legal turnout thresholds to qualify for action.
The RCN has always maintained it will ensure strike action is carried out "legally and safely at all times".
The union said in a statement on its website nurses are "campaigning for a pay rise to overcome years of real-terms pay cuts and to protect patient safety by allowing the NHS to recruit and retain the nursing staff it desperately needs."
"Since strike action was announced last month, we have repeatedly asked Health Secretary Steve Barclay to open formal pay negotiations," the RCN revealed.
"However, ministers have declined every offer – and have instead chosen strike action."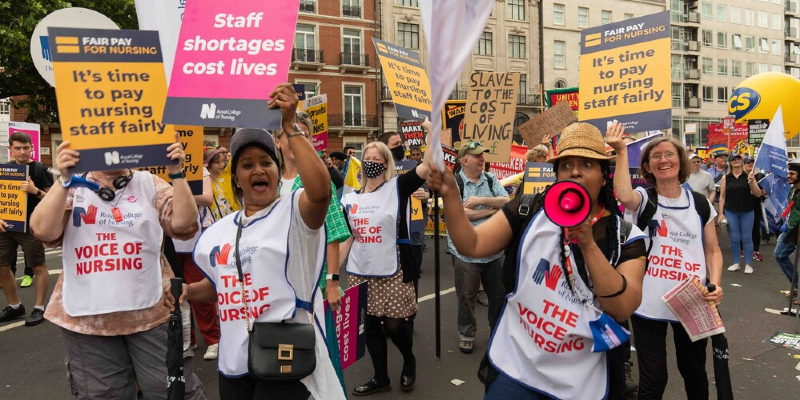 Speaking ahead of strike action taking place today, Pat Cullen – General Secretary & Chief Executive at the RCN – said: "For many of us, this is our first time striking and our emotions are really mixed. The NHS is in crisis, the nursing profession can't take any more, our loved ones are already suffering [but] it is not unreasonable to demand better.
"This is not something that can wait. We are committed to our patients and always will be."
She continued: "I have tried to negotiate and get governments to act. They've had every chance but they chose to turn their back on us.
"As hard as this is, we won't turn our backs on our patients."
The RCN says today's strike" could be the beginning of a longer period of action" if governments continue to refuse formal pay negotiations, or if pay talks don't result in a "satisfactory outcome".
The mass walk out of nursing staff nationwide today comes amid warnings that nurses are leaving the profession in record numbers, and many are unhappy with working conditions, staff shortages, and ultimately, their pay.
A recent analysis by London Economics, as referenced by the RCN, found that pay for nurses in the NHS has declined at twice the rate of the private sector in the last decade, and that their real-terms earnings are said to have fallen by 6%.
The RCN wants nurses to be given a pay rise in line with the rate of inflation.
Read more:
"Today, we strike for fairness," Pat Cullen concluded.
"We strike for the future of our NHS. We strike because it's our right – and our duty – to stand up for fair pay and for patient safety."
Featured Image – Royal College of Nursing