News
Top northern chefs to open THREE new restaurants inside swanky Manchester hotel
Four northern hospitality heavyweights will curate three brand new dining and drinking experiences at Treehouse when it opens in 2023
From a brutalist icon to a green oasis complete with a 'secret forest' treehouse canopy and three new restaurants and bars, there's an exciting new development coming to Deansgate in 2023.
Called Treehouse Hotel, it will completely transform the former Renaissance site with 216 new bedrooms, a magical treehouse canopy, and three brand new dining and drinking experiences – all run by top northern chefs and restauranteurs.
In an announcement made today, the hotel has revealed it is working with local hospitality heavyweights Mary-Ellen McTague, Sam Grainger, Luke Cowdrey (aka Unabomber) and Justin Crawford to bring its food, drink and music offering to life when it opens its doors here in Manchester.
Working with some of the north's biggest names in hospitality, Treehouse will bring three unique new dining and drinking experiences to the city.
The new luxury hotel will feature a ground-floor eatery with a seasonally-changing all-day menu, a 14th-floor restaurant and bar with uninterrupted views of the skyline, and a crowning rooftop party venue, bar and terrace.
Mary-Ellen McTague of The Creameries and Eat Well MCR will curate the new ground floor offering, serving a menu based on seasonality, sustainability, and a sense of place.
Fresh pastries and hot and cold sandwiches will kick start the day here, followed by a regularly-changing all-day menu completed by a carefully-chosen list of low intervention wines.
Up on the fourteenth floor, meanwhile, Sam Grainger of the critically-acclaimed Liverpool restaurant Belzan, not to mention relative Manchester newcomers Madre and Carnival, will oversee the hotel's destination restaurant and stand-alone bar.
Read more: Acclaimed taco bar Madre to set up shop in Manchester this summer
Known for his eclectic mix of dishes, diners can expect to find inventive South East Asian dishes here – elevated by the use of Japanese and European ingredients and techniques.
Sam will also be collaborating with Manchester DJs and hospitality heavyweights Luke Cowdrey and Justin Crawford on the food and drink side of things, as well as working with them to bring the 14th-floor space to life with Manchester's most cutting-edge musicians and entertainers.
The pair are known for hosting seminal club nights over the years such as Homoelectric Electric Chair here in Manchester, as well as introducing the city to popular eateries Volta, Electrik and The Refuge.
No strangers to a good time, they will also curate events in the Rooftop bar and the ground floor restaurant at Treehouse.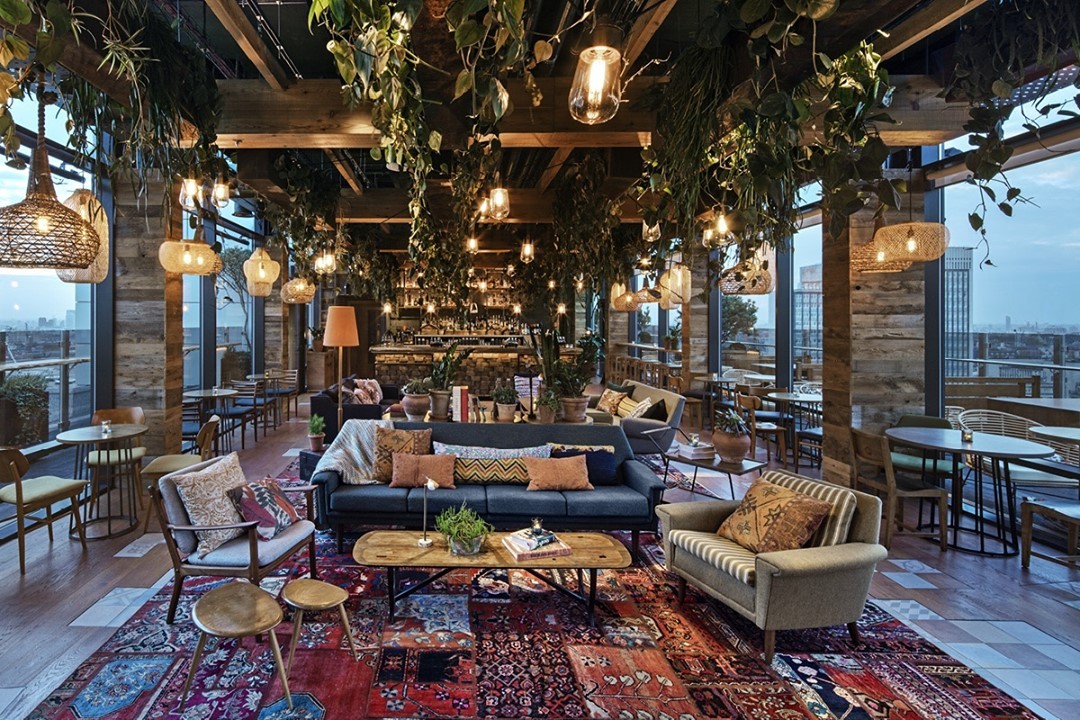 Image: Treehouse hotel, London
Evidently, it's all change for the long-standing Deansgate hotel the Renaissance. Previous announcements also hinted at plans to install a kitchen garden that could harvest its own rainwater and a rooftop apiary that will produce the hotel's own honey.
Read more: An iconic Manchester hotel is being turned into a TREEHOUSE hotel
Elsewhere, stepping stones in the lift lobbies and a unique 'living wooden art piece' guest book – which you're actually encouraged to carve your name into – will set Treehouse apart from other hotels in the city when it opens its doors here in 2023.
Feature image – Treehouse Hotel