Sport
The best places to watch the World Cup in Manchester
Let's bring it home... with a pint in our hands. (Contains affiliate links)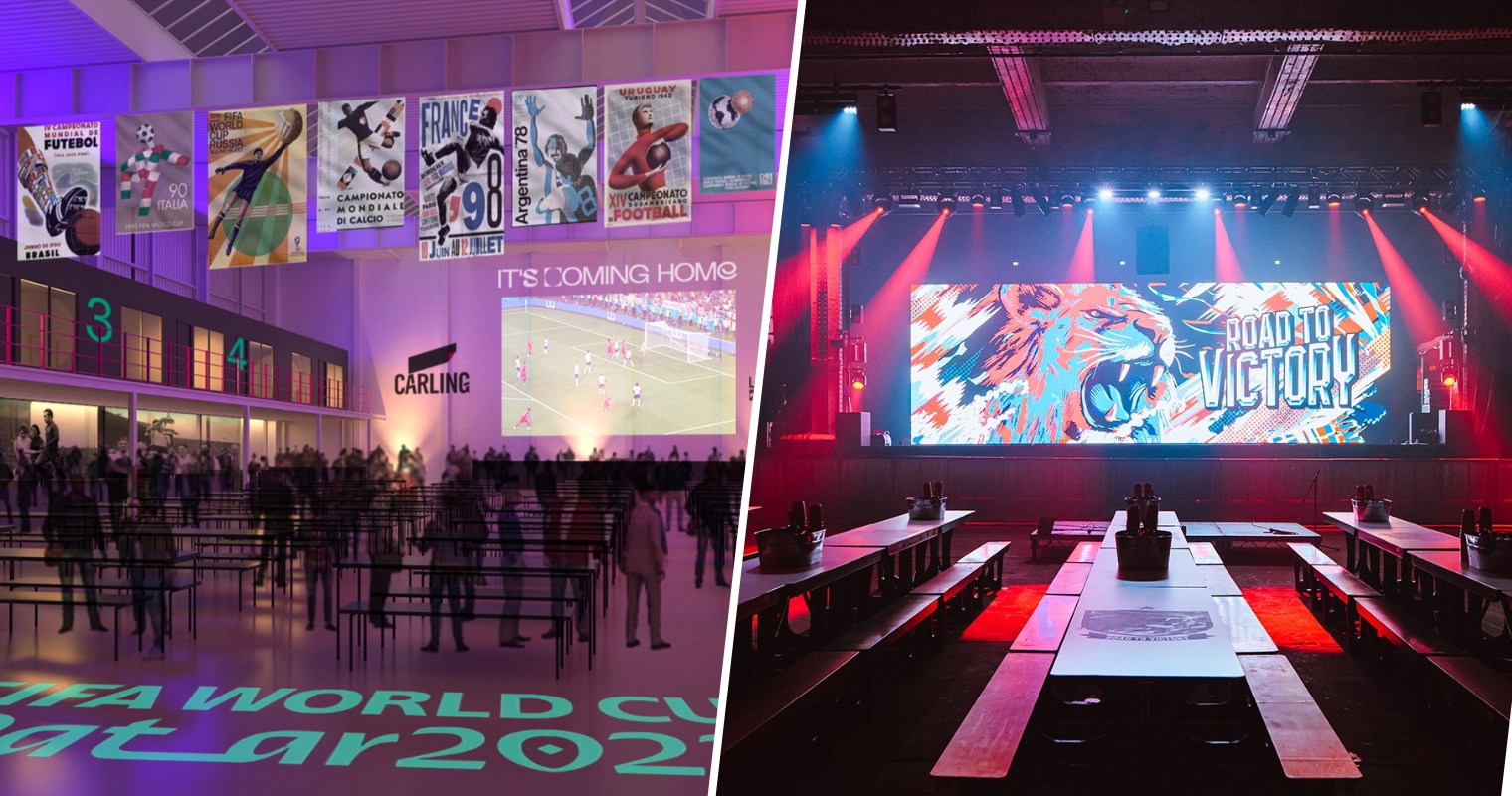 Kick-off in Qatar 2022 is almost upon us and with Gareth Southgate's Three Lions looking to bring home a trophy, Mancs are right to be wondering where to watch the World Cup in Manchester.
International tournaments are always a special occasion we eagerly await to come around and while we're sure you could walk into any old pub and enjoy yourself, there are some seriously good venues showing Qatar 2022 this winter.
So, with that in mind, we thought we'd put together a list of the best places to watch the World Cup in Manchester. You're welcome.
Where to watch the 2022 World Cup in Manchester
First up…
Road to Victory/Festival of Football, Depot Mayfield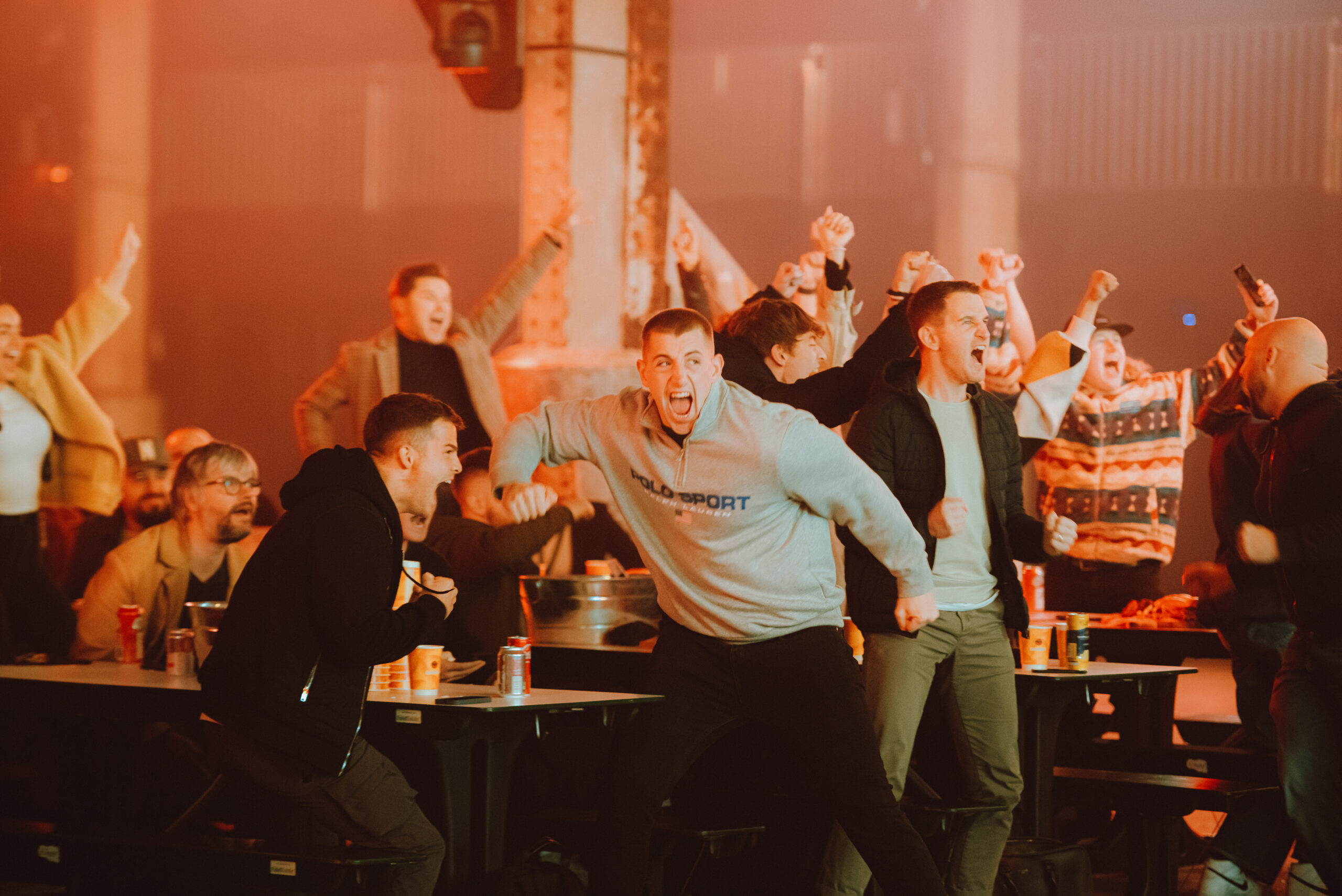 Probably one of the most unique venues you could ever hope to watch live football beyond inside the ground itself, Road to Victory is not only Europe's largest fan zone, boasting a capacity of more than 10,000 people across three rooms and a truly immersive experience.
Set up by AIX Live in Depot Mayfield, this special World Cup event is the first of its kind, promising dynamic audio-visual presentation in big match moments, interactive games and quizzes, as well as all the food and drink you could hope for. Trust us, it's quite something.
You also have the Festival of Football next door at Escape to Freight for a more open and family-friendly experience, not to mention free entry for the family zone. Mayfield just gets better and better. You can find tickets for Road to Victory here as well as find out more about the Festival of Football.
Victoria Warehouse, Trafford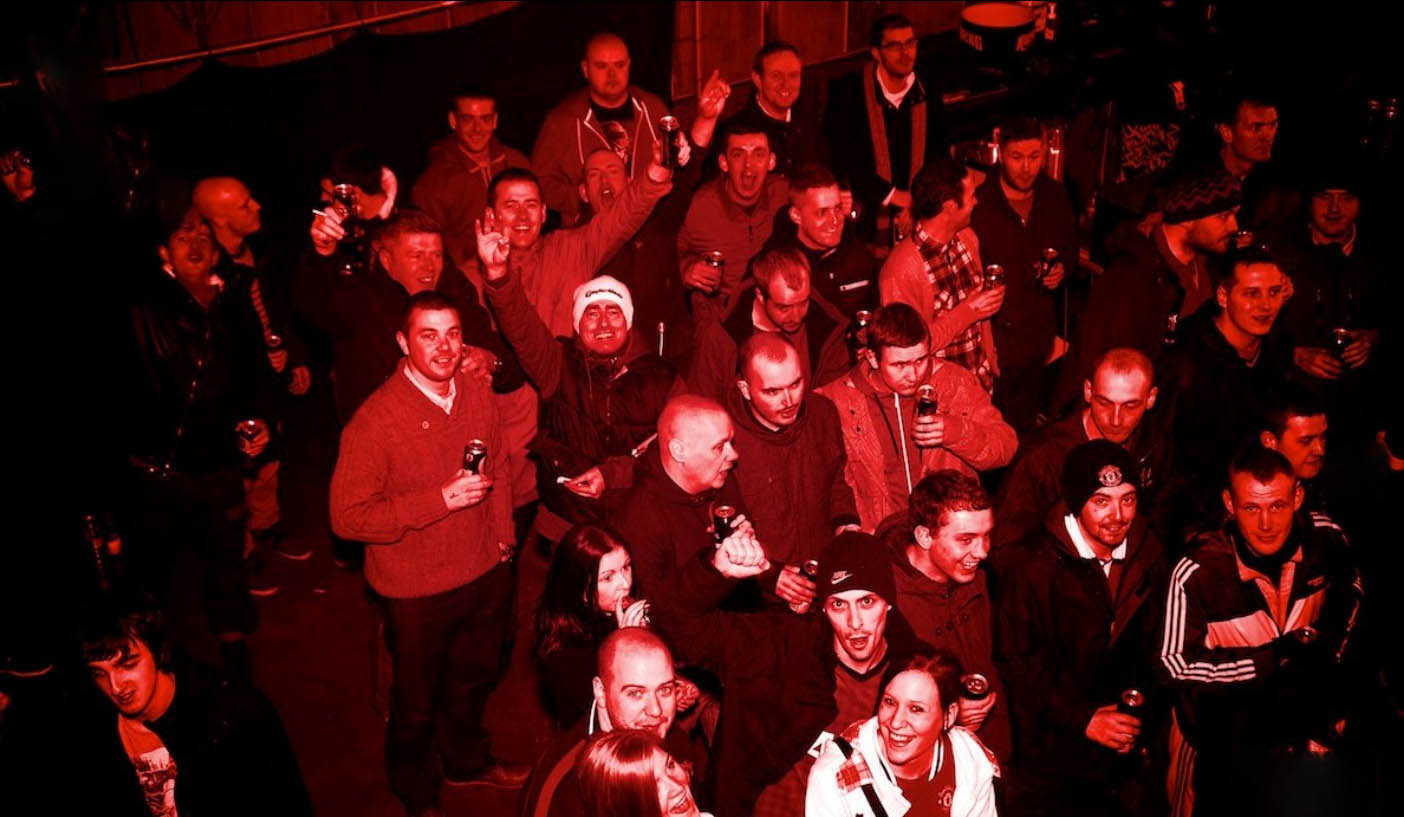 Victoria Warehouse's Red Square has played host to hordes of United fans for years and now the massive indoor supporter space is turning into one of Manchester's biggest fan parks for Qatar 2022 as well. You love to see it.
With room for more than 1,000 people and tickets for just £2 a pop, not to mention being more than used to catering for hundreds of rowdy football fans on a regular basis, this place is sure to be bouncing.
The Love Factory, Green Quarter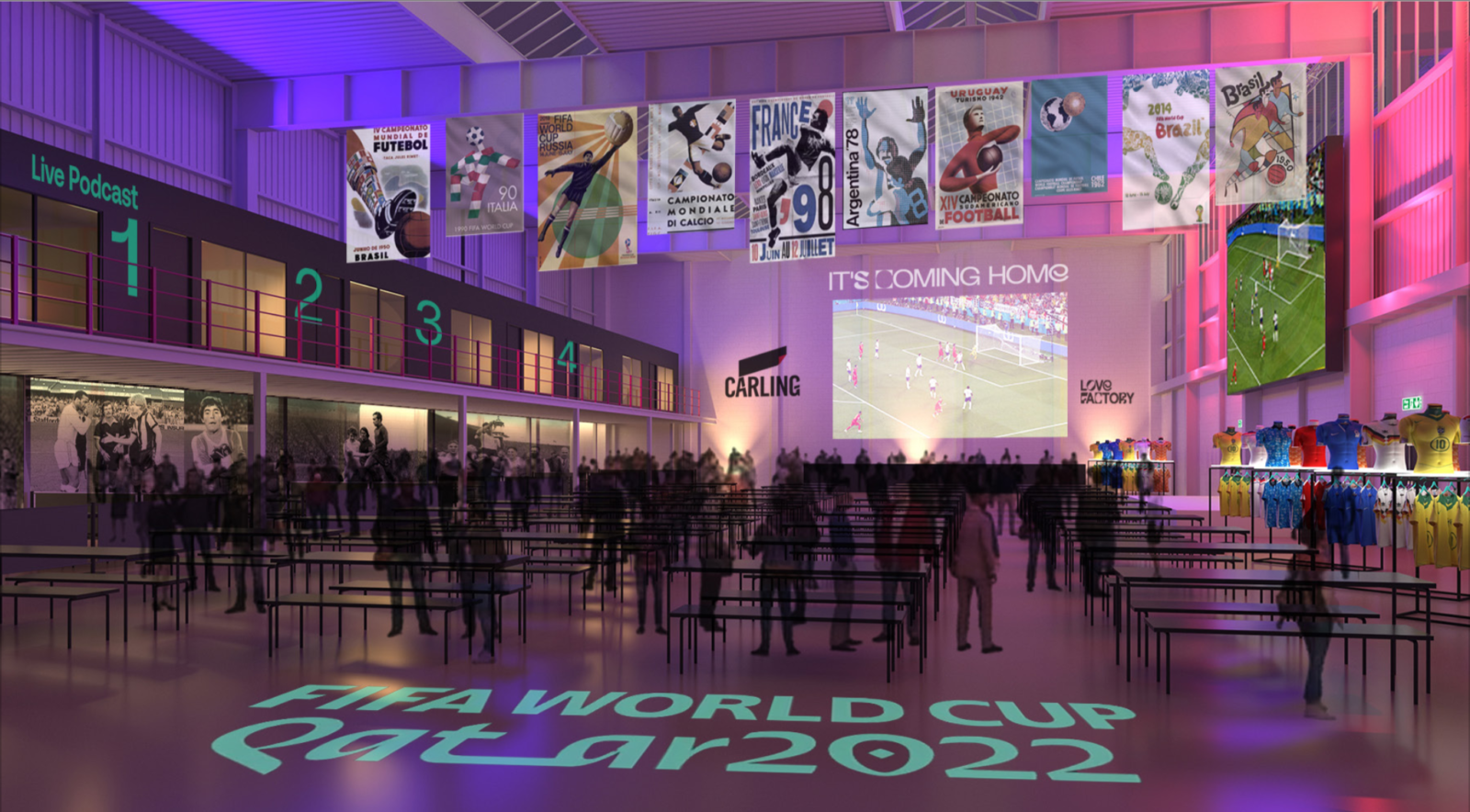 One of the most exciting new additions to Manchester has landed just in time for the World Cup. The Love Factory has been built inside a huge warehouse on the industrial outskirts of the city, featuring World Cup games on a huge indoor central screen and projectors throughout the venue.
As well as street food from local traders like Ate Days A Week, who'll create a rotation of pie fillings inspired by each nation competing in the tournament, there'll also be a huge exhibition of World Cup kits from Classic Football Shirts. You can find out more about Love Factory here and grab tickets from Skiddle here.
New Century Hall, NOMA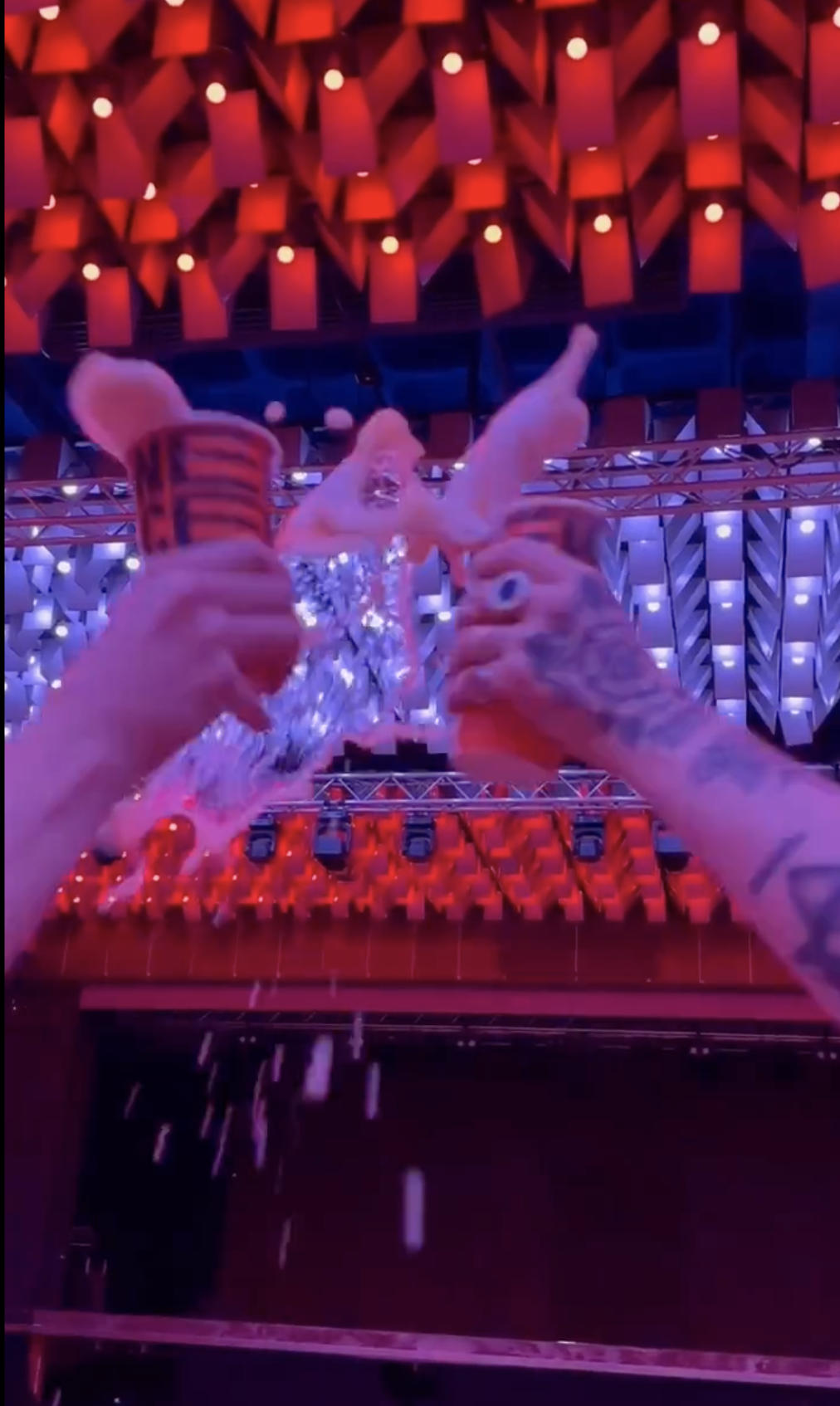 As one of the newest venues in Manchester city centre, New Century Hall is turning its late-night entertainment venue and 70s aesthetic into one of the coolest places to watch England go for gold.
New Century stretches across three beautiful floors, with a wonderful selection of booze and food traders on the ground floor as well as the large live music and events spaces upstairs. Better still, you'll have Sadler's Yard on your doorstep for when the street celebrations start. Find out more here.
Pong & Puck, Great Northern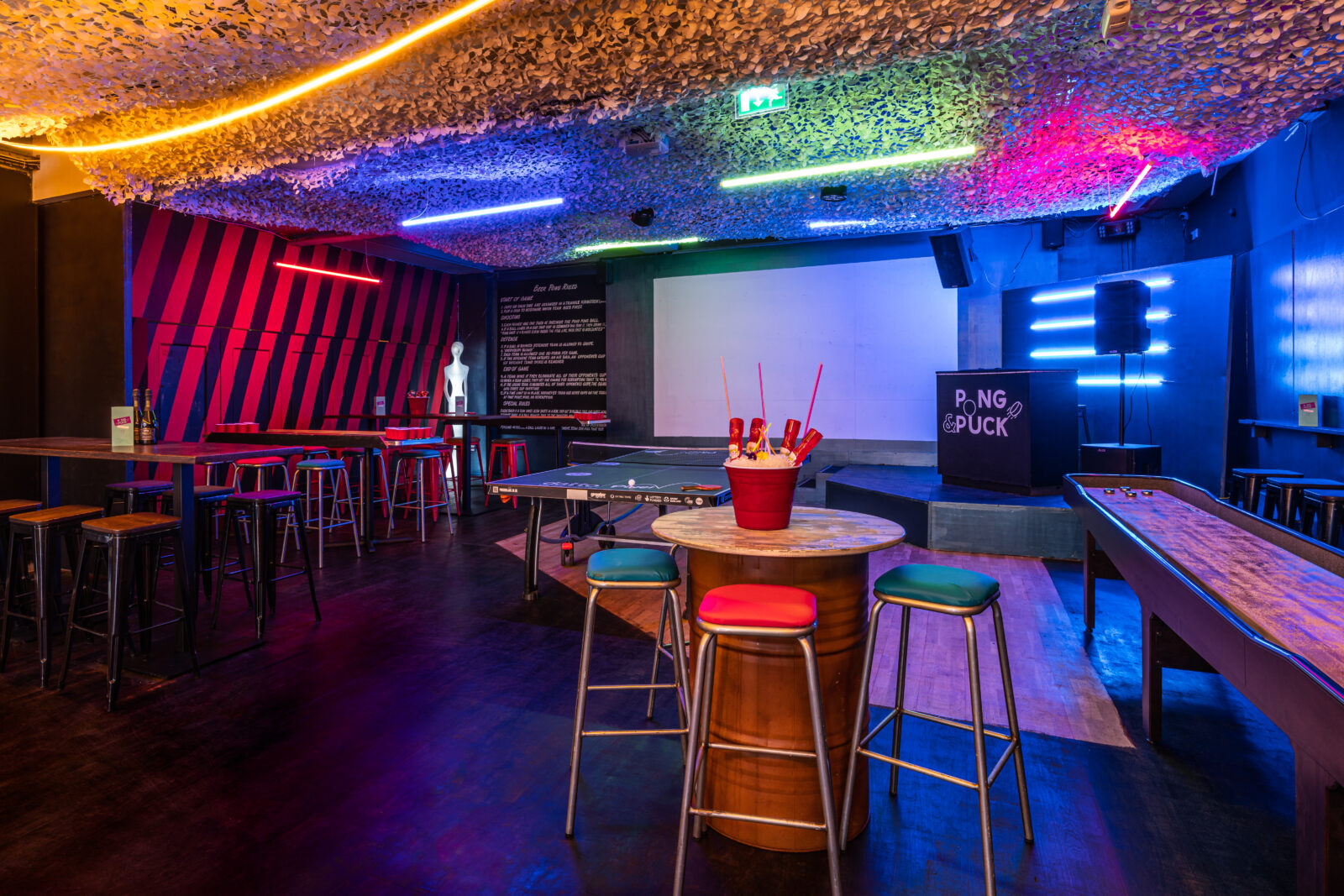 Looking for somewhere a little more central? Pong & Puck at Great Northern Warehouse might be growing a reputation as one of the best games and activities bars in town but its big projector also makes it a great spot to watch the footy.
The table tennis and beer pong tables will also provide you with a healthy distraction at half-time, not to mention the perfect place to kick the drinking games into gear when we inevitably fly our way through the group stage. You even get a free welcome drink. Say no more, book in now.
Walkabout, Printworks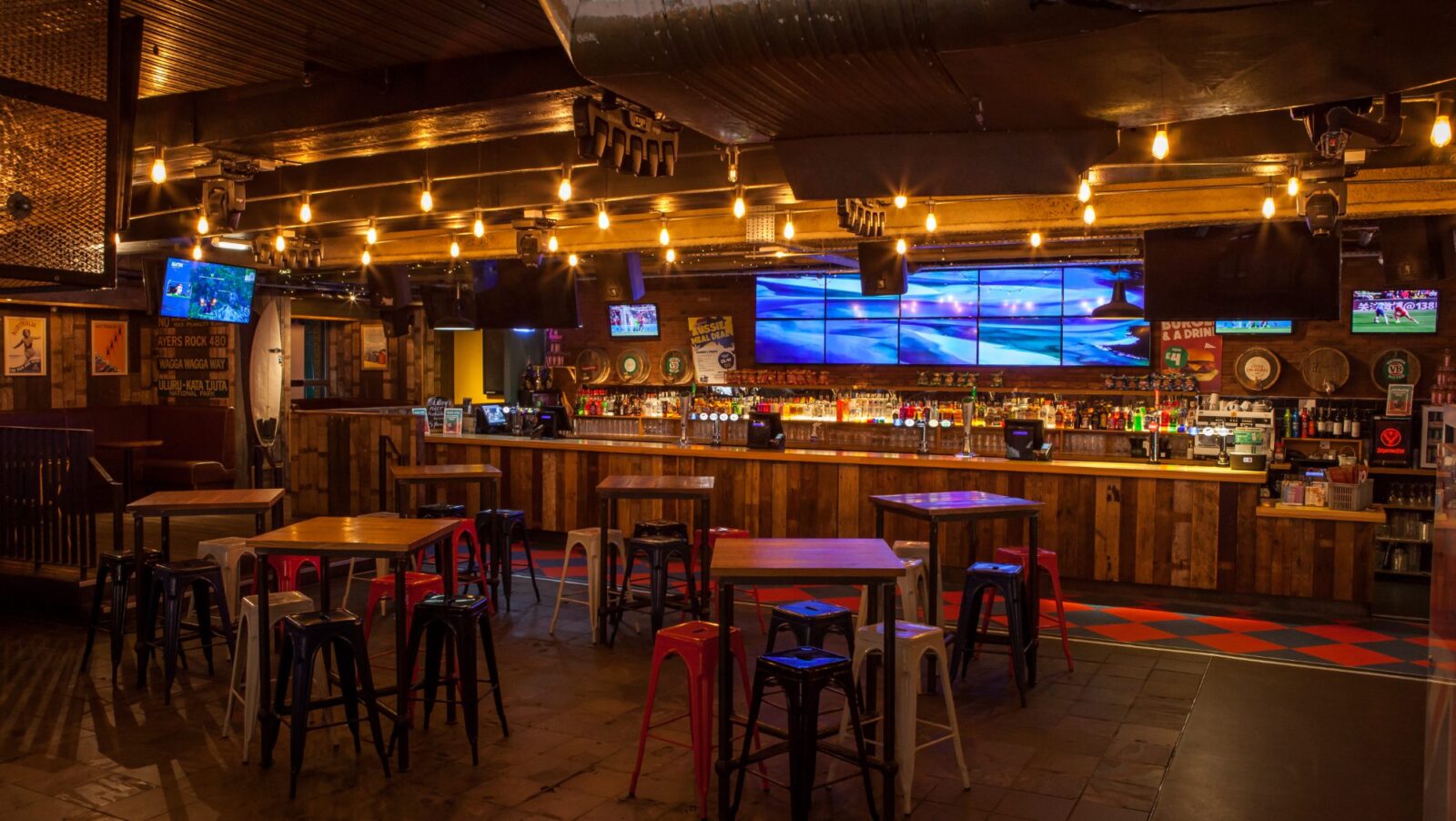 Going to an Aussie pub and restaurant to cheer on the boys in an international tournament might sound a bit odd, but Walkabout just happens to be one of the best places in the city centre to watch live sport with pints and plenty of people.
Located in Printworks, the bar is a regular haunt for football fans come the Premier League games at the weekend, so it's only natural it finds its way onto this list of sports bars showing the World Cup in Manchester. They'll be showing every game as well, not just England. Pencil yourself in while you can.
Shooters Sports Bar/Bierkeller, Printworks
You only have to go a few feet (quite literally) to get all the fun of an American-themed sports bar too, only Shooters Bar will be packed full of Brits and not their transatlantic cousins when England face the USA on Friday, 25 November.
Based inside Printwork's world-famous Bierkeller, Shooters is offering seating from £25 and £35 for VIP, both of which will guarantee you two drinks on arrival and the latter food from the Wings and Wurste menu. This popular sports bar is always packed out, you don't need us to tell you why.
The Oast House, Spinningfields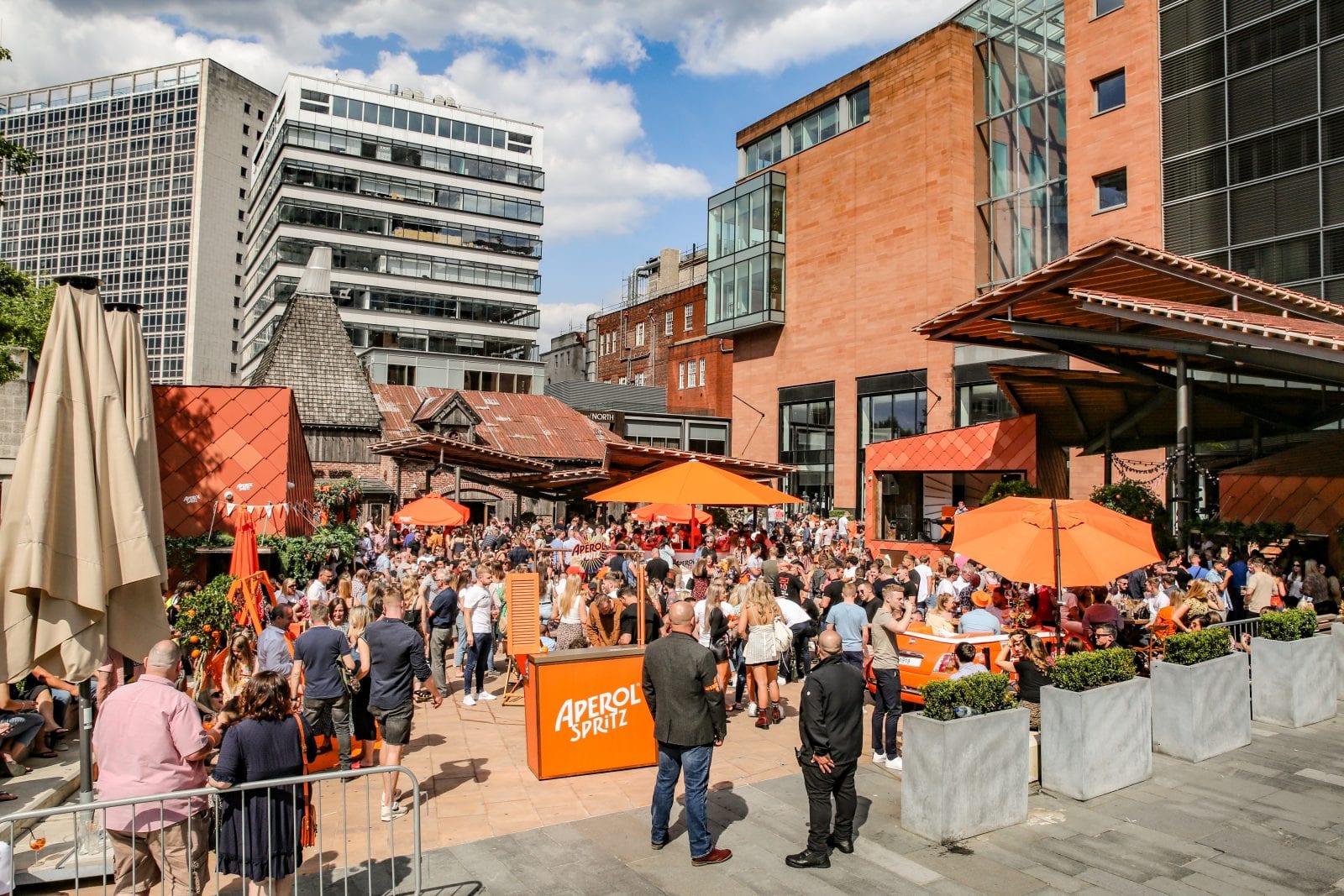 One of the jewels in Spinningfields crown, The Oast House is a popular watering hole year-round but even more so during the colder months as the Christmas teepee is erected and you can see the smoke pumping out of the cosy interior's chimney.
Oast also has the added bonus of a spacious courtyard with a large screen located on the stage, not to mention plenty of coverage and outdoor heaters to keep you warm for this rare winter World Cup. With a festive menu and plenty to drink, what more you could ask for? Walk-ins welcome but booking advised.
Society, Central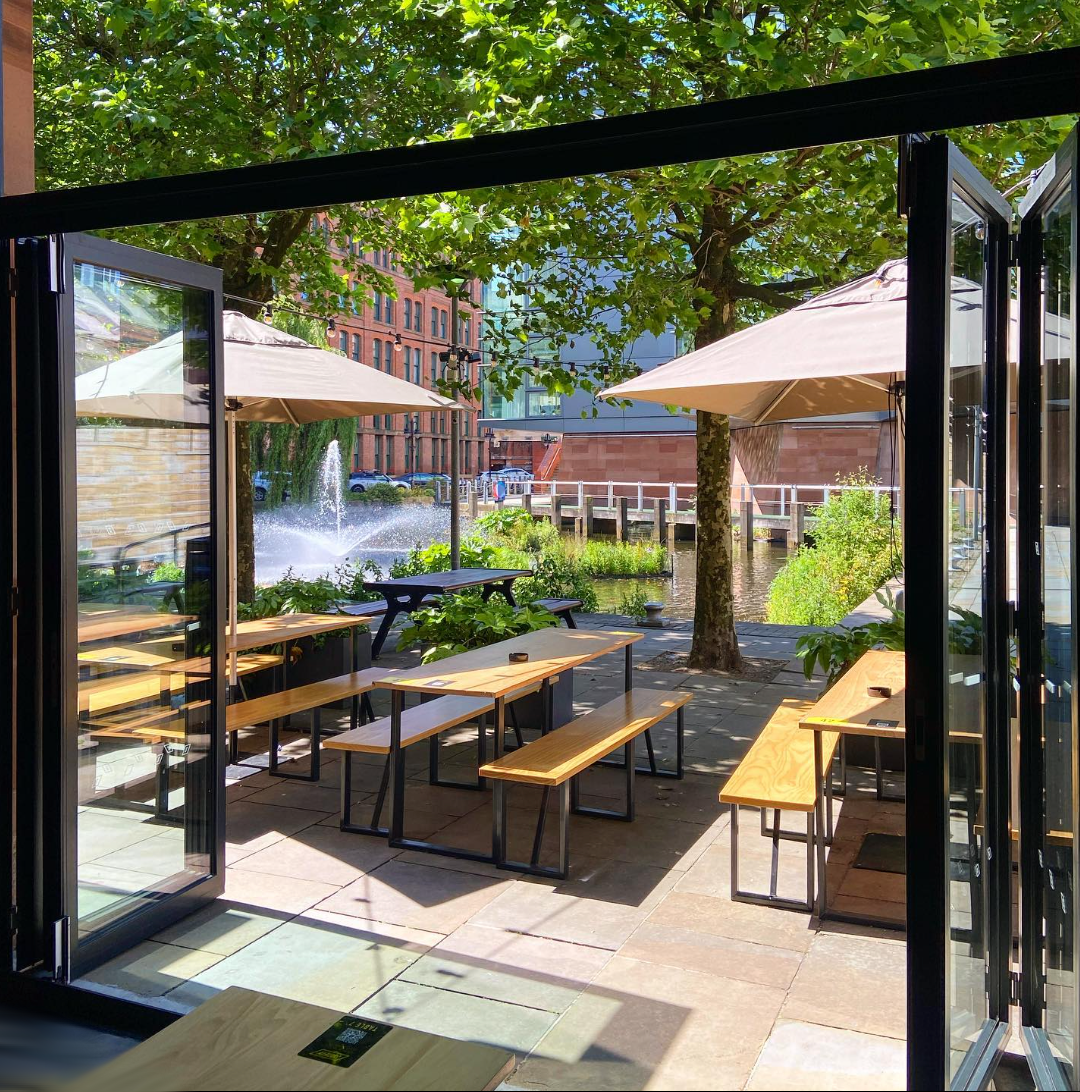 Speaking of food and drink, one of the best parts about international football season is doing away with all concepts of dieting and sobriety, so it's a good job that vendor hall Society is showing every England game this November and December.
Tucked just beneath Bridgewater Hall with plenty of indoor and outdoor seating, Society has plenty of variety when it comes to traders and we also can't wait to see the scenes around that fountain once we romp into the final — and we will. You only need to email to book your table.
Blues Kitchen, Peter Street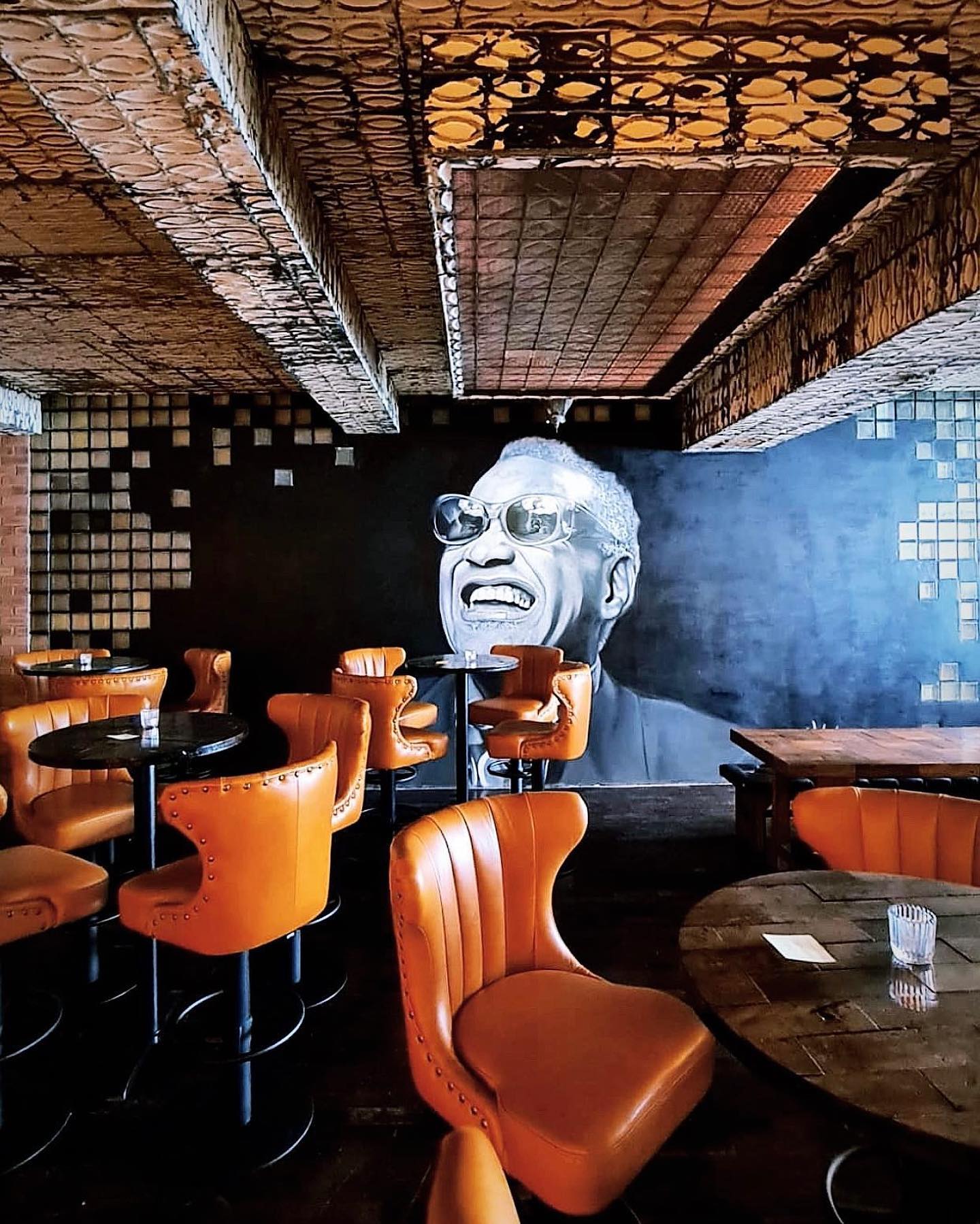 While Blues Kitchen might not be the first place that comes to mind when thinking about where to watch the World Cup, the multi-floor bar, restaurant, club and live music venue puts on all kinds of events throughout the year, so why wouldn't they cover the biggest event of the year?
This beautiful building spans multiple floors, with the gig venue able to hold 500 alone, and they'll be packing the place out with as many tables as they can. Tickets are sold as tables at a rate of £5 per person, making it one of the cheapest places to book in for the tournament.
The Directors Box, Central
Probably one of the most frequented places for watching live sport in the city centre, Director's Box is yet another superb sports bar in a prime central location and nestled around a number of classic Manchester pubs like The Vine Inn and The City Arms.
From their huge value-for-money sharing platters to a solid lineup of beers and screens on nearly every wall, you won't go for wrong watch the games in the place. However, we will warn you that this place gets packed out quickly, so be sure to secure a spot early come 21 November.
The Brotherhood of Pursuits and Pastimes, Albert Square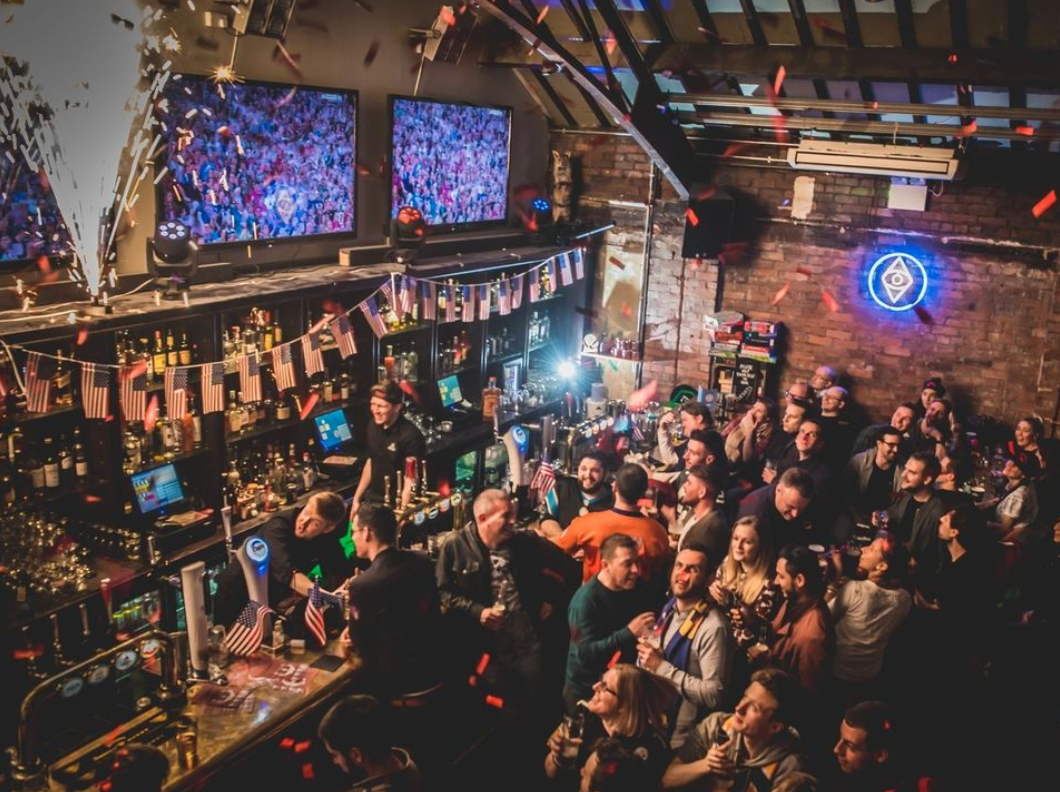 We can't talk about sports bars without mentioning the one and only Brotherhood. Undoubtedly one of the busiest post-work pubs as well as on matchdays, this city centre spot has food, games, beer and more than enough screens to cater to the punters.
Located just next to the Central Library between Albert and St Peter's Square, this place has a few simple rules: behave yourself and get there early, especially if you want to be part of their World Cup party which is sure to be a belter. You can enquire about a table but it's first come first serve. Good luck.
Barca Bar, Castlefield
This Castlefield cornerstone is another solid choice for football fans, with plenty of screens throughout its various rooms and an outdoor terrace with a projector screen; there are a few private hire spaces for groups of different sizes too.
With bars located inside and outside and plenty of room for walk-ins too if you've left it too late to snag a ticket elsewhere, you know where to head come kick-off. It'll be some part along next that canal. Check out what they have to offer here.
The Waldorf, Piccadilly
As any Manc football fan (especially a Blue) will know, The Waldorf is a gem of a pub for watching the games all year round, and it's full steam ahead for the World Cup. Just a few yards down from Manchester Piccadilly, even if you're coming from elsewhere in Greater Manchester, you won't have far to walk.
It's not just the England games being screened here either, the local favourite will be showing every match in Qatar 2022. With two floors to pack out, this place if everything you'd want from a proper pub come tournament time. You can book your table here.
Bunny Jackson's, First Street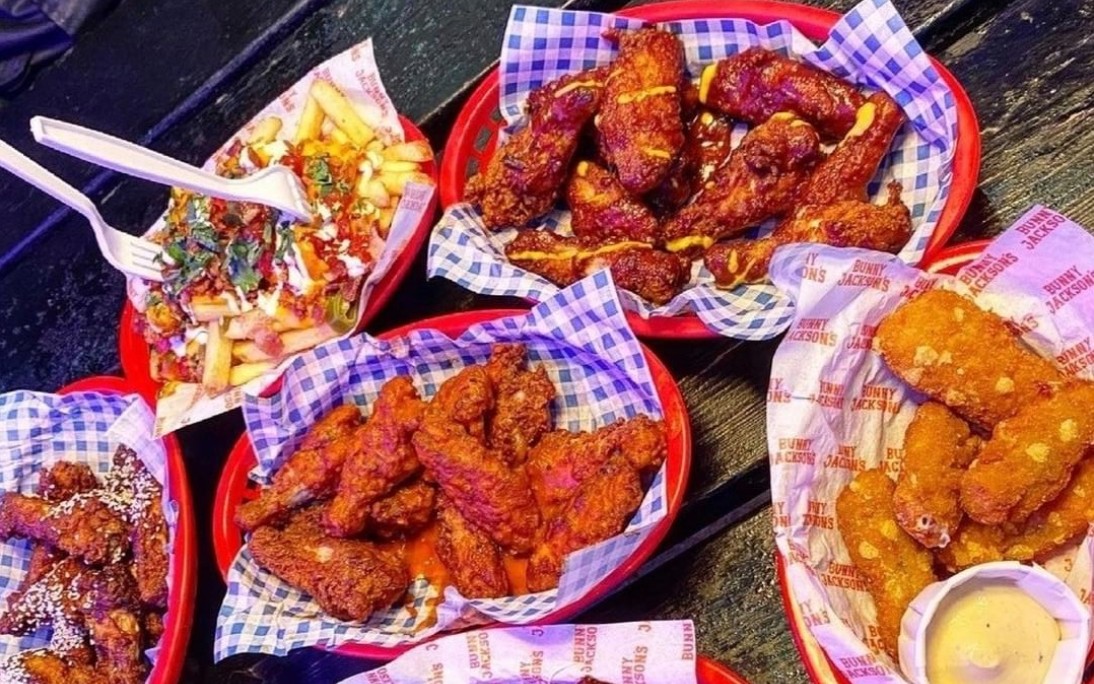 For the most atmospheric, unpretentious World Cup viewing experience possible, you need to head to Bunny Jackson's, the beloved dive bar famed for its 20p wings, plenty of pints and bar staff who are more likely to suggest shots than you are.
The First Street institution will be showing the games on the big screen tucked in the corner of the room with plenty of space for people on both floors to watch. The sounds in this place will be as well at full tilt volume from minute one. They don't do bookings at this gaff, just get yourself there early.
BOX Deansgate, Deansgate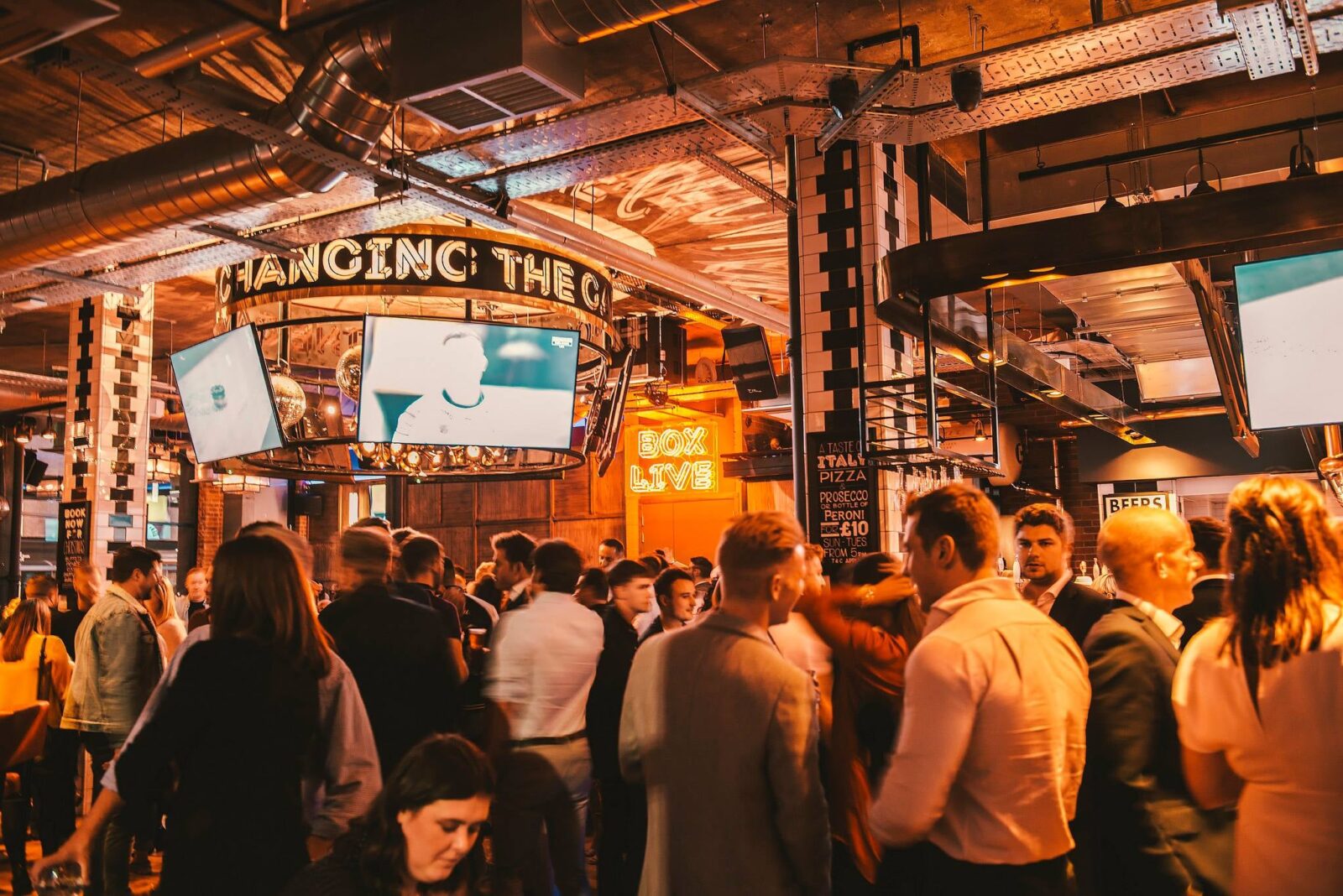 Open for just over a year now, BOX bar has gone from one of the newest places on the Deansgate strip to an absolute cornerstone of matchdays and weekends in general. From beer and shuffleboard to steins of pornstar martinis and live music, this place has a bit of everything.
With the jumbotron-style screen in the middle, not to mention all the other screens covering nearly every inch of the place, there's no chance you'll miss even a second of the action in this American-style sports bar. Get booking now if you want to sort yourself the best seat in the house.
The Courtyard, Oxford Road corridor
There are few simpler pleasures a bar with cheap beer and cheap food, so whether your student days are behind you or not, The Courtyard has to be on this list — even if only to remember all the other times we've watched the footy there down the years.
Of course, this place will be packed out as per, but with loads of deals on drinks, pool tables and a large beer garden area out back ready for when 'Three Lions' starts playing, Courtyard will be bouncing whether you're there or not.
Gasworks, First Street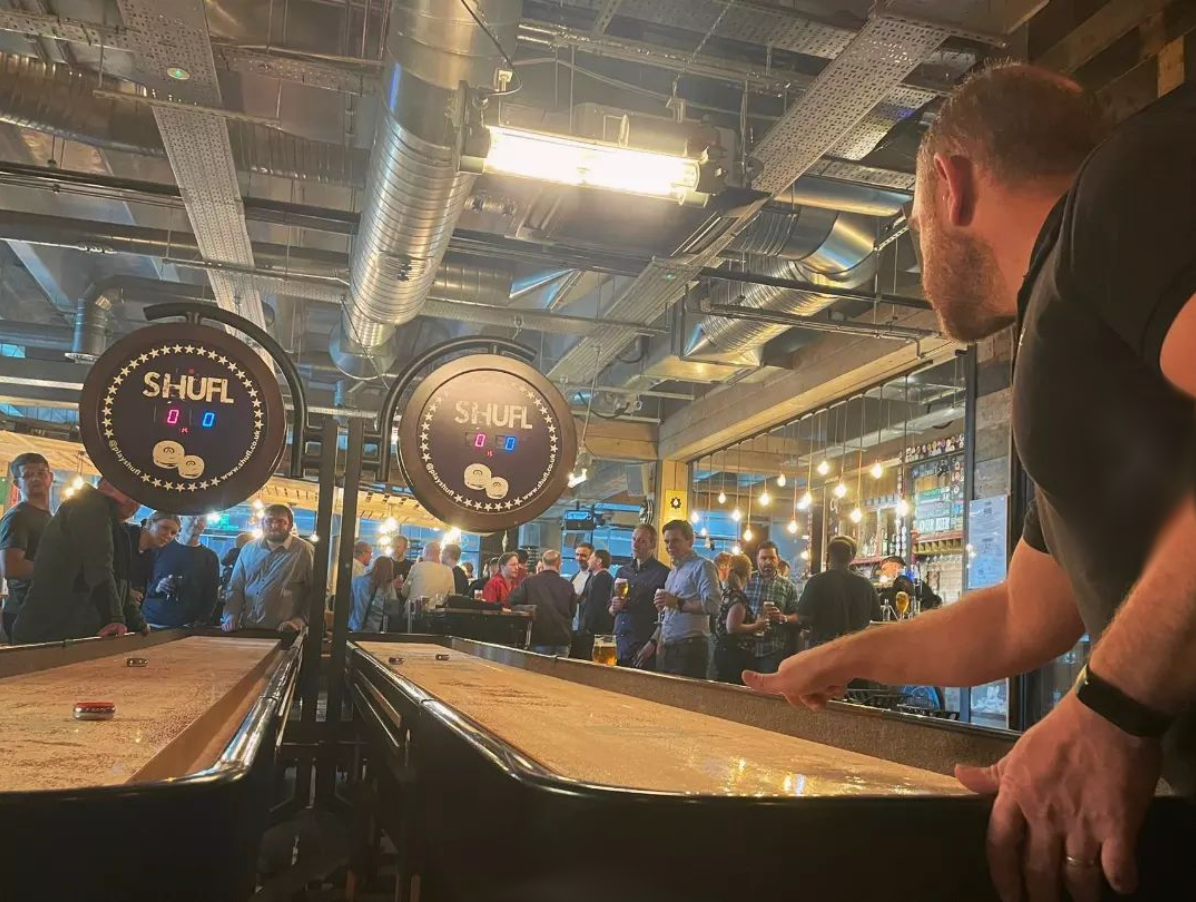 Another cult-favourite along the First Street/Jack Rosenthal Street run of venues, Gasworks has never been a sports bar per se but following the scenes during the men's and women's Euros these past two years, for our money, this is one of the best places to watch World Cup in Manchester city centre.
With a big projector; large booths and long benches for you and your mates to crowd around as you watch the games, eat various buns, sarnies and slabs, not to mention sample their sizeable selection of craft beer and ales, you won't find much to complain about here.
Canvas, Circle Square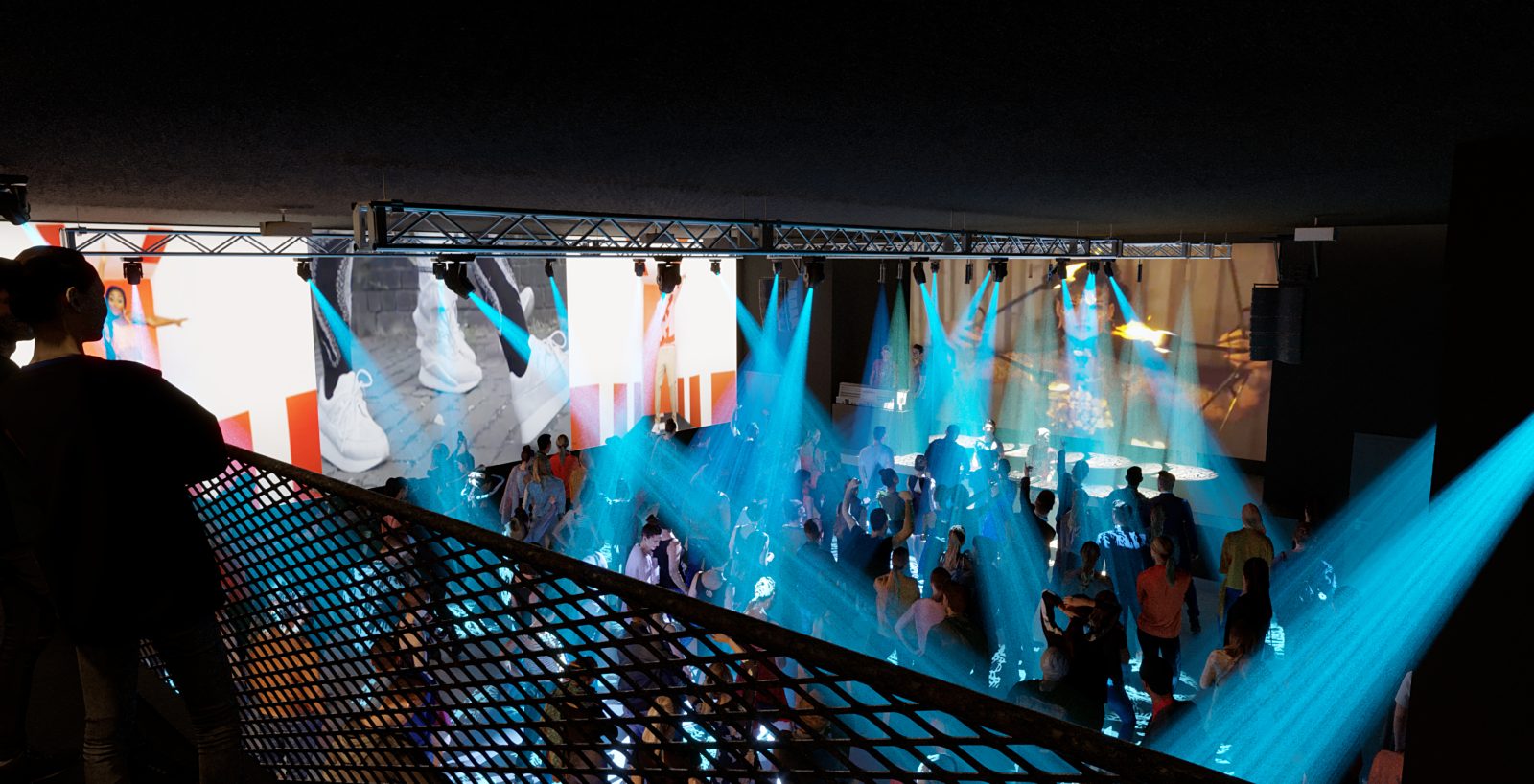 Another one of Manchester's newest additions, the Canvas event space which recently opened up on Oxford Road's ever-growing Circle Square complex might just be one of the best-kept secrets when it comes to places to watch the World Cup. Well, until that is.
The bar, entertainment and live music venue will be screening a selection of games throughout November and December, and there are even promising exclusive performances from the likes of Confidence Man, Happy Mondays, Liam Fray and more throughout the ​​tournament.
Tib Street Tavern, Northern Quarter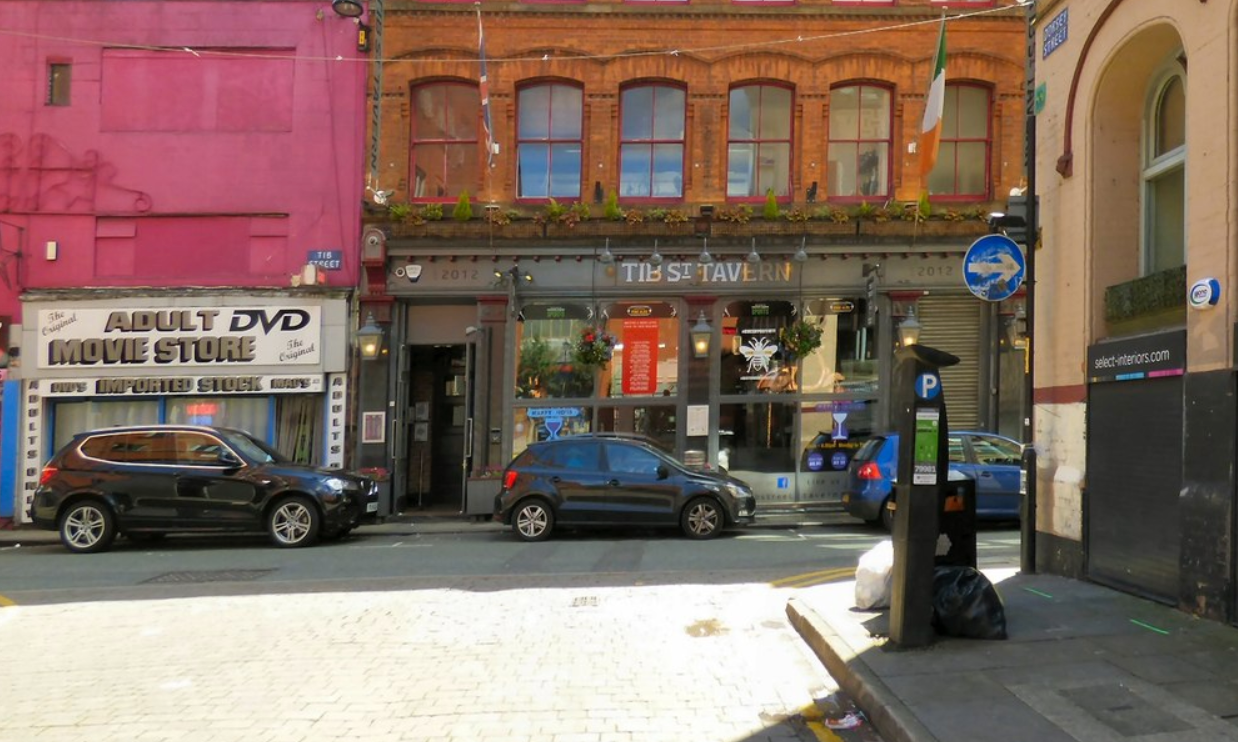 Heading over Northern Quarter way, Tib Street Tavern is one of our favourite places to watch sport in Manchester, and that's saying something. Cocktails, burgers and hot dogs don't hurt either. With absolutely massive screens that fill the walls, it's no wonder you'll find hundreds of punters in here evet weekend.
Their booths may already be booked out for England's first game against Iran, but there'll still be plenty of room for walk-ins on a first come first serve basis and there's always the next game. Just give them a ring and try your look.
Sir Ralph Abercromby, Central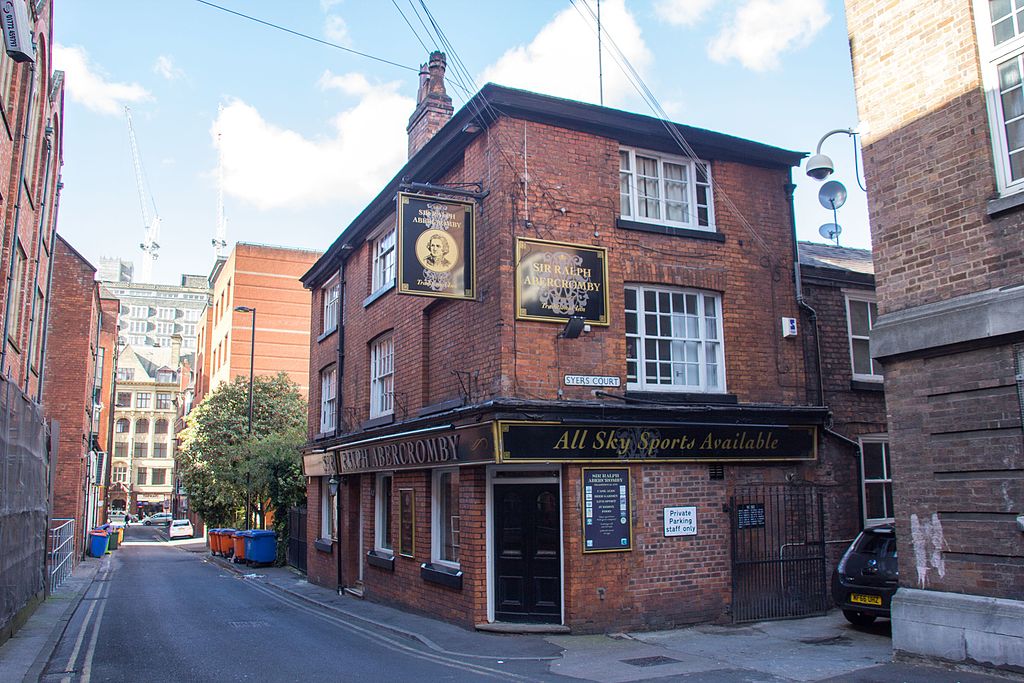 Probably one of the best and most historic football-loving pubs you'll find anywhere in the centre of town, the Sir Ralph Abercromby is a favourite of United fans and with the combination of a traditional pub setting and modern outdoor viewing area, you can't go wrong.
In addition to multiple screens dotted around the marquee-covered beer garden, you have plenty of tellies inside and a big projector room in the back room. It's a no-frills boozer this one, just get there in time to find yourself a seat and despite the cold, that outdoor area will be as lively as ever.
The Old Nags Head, Central
From one beloved United haunt to another. It may be the go-to pub for top Reds year in, year out, but come international tournament time we're all on the same side and this place packs out all the same — and there are three floors, so that's saying something.
The downstairs delivers plenty of screens, a large bar serving from all directions and karaoke; there are more seats upstairs and you've also got the wonderful rooftop terrace to chant 'it's coming home' across the city come full-time. This place is dripping in football heritage just like the Ralph.
Brickhouse Social/Kable, Oxford Road corridor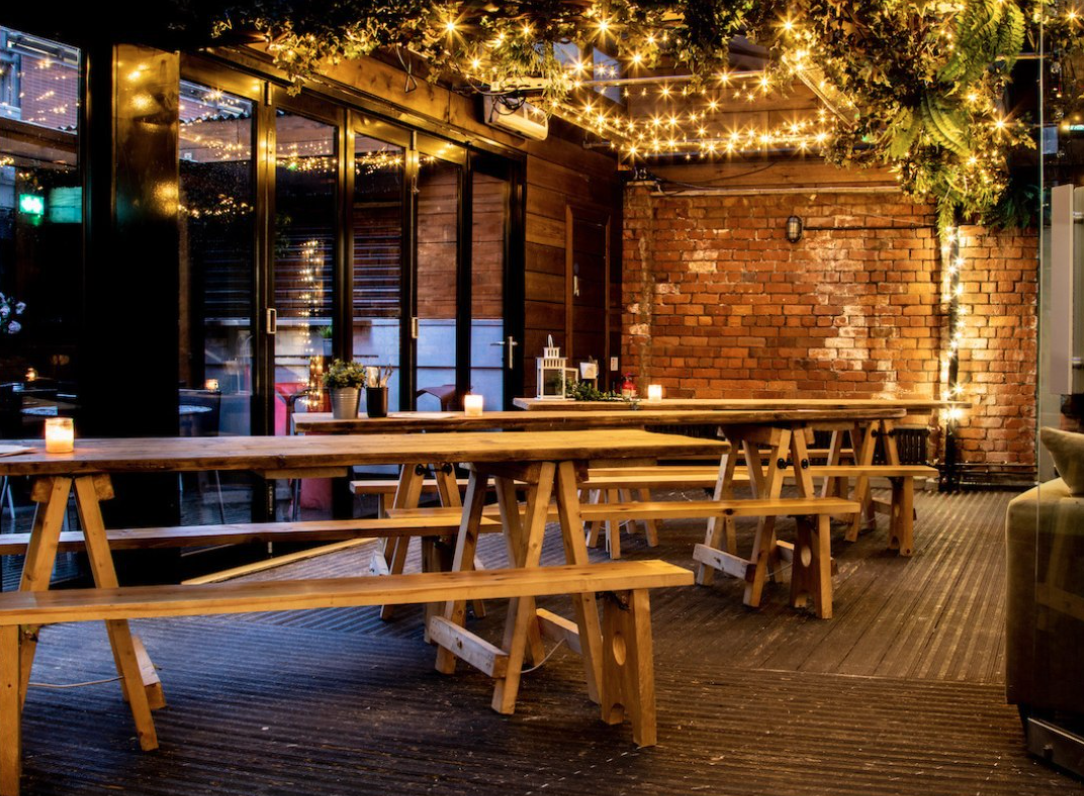 From the old school to the new, Brickhouse Social on New Wakefield Street is another venue that hasn't been around that long but is already building a strong customer base and is now turning its hand to the 2022 World Cup.
Turning the attached Kable Club in the basement of this three-floor site into their very own fan zone, Brickhouse are selling off tickets and a free drink for just a fiver. Spots for the England vs Iran game have already flown out the window so grab yours for the USA group game on 25 November while you can.
Twenty Twenty Two, Northern Quarter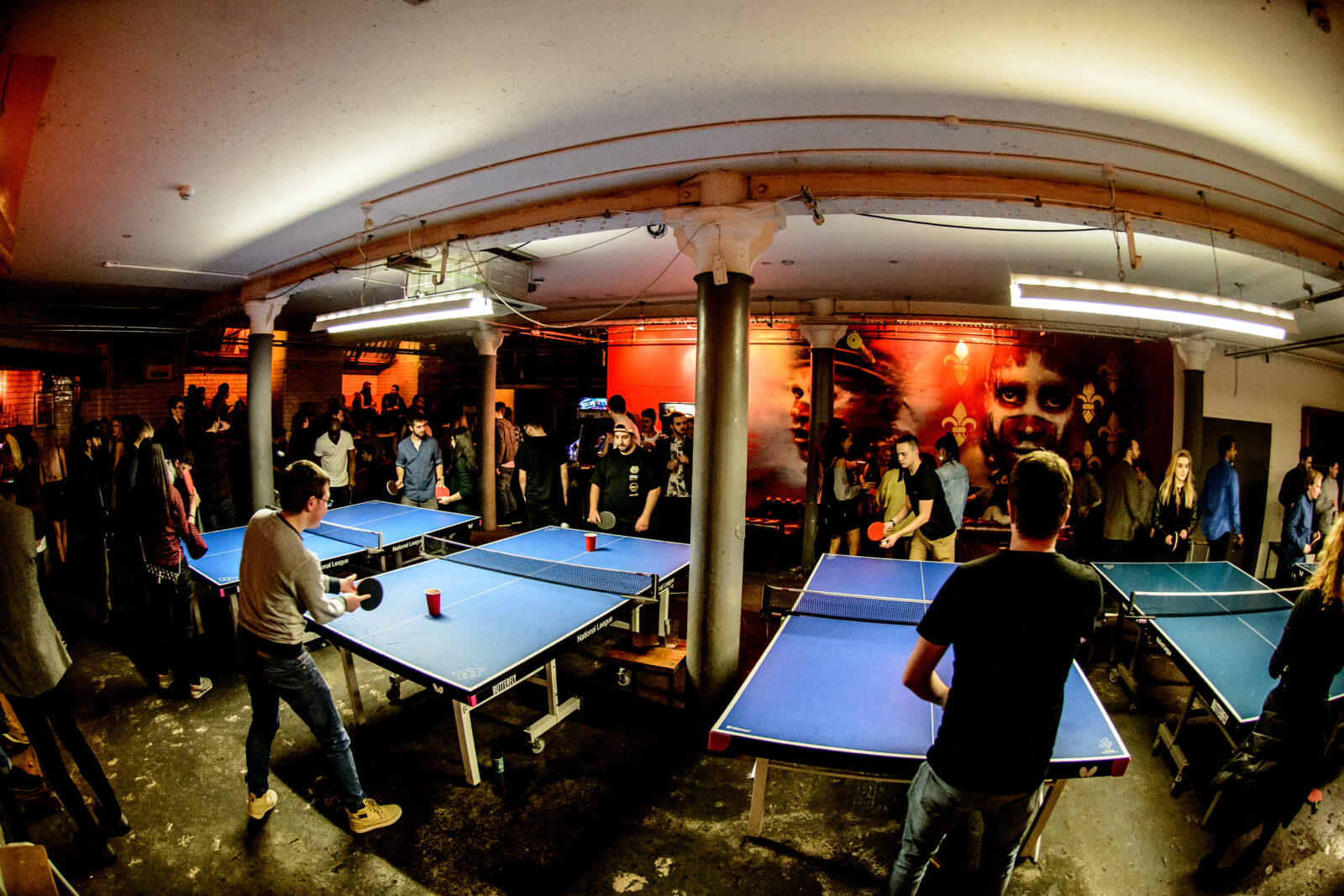 Looking for a basement vibe for your World Cup vibes this year? Twenty Twenty Two might be underground but they intend to take the roof off the place when Harry Kane scores a last-minute winner or Tripper fires in another a peach of free-kick.
Best known for its table tennis and beer pong tournaments, this late-night party bar is opening early for England's first game on Monday, 21 November and will be showing every other match for that matter. Once again, only walk-ins for this one, just be early and count yourself lucky if you grab a seat.
Joshua Brooks, Princess Street
JBs is another top contender when it comes to places to watch the World Cup in Manchester as not only do you get great food and drink in a top venue, but you've also got brand new projectors, screens upstairs and down, as well their Void sound system — perfect for bringing that big game atmosphere
Whether you cop the cheaper standing tickets with two drink tokens or opt for the very reasonable table package which includes guaranteed seats, two drinks each and a sharing platter, everyone gets the all-important big screen as well as DJ playing at half-time and after the. Nothing less than a good time.
ABC Taproom, Piccadilly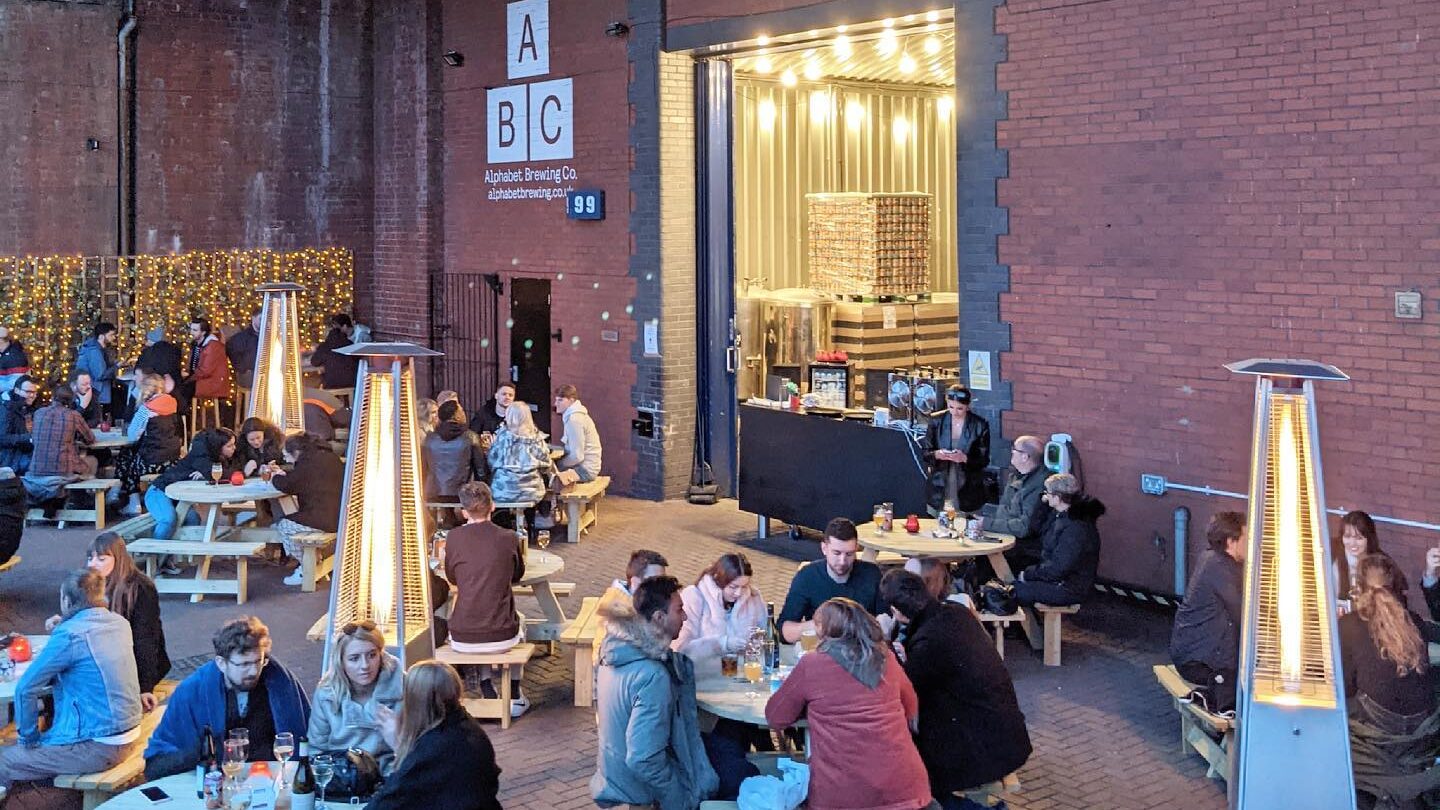 Back over near Mayfield, we've got another suggestion that you may not have considered until now: ABC Taproom. The on-site taproom of the Alphabet Brewing Company has hosted plenty of live music and comedy nights since it opened back in 2021, now they're turning their hand to live football screenings.
They have recently installed a huge 200-inch 4K screen to show every England game over the next month or so and will even be introducing a special line of carefully crafted World Cup beers to celebrate the tournament. It may be a little bit out of the centre of town but it's well worth a try for a game or two.
The Pen and Pencil, Northern Quarter
Back in NQ territory, The Pen and Pencil is not only a favourite place for Mancs to eat and drink but for anyone who's been in on a matchday, the pub quiz on Tuesdays or pre-gig shows throughout the week, you'll know the punter vibes here are just as good as any pub.
While booking is recommended for those who want to grab a seat and some grub, there will be space for walk-ins on the day and, best of all, it's 50% off food every Monday — just in time for your dinner (lunch for any southerners) when England kick-off their group stage.
Second City, Ancoats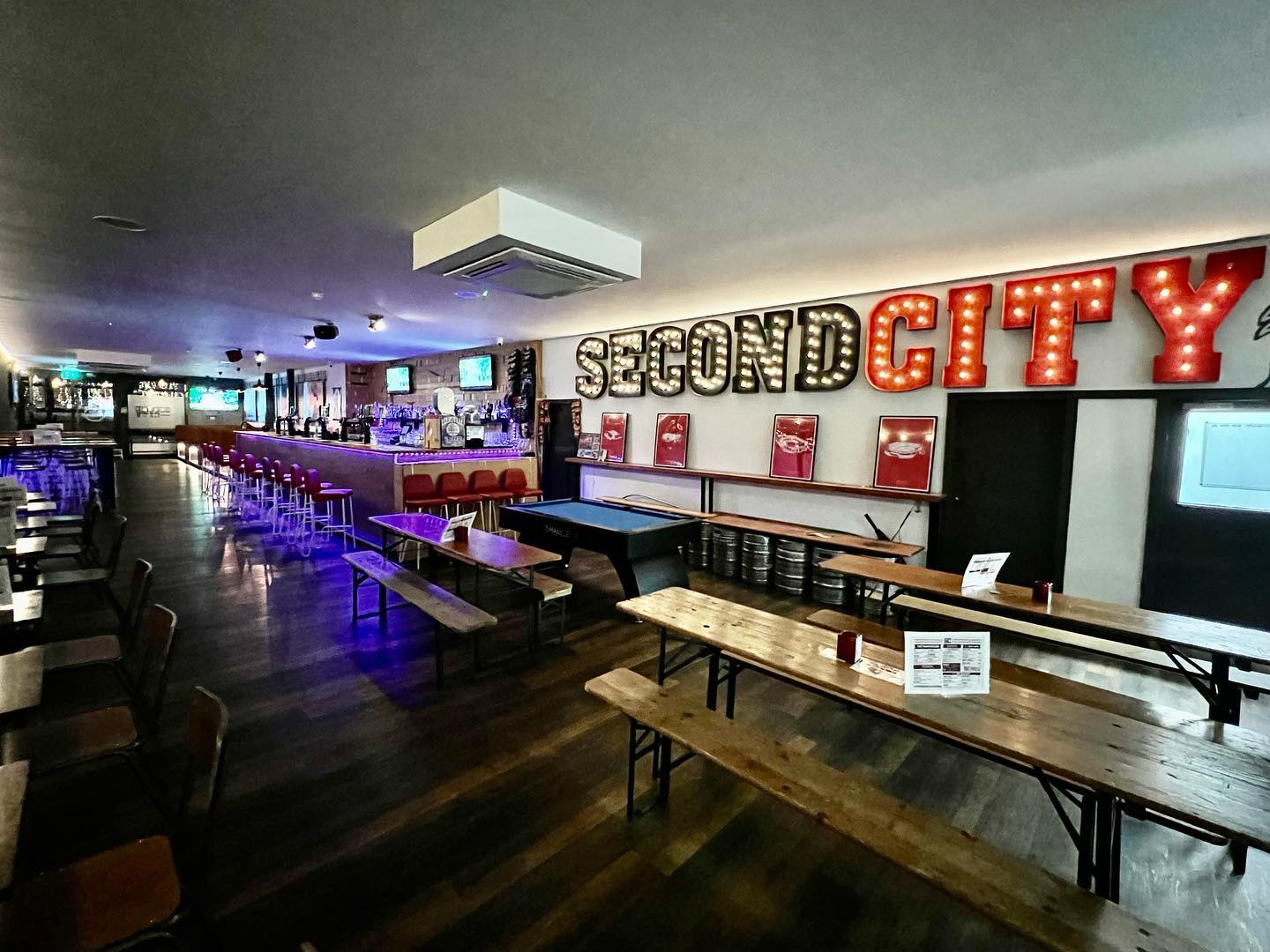 Travelling just down the road in Ancoats, the beloved Second City sports bar may have moved to a slightly smaller location just off Cutting Room Square but they've carried the same atmosphere into their new building.
This place shows all kinds of sports throughout the week and on screens of all sizes dotted around the place – the biggest being its premier 136-inch screen. There's no chance you're missing a glimpse of the Three Lions flying their way through the fixtures.
7Sins, Northern Quarter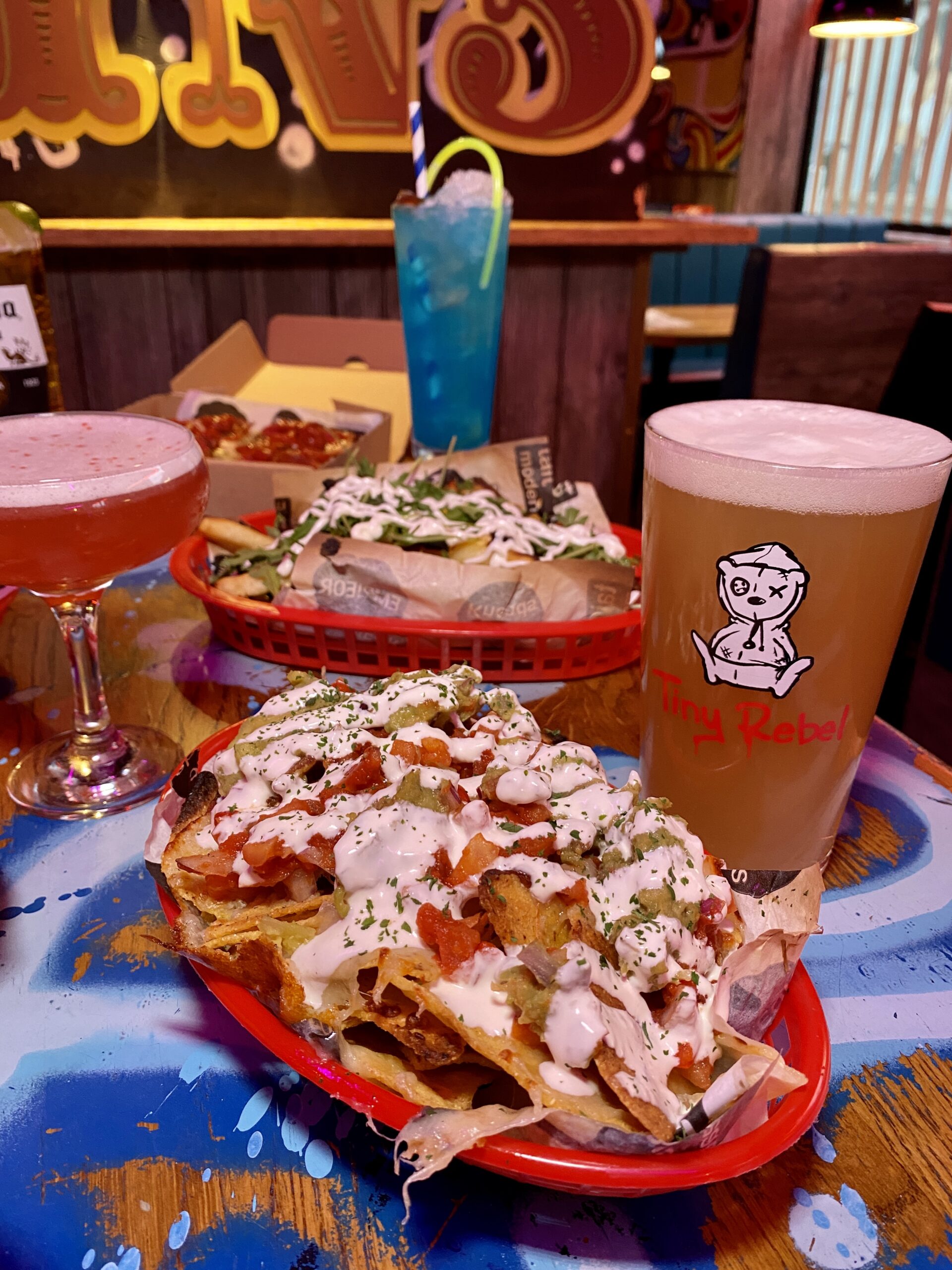 The penultimate bar on our list of places showing the World Cup in Manny is none other than NQ's 7Sins. While you might know it as a place to play retro video games, shuffleboard and pool, these lot aren't missing a beat and they doing their bit to give Mancs another location to watch the England games.
For wondering how they're managing it, they've recently had (you guessed it) seven different screens fitted along with their big projector screen to go along with their various arcade machines and bar activities. You can book via the website or email them with any enquiries.
Boom Battle Bar, Printworks
Last but not least is another offering from the Printworks as Boom Battle Bar is benching its activity and gaming bar theme to focus on the World Cup, at least for the duration of the games anyway. We felt we had to include this one not only because we like it but because they have a special promotion on too.
The chain is giving away 66 free pints of beer to select England fans who utter the right phrase — ''It's coming home and I want a free pint' — at the bar an hour before kick-off. They'll be first come first serve and you have to book a table to be eligible but hey, there's no moaning when it comes to free beer.
Read more
Now, we obviously could have chucked dozens more mint Manchester bars and pubs on this list but we had to stop otherwise we'd go on forever. However, you've got more than plenty to be going on with for now.
Lastly, it goes without saying that besides finding places to watch the World Cup in Manchester, Qatar 2022 is a tournament that we'd rather every nation have boycotted this year and while we will always back the Three Lions, we can only hope that team taking part make a statement when they're over there.
Qatar has been described by Human Rights Watch as having a "dismal human rights record", and has shown discriminatory practices against women, the LGBTQ+ community, and migrant workers.
We'd love to see the boys bring football home, but we want the beautiful game to be for everyone more.
Best of luck, lads.
For all the latest news, events and goings on in Greater Manchester, subscribe to The Manc newsletter HERE.
Featured Image — Love Factory/Road to Victory (supplied)