Sport
Qatar World Cup being dubbed 'Fyre Festival 2.0' after leaked footage of $100-a-night rooms
The shambles that is Qatar 2022 rumbles on.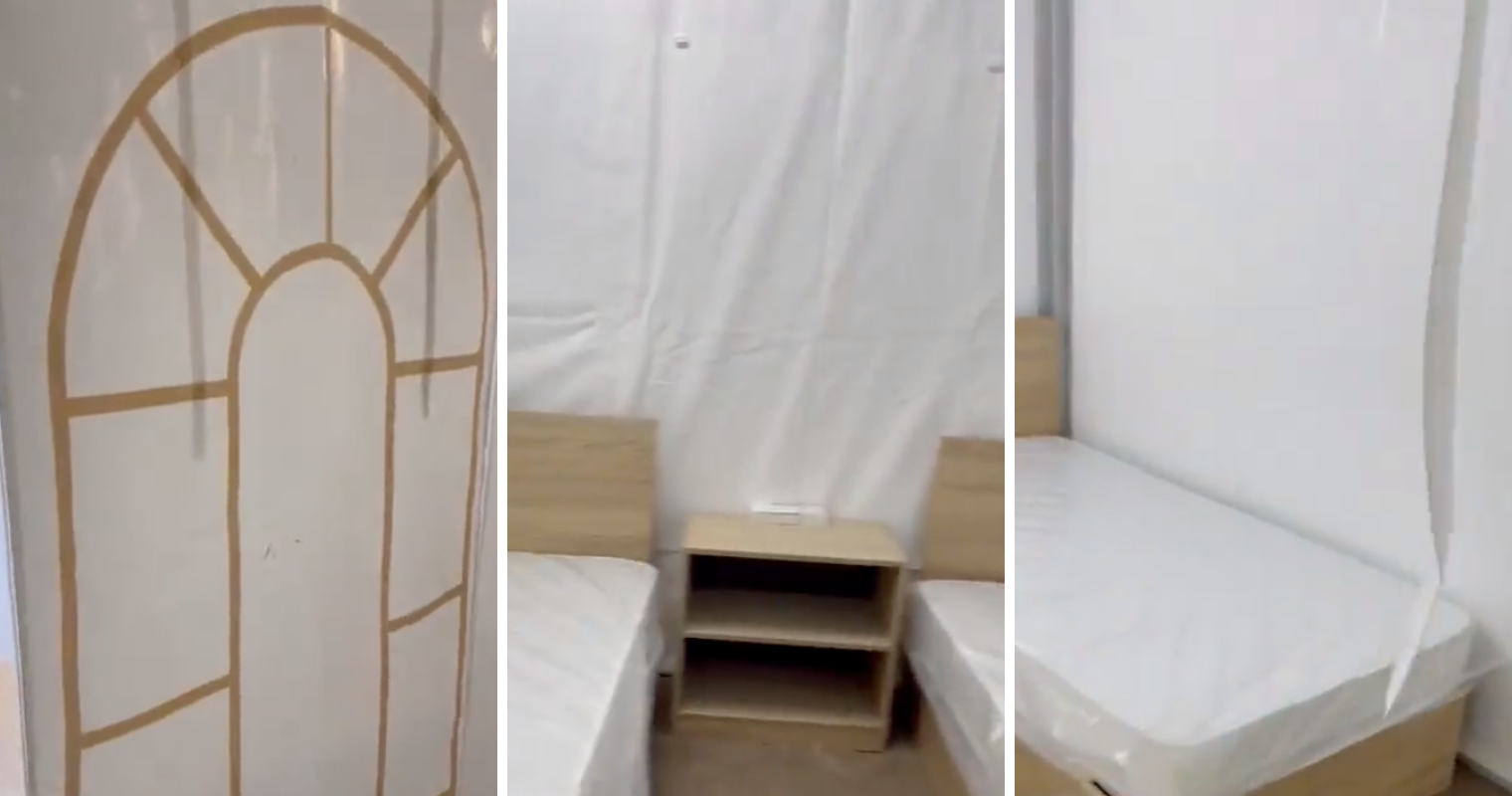 Footage of the accommodation at the 2022 Qatar World Cup has leaked online and appears to show the shocking state of the rooms many fans are paying a significant amount to stay in.
Videos of the supposed standard of hotel rooms have been circulating online with various people joking that these so-called rooms are the World Cup equivalent of Fyre Festival.
As you can see in the original Snapchat clip reshared below, the person filming tours around rows upon rows of shoddy, bare-bone and flimsy-looking tents lined up along a road that also looks barely finished.
The entrance to each of these tents is marked by nothing more than a door pattern on one fluttering sheet of plastic, with the caption quite rightly noting that "if there is a sand storm you can kiss those tents goodbye".
With the temperatures in the Middle Eastern country expected to easily break 30C during the day even in the winter, the presence of tents and easily ventilated accommodation shouldn't come as that much of a surprise.
However, it's fair to say that the quality of these lodgings leaves a lot to be desired and they don't look very stable when you take more severe weather conditions into account. Even more staggeringly, the 6,000 rooms in this 3.1 square kilometre fan park are reported to be worth $100 (approx. £84) a pop.
While these obviously don't look like the most luxurious lot of tents you'd expect from an oil-rich nation's tourist offerings, the same account flagged that this is not the most high-end option available to fans attending the tournament.
Responding to a commenter, user Chris went on to share footage of a more upmarket and sturdier-looking structure complete with shower facilities, a lounge and a more grand bedroom. He also quoted cargo container rooms from around $200 and his own two-bedroom apartment for $460 per night.
Read more:
Nevertheless, we won't get to see what the true hospitality experience for most fans is going to look like until we see footage from travelling supporters themselves.
More than 90,000 World Cup rooms are said to have been booked for the games, with more than a million fans from different nations expected to fly over throughout the duration of the competition.
Budget option or not, we suspect most would have been hoping for more than what they currently look to be paying for, with many declaring the footage as "#fyrefestival 2.0" and an "absolute joke". Wait until they see the food…
There really isn't anything positive to say about Qatar 2022, is there?
For all the latest news, events and goings on in Greater Manchester, subscribe to The Manc newsletter HERE.
Featured Image — @Chris120778 (via Twitter)/@adeltayeb69 (via Snapchat)