Sport
Erik ten Hag says he will 'deal with' Ronaldo after he walked down the tunnel before full-time
United fans are growing tired of the 37-year-old's behaviour.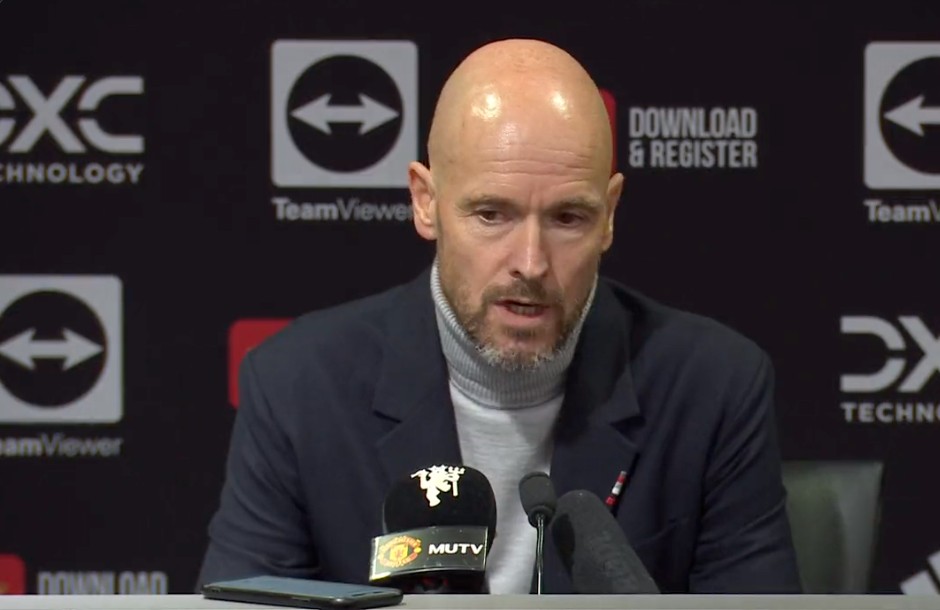 Manchester United manager Erik ten Hag has said he will "deal with" Cristiano Ronaldo after he walked down the tunnel before the full-time whistle on Wednesday night.
The 2-0 win over high-flying Spurs was a relief for Reds watching on the night, but the joyous occasion was somewhat marred by Ronaldo's decision to head down the tunnel before the game had even finished.
Already cruising home to victory thanks to goals from Fred and Bruno Fernandes, the 37-year-old should have been ready to welcome the players back into the dressing room after their convincing victory. Instead, he chose to get up from the bench and head for the Old Trafford exit in the 89th minute.
Speaking to the panel of Amazon Prime pundits afterwards, ten Hag said he would "deal with [Ronaldo] tomorrow" and that his focus was on celebrating the big win and recovering for Saturday when they face Graham Potter's Chelsea.
The Dutchman said that while he did see the number seven before he left the stadium itself, the two did not speak – the suggestion being that a more serious conversation would be saved for Thursday.
This isn't the first time the Portuguese international has thrown a bit of a strop over being left on the bench, with fans and media alike branding his behaviour "childish", "embarrassing" and "incredibly disrespectful"; some even went so far as to call it "an absolute disgrace".
Since ten Hag was appointed manager, the footballing veteran and all-time world-leading goalscorer has enjoyed significantly less time on the pitch and while he has scored a couple of goals in the minutes he has played, the feeling is that his contribution to the team's wider performance is waning.
On the other hand, some feel he has been mistreated and underutilized given his reputation and incredible stats down the years. Piers Morgan certainly seems to think so, anyway.
Read more:
It's anyone's guess as to how CR7's future at United will pan out for the rest of season, with many believing he already asked to leave last summer, but one thing is clear: the casual contempt displayed in not staying to congratulate his teammates or even high-five a few kids on his way out is untenable.
The likes of Fernandes have already hinted that ten Hag has brought a "stricter" approach to the club and no one is exempt from that, regardless of their pedigree.
However he decides to "deal with" Ronaldo long-term, we suspect he might not even be on the bench this Saturday.
Featured Image — Sky Sports