Sport
Everything you need to know about the Manchester City Parade 2023 – times, parade route, road closures, and more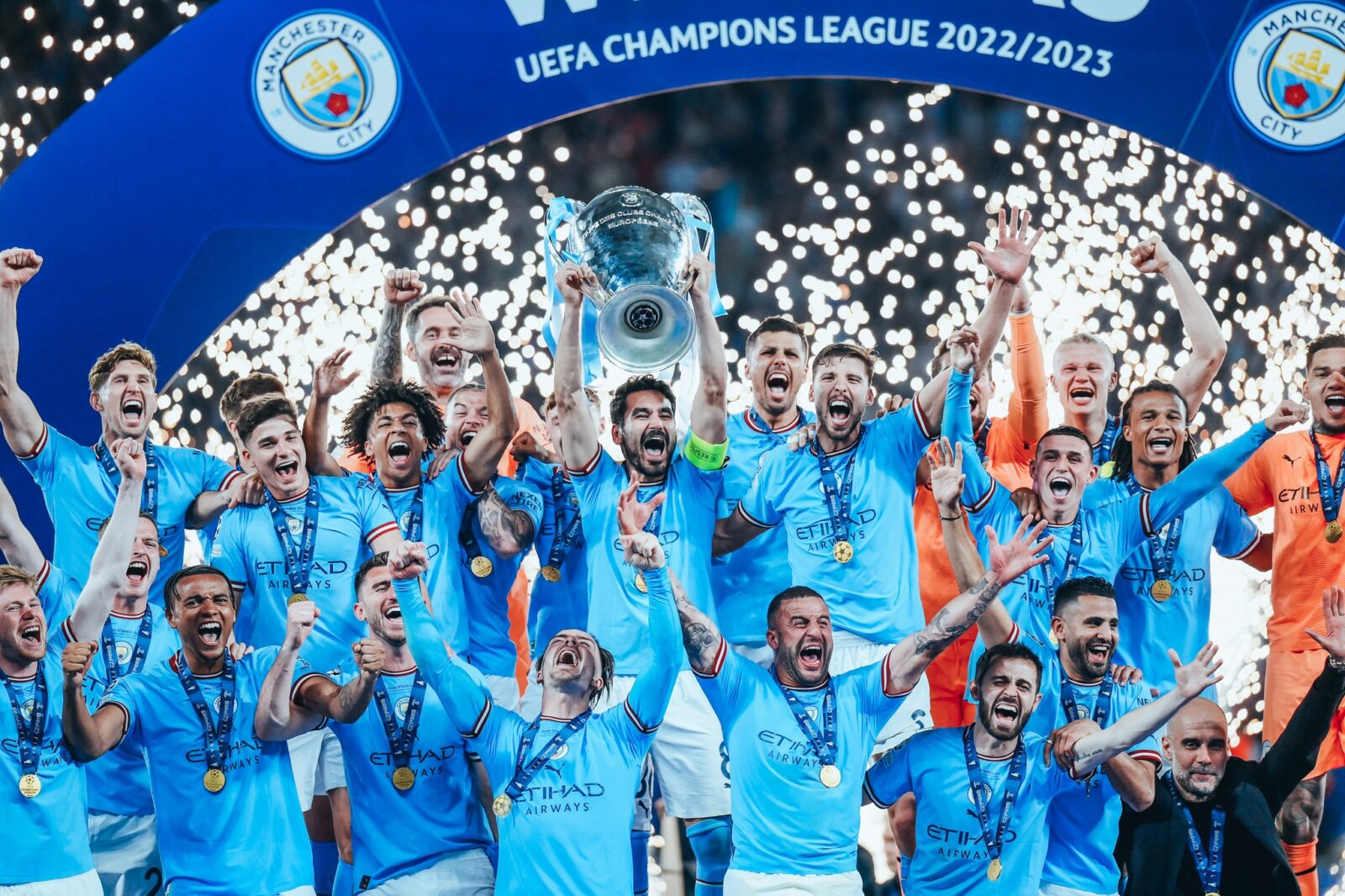 The city centre will be painted sky blue this evening as Manchester City are set to celebrate their treble title-winning season.
In case you somehow missed it, Manchester City made history this past weekend.
On what was a humid summer's night in Istanbul on Saturday, Pep Guardiola's men fought hard in the Champions League final to clinch a 1-0 win over Italian side Inter Milan, and although it ended up being a much harder challenge than many seemed to be expecting, a decisive goal in the 68th minute by midfielder Rodri secured the Citizens the biggest title in European football.
Not only was it a historic moment for the club and fans, as the Champions League was the only major title missing from their ever-growing trophy cabinet, but it was also a historic moment in general, as City became only the second English side to claim this coveted domestic treble.
2022/23 will always be remembered as the season the Sky Blues took home the Premier League title, the FA Cup, and the Champions League.
And tonight, the lads are set to show all three trophies off to their tens of thousands of fans.
As always when teams claim historic victories like this, a whole host of events are planned for fans to suitably celebrate – with an open-top bus parade right through the heart of Manchester hat ends with the players, manager, and staff taking to the stage to greet the crowds all set to take over the city centre this evening.
From parade routes, to event times, road closures, and more, here's everything you need to know about Manchester City's treble-winning title parade.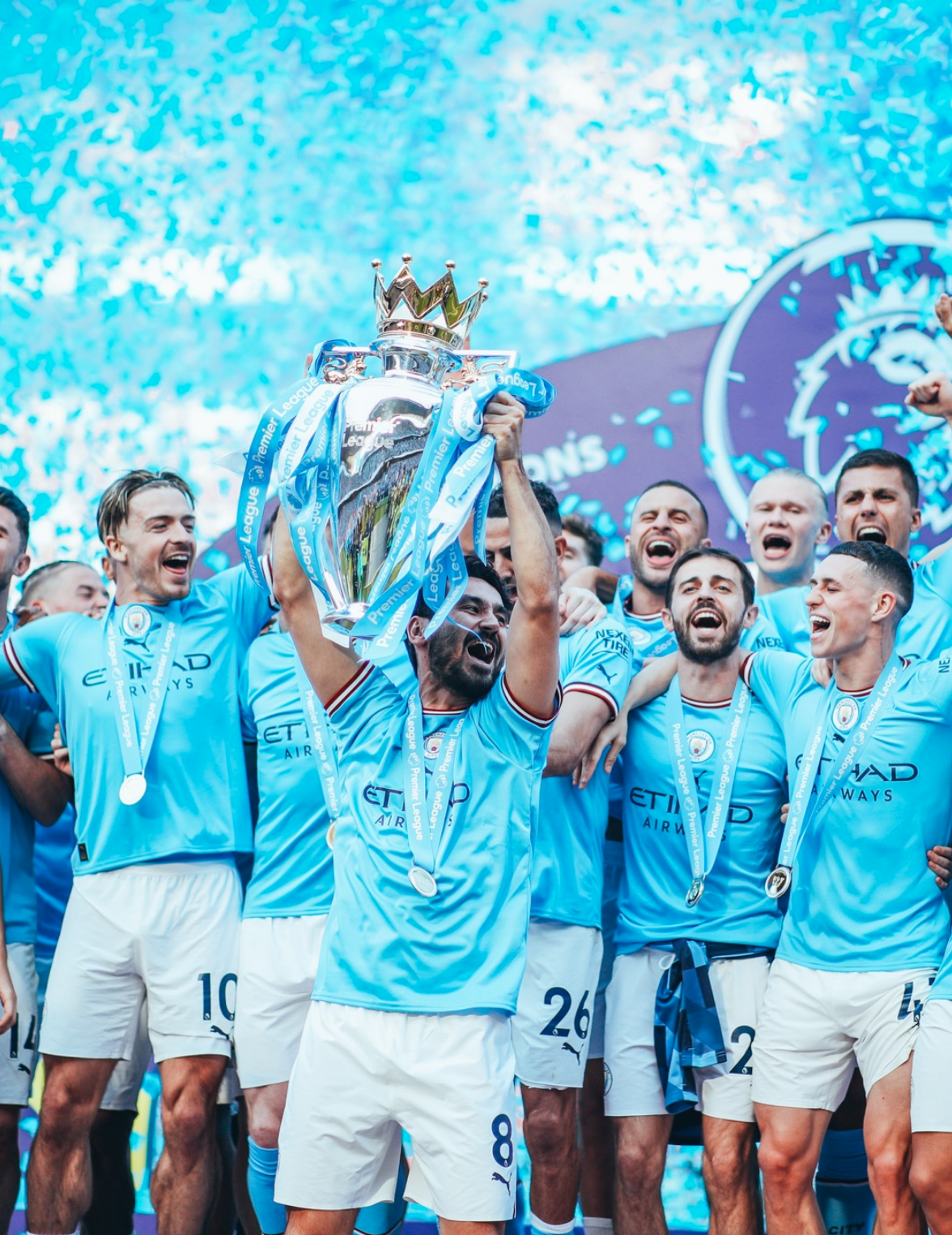 Open-top bus parade route
The open-top bus tour through Manchester city centre is always the headline-grabbing highlight of any title parade, with tens of thousands of fans all coming together to line the streets and celebrate as their heroes show off their shiny trophies.
Manchester City has published a handy map of the open-top bus parade route this year.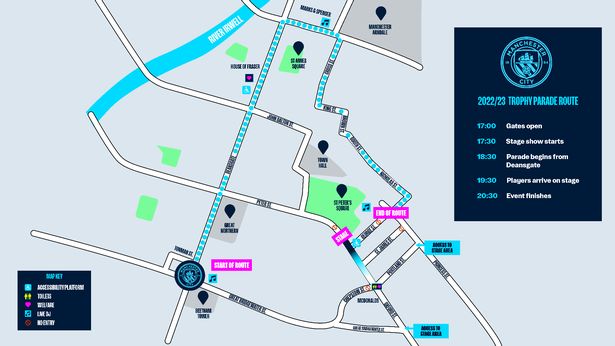 Pep Guardiola and the squad will depart from Tonman Street at around 6:30pm and travel down Deansgate, before turning right on to St Mary's Gate, continuing past Marks and Spencer, and then turning right on to Cross Street.
At the junction of King Street, the bus will then turn left towards Brown Street and work its way along Brown Street, Booth Street, and Nicholas Street until it reaches George Street.
It will travel down George Street until it reaches Princess Street.
Road closures
We all know by know that title parades do tend to cause a bit of disruption across the city centre, with many major thoroughfares being shut off – and this year is no different, as Transport for Greater Manchester (TfGM) has now confirmed which roads will be closed as part of the parade route and stage show.
Not only that, but TfGM has also confirmed timings for road closures, as well as travel advice, so fans, commuters, and city centre residents can plan ahead.
6am Sunday 11 June – 6am Tuesday 13 June
Oxford Street – Mount Street to Chepstow /Portland St
Hall Street – Bale Street to Oxford Street
12pm (midday) to 12am (midnight) on Monday 12 June
Portland Street – Oxford Street to Princess Street
Oxford Street – Portland to Whitworth
Chepstow – Great Bridgewater to Oxford Road
12pm (midday) to 9pm on Monday 12 June
Deansgate – Liverpool Road to Blackfriars Street
2pm to 9pm on Monday 12 June
St Mary Gate – Deansgate to Market Street
Market Street – St Mary's Gate to Cross Street
Cross Street – Market Street to Albert Square
3pm to 10pm on Monday 12 June
King Street – Cross Street to Brown Street
Brown Street – King Street to Booth Street
Booth Street – Brown Street to Mosley Street
Nicholas Street – Mosley Street to Faulkner Street
George Street – Charlotte Street to Princess Street
Princess Street – Cooper Street to George Street
Back George Street – Princess Street to Dickinson Street
Dickenson Street – back George Street to George Street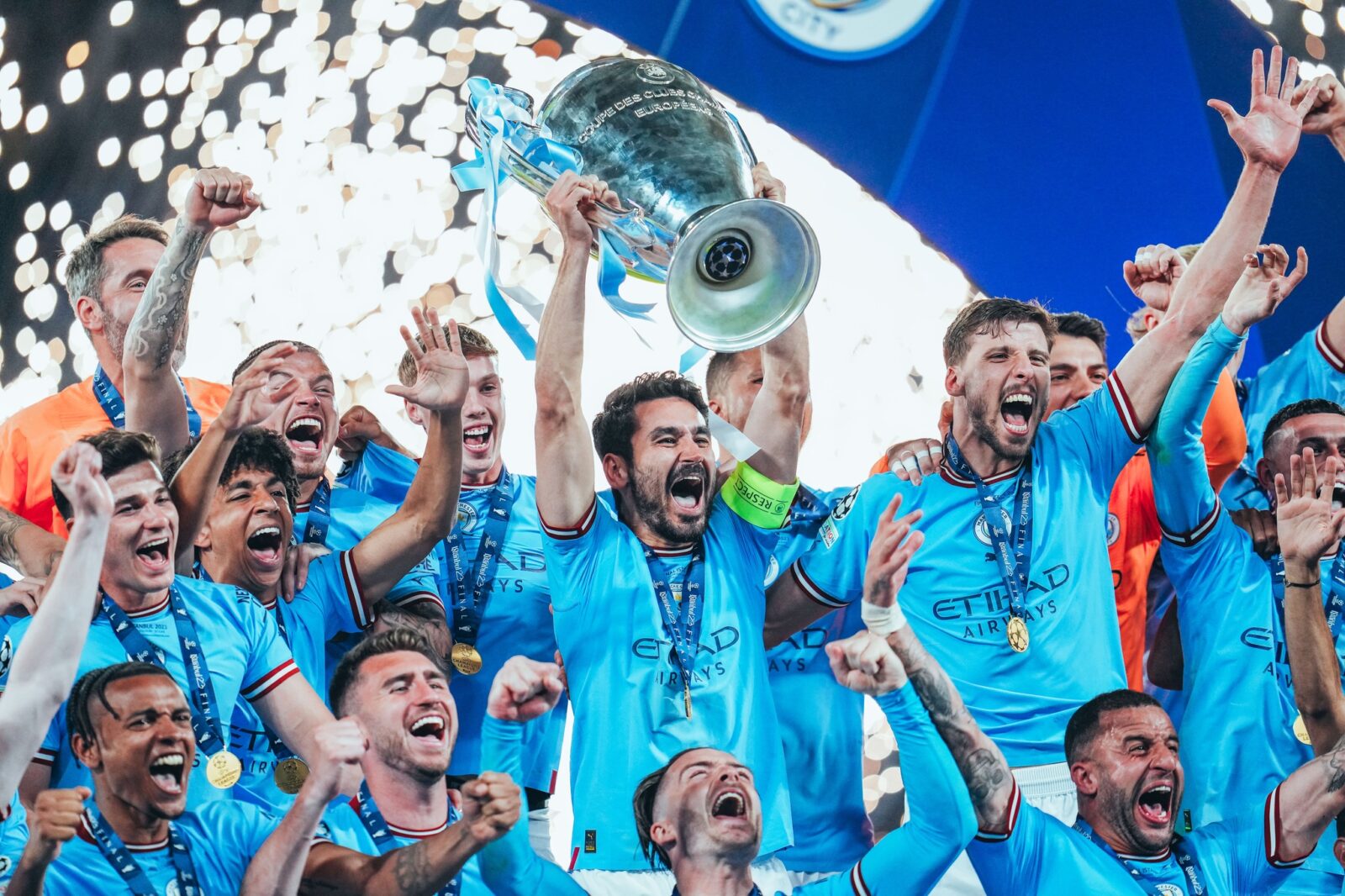 Stage show and entertainment
As well as the open-top bus parade, a live stage show will also take place on Oxford Street, with onstage entertainment starting at 5:30pm.
The parade will be hosted by Manchester City's City Square presenters Danny Jackson and Natalie Pike, who'll also be joined by former players and special guests, and there'll also be live music from bands and DJs, as well as three DJ booths dotted across the parade route.
The entrance to the parade stage viewing area is accessible via Oxford Street and Portland Street from 5pm, and all fans will be searched before entering.
As this is a non-ticketed event, Manchester City is advising fans arrive early to get the best possible viewing experience, but don't worry if you can't secure the best view in the house, as there'll also be screens on Oxford Street, Chepstow Street, and Portland Street showing all the action on stage.
The players are expected to arrive on stage at around 7:30pm.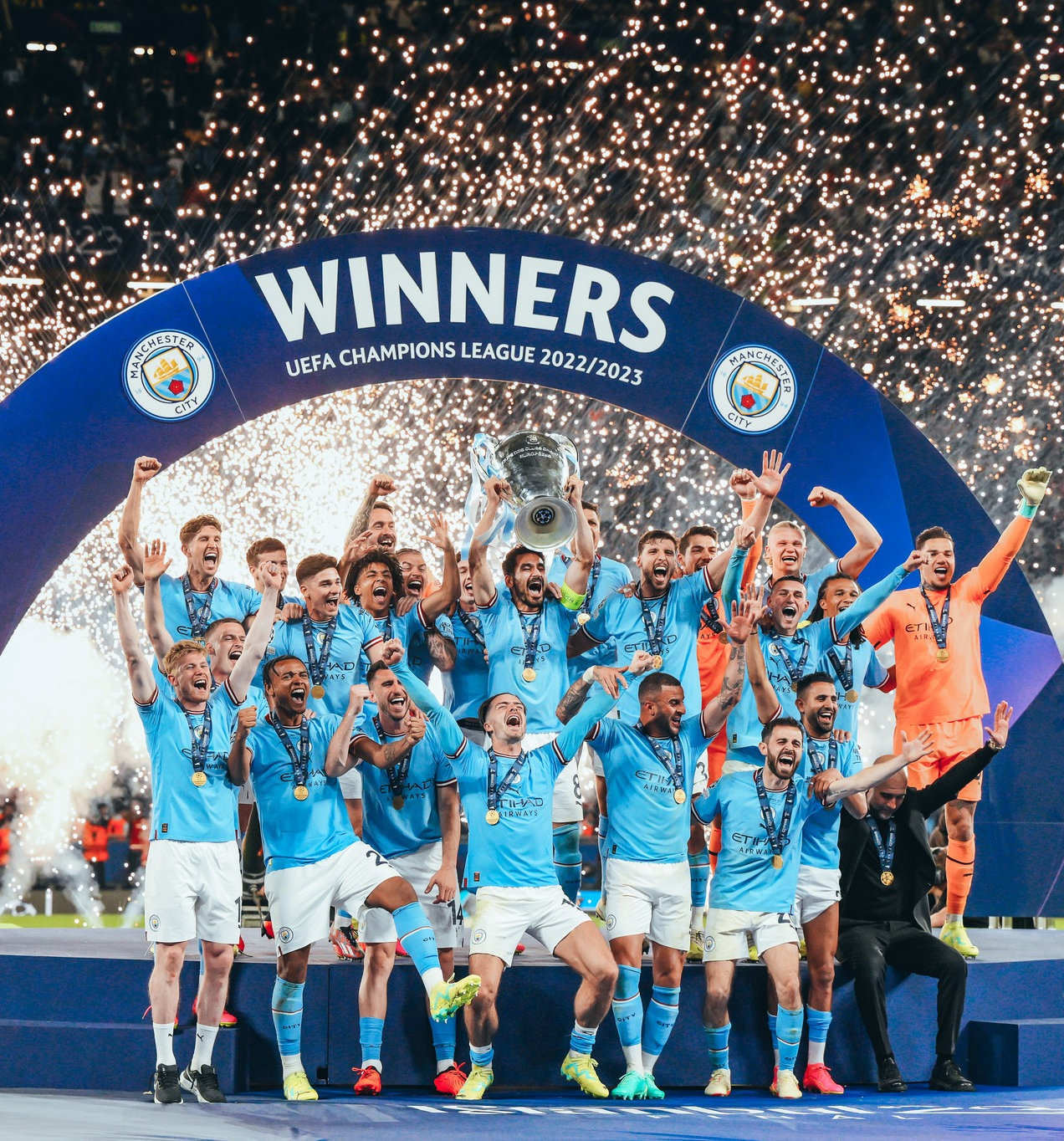 What is the Council saying?
As they have done in previous years, Manchester City Council has been working together with Manchester City and external partners to ensure the parade runs as smoothly as possible so that fans can properly enjoy the celebrations.
"Winning the treble, crowned with an historic first Champion's League triumph, is an incredible achievement," Cllr Bev Craig, Leader of Manchester City Council said ahead of the event.
"We extend our congratulations on behalf of the city to the club and its fans.
"We're sure the parade will be a joyous and unforgettable occasion as fans gather in the city centre to celebrate with the team a success which will resonate around the world and showcases once again Manchester's huge sporting legacy."
Read more:
Find out more on the Manchester City website here.
Featured Image – Shaun Botterill (Getty via Manchester City)