Sport
Pep Guardiola jokes he's 'not overthinking' massive second leg against Real Madrid
He might be a tactical genius but he's be known to do overdo it from time to time — usually in the Champions League...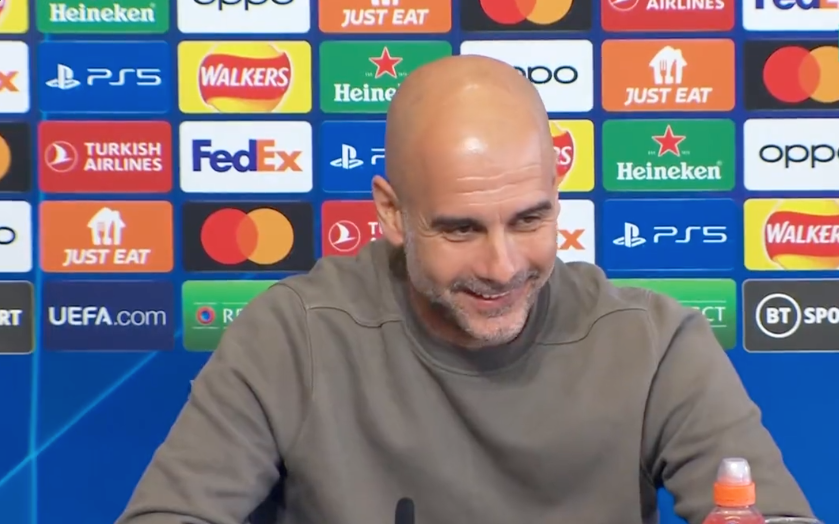 Pep Guardiola is already having fun with the narrative ahead of his team's second leg against Real Madrid in the Champions League, joking that he's "not overthinking" anything this time around.
Manchester City are just one game away from another UCL final against Inter Milan, but the Blues must first find a way to break the deadlock against the all-time leading European champions and hope they don't answer back.
The gravity of this game is massive; City could not only lift their first Champions League trophy (the job that many state is the task Guardiola was brought to the club for), but they also stand a very credible chance of winning the hallowed treble, and the weight of that expectation is not lost on Pep either.
Speaking to the press ahead of Wednesday night's decisive second leg at the Etihad, the Catalan coach said on Tuesday, "I'm not overthinking tomorrow, don't worry guys", with the entire room letting out an ironic chuckle at the self-deprecating dig.
'Overthinking' tactics is an accusation that has been levelled at Pep Guardiola many times in the past, namely ahead of big games and especially during his time at City.
Whether it's trying out various different players at left-back for a crucial tie, hinting at 'ridiculous ideas' ahead of the Manchester derby, or leaving out in-form players such as Raheem Sterling in the Champions League quarter-final against Liverpool in the 2017/18 season, he's often surprised us.
And then there was last year going too defensive against Lyon in the 19/20 semis and choosing to select neither Rodri nor Fernandinho in their last European final against Chelsea the following year when his squad arguably stood their best chance of finally lifting that missing piece of silverware.
Last season was, admittedly, just one of those freak games that Madrid as serial winners can often produce, to be fair. However, Pep and his squad still have to find a way to get past them again, as far as we can tell, the two-time UCL winner isn't planning on trying anything unorthodox this time.
Read more:
As he went on to tell reporters, "I cannot tell you here [but] it's nothing special… nothing different than what we have done in the past. We'll adjust our game to be a bit more fluid and play a little better but, of course, our opponents have their weapons".
But in the same breath, so do City and in spades, such as the one key man they didn't have last year: Erling Haaland — another figure has himself admitted he was brought to the club to win the Champions League.
Come on, Pep, there's a potential Oasis reunion riding on this…
You can watch Pep Guardiola's pre-match press conference for Man City vs Real Madrid down below:
For all the latest news, events and goings on in Greater Manchester, subscribe to The Manc newsletter HERE.
Featured Image — Beanyman Sports (via YouTube)/Manchester City (via Twitter)