Trending
Greta Thunberg posts one last brilliant dig at Andrew Tate after his arrest
What a genuinely unbelievable 24 hours it's been.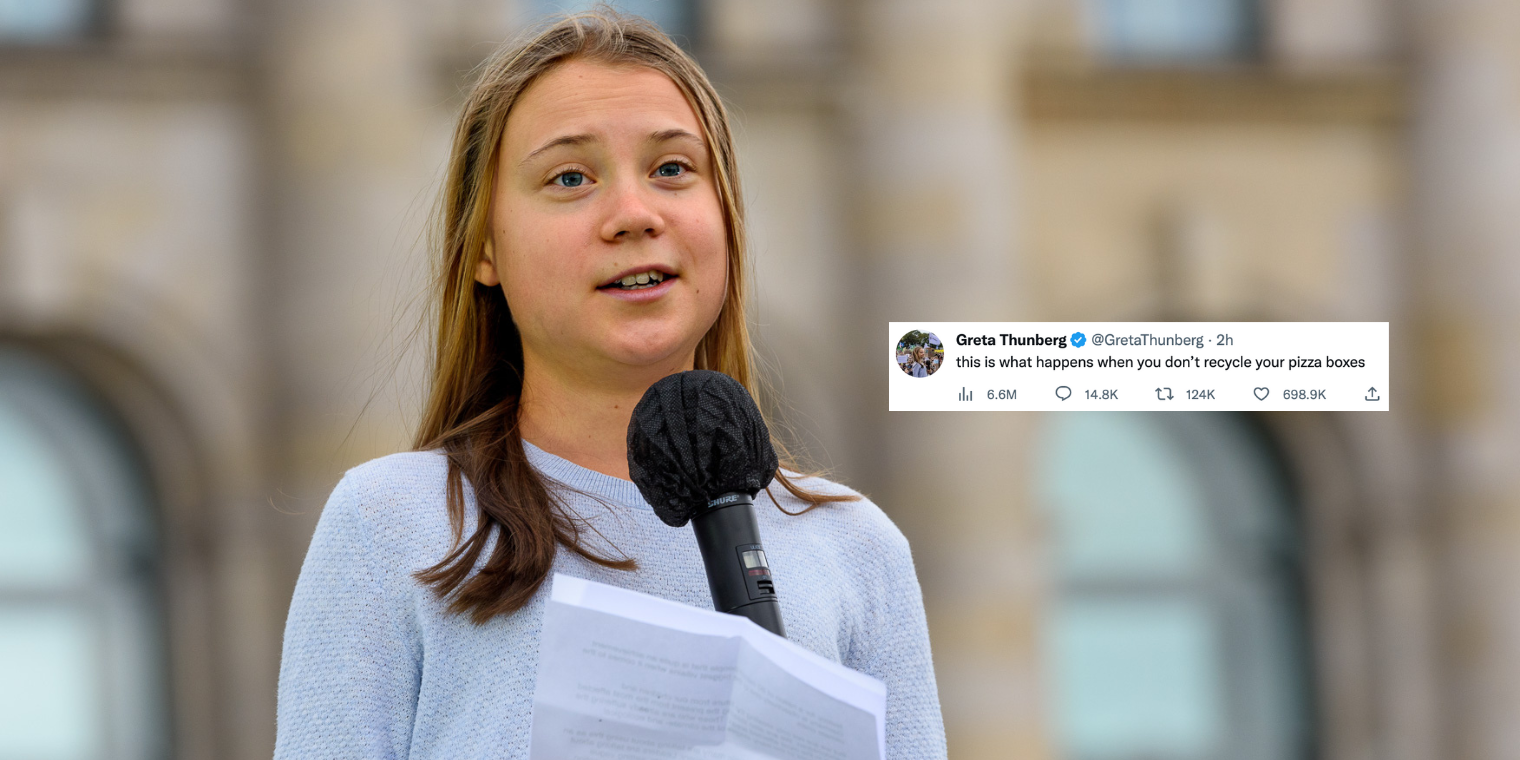 Greta Thunberg has taken one last swipe at Andrew Tate following his arrest over a human trafficking case last night.
And it could not be a more brilliant response.
In case you haven't heard, in what is a twist in the story not many saw coming – or believed was even genuine at first – Andrew Tate and his brother Tristan have been arrested in Romania on suspicion of human trafficking, rape, and forming an organised crime group, and are being detained for 24-hours alongside two other Romanian suspects.
Prosecutors in the country said Tate and the other three suspects "appear to have created an organised crime group with the purpose of recruiting, housing and exploiting women by forcing them to create pornographic content meant to be seen on specialised websites for a cost".
It's widely believed that the pizza boxes which featured in Tate's bizarre response video to Greta Thunberg alerted officials to his whereabouts and lead to his subsequent arrest.
Need a bit of context to that last part? Well, let us bring you up to speed.
Earlier this week, 36-year-old former professional kickboxer turned controversial media personality and self-professed misogynist Andrew Tate took to social media to ask 19-year-old Swedish environmental activist Greta Thunberg to provide him with her email address so that he could send her "a complete list of my car collection and their respective enormous emissions".
Tate – who has grabbed headlines several times this year due to his misogynistic comments, which have previously seen banned from Twitter, Instagram, and most notably TikTok – gloated that he currently has 33 cars and that "this is just the start" of his growing collection.
Alongside his tweet demanding Thunberg's contact details, Tate also shared a picture of himself filling one of his Bugatti supercars with fuel.
But Thunberg was having none of it.
The teenage activist then hit back at Tate in what is a now-viral tweet with over 2.3 million likes and counting in less than 24 hours, writing on Twitter: "Yes, please do enlighten me. Email me at smalld**[email protected]."
After retweeting several tweets from other people in response to Thunberg's comment that supported his side, Tate then decided it was time to properly respond to his "small d**k energy" being called out, and shared a somewhat confusing two-minute video of himself directly addressing Thunberg.
Sat in a dark mahogany wood office, wearing a boxing-style robe, and smoking a cigar, Tate went on a rather confusing rant in his video response, claiming that Thunberg was referring to herself in her comeback, and that she is the one with "small d**k energy".
He also accused the "global matrix" of deploying a "bot farm" to make the 19-year-old's tweet go viral.
But by far one of the most bizarre parts of the video sees Tate address someone off-camera by telling them to "bring me pizza" and to make sure "these boxes are not recycled", before continuing with his explanation.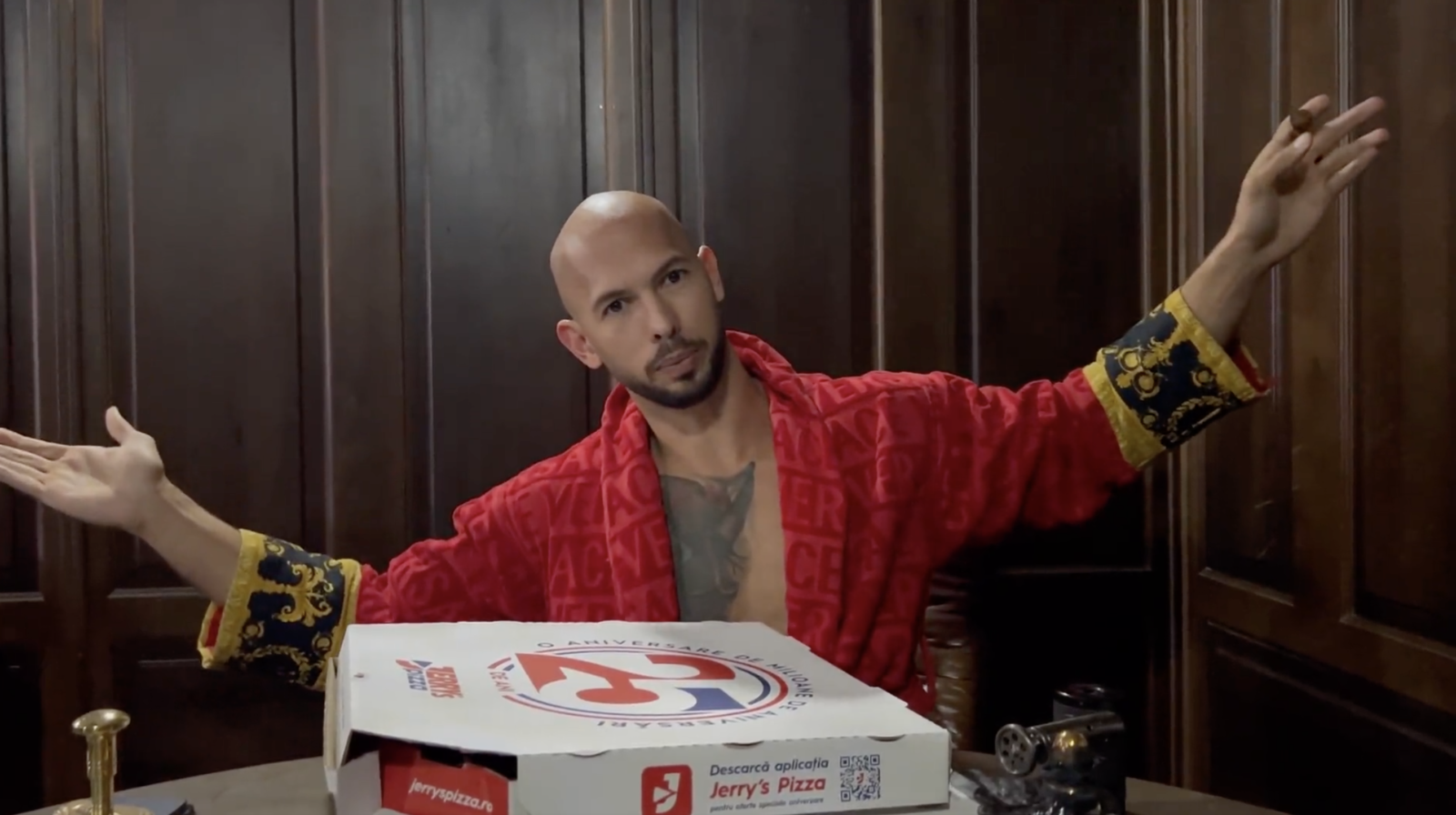 And it was those very pizza boxes that could have been the key to his downfall.
After being met with a tidal wave of praise for her initial response to Tate, with some even calling it 2022's "peak moment" and the tweet skyrocketing into the top 10 most liked tweets of all time, Thunberg didn't miss what could be one of her last chances to take a swipe at Tate following his arrest.
Taking to Twitter once again this morning following an action-packed night, Thunberg didn't hold back and cleverly called-out Tate's refusal to recycle.
Her tweet reads: "This is what happens when you don't recycle your pizza boxes."
With many likely having been waiting with baited breath to see what Thunberg had to say about the arrest, her latest tweet seems to be heading in the same direction as her first response, and has already gone viral racking up over 600,000 likes and 115,000 retweets, and counting in less than two hours.
Thousands of people have once again praised Thunberg for her perfectly-timed words.
Read more:
Featured Image – Wikimedia Commons