Trending
Netflix is currently filming a new series inside John Rylands Library on Deansgate
Film crews have rolled into the city centre for the six-part drama series 'Anatomy of a Scandal'.
Film crews have rolled into Manchester city centre once again this week and have set up production on Deansgate.
It's no secret that Greater Manchester has been earning itself a reputation over the past few years as one of the go-to filming locations for an impressive roster of TV shows, films and blockbuster productions – with recent projects including the next series of the cult-favourite BBC show Peaky Blinders, hit Netflix series' The Crown, The Stranger, White Lines and The English Game, to upcoming ITV show Viewpoint and BBC drama Ridley Road, as well as the notable stand-out Channel 4 five-part drama series It's A Sin.
The streets of our city and boroughs have often doubled up as London, New York and more.
And now it's emerged that the star-studded cast and prestigious team behind Netflix's newest anthology series is latest lot to have taken advantage of what our historic city centre has to offer.
Filming for the six-part drama series Anatomy of a Scandal is currently taking place inside John Rylands Library.
So, what's the show about then? And who will be starring in it?
Based on the critically-acclaimed 2017 novel of the same name by author Sarah Vaughn, Anatomy of a Scandal is being produced by Chamber Pictures and is described by Netflix as "an insightful and suspenseful series about sexual consent and privilege set in London".
And with HBO's Big Little Lies' David E. Kelley heavily involved, it looks sure to be a hit.
Readers of the book will know that Anatomy of a Scandal addresses the issue of sexual assault, and the trauma experienced by survivors. We're set to see a married Westminster politician James Whitehouse accused of raping his political aide, Olivia, with his wife Sophie believing that her husband is innocent, but prosecutor Kate believing that he's guilty.
The book ultimately revolves around a marriage rocked to the core.
Forming part of the star-studded cast of big industry names is Sienna Miller, who stars as Sophie Whitehouse, an Oxford graduate who is a happily-married mother of two, until her husband – played by Rupert Friend – is accused of sexual assault.
Downton Abbey's Michelle Dockery is cast to play the ambitious Kate Woodcroft QC, who is described as a steely criminal barrister specialising in prosecuting sexual crimes, and is now handling the high-profile case involving James Whitehouse.
Naomi Scott will also portray Olivia Lytton – a parliamentary researcher with a bright future.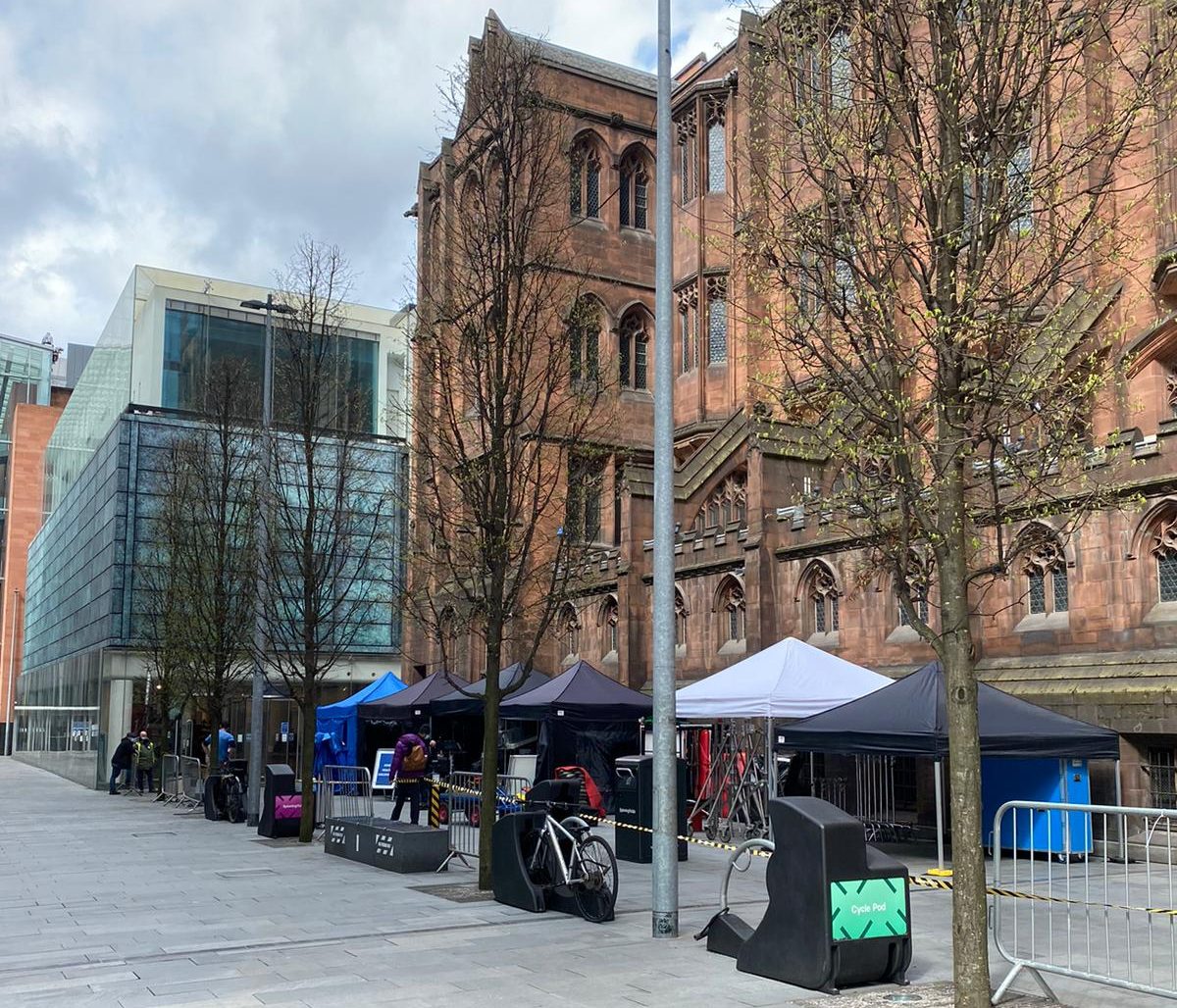 Filming for Anatomy of a Scandal continues at John Rylands Library and around that area of Deansgate until tomorrow at 5pm.
The show is set to stream on Netflix sometime in 2021.
Featured Image – The Manc Group