Trending
You can design one of Stockport's giant colourful frogs for this year's trail
Stockport Borough Council is calling on residents to help create a unique frog design that "reflects where you live".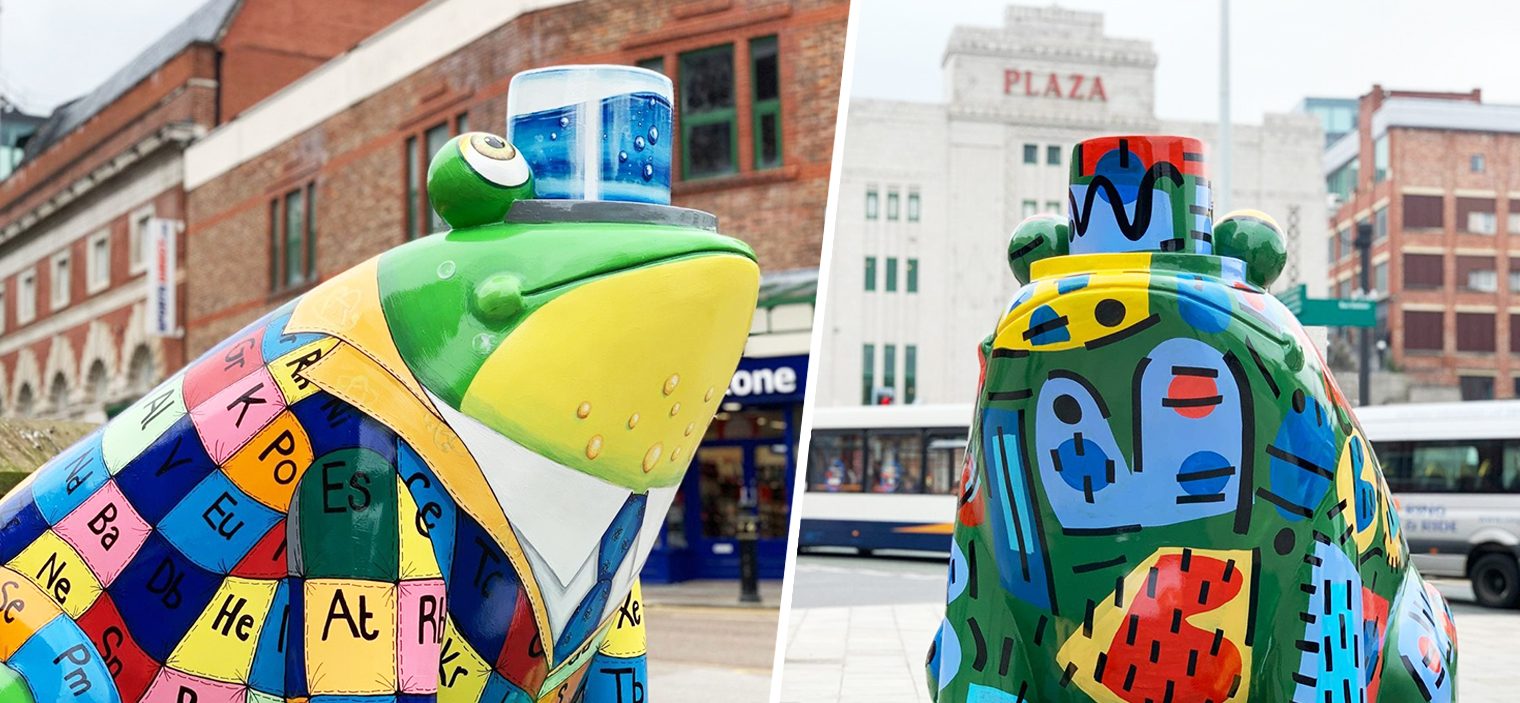 Did you see that Stockport is getting ready to leap back into action this summer?
With an "irreversible" roadmap for lifting lockdown now in place, it was revealed last month that the fan-favourite gigantic colourful frogs are set to hop to the town centre once again to help see in the post-pandemic era and welcome visitors back.
The town first welcomed the amphibious attractions two years ago.
Organised by Stockport's Business Improvement District (BID) – branded as Totally Stockport – the Giant Leap Frog Art Trail attracted thousands of visitors from across the region, and children of all ages had great fun seeking out all 19 giant frogs.
This year though, as Stockport looks to "build back better", there will be even more of them.
This summer's Gigantic Leap Frog Art Trail will not only see 21 brand-new gigantic frogs hopping into the town centre, but they'll also be supported by another 17 frog buddies in various locations throughout the whole borough.
The 17 giant frog sculptures will "celebrate each area's uniqueness" and Stockport Borough Council is calling on residents to give them a hand in designing a frog for your area.
A message on Stockport Borough Council's website reads: "Your ideas or designs will be brought to life by local artists from ARC (Arts for Recovery in the Community) – a leading arts and mental health charitable organisation – [and] it could feature everything from places you like to visit and explore locally, significant landmarks, or characteristics that make your area special".
The council has also listed a few questions to help "get those creative juices flowing":
What has been your favourite place locally that you've enjoyed exploring during the last 12 months?
What three positive words would you use to describe your local area to someone who has not visited before?
If you had to pick your favourite local landmark or attraction – e.g: building, sculpture, venue or green space – what would it be?
What did you miss most about your local area during the last 12 months?
(This could be a favourite shop, place to have a bite to eat or drink, leisure venue or perhaps a club or society that haven't been able to host get togethers or activities).
You can send your written answers by completing and returning the form available here, or if you'd prefer to draw your answers / have children who would like to share their ideas, you can download the frog template here instead.
Residents can also send in images that they feel best represents their local area.
"It will all help to create a unique frog design that reflects where you live," Stockport Borough Council says.
Your ideas, pictures and designs can be emailed to [email protected] and you must include your name and postcode.
All entries must be sent in by Sunday 25th April 2021.
Featured Image – Totally Stockport / Future Stockport