TV & Showbiz
Clive Myrie fights back tears as he pays touching tribute to 'mentor' George Alagiah live on air
"I loved him as mentor, colleague, and friend."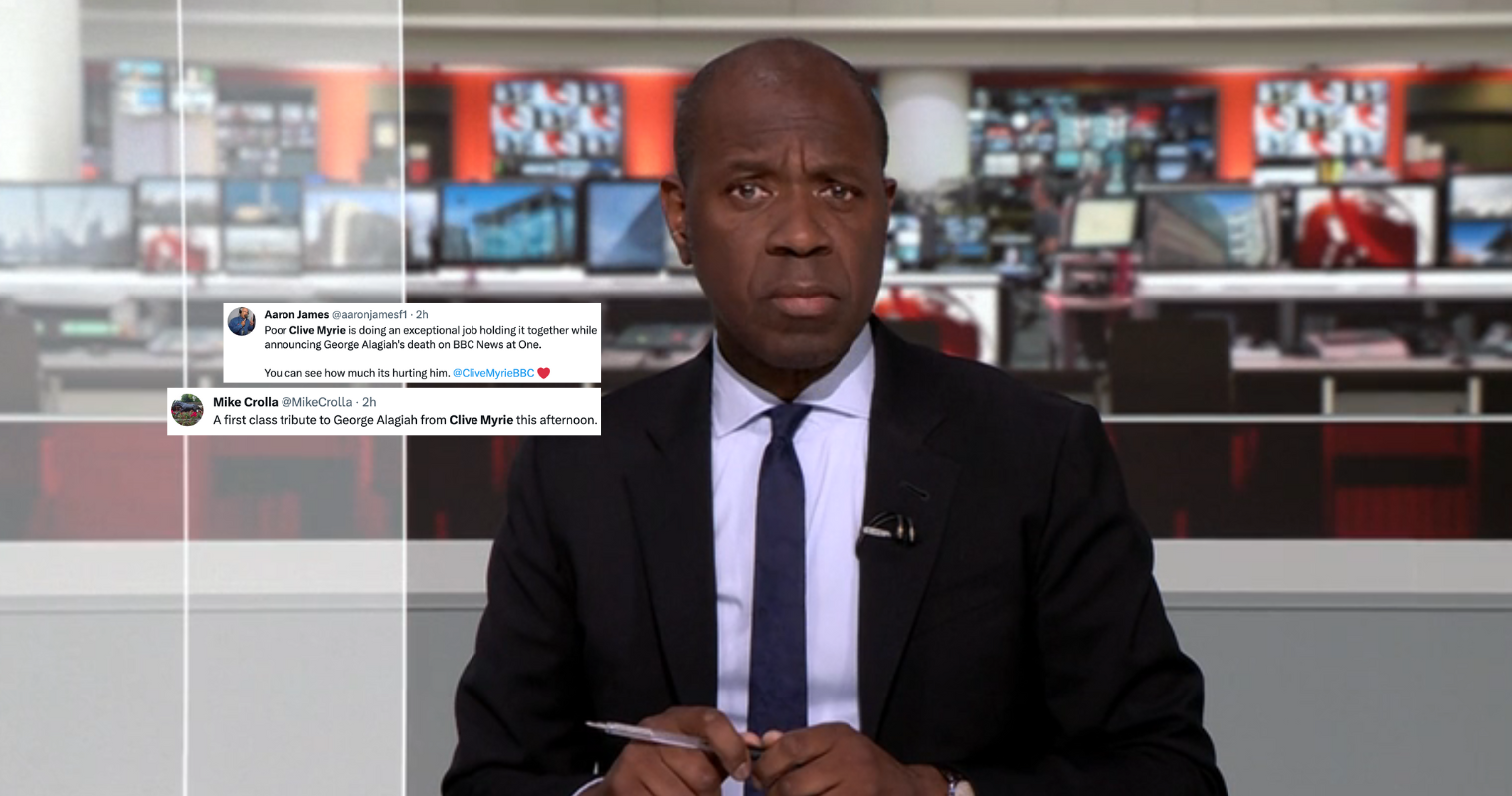 Clive Myrie has paid an emotional tribute to his "mentor" George Alagiah while live on BBC News this afternoon.
Tributes have been pouring in from famous names and viewers in their thousands after it was announced earlier today that legendary BBC presenter George Alagiah had sadly passed away at the age of 67 following a long battle with illness after first being diagnosed with stage four bowel cancer back in 2014.
The "much-loved" figure was well-known to TV audiences for having been one of the BBC News at Six's main presenters for almost two decades.
He was appointed an OBE for services to journalism in 2008.
Alagiah had been bravely continuing with his broadcast career between cancer treatments since his initial diagnosis – but the BBC announced in a statement today that the "outstanding" journalist had sadly passed away.
BBC Director General Tim Davie remembered Alagiah as "one of the best and bravest journalists of his generation" in a tribute paid earlier today, adding that everyone across the BBC is "incredibly sad" to learn the news of his passing, as he reported "fearlessly" from across the world, as well as presenting the news "flawlessly".
"He was more than just an outstanding journalist," Mr Davie added, "audiences could sense his kindness, empathy and wonderful humanity".
It was the job of current BBC News presenter Clive Myrie to break the news of Alagiah's passing live on air this afternoon – with the Bolton-born journalist then taking the time to pay his own emotional tribute fondly remembering his "mentor".
Fighting back tears as he spoke, Myrie said in tribute to Alagiah: "On a personal note, George touched all of us here at in the BBC newsroom with his kindness and generosity, his warmth and his good humour.
"I loved him as mentor, colleague, and friend."
Viewers have dubbed Myrie's tribute as a "very moving" moment of live TV.
Reacting to the live tribute, one viewer wrote on Twitter: "Sad to see Clive Myrie welling-up as he read the news about the death of his colleague and friend George Alagiah. Well done Clive for just getting through it, RIP George."
Another wrote: "Poor Clive Myrie is doing an exceptional job holding it together while announcing George Alagiah's death on BBC News. You can see how much it's hurting him."
"A first class tribute to George Alagiah from Clive Myrie this afternoon," a third wrote.
George Alagiah OBE was born in Sri Lanka before moving to Ghana and then England, joining the BBC as a foreign affairs correspondent in 1989.
Over the course of his career, he won multiple accolades for his reports on the famine and war in Somalia in the early 1990s. He received a BAFTA nomination for covering Saddam Hussein's genocidal campaign in 1994, which the same year he was named Amnesty International's journalist of the year.
Read more:
He had been one of the BBC News at Six's main presenters for almost two decades.
Featured Image – BBC