TV & Showbiz
Manchester mural painted as tribute to Paul O'Grady vanishes after just days
Oh, that was short-lived.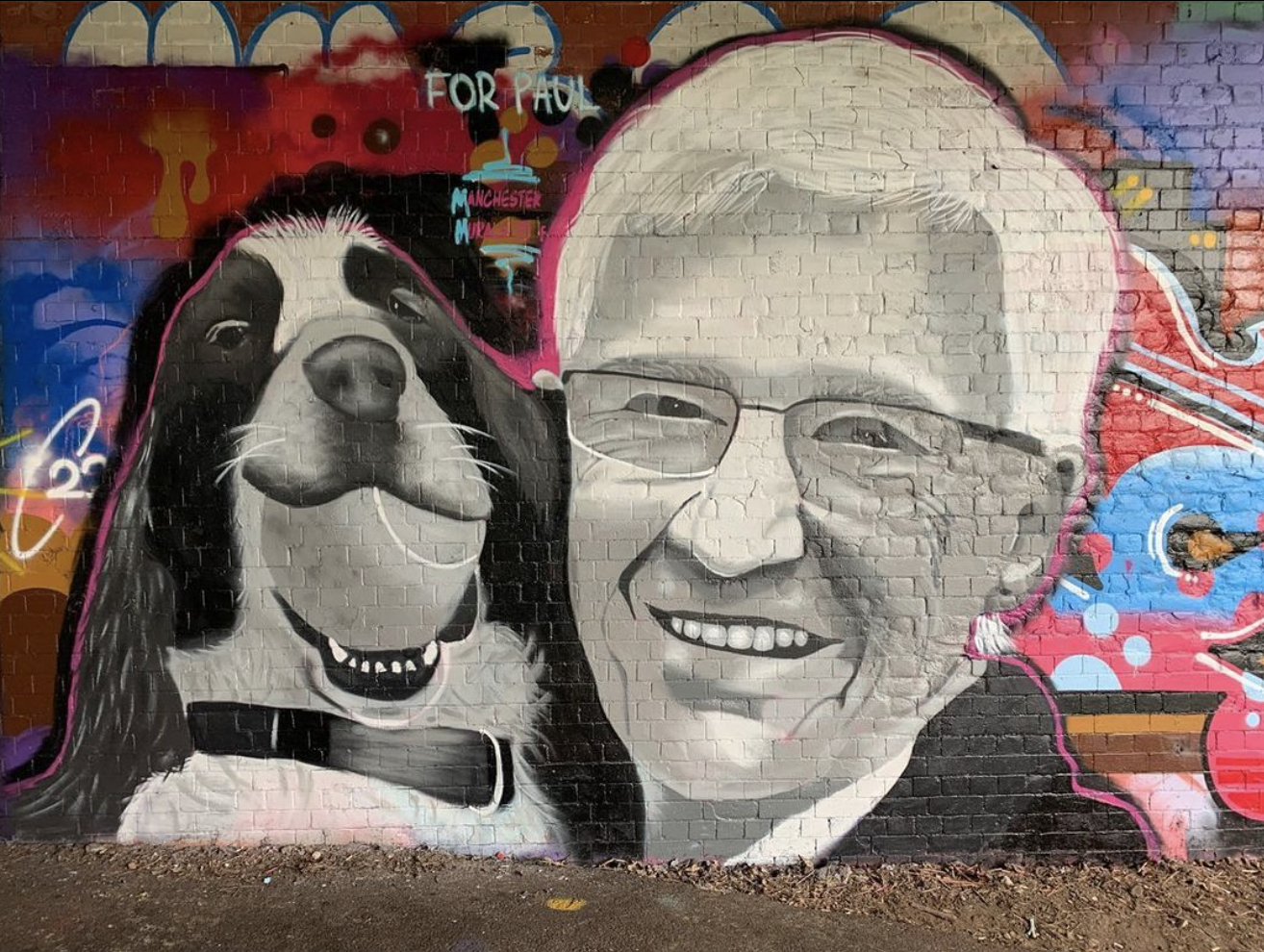 A mural of Paul O'Grady painted as a tribute to the TV great has been vandalised and covered over just days after it was created.
The beautiful black-and-white portrait, depicting Paul with a Springer Spaniel, was painted by local artist Manchester Murals along the Fallowfield Loop.
But it didn't take long before the mural was defaced.
Initially, the artwork was damaged by a green spray-painted tag – but over the weekend it's been almost completely covered.
At the time the street art was completed, Manchester Murals, aka Chris Moore, posted: "A mural celebrating the life of Paul O'Grady.
"Paul always seemed like a well-grounded entertainment machine that spanned generations, was one of the nation's favourite drag artists and through his love for animals he was an ambassador for @battersea where he helped raise their profile. Only felt right to include a dog in his mural.
"Thanks for everything, Paul! Rest well."
Several people who have headed to the Fallowfield Loop to see the tribute have now shared photos of the state it's been left in.
In response, Chris confirmed that if he did paint another mural, it wouldn't be on that wall.
Speaking to the Manchester Evening News, he added: "It would have been nice for it to last longer. I only finished it on Thursday so it's not even been three days since it was created.
"I can kind of understand people's disappointment in that the mural has only lasted as long as it has, especially given how recent his passing was, but, ultimately and unfortunately, this is part of the nature of the street art and mural scene."
A tribute fund set up by Battersea Dogs & Cats Home has already raised more than £200,000.
The animal shelter, of which Paul was an ambassador, wrote: "Battersea joins the nation in mourning the loss of Paul O'Grady – an entertainment legend and much-loved Ambassador to our charity. We'd like to extend our deepest sympathies to Paul's family and friends.
"To millions Paul O'Grady is the popular TV and radio presenter and comedian who lit up their screens with his razor-sharp humour and perpetual generosity and warmth. Battersea will forever remember Paul as a devoted animal lover with the biggest heart, who fell in love with every dog he met at our centres. Paul will always be associated with Battersea, and we are truly saddened to have lost such a true friend and huge part of our charity.
"Paul loved Battersea so much and we cannot thank him enough for everything he did for our charity and for rescue animals worldwide. We will forever be indebted to him for his endless generosity and support."
Read more
Featured image: Manchester Murals