TV & Showbiz
Steve-O interview: 'The Bucket List' tour, growing up in the UK and the stunts even Jackass wouldn't touch
He says the crowds at his shows are mix of people either throwing up, passing out or straight up having to take a time-out – and we full believe him.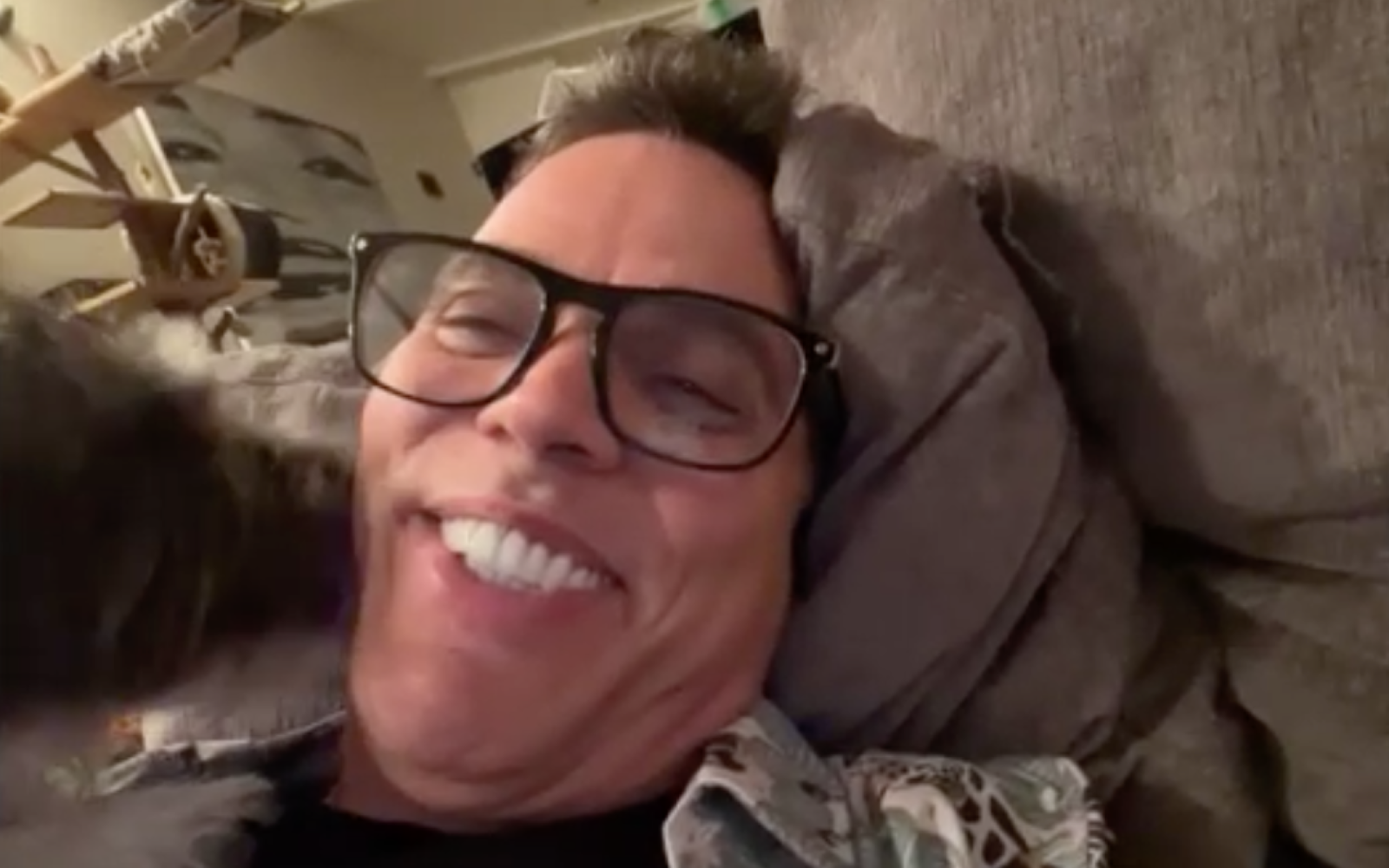 Last week, The Manc had the exquisite and rare pleasure of talking to one of the most recognisable faces from TV and film over the past 20 or so years, the one and only Steve-O.
The man synonymous with the hit show and movie franchise Jackass, self-inflicted bodily harm and pretty much all things outrageous, Steve-O built an entire career out of making out of doing some of the most dangerous stunts known to man and making a fool out of himself for other peoples amusement.
Us Brits love someone who isn't afraid to make an arse out of themselves from time to time, so it was no surprise that we got on like a house on fire in the 20 minutes or so that we had with him.
Rocking up to the UK for his multimedia 'Bucket List' tour at the end of this month and playing his Manchester show at the Academy on 1 July, we learned all about his live show, what fans can expect and so much more about this enigma of a man than we ever expected. Well, stuff like this:
What an introduction
The call began in the most surreal circumstances I could have expected, with the screen switching on to show a dimly lit Steve-O, wearing shades and barely lit by a single light in the back of a car at 12:15am in LA having just come from somewhere in the US.
Right from the off, there was very little formality and professionalism on both sides, as we struggled to find the best spots for our connection and the 49-year-old worried about waking up his missus on the way inside his house.
After introducing him and asking him how he was doing that day in the most professional manner I can muster, he immediately jumped into mocking me by replying, "I'm great man. Are we on the radio?"
Strong start.
Maybe it was the nerves of meeting a genuine cultural icon but I had clearly misread the room as the 49-year-old was basically horizontal the entire time whilst cuddling with his dogs as they licked his face and he chatted to this random lad from Stockport like two people who'd just got chatting in the pub.
Jumping straight into the story about how he came to adopt his dog, Wendy, he regaled me with the tale of how he rescued the doe-eyed street dog from a village in Peru whilst climbing the Andes Mountains for the 2018 show, Ultimate Expedition — as you do.
Admitting that she became the star of the show and revealing how the YouTube video of getting her home earned more views on Facebook than any other piece of content he's ever created, I quickly understood that, first and foremost, this was a very loving and caring bloke at his very core.
Bringing the craziness of 'The Bucket List' tour to the UK
Chilling with dogs throughout the interview, we moved on to his global phenomenon of a tour which he describes as a real "multimedia show" filled with everything from stand-up, interactive elements, pre-recorded stunts, reminiscing and general hijinx. Spoilers: we laughed, cringed and recoiled at just hearing about it.
"It's unbelievably epic, dude", says Steve-O, "It's a multimedia show, which features videos that could never have been filmed for Jackass. It's called The Bucket List and the things on my bucket list were so outrageously inappropriate and just ridiculous that they were never supposed to happen.
"I found myself confronting middle age and having gotten into live comedy and wanting it to be multimedia, so I just found these crazy things [to do].
Without going into too much graphic detail, he told about everything from trying to ride a bike through a field while under general anaesthesia to masturbating whilst jumping out of an aeroplane and plenty more.
We can see why they weren't allowed on Jackass but that, after some of them, he was actually "sobbing with tears of joy over how delicious it was to genuinely raise the bar from where Jackass left it", adding, "I am the only guy in the world who could make that video, screen it for large audiences and truly feel good about it."
Crowds either cringe, throw up or pass out
Asking how some of the pre-recorded stunts that he told us about have been going down in front of a live audience, he admitted that there's some "pretty gnarly stuff" and that "at more shows than not, audience members would have to walk out or "were passing out cold in their seats".
He explained to us that the show is banned in a lot of places around the world — Delaware being the only US state he hasn't been able to play yet — and even in the places that do permit the show, getting a ticket comes with a "legal disclaimer that you entered this theatre at your own risk". Crikey.
What became abundantly clear is that despite all the years of ridiculous and downright dangerous things he's done, there isn't a single inch of Steve-O that has slowed down even after being sober for 15 years now — congrats, by the way, mate.
What the new show will do, as opposed to the stuff you might've seen on telly before, is combine live comedy that he's been trying since 2006 and properly honing since 2010, with the storytelling and the stunts your normally associate himself with.
In his words, the stories in the act are patently absurd but after each story I literally provide the receipt playing the footage… it's so much fun because the story is just coming out of my mouth sounds like such implausible fiction but it's all completely true and proven to be true.
Growing up in Britain and memories of Manchester
This being his third comedy special to date, he also wanted to pick a meaningful place to record it, which just so happens to be London on 13-14 July, where it turns out he actually spent many of his formative years and which we're ashamed to admit we did not know.
"I was born in London and lived there from the ages of nine all the way through 18 with the exception of a year and a half in Canada; I attended the American School in London in St. John's Wood… so this is very much a homecoming for me."
As for any lasting memories of our beloved city, he said, "I do remember Manchester as the most outrageous and disruptive at a 2003 show on my 'Don't Try This At Home' tour, so I'd be lying if I said I wasn't a little bit intimidated about the Manchester stop".
Us Mancs never disappoint — we even put a bit of fear in a man who famously tightrope over a pool of alligators. 0161 was also the first place to sell out on the UK leg of his tour as well, just saying.
The best/worst stunt ever?
Speaking of daft and dangerous stunts, we obviously couldn't end the call without discussing some of his most insane moments from the Jackass years and beyond, at which point we both seemed to agree that his most ridiculous and inadvisable feat was the 'Invisible Musical Chair'.
For anyone unaware, the stunt basically ended with an entire arm being engulfed in the fuel and leaving him with burns so severe he needed skin grafts on 15% of his body. Ouch.
Warning: do not watch this if of a squeamish disposition…
It was naturally the injuries that stuck with him the most, noting how he once "shattered [his] ankle and got it all screwed together with like two plates and 11 screws" following a stunt, but that it's the one that cause lasting pain that he remembers the most.
And with that, I was genuinely exhausted from just hearing about the amount of frankly ridiculous things he's done even in the 13 years he's been doing his live comedy and multimedia shows, let alone when it was his full-time job on MTV.
Not only did we end the call with a genuine feeling that I could have listened to him recall stunts and stories for hours, but which a genuine sense of envy for anyone going along to see Steve-O's The Bucket List tour, which now feels appropriately named as I don't wanna die without having seen it for myself.
Even from the familiarity and comfort he conveyed over the course of a 20-min Zoom call, I also got the sense that this show is also a very personable one where it feels like an intimate little invite into his self-confessed "triple X-rated" world and we want ours in the post like yesterday.
Read more:
So if anyone ever asks me what it was like interviewing Steve-O and what I made of him, I have my answer ready: a sweet and funny man who just happens to have made a living off doing outrageous things that require a 'do not try at home' warning. You can get tickets to his remaining shows HERE.
For all the latest news, events and goings on in Greater Manchester, subscribe to The Manc newsletter HERE.
Featured Image — The Manc Group/Supplied