What's On
The best things to do in Greater Manchester this week | 4 – 10 April 2022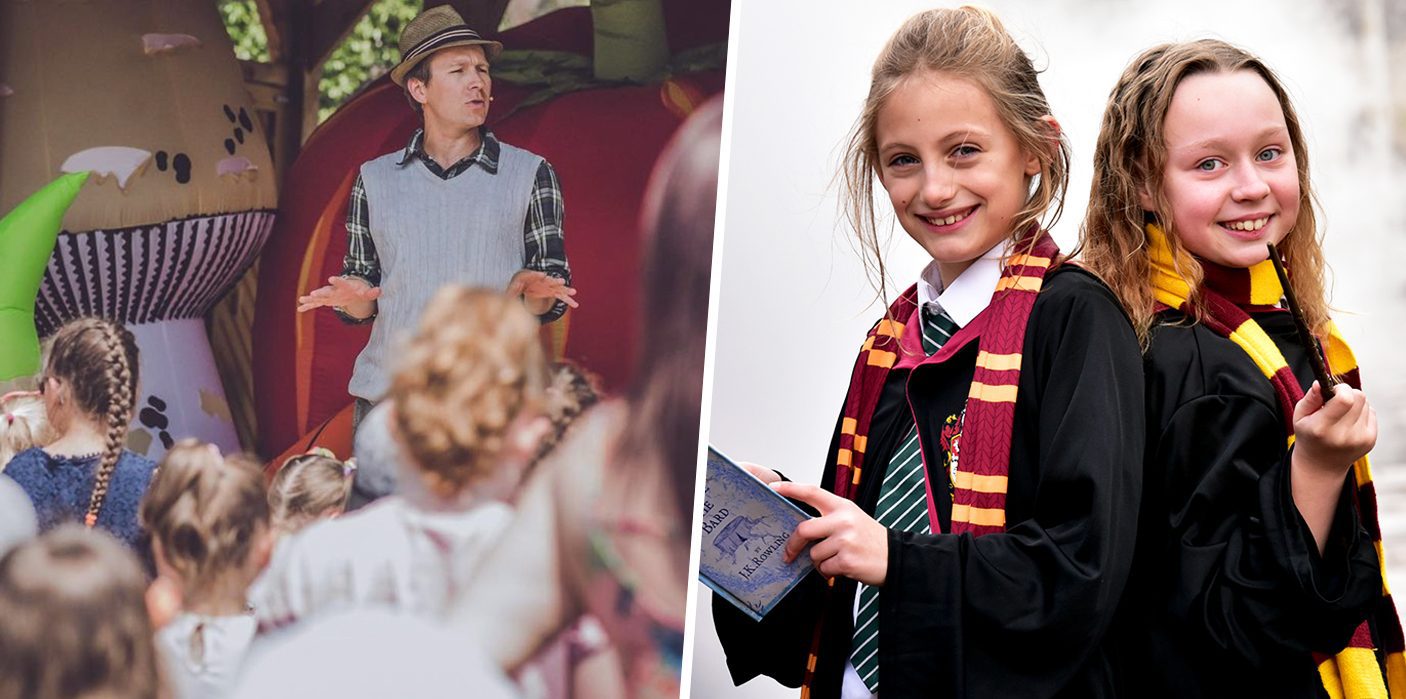 There's new beginnings happening all around in Manchester this week.
With Spring officially here, and schools out for the next two weeks, there's plenty to be getting up to across the region and so much to get stuck into, so we've cherry-picked a few of the best things happening and put together another fresh edition of our 'what's on' guide for the city of Manchester and beyond.
As always, some of the events we're going to mention here are completely free, which is great for those looking to keep things on the cheaper side, while others will set you back a few pounds, and many will need to be booked in advance.
Here's our top picks.
___
Looking for some new restaurants and bars to try out that have just opened in Manchester city centre this month?
The nights are longer, the clocks have gone back, and spring has begun to sprung here in Greater Manchester.
With the turn of the season, comes a host of new openings in the city centre and beyond.
From bespoke butty shops to new delis and tasting rooms, to boozy coffee bars in a secret garden and pop-ups across town, there are loads of great new eateries to get stuck into this April.
You can read out round-up to find out where to put on your list this month here.
___
Totally Roarsome
Arley Hall
Monday 4 – Sunday 10 April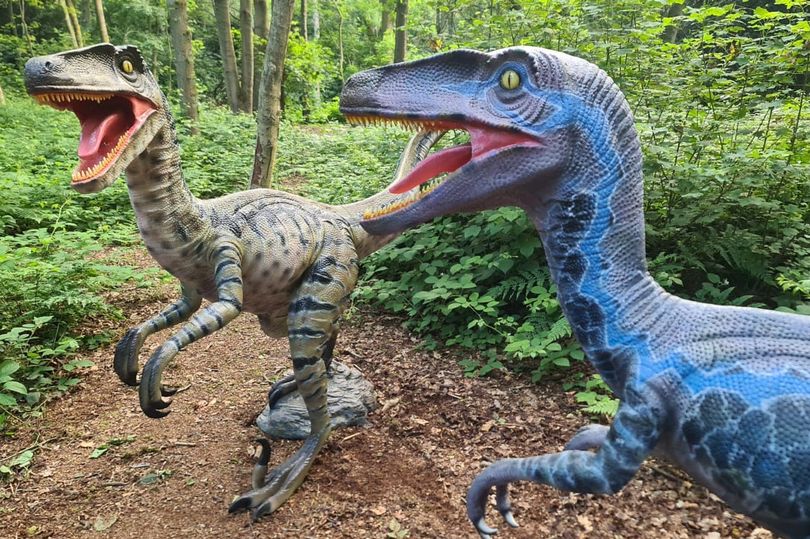 One of the North West's most-popular outdoor events has extended its run throughout the Easter half term, and it's an ideal day out for families.
For the past two years, Totally Roarsome has taken the region by storm and has seen visitors flock from far and wide after it opened in untouched woodland following the initial lifting of lockdown restrictions in mid-2020, before returning after popular demand for the Easter half term in 2021.
And now, it's found a new home for 2022's event at Arley Hall in Cheshire.
There'll be more than 200 individual dinosaur models making up the woodland trail this year, with tickets priced at £8.95 and already selling fast.
You can find out more and book tickets here.
___
Half Term at the Science and Industry Museum
Manchester City Centre
Monday 4 – Sunday 10 April
Families can explore a host of Manchester firsts at the city's famous Science and Industry Museum this half term.
Home to a host of inspiring innovations, clever contraptions and construction-themed activities designed to suit all ages, from 4 to 18 April, families can explore the city's revolutionary heritage and cutting-edge science through a range of hands-on activities and live science shows.
From an indoor 'builders' playground filled with larger-than-life foam cubes, bricks and cogs, to an incredible moving sculpture that brings cartoons to life, there's loads of fun to be had whether your kid's a dreamer or a hands-on builder.
You can find out more here.
___
Easter Egg Hunt Stadium Tour
Manchester City
Monday 4 – Sunday 12 April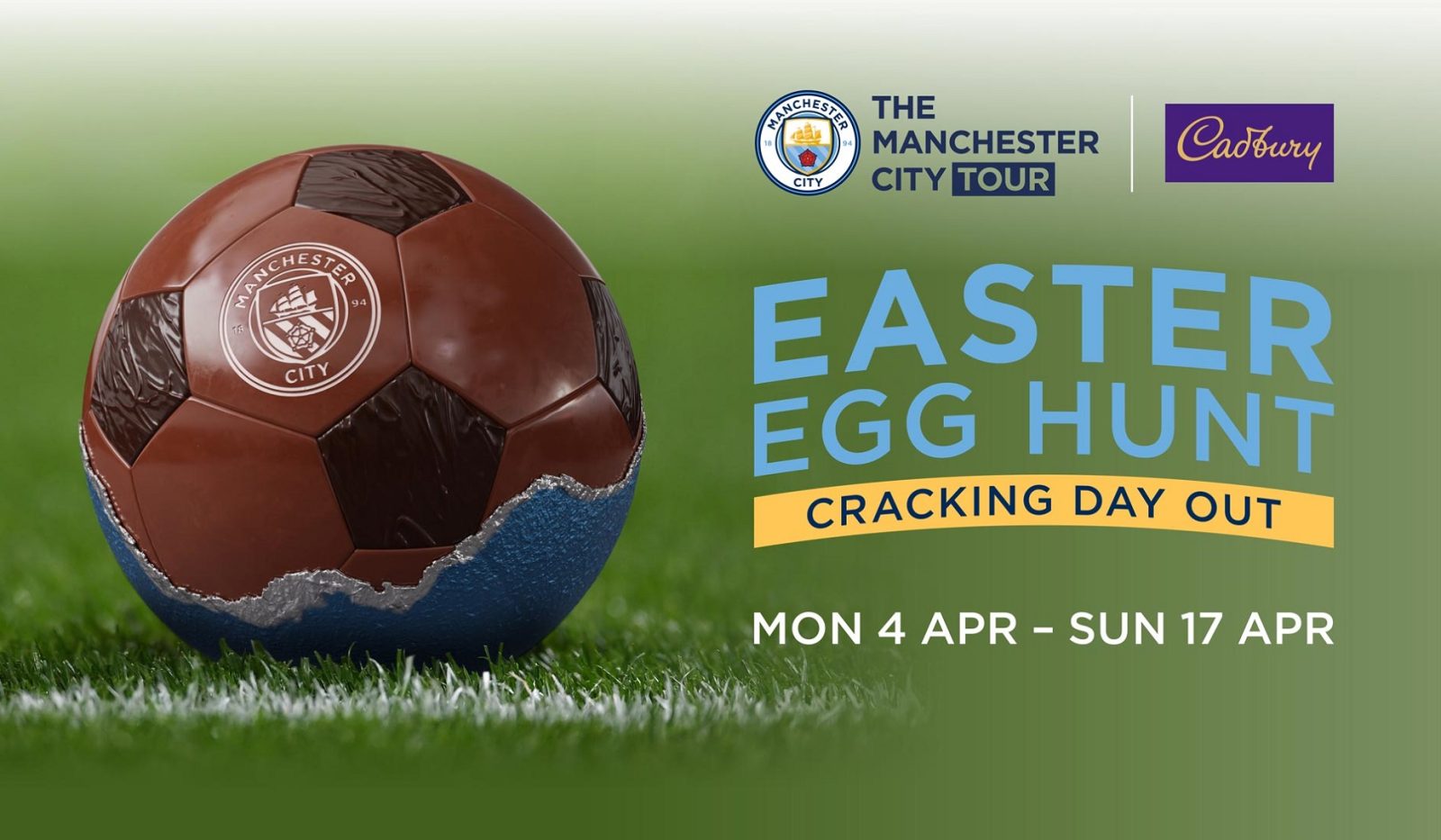 Manchester City is giving fans the chance to tour the club's impressive stadium facilities this half term, and there's a "one-off" interactive, chocolate-themed twist to it.
With schools soon to be out across the region, and parents and carers therefore likely on the lookout for some exciting activities to occupy the little ones, Manchester City has announced that it's launching new Easter-themed tours of the Etihad Stadium for two-weeks only – and they're in partnership with Cadbury too, just to make it that little bit sweeter.
Running from Monday 4 – Sunday 17 April, the Easter Egg Hunt Stadium Tours give you the chance to "treat the family to some Easter fun".
You can find out more, and grab tickets here.
___
The Chocolate Factory
Trafford Centre
Monday 4 April – onwards
An immersive chocolate factory experience has opened at the Trafford Centre this month, and it's ready to make all your "sweetest dreams come true".
After enjoying success in Madrid, Barcelona, and London, The Chocolate Factory has now made its way over to us in Manchester, and it's described as being a "theatrical candy-themed experience" where you'll get to explore a variety of colourful rooms, take some magical selfies, and most-importantly, satisfy your sugar cravings and eat some delicious sweets.
Set on the ground floor of the iconic shopping centre, The Chocolate Factory lets you take a trip through different worlds, with every room "filled with new discoveries".
You can find out more and book tickets here.
___
Fantastically Great Women Who Changed The World
The Lowry Theatre
Tuesday 5 – Saturday 9 April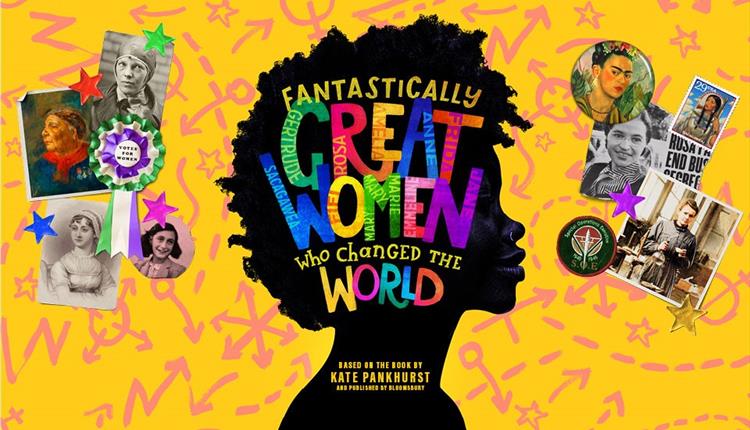 Fantastically Great Women Who Changed the World is an empowering new stage show based on a bestselling picture book by suffragette descendant, Kate Pankhurst, that's coming to The Lowry Theatre in Salford for its world premiere this week, and the theatre company says it's to be celebrated by anyone who is prepared to move and be moved, with characters and songs that "pack a popstar punch".
From explorers to artists, scientists to secret agents, hear the stories of some of history's strongest mothers, sisters and daughters – all independent icons who really did change the world.
Ticket prices start at £15, and you can grab yours here.
___
The Wizarding Adventure
East Lancashire Railway
Wednesday 6 April
One of the standout experiences on the 2022 East Lancashire Railway (ELR) events lineup has to be the chance to go on a 'wizarding adventure' and ride a Harry Potter-themed train through Greater Manchester.
Aspiring witches and wizards can gather at the ELR for a day of sharing spells and magic-themed fun.
This interactive adventure will see visitors, both young and old, enjoy a range of performances from colourful characters and magical creatures – provided by performance company Funcast – all before boarding the 'Wizard Express' for a two-hour round trip journey through the Irwell Valley of wonders.
You can find out more and grab tickets here.
___
Disco Bingo at GRUB
Cheetham Hill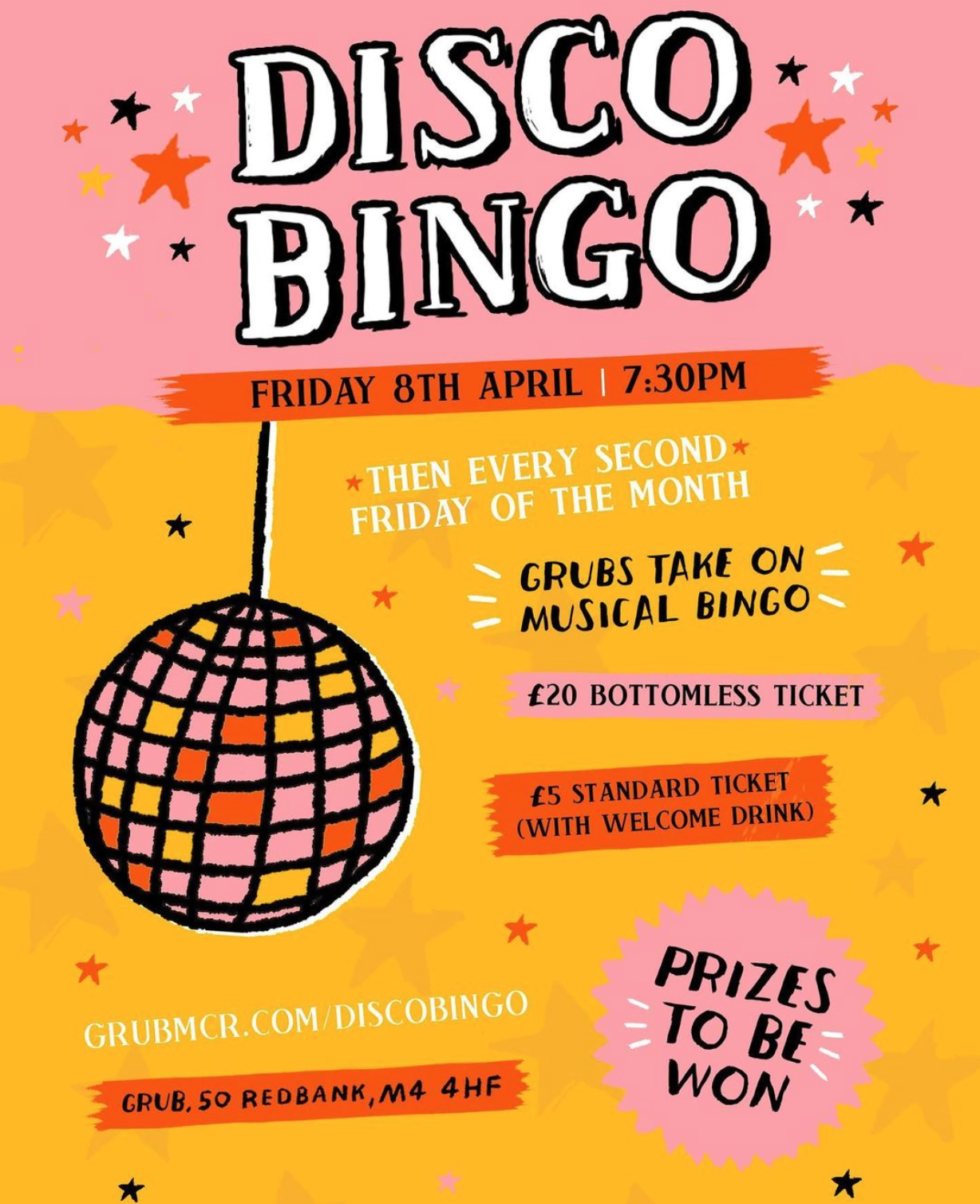 Manchester's largest street food fair GRUB – which is currently based at the Red Bank Project just outside of the city centre in Cheetham Hill – is hosting another one of its ever-popular Disco Bingo events this Friday, and tickets are already selling fast.
This time round, the theme is throwback party bangers and it's guaranteed to be a night of tunes and bingo hall vibes with games and trivia, slowly leading into karaoke chaos, according to GRUB, with plenty of shots and glitter bingo dabbers to be won.
A standard ticket is £5, with a welcome drink included, and a bottomless ticket is £20 each.
Find out more information and grab tickets here.
___
Coronation Street: The Tour
MediaCityUK
Saturday 9 & Sunday 10 April
Coronation Street: The Tour has returned after a two-year hiatus this month to give you the chance to see the hidden world of the nation's most-famous cobbles that lies behind the camera at the external sets at MediaCityUK in Salford.
Following in the footsteps of all your favourite characters, during each 90-minute tour, fans of the show will get to walk around all the famous sets of the Rovers Return, Roys Rolls, Underworld, and The Kabin, and so much more, and tour guides will share all the secrets of the show while they take you around locations of iconic moments from the soap.
There'll also be plenty of chances to get that all-important Corrie selfie too.
You can find out more and book tickets here.
___
Farm Weekend
Alderley Park
Saturday 9 & Sunday 10 April
The popular Farm Weekend that's full of food markets, lamb cuddles, tractor rides, and more is returning to Cheshire for some springtime fun this weekend.
Alderley Park is known for being a place where world-leading science, innovation, and stylish living come all come together, but on Saturday 9 and Sunday 10 April, it's set to be taken over by the return of Farm Weekend – a weekend of family friendly activities, performances, markets and local food and drink.
From tractor rides and cuddling lambs, to Easter-themed crafts and artisan markets, there'll be something for everyone at the two-day event.
You can find out more, and grab tickets here.
___
Sam Divine: Cloud 9 UK Tour
Joshua Brooks
Saturday 9 April
City centre bar, restaurant, nightlife destination, and live music venue Joshua Brooks is welcoming renowned House DJ Sam Divine for the Manchester leg of her UK-wide tour, Cloud 9, this Saturday, with tickets already selling fast and the final release now available.
You must be over 18 to attend, and tickets will set you back £16.50.
You can grab tickets here.
___
Featured Image – Farm Weekend / ELR