Audio
Post Malone at AO Arena Manchester — stage times, supports, setlist and more
This tour has looked absolute fire so far.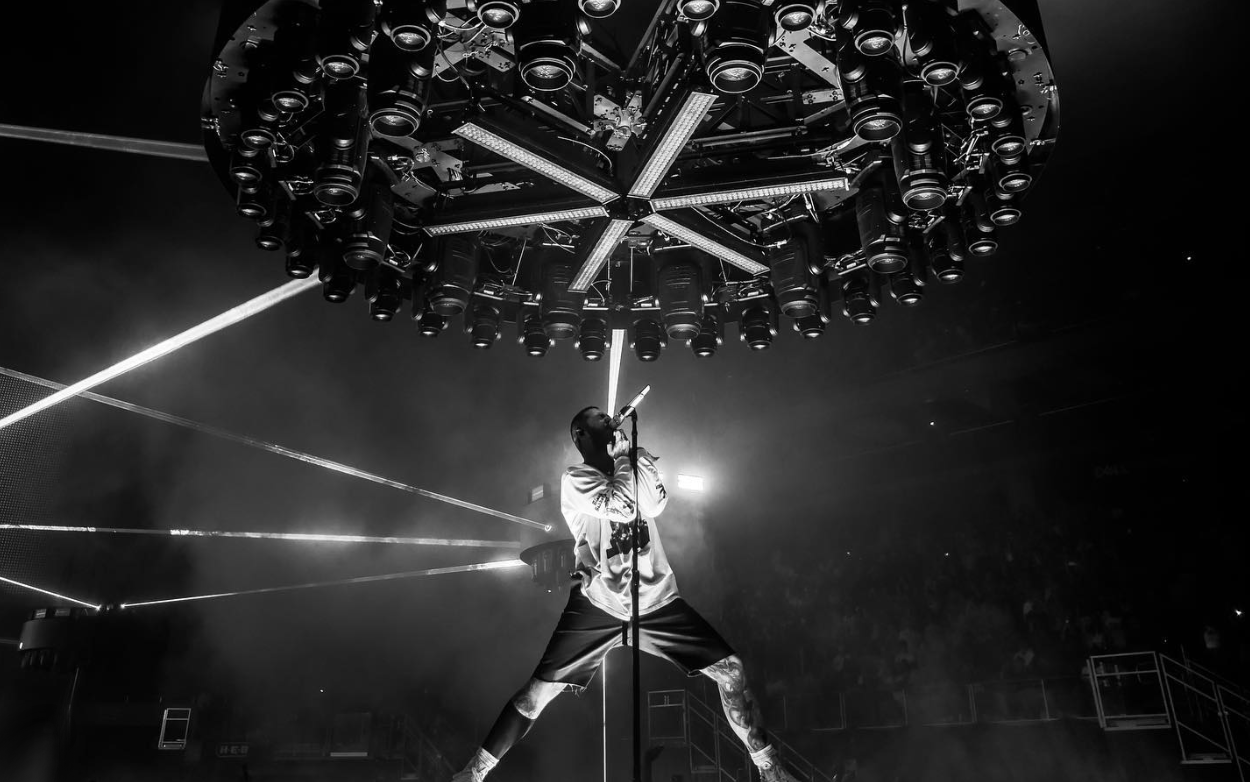 One of the biggest rap, R&B and pop names on the planet rocks up to Manchester this week and we really 'Stay', never say his 'Goodbyes' and soak up all the 'Congratulations'…
That's right, Post Malone is coming to 0161 for not one but two nights on the trot and it's going to be an absolute party.
It's been a couple of years since Post Malone was last in the UK for a show, playing Reading Festival back in 2022, and it's been four whole years since the New York-born rapper was last in Manchester.
Luckily, us Mancs get to make the most of this visit, with Posty set to play two massive shows at AO Arena on Tuesday and Wednesday (16-17 May). With that in mind, here's everything you need to know.
Tickets for Post Malone at Manchester AO Arena
Thankfully, if you're looking to get in on the Twelve Carat Tour, there are still a fair few tickets left to see Post Malone in Manchester either night, with even more available on the second night (Wednesday).
Better still, they all range between various different locations and prices around the Arena too, with tickets in the lower seated section starting from just under £100 and VIP standing spots around his impressive stage area setting you back £126.50.
The cheapest seats up towards the back of the venue will cost you £76.55, but you best be quick if you want these before they get snapped up by someone else. You can always opt for the Champagne, Suite and Heineken Sky Lounge experiences if you really want to splash out.
Whatever level of flashy you want to go, you can grab yours HERE.
Support acts — including a mystery artist
Post Malone's supports for his Manchester gigs are two-fold: American rap duo Rae Sremmurd — one half of which, Swae Lee, combined with the 27-year-old on the hit track 'Sunflower' for the Spider-Man: Into the Spider-Verse film — as well a guest appearance from another name that is yet to be confirmed.
Who it could be is a total mystery; as far as we can tell from the previous gigs on the UK leg of this tour, there has little been little info leaked about who else has got it on the action, but all we know is that an additional support act is set to be confirmed soon.
Who do you think it could be or, maybe the better question is who would you like to see?
Our money is on Aitch (fingers crossed).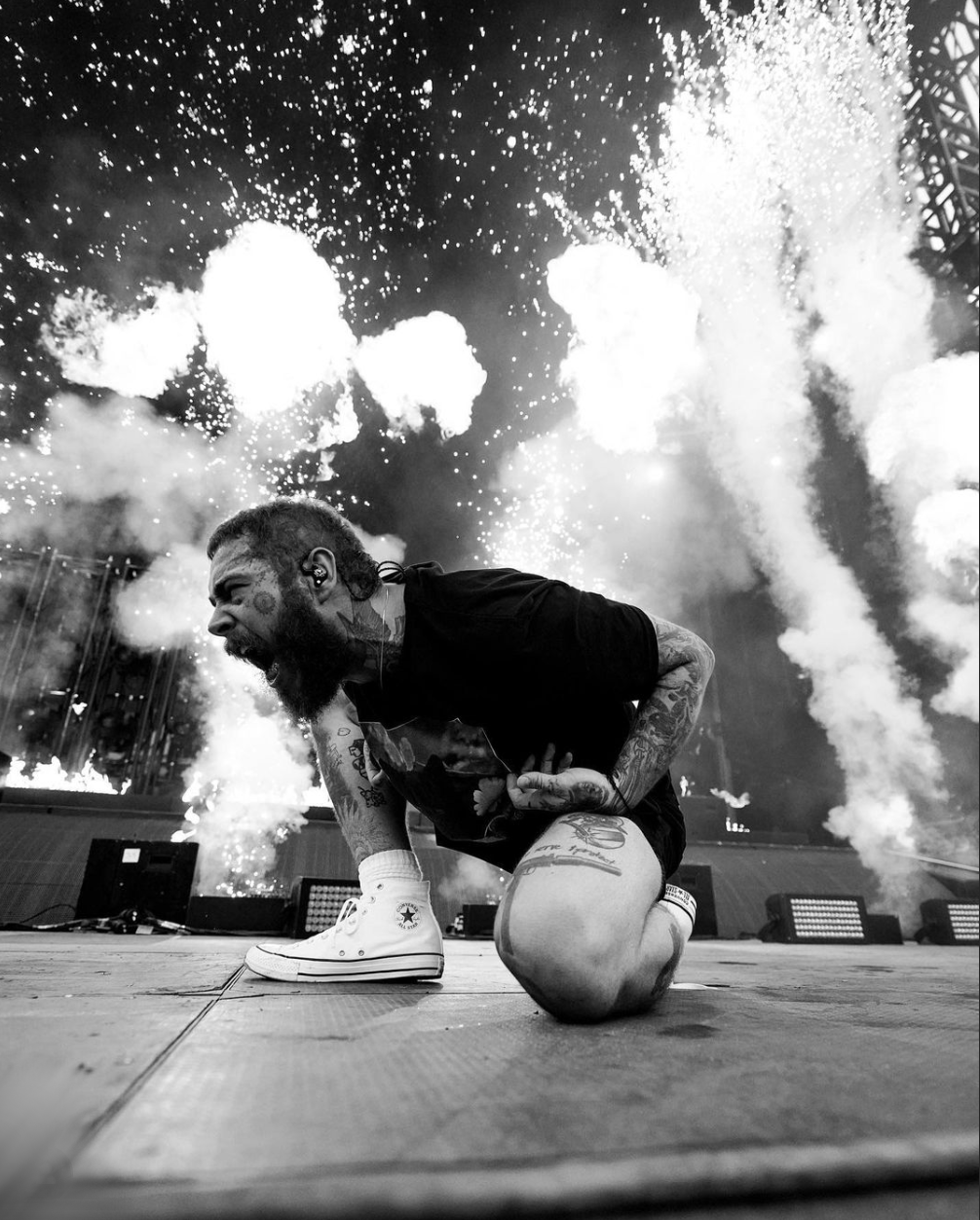 Post Malone stage times
Doors for Post Malone at the AO Arena will be open from 6pm, with the first support act (whoever they might be) taking the stage at 7.
After a swift half-hour set, Rae Sremmurd will take the stage at 8pm until 8:40; from then there'll be a quick 20-minute interval for you to fill up on snacks and booze before Posty himself starts playing, with the gig set to run to 10:30pm.
Of course, you always have to make room for an encore and with so many bangers to his name, your guess is as good as ours as to what he'll close the show with.
Chances of him doing a Manc cover or some kind? He does love that guitar of his…
Predicted setlist
Speaking of the music itself, judging by the tracks and the running order from his recent three-night run at London's O2 Arena, this is what we are expecting when it comes to Post Malone's setlist for Manchester AO Arena:
Reputation
Wow.
I Like You (A Happier Song)
Wrapped Around Your Finger
Better Now
Psycho
Candy Paint
I Fall Apart
Euthanasia
Stay
Lemon Tree (Acoustic)
Circles
Love/Hate Letter to Alcohol
Take What You Want
When I'm Alone
Over Now
rockstar
Goodbyes
Cooped Up
Sunflower (with Swae Lee)
Chemical
Congratulations
White Iverson
Those last four songs are going to go OFF.
Read more:
It's set to be a brilliant double bill at Manchester's iconic AO Arena and with tickets still left to grab, you still have a chance to see Post Malone do what he does best right on your doorstep: put on a brilliant performance with more genre's in one night than you'll get from virtually any other musician around.
From the clips we've seen of his world tour so far, this bloke is just enjoying himself, having an absolute party on stage every night and taking crowds along for the ride.
We hope to see a few of you there and if there are any other details you need, you can always check out the Arena's info pack down below:
For all the latest news, events and goings on in Greater Manchester, subscribe to The Manc newsletter HERE.
Featured Image — Post Malone (via Instagram)