Feature
Man City's Ellen White on her club career, life outside football, and the upcoming Manchester derby
The Manc got the chance to sit down with the star player ahead of next month's Barclays FA WSL Manchester derby.
"It's the best feeling in the world to play football – it's just amazing."
Speaking from the blue side of the city's state-of-the-art training facilities in East Manchester, Man City Women's Ellen White is reminiscing about her impressively successful professional career that's spanned nearly two decades ahead of what is always one of the most important fixtures in the calendar for any footballer – derby day.
No matter the city, no matter the player, derby matches are always known for having that extra competitive edge, and even though the want to win games is what drives clubs all season long, there's just something about a derby victory.
This derby looks set to be even more special than most, though.
After coronavirus restrictions forced stadiums across the world to fall silent from March 2020, there's only a couple of weeks to go now before people will be taking to their seats at the Academy Stadium for the Barclays FA Women's Super League Manchester derby on Sunday 13 February, which is the first time fans will be allowed back inside City's home ground for a derby day since 2019.
The chance to feed off the energy of the crowd once again, and to walk out to the cheers of 'the best fans' during the derby, is something White says she really can't wait for.
Born into a football-loving family, Ellen White grew up playing for her father's football academy in her Buckinghamshire hometown of Aylesbury, before she was spotted at the age of eight by scouts for the academy setup at North London club Arsenal, where she spent her youth career until she signed her first professional senior contract with rivals Chelsea in 2005.
The 32-year-old has played for several other big-name clubs during her career – including Leeds United, Notts County, Birmingham City, and a return to Arsenal – all before joining Manchester City on an initial two-year deal in July 2019.
The 'super patriotic' player has shone on the international stage with England too, earning over 100 caps, and being an integral part of the 2019 Women's World Cup squad, and Team GB squad for the 2012 Olympics.
Ahead of the Manchester derby, The Manc got the chance to sit down with White to chat about all things City, her time at the club so far, the best advice she's ever been given, life outside the world of football, and how she's feeling about the biggest game of the season in just under three weeks' time.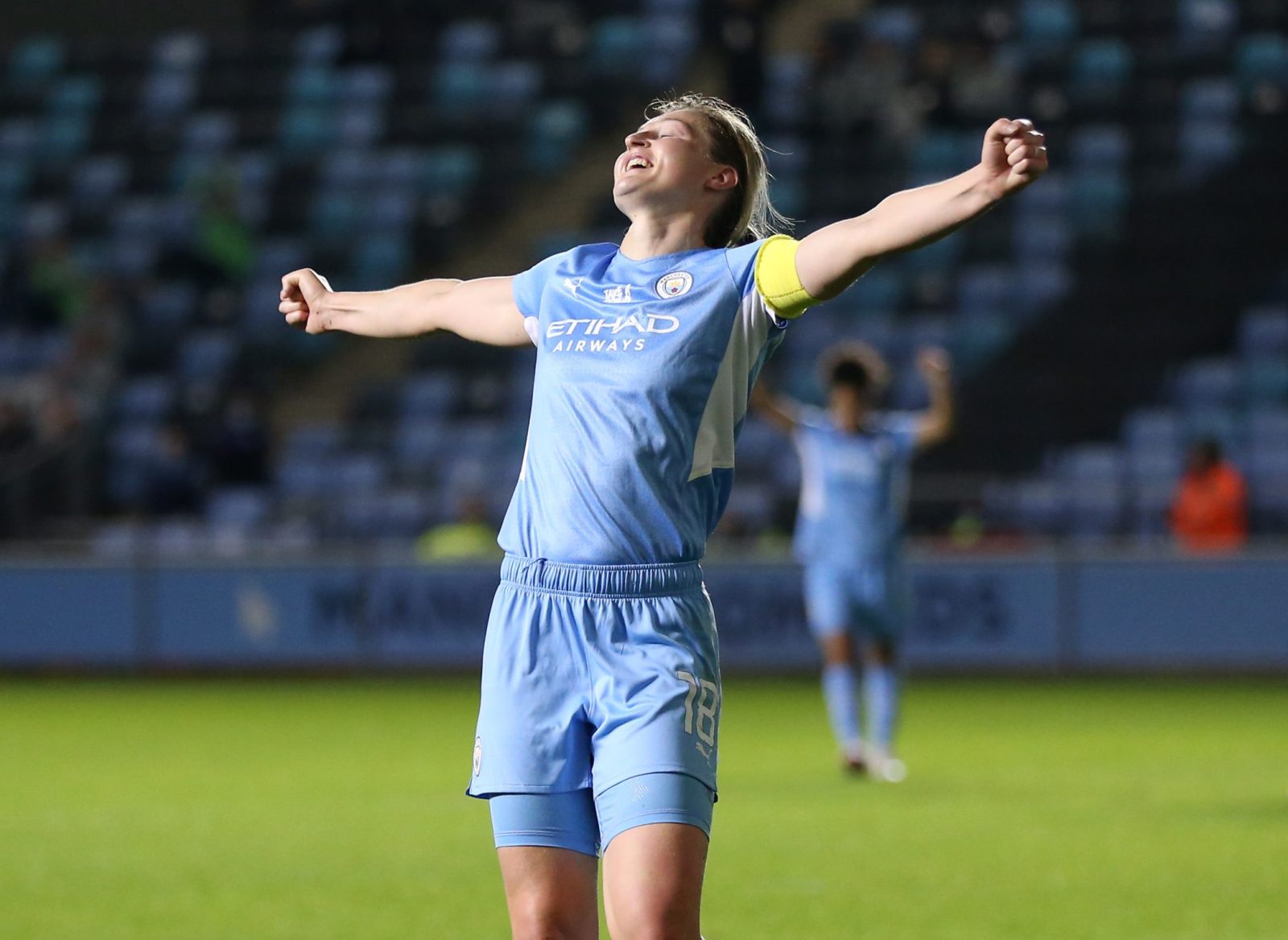 "Playing for Man City is a privilege"
The Premier League domination and numerous title-winning successes of Manchester City's Men's Team over the last decade or so has earned the club a sought-after reputation as being a destination where the world's top players want to be.
The Women's Team is certainly no different – and White recognises this privilege.
"The passion that the fans have for the club is one that's really special. That one club mentality is something that not a lot of clubs around the world have, with the Women's Team and the Men's Team collectively, so I think that's really important.
"Coming to City, a lot of people speak about the facilities – which are incredible – but for me, it was about being surrounded by talented players who have the same mindset, the same competitiveness, the same drive, and the want to win.
"I'm really lucky that the players we have here, have that. We're all constantly trying to push each other, and drive to hopefully succeed," she said.
Joining Manchester City back in the summer of 2019, just before the 2019/2020 season, meant that White had experienced 'a good chunk' of time playing for the club and getting to know her teammates before the COVID-19 pandemic hit and the football world, like the rest of the world, completely changed – which she says made her realise the club is 'a real special place to be' and one she feels 'very lucky' to play for.
"I signed just after the 2019 Women's World Cup, and I was out for a little bit with injury, but I came back in just after that and had quite a big chunk before the pandemic," she tells us.
"It was a real nice time to be in with the group and in the facilities before it hit."
"Scoring against Man United is always nice"
Having experienced so much with the club over the past two-and-a-half seasons – from personal highs and lows, to injury set-backs, and group successes – it's easy to see why White would find it difficult to pick just one stand-out moment from during her time with Manchester City.
She highlights trophy wins, temporary captaincy when Steph Houghton was sidelined with injury, teammate camaraderie, and scoring against the red rivals as definitely being up there, though.
"Obviously winning the FA Cup was great," she explains.
"It was just a shame that we didn't have fans there, but it's such a special occasion. I'm super patriotic as well, not just with playing for England, but in the sense that the FA Cup is such a major trophy and one that we do everything we can to be a part of, so it was a really amazing thing to win that as a Man City player."
"Scoring against Man United is always nice too," she quips with a grin on her face.
"And I enjoy collectively having that team banter in the changing room that you probably don't see that often."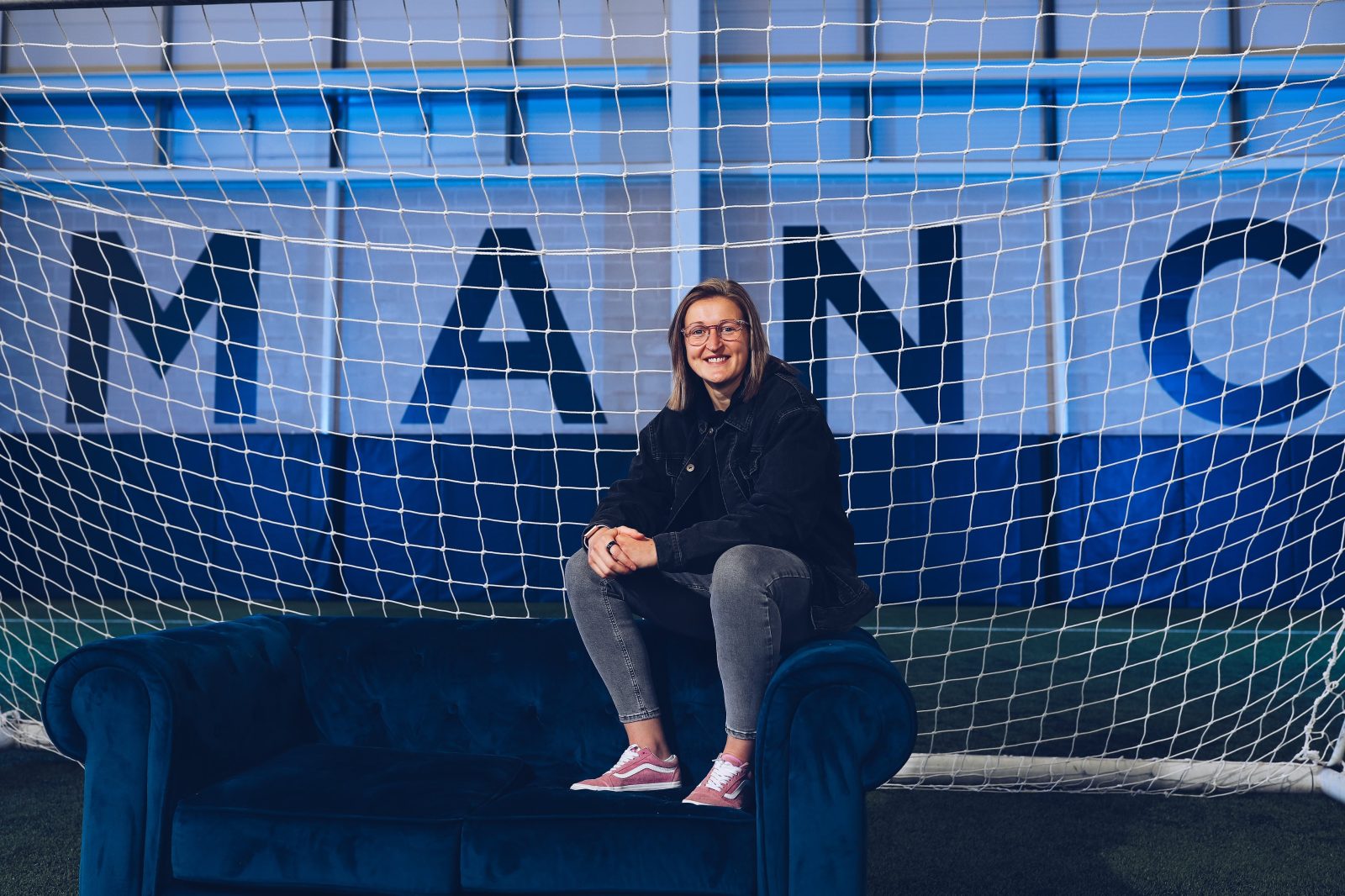 "There's some pretty crazy music going on in the changing room"
White admits that a typical match day for her is "pretty chilled".
Depending on what time kick-off is, and whether they are playing at home or away, she prefers to grab a bit of a lie-in if she can, tuck into some breakfast – "I always have porridge with honey and fruit, that's one thing I try and keep the same," – and of course, grab a coffee, which she says 'a key one' for pretty much all the players.
"We head to the stadium about an hour and a half before kick-off to have a bit of a team meeting, and then we're straight to the changing rooms," she explains.
She also revealed that there's some 'pretty crazy' music coming out of the speakers in the changing rooms that "everyone seems to like but me", but she says she's happy to let everyone else enjoy it if it gets them into the right headspace before stepping out onto the pitch.
"I think it's great that we feel comfortable to be ourselves"
Personal superstitions and little pre-match rituals seem to be commonplace in professional sport, although White admits that she's had to get rid of some of those with experience as the years have gone on, otherwise "it would've been taking me four hours to get ready for a game".
But she does make sure to praise the culture of the club and the players for allowing everyone to be themselves in the changing room.
"What makes our changing room really cool is that everyone's different and everyone's themselves," she tells us enthusiastically.
"Everyone has their own superstitions and rituals, and I think that's great."
"I'm probably the most boring person in this squad"
A self-confessed homebody who prefers to stay within the comfort of her own four walls with her husband and two cats, or make the most of the "lovely walks" near her home when she's not in training or giving it her all on the football pitch, White hilariously confesses that she's "probably the most boring person" in the City squad – but did point to the pandemic for throwing a spanner in the works when it comes to social lives.
"Obviously we're living in a bit of a strange time at the moment, so we can't really go out too much. But for me, it's being able to go for a coffee or being able to go for brunch with my husband or friends if I've got a day off."
"Seeing family is another one," she stresses.
"It's been hard to see them throughout the pandemic, but it's always really special to get those moments together."
"There's so many people who'd love to do what we're doing"
When the conversation turns to the best piece of advice she's ever been given and what she'd share with the players of the future, White's message is clear and concise – "just enjoy it".
"Always have a smile on your face, and enjoy what you're doing," she tells us.
"Being a professional footballer is a real privilege, and there's so many people who'd love to do what we're doing, so for youngsters, I'd say work hard and definitely listen to your coaches, but just enjoy it – you're making friends, you're having fun, and it's the best feeling in the world."
"I always try to enjoy every single second."
"We are not underestimating this derby"
White has played in many derby matches before in her career.
She understands the intense rivalries, and she understands how important it is for the club and the dedicated fans that they clinch the win, but this time around, when the Barclays FA WSL Manchester derby comes to the Academy Stadium, she is most looking forward to seeing people back in the stands.
"I think one of the most exciting things for us is to be playing at home and having our fans there to support us back in the stadium," she explains.
"As much as we want everyone to stay safe and we understand why we couldn't have fans in the stadium, for us, they really give us an extra edge and they give us energy, so it's really special to have them back and to feel closer to them."
"We just want them to enjoy it."
While White does admit that she'd love the chance to show the fans her iconic goal celebration during next month's match, and that it's "lovely to see people recreating it with smiles on their faces", she said that her main priority is to help the team get the win in any way she can 'first and foremost' – scoring a goal would just be an 'amazing' bonus.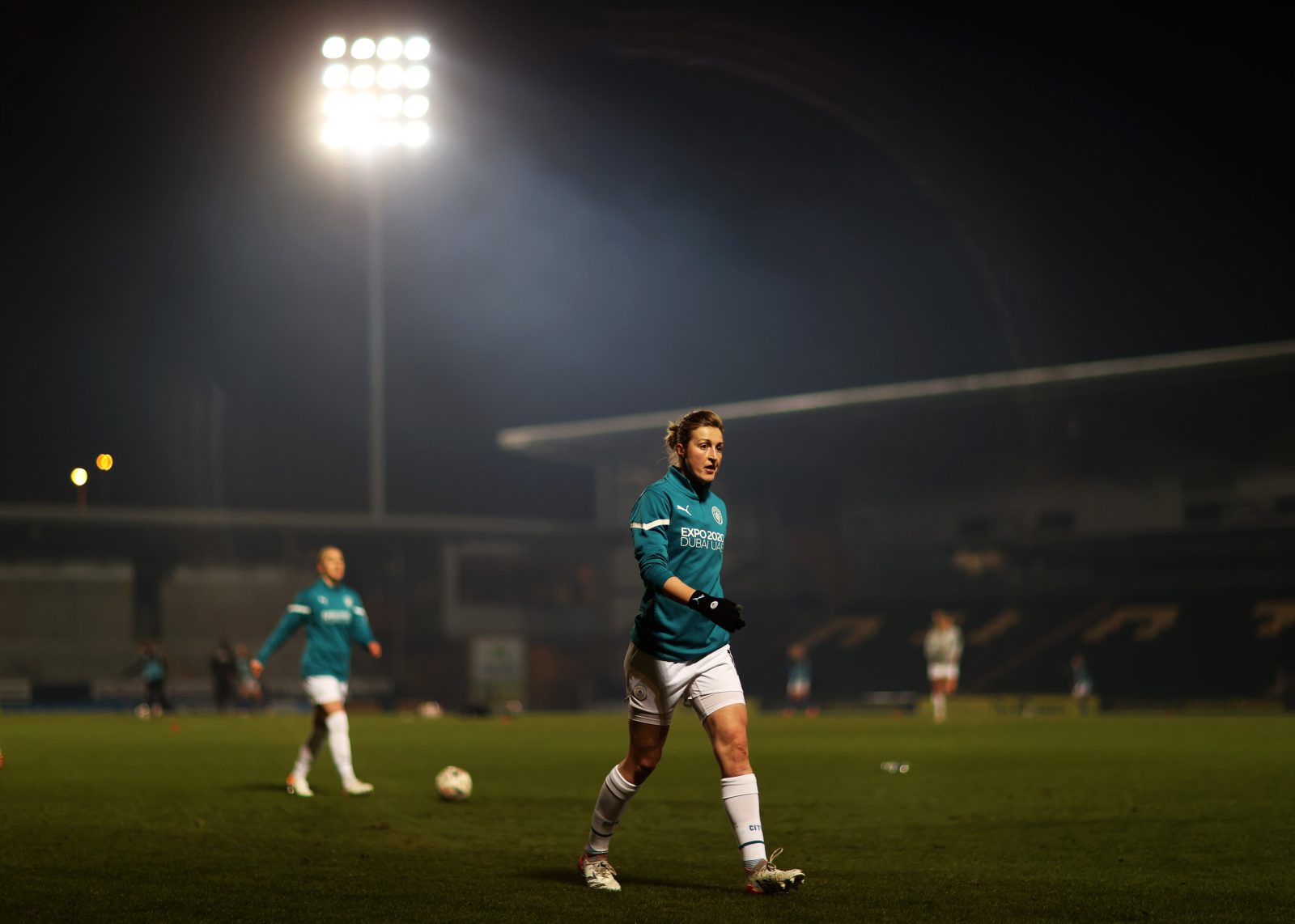 She also conceded that the red side of the city have 'good fans' too.
"To be fair, Manchester United have good fans that are normally pretty loud too, but we've got the best fans, so that's a winner," she tells us.
"A derby day's always feisty, it's always competitive, and I think both sets of fans and staff understand what's at stake because of the rivalry – but for us, we want Manchester to be blue, so that's our priority."
"We're not underestimating this derby, so it'll be a really exciting one for us."
The Barclays FA Women's Super League Manchester Derby is kicking-off at 12:30pm on Sunday 13 February 2022, and tickets are available from £8 for adults and from £3 for Under 16's.
Manchester City are expecting a packed crowd for the game, with tickets selling fast.
You can grab yours from the Manchester City website here.
Featured Image – Manchester City