Feature
The job offer that turned a jailed prison officer into a viral star
Jack Twigg was a prison guard who found himself on the wrong side of the bars after causing a car crash. A year since his release from jail, he's now running his own Salford shop.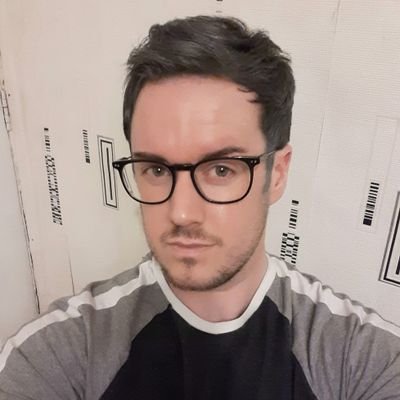 Jack Twigg made the papers three times before he was 29-years-old. The day he scored nine goals for his youth football team. The day he went to jail. And the day he told the world he had a new job.
Last week, Jack announced on Twitter that he'd be leaving his role as a Timpson store assistant in Stretford and taking charge of his own branch in Irlam.
"6 months ago I was struggling to find work with a criminal record," he wrote on March 31.
"Timpson offered me a trainee role which changed my life. Today I've been told from April 12th I'm officially a branch manager with my own shop!! I can't wait to get started and kick on as a manager!"
For anyone else, getting such a promotion would be a big moment. But for Jack, it was life-changing.
As soon as he tapped the send button on that tweet, his world flipped upside-down.
Within minutes of floating out into the Twittersphere, the post took on a life of its own – transforming Jack from an Oldham ex-con into a viral star.
Thousands of well-wishers flooded to congratulate him, whilst press outlets jostled with one another to grab Jack for an interview and share his story.
The likes and shares on the Tweet are still accumulating by the hour.
"Honestly, it's gone crazy. It's been non-stop for days," Jack chuckles.
"It's all been lovely."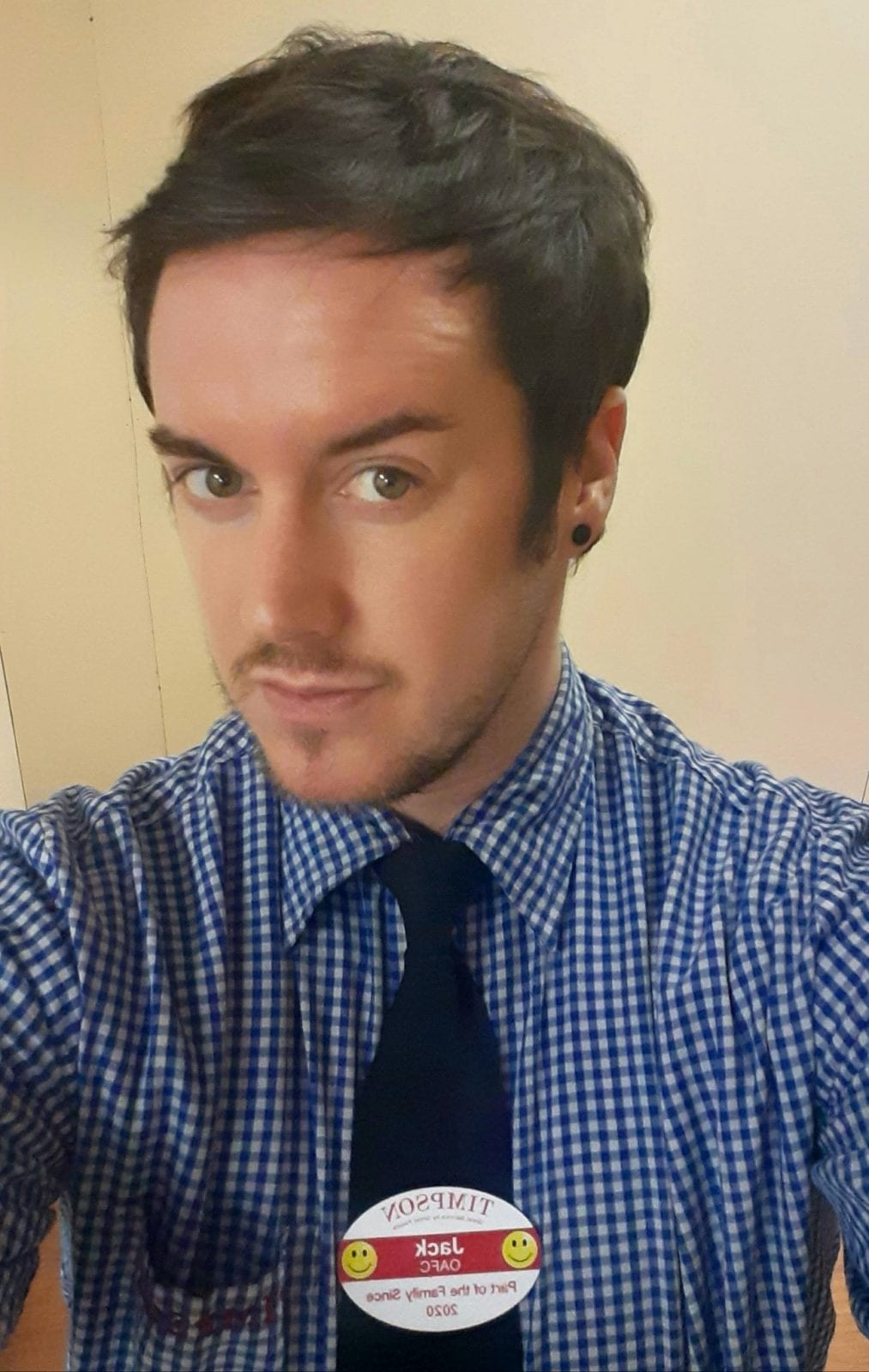 Jack's fast-track trajectory from ex-con to store leader is the kind of classic, heartwarming rags-to-riches tale that strikes a chord; proving that human beings can clamber their way out of the darkest places and achieve incredible things.
But that's only part of the story.
What makes Jack's tale quite so unique is that once upon a time he was working as a prison guard. Never did he believe for one moment that'd he end up on the wrong side of the bars.
In his early twenties, Jack signed up to an HMP training programme in the Midlands – a course focused on helping staff make the next step up as prison officers.
He hated it.
The programme focused on military-based, routine-focused, regimented training which "didn't sit well" with Jack, and it wasn't long before he found himself slipping into a dark place.
Unhappy and homesick, Jack would slink off into the nearby town and pick up cans of lager, spending the rest of his evenings sitting in a bar before taking more beers to his room at bedtime.
"I was sat in tears on my bed drinking a can," he remembers.
"I didn't want to quit because I didn't want to let everyone down. Even though quitting was exactly what I wanted to do.
"But if I walked away, I wouldn't have a job, either. I'd just bought a house.
"It all really overwhelmed me."
Then, one afternoon, Jack's mental health tipped over the edge.
"I had a bad panic attack in a bar in a toilet cubicle… with really negative, dark thoughts," he explains.
"I got in my car. Put my foot down. And I wasn't feeling myself."
The impact of the crash was so intense that Jack suffered serious head injuries – and his memories of the incident are fuzzy at best.
He's still not sure whether he got behind the wheel with the intent to end his life.
"Did I want to die? I don't know. Was I trying to kill myself? I don't know."
What Jack does believe, however, is that he "did something wrong and rightly went to prison for it".
He'd come off badly in the incident, but so did another victim – and a judge determined jail was necessary.
Jack was sentenced to 28 months incarceration with a minimum of 10 months and three weeks.
At the time, it all seemed like an instant nightmare. But looking back, Jack believes the long-term warning signs had been there.
The preamble to the crash had been, as he puts it, an "accumulation of years of anxiety."
In his younger days, Jack would be out with his friends in a busy bar or nightclub and quietly vanish to go for a pint in a quiet backstreet boozer alone for an hour.
His friends would text to ask him where he was, and he'd lie – claiming he was still in the club.
"I should have addressed that then but I never did," Jack states.
"It just progressed over the next three or four years to bad panic attacks and really low self-esteem. Throw in the quite harsh life of working for the prison service… that just finished me off."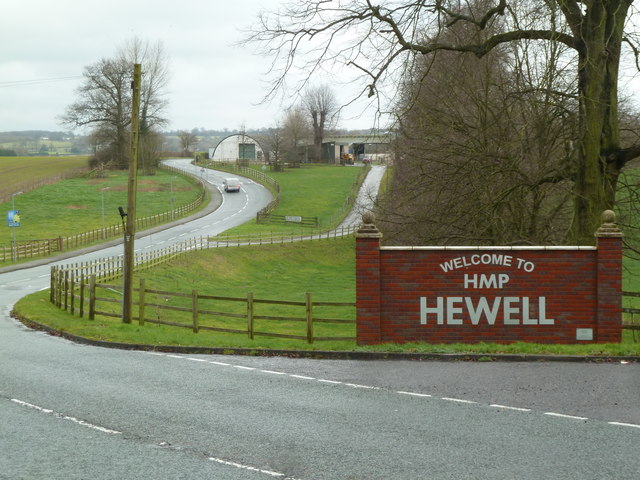 Prison is a dangerous place at any time. But particularly for an ex-prison officer.
Due to his former role with HMP, Jack was offered a spot on the protected wing – a part of the prison allocated for inmates who may be targeted by others.
It's the part of a jail where you'll find police and prison officers who've committed crimes. But also inmates who are sex offenders and child abusers.
"It's a weird atmosphere [in the protected wing]," Jack says.
"They're really well behaved and they don't talk to each other about the crimes. It's really hush-hush.
"I could have gone there, and they probably wouldn't have said 'boo' to me. Nobody speaks on that wing."
But Jack decided against it. He'd take his chances in general population.
Officers understood, reminding Jack he could be in danger if people discovered his past life as HMP staff. If trouble brewed, they promised to whip Jack out of his cell in the middle of the night and move him to the protected part of the prison.
Jack's next few months behind bars were devastating, challenging and even inspiring – and he is currently chronicling the big moments in his fascinating online blog 'Life on both sides of the cell door'.
Once his time was complete, Jack came out of prison understanding more about himself – but also more about what the justice system doesn't do so well.
"The rehabilitation side of it is very weak for all kinds of reasons," Jack explains.
"A lot of lads are trapped in a repeat cycle.
"I got talking to these lads. They don't want to be there."
"As a prison officer, you look at a file and it says: 'Repeated burglary'. You don't know why [the inmate did it].
"They'd never tell you the backstory when you're in your uniform. But when you're one of them, sat in the cell with them having a coffee – the amount I got told… it was sad."
"There's something in [the prisoners] if you let them get it out. 75% of lads in there would snap your hand off if you gave them a chance."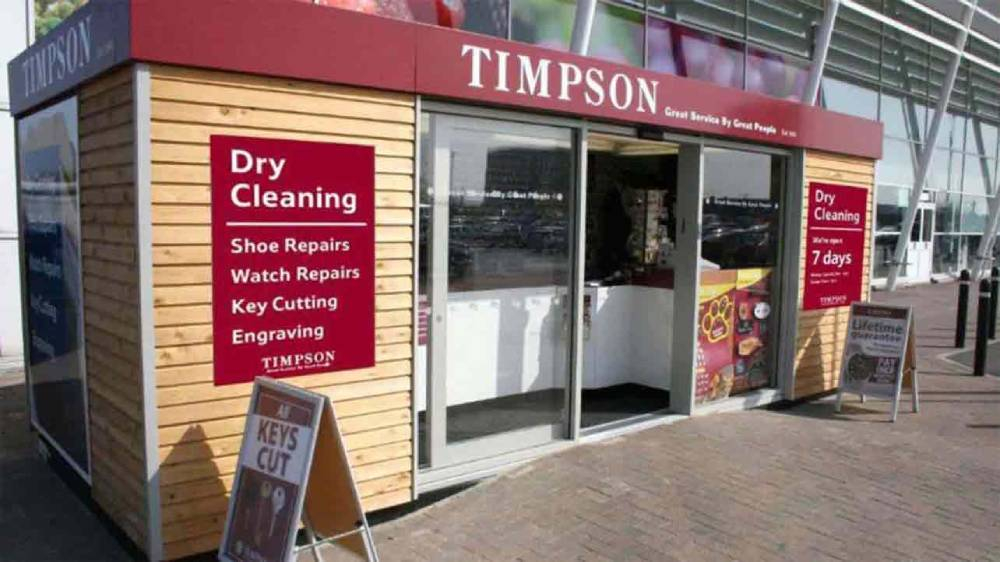 Second chances are exactly what Timpson – Jack's employer – has become famous for. According to the company's chief exec, James: If you offer something to someone who's never had anything, they're so grateful for the opportunity they'll give you their best work. It was a message that really hit home for Jack – a philosophy that tempted him to reach out in the first place.
After being released from prison himself and struggling to find work, Jack began his blog as a form of therapy – and in the subsequent months it become a self-help website, motivational tool, and even a survival guide.
It's already been helping other people. But its first major achievement was securing Jack a job.
After months' of failed applications, Jack attached the blog entries in an email to Mr Timpson himself – and he was invited in for an interview.
Ever since then, he's been thriving in a role he loves.
"It's been brilliant," Jack explains.
"When I came out of prison, I was in a strong position to find work – I'm educated with a good CV – but I couldn't find anything."
"I dread to think how hard it must be for others."
A mere six months after signing on the dotted line to join Timpson, Jack is now being handed the keys to his own store.
It's been quite the journey.
"They want to give the shop a new lease of life and get it firing on all cylinders." Jack says.
"It's a challenge which I accept. Who knows what the next step is.
"But for now, I can't wait to get going with it."
Read Jack's blog – 'Life on both sides of the cell door' – online here.