Food & Drink
Festive bars in Manchester that AREN'T the Christmas Markets
There's something really special about this time of year – crisp nights, twinkling lights, and many, many pints in bars that have fully embraced the Christmas spirit.
But for a lot of us, getting a festive drink can also mean getting shoved and elbowed and sucked into six-person-deep scrums to get to the bar.
Manchester's Christmas Markets are world-famous, for good reason, but their popularity does make them astonishingly busy.
Thankfully, there are more than a few local bars opening pop-ups and other festive drinking dens.
Read more: Where to find the best alternative Christmas dinners in Manchester
Here are some of the best places to get your festive cheers on.
Clubhouse Christmas, Spinningfields
You can hear Clubhouse coming before you see it, as anyone who has walked down Deansgate on a Friday evening of late will confirm.
The team behind the cocktail bar have taken over Spinningfields Square with a month-long Christmas party.
In store for you here you'll find karaoke cabins, a curling lane, Christmas kebabs, and live music.
You can read more about it here.
Salvi's Italian Christmas Market, Deansgate Square
One of Manchester's best-loved restaurants has got in on the festive action, in the most impressive setting of all.
Standing at the foot of the awesome Deansgate Square towers is Salvi's Italian Christmas Markets, with two tipis, four festive huts, and loads of food and drink.
Expect all the Salvi's favourites like sweet and savoury takes on soffietti (fried doughballs), as well as mulled negronis and limoncello spritzes.
Read all about it here.
Bar Hutte, Great Northern
It's one of the north's most familiar festive pop-ups, and it's finally back in 2021 after… you know what.
This year outside the Great Northern, you'll find an apres-ski-inspired party hub, with karaoke huts, apres cabaret, and even a dog grotto.
Don't leave without getting a Bombardino, a warming Italian winter drink made with Advocaat or eggnog and brandy. Delicious.
Mala, Northern Quarter
Because putting your mulled one down on a table is apparently not festive enough, Mala will serve yours wrapped around a Christmas tree.
The 'secret garden' in the Northern Quarter has been given a festive makeover, complete with cable car-inspired pods and heated Alpine chalets.
You'll also find steins, hot chocolates and a range of cocktails.
Read more here.
The Winter Village at Ramona, Swan Street
Already one of Manchester's coolest places to hang out, Ramona and the Firehouse have both leaned fully in to Christmas.
The whole site on Swan Street has been turned into the Winter Village.
We're talking Colorado-style log cabins, a sparkling winter terrace, tepees, tequila cabins, and pop-up stalls from independent traders.
Winter Island at Freight Island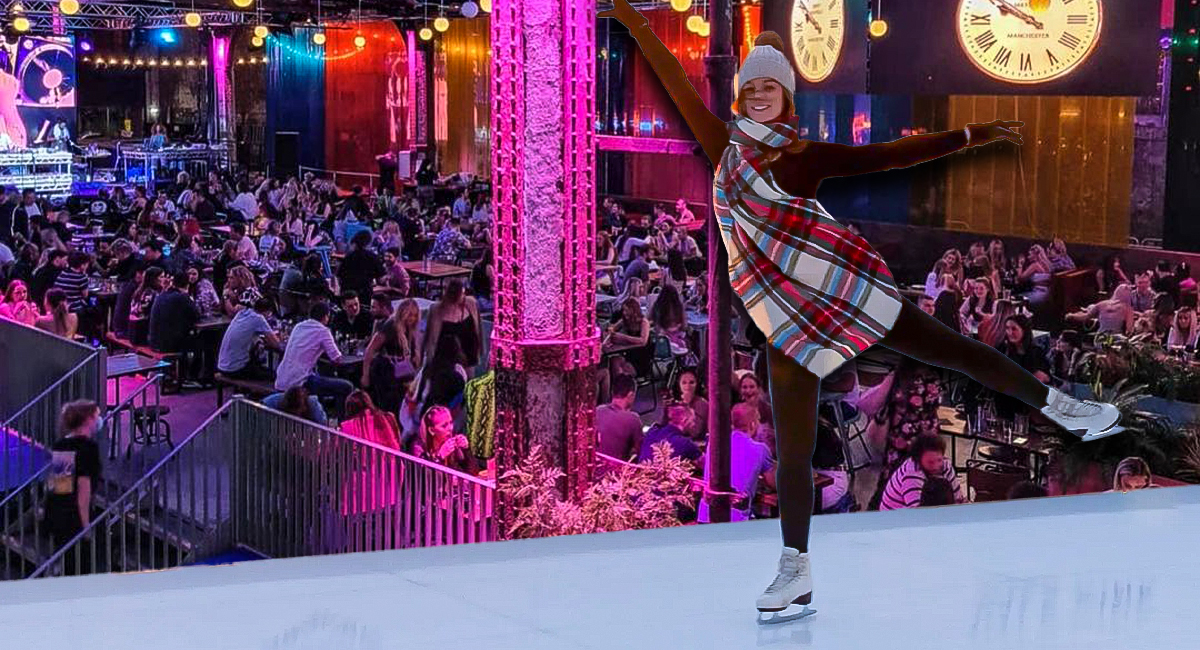 There's a seasonal extravaganza at Escape to Freight Island, the centrepiece of which is its ice rink in the sky.
All the normal favourites are here – like Mi & Pho, Patty Queen, Belzan, Voodoo Ray's and One Star Doner Bar – joined with some Christmas traders too.
You'll also find a hog roast, a sausage grill, hot chocolate from Cocoa Cabana, and pies.
Miracle on Cross Street
It's a grown-up grotto, with apple pie martinis, mulled wine, and other boozy delights.
Miracle on Cross Street comes from the team behind the recently-opened Salt Dog Slims, following a similar grotto concept over in Liverpool.
You can expect Christmas film screenings here too.
Read more about it here.
Hatch, Oxford Road
It's been thrown right back to the 80s over at Hatch, the shipping container street food hub just off Oxford Road.
It's been kitted out with fluorescent lights and disco baubles, transporting visitors back to a 'different era when iPhones and 'furlough' were yet to enter our mainstream vocabulary'.
There's food too, of course, like pigs in blankets parmos from Parmogeddon, vegan Christmas burgers from Herbivorous, and Terry's Chocolate Orange martinis from Miama Ice.
Bar Rumbug, Salford
Rum drinkers will like this one – the Salford Rum Company has launched its very own Christmas bar this year.
The temporary space has been opened before it launches its distillery.
It's been decorated with custom art from local artist Urbie, and will serve drinks from its own rum range (naturally), as well as other local breweries and drinks producers.
Featured image: