News
Manchester runners send message to Suella Braverman and the Conservatives with homeless protest banner
Bang on the money.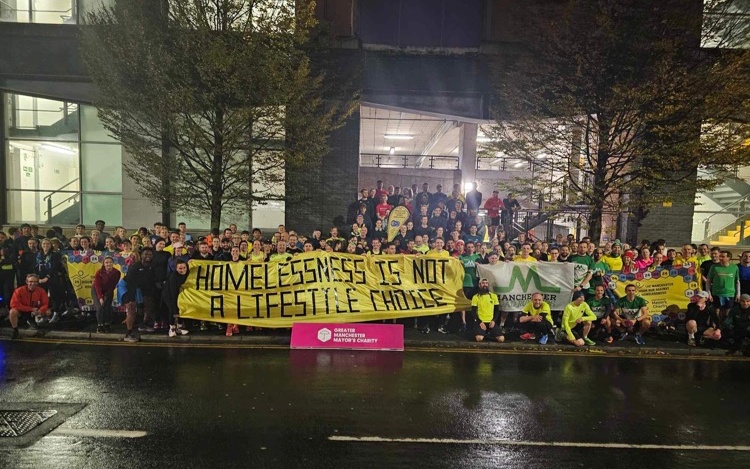 Thousands of Manchester runners gathered together this week to raise money for Greater Manchester's homeless community and, holding aloft a defiant protest banner, sent a message to Suella Braverman following her recent misguided and insensitive comments.
On Wednesday, 15 November, The 2023 Manchester 24 Hour Run Against Homelessness got underway, finishing up at noon this Thursday, and countless runners turned up to put in the hard yards for the beloved and important charity event.
With members of running clubs, local businesses and countless individuals who just fancied doing their bit gathering from all over the region to complete laps of the city centre circuit, waves of runners turned up not only for a jog but to help raise vital funds to combat rough sleeping.
However, they didn't just settle for running their socks off for 24 hours, from 7pm onwards before each wave, the hordes of runners also held up a custom-made banner referencing the now former home secretary's comments about the UK's homeless population.
For anyone who somehow didn't see what Braverman had to say on the ongoing homelessness crisis, the Conservative MP described rough sleeping as a "lifestyle choice", which was naturally met with nationwide backlash and huge calls for her to be booted from the cabinet.
The 42-year-old was ultimately sacked and despite digging out Prime Minister Rishi Sunak in her resignation letter, her callous words about homelessness have been seen by some as symptomatic not only of her own attitudes but how the Tories have failed in their promises regarding the community.
Speaking to The Manchester 24 Hour Run Against Homelessness co-founder Tom Lewis, he said: "After seeing former Home Secretary Suella Braverman's comments that homelessness was a 'lifestyle choice', we felt the need to create the banner and show how the people of Manchester disagree with such an out of touch statement." In fact, even some of her party colleagues were left equally stunned.
He went on to tell The Manc that "the event shows how incredible Greater Manchester's running community is and when they come together they can achieve something truly remarkable. We believe no one should have to sleep rough on the streets of Manchester or anywhere for that matter."
Read more:
Having smashed their fifth year since the event started, not only did they make a big splash with their Suella Braverman protest banner but The Manchester 24 Hour Run Against Homelessness also marked yet another incredible edition with the largest amount raised they've managed yet.
Notching a total of 40 relay laps over the course of the day and more than 9,200 kilometres, there were upwards of 1,600 runs completed by participants, with dozens of them doing a frankly ridiculous number of laps throughout.
All told with individual and company donations, event t-shirt sales and Gift Aid contributions, they raised a whopping £19,572 for the Greater Manchester Mayor's Charity, with the money going straight to their crucial 'A Bed Every Night' scheme. You're all absolutely amazing.
We couldn't agree more with the message these guys sent out this year and if their incredible work has inspired you to take part, you can still donate HERE and find out all about how it works down below:
For all the latest news, events and goings on in Greater Manchester, subscribe to The Manc newsletter HERE.
Featured Images — The Manchester 24 Hour Homeless Run/Brandon Hattiloney (via Flickr)