News
Why didn't Greater Manchester move into Tier 2?
Health Secretary Matt Hancock explains the decision in response to a local MP's question in the House of Commons.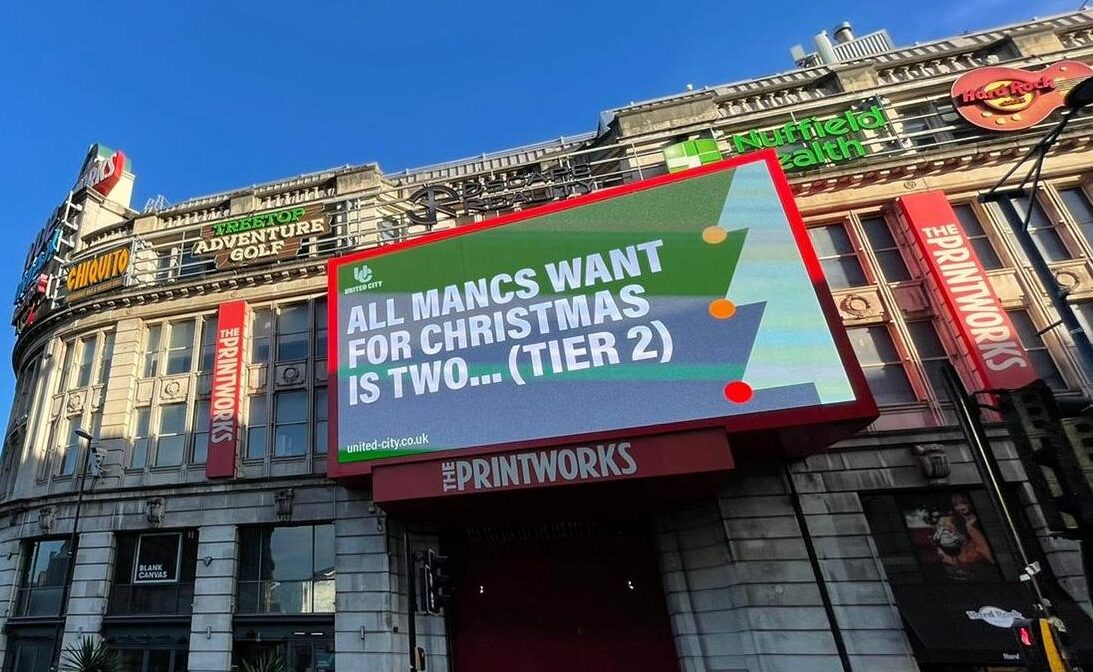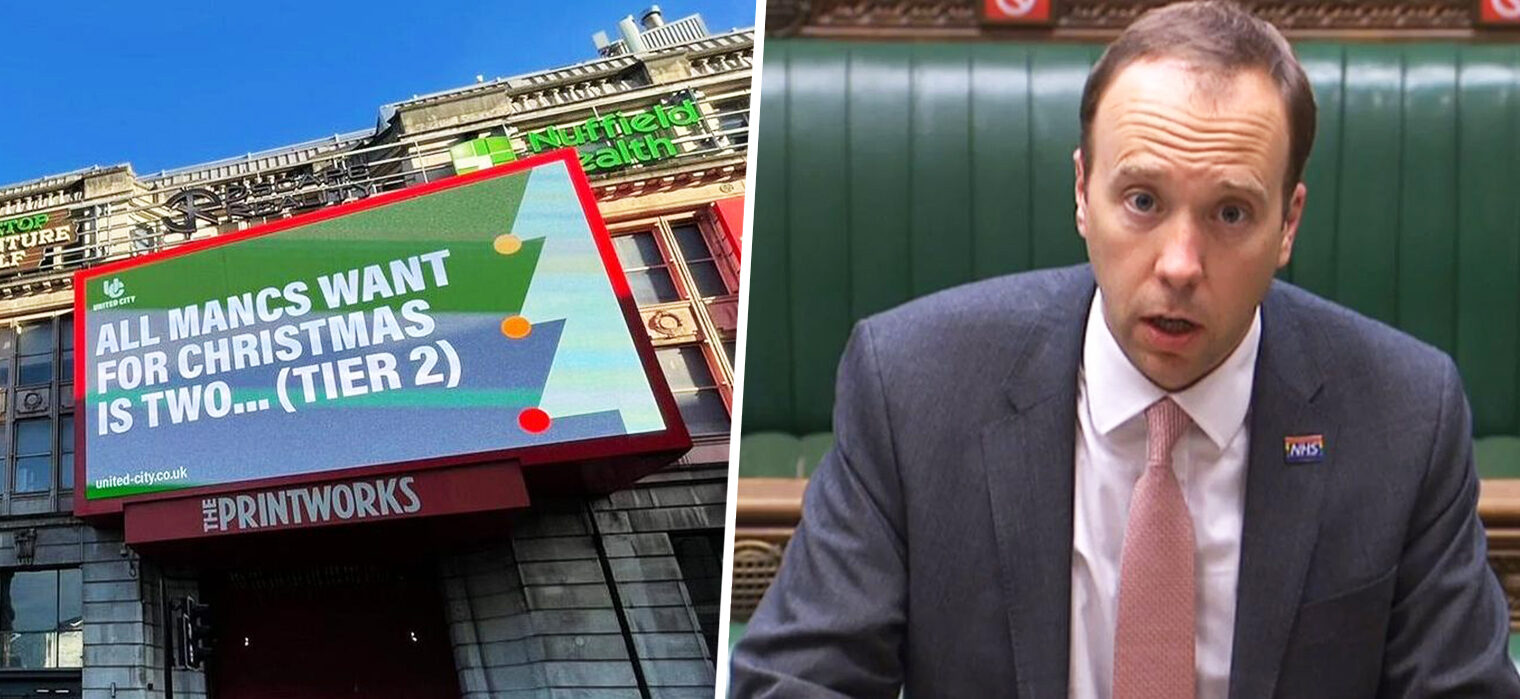 It has been announced today that Greater Manchester is to remain in Tier 3 restrictions following the first official review of the UK government's three tiered system.
The decision was confirmed by Health Secretary Matt Hancock during a statement to MPs in the House of Commons this morning.
Announcing the outcome of the first review of the tiered system of coronavirus (COVID-19) restrictions, Mr Hancock said the UK has "come so far" in its fight and "mustn't blow it now", adding: "As we enter the coldest months, we must be vigilant and keep this virus under control".
He confirmed that: "For the vast majority of places currently in Tier 3, we're not making a change today", with decisions assessed according to the following five published indicators:
Case rates
Case rates amongst the over 60s
Test positivity
Rates of change
Hospital pressure
The ruling means that all ten boroughs of Greater Manchester will remain under the tightest restrictions within the UK government's three tiered system for the rest of December at least.
It's still believed that restriction reviews will continue to be fortnightly.
Local leaders and campaign groups had hoped that some measures in Greater Manchester would be relaxed upon the first review after the region had shown a consistent drop in coronavirus (COVID-19) transmission rates in many boroughs since being placed into Tier 3 following the end of the second national lockdown at the start of the month, but the government has declared that the region will remain put.
The full list of Tier 3 rules for Greater Manchester can be viewed here.
Many of those local leaders have taken to social media this afternoon to respond to the decision.
Mayor of Greater Manchester Andy Burnham stated on Twitter: "If you look at the figures below, it's hard not to conclude: when cases rise in the North, the North goes under restrictions, when cases rise in London and the South East, everyone stays under restrictions.", with Sir Richard Leese – Leader of Manchester City Council – responding: "Even though our numbers are better than either London or Liverpool's were 3 weeks ago, still in Tier 3 – Unbelievable.", and Sacha Lord – Night Time Economy Adviser for Greater Manchester – adding: "After the toughest restrictions for months, lower overall indicators than other Tier 2 regions in the UK, next week England can mix up to 3 households, for 5 days – what a kick in the teeth for hospitality".
Campaign group UnitedCity – who is "calling on the government to review the region's tier allocation weekly, rather than fortnightly" – branded the decision as: "a knock to all Mancunians who have worked hard to keep our R rate as low as it is".
With one of the group's founders, former Manchester United and England footballer and proud Mancunian Gary Neville adding: "They released 5 key criteria 2 weeks ago to measure Tiers by. Manchester is lower than many T2 areas were 2 weeks ago [and] today the government ignored their own criteria,
"The biggest set of charlatans to be ever elected."
The decision by the government today has also come under fire from many local MPs across parties throughout the ten boroughs of Greater Manchester, with one Conservative MP even standing up in the House of Commons to ask Matt Hancock the all-important question:
"What exactly do we have to do to be moved out of Tier 3?"
Sir Graham Brady – Conservative MP for Altrincham and Sale West, and chair of the 1922 Committee – told Mr Hancock the tier news will be greeted with "dismay" among his constituents as they have had severe restrictions for nine months, despite nine out of 10 boroughs' case rates now being below the national average.
Mr Brady said: "Our rates are lower than they are in neighbouring Warrington or neighbouring Cheshire, which have been put into Tier 2, and are also lower than they are in Bristol, which has been moved from Tier 3 to Tier 2 today,"
And followed up with: "What exactly do we have to do to be moved out of Tier 3?"
In response to Mr Brady's question, Mr Hancock said he understands the "disappointment" that Greater Manchester residents and leaders may be experiencing, but that the "challenge" is whenever restrictions are lifted, neighbouring areas see their cases "rebound" and there is "significant pressure" on the NHS services in the region.
He also added that he "looked very closely" at moving certain areas – Trafford, Stockport, Tameside and High Peak – into Tier 2, but again reinforced pressure on the NHS as being the reason for this not to go ahead.
Greater Manchester joins other large parts of the North West in remaining in Tier 3.
The official review of local restrictions has also subsequently been published to the gov.uk website this afternoon, providing a further insight into the government's decision to place / keep areas within certain tiers, and formally concluding that: "the epidemiology indicators remain too high for de-escalation to Tier 2" in Greater Manchester.
The full review reads: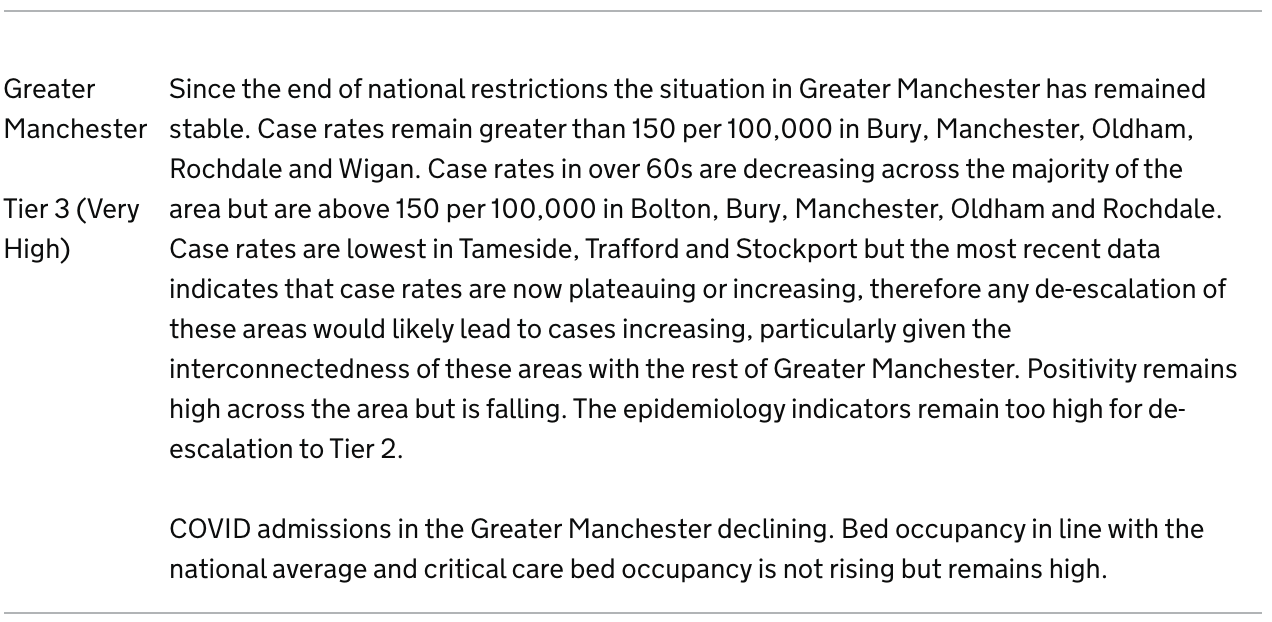 You can read the full published review of local restrictions here.
___
For the latest information, guidance and support during the coronavirus (COVID-19) pandemic in the UK, please do refer to official sources at gov.uk/coronavirus.
#HandsFaceSpace