Eats
A TikToker is being utterly rinsed for making the 'official sandwich of Manchester' — and absolutely no one's ever had it
We'd love to know where he got this from because it's a resounding no.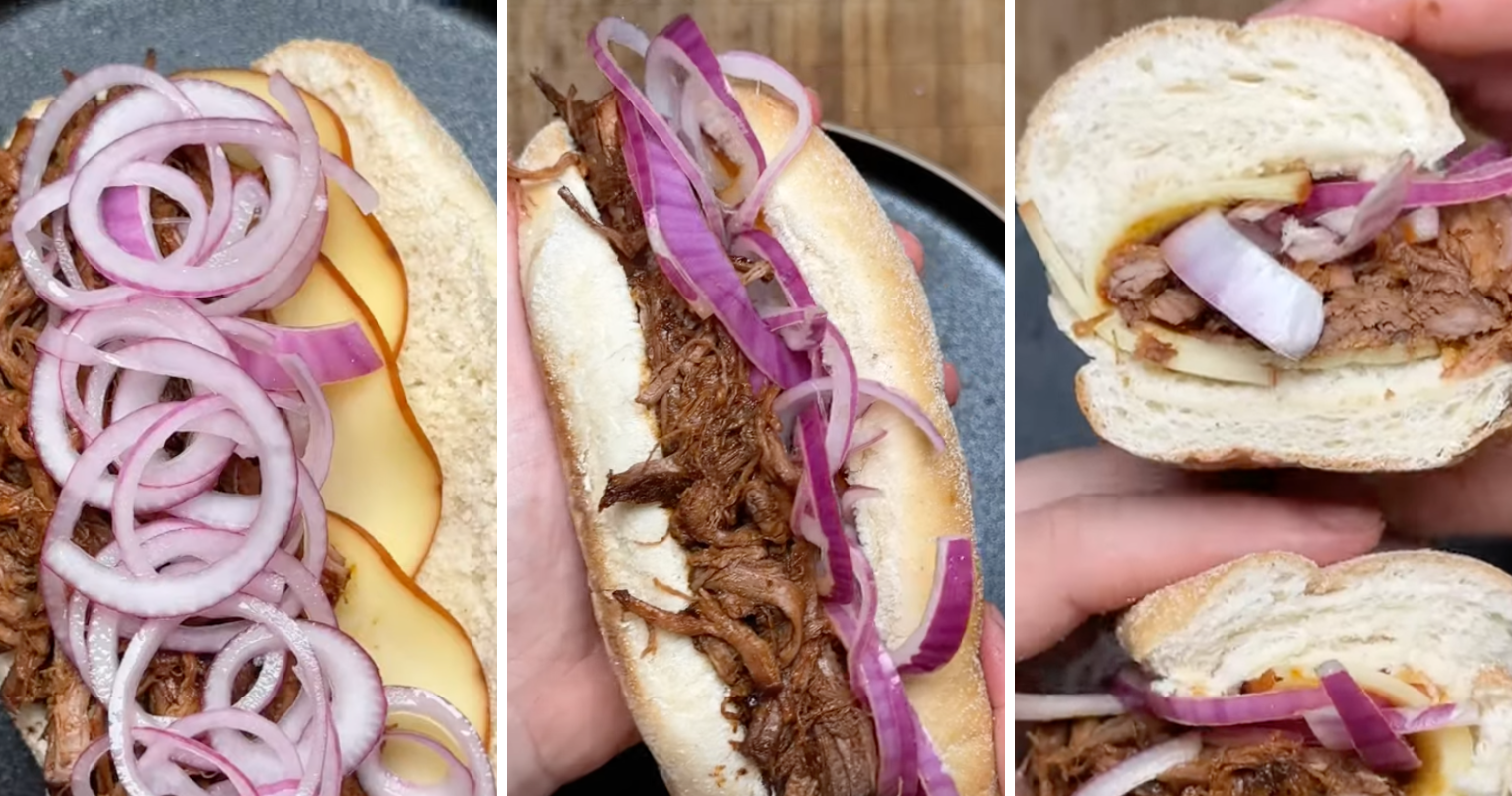 Some guy on TikTok is being absolutely roasted after making what he claims is 'the official sandwich of Manchester' and we can quickly confirm two things: one, no it's not and two, we've absolutely never heard of it whatsoever.
The online food content creator known as 'Big Nibbles' started a series where he began making the official sandwiches of UK towns and cities earlier this year and now several episodes in, he has been rumbling locals all across the country — none more so than us Mancs.
Posting the video of the so-called official Manchester sandwich across his social platforms, he was quickly met with droves of people promptly responding, "can safely say never had this", "I'm a Manc and we deffo don't eat this" and so on.
In fact, the whole thing has gone so awry that multiple videos have been hit with copyright strikes and he had to replace his original voiceover with generic 'food-tok' music.
Assembling what we can only surmise is either pulled pork or some form of brisket, a kind of quick-pickle red onion and slices of gouda cheese on a big sub-style roll, this absolute heretic is peddling nothing more than a pretentious pretender to the throne.
The reaction was summed up pretty succinctly by one commenter who quipped, "oh yes the famous Manchester pulled pork Gouda and onion hoagie".
Better still, there were countless people that simply replied, "Surely the official sandwich of Manchester is a chip barm?", "bacon butty" or even just "a crisp sandwich". Preach — less of this faffing about.
Obviously made fairly tongue-in-cheek, with his original voiceover labelling 0161 as "London 2.0" with an "alarming amount of gun crime". Wash your mouth out, you cheeky get.
Read more:
With plenty firing back by saying, "'London 2.0' nah don't insult Manchester like that" and asking "What has Manchester done to you?", we were glad to see plenty of you lot sticking up for the best place in the world.
It might have been exactly what he said we'd do but the point still stands…
Thankfully, Big Nibbles is completely delusional and he did at least manage to get the Wigan Kebab or 'Slappy' right but, again, you can mess up putting a pie in a barm.
All that being said, if you were in charge of creating the official sandwich of Manchester, what would you put in it? Then again, you could always just go and get a chip butty or slap some Walkers between two slices of bread and have absolutely no complaints.
For all the latest news, events and goings on in Greater Manchester, subscribe to The Manc newsletter HERE.
Featured Image — bignibblescooks (via TikTok)