Sport
Gary Neville takes aim at Manchester United over 'horrible' handling of Mason Greenwood situation
'I think it was clear from day one, for me or anyone who saw that evidence, that he wouldn't play for Manchester United again.'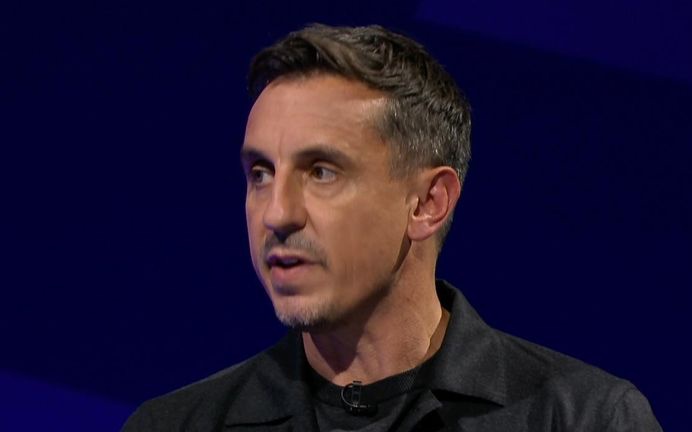 Gary Neville has criticised Manchester United for their handling of the Mason Greenwood situation after they finally made the decision to transition him out of the club.
After months of speculation and rumours that he might be reintegrated into the squad following a raft of serious allegations, Man United confirmed on Monday that Greenwood will not remain at the club and they will be assisting his potential return to football elsewhere.
This comes after the 21-year-old was arrested on allegations of attempted rape, controlling and coercive behaviour, as well as carrying out assault occasioning actual bodily harm against his girlfriend in January 2022 following audio and photographic evidence being leaked on social media.
The charges were ultimately dropped back in February but swathes of football fans have been vocal in their opposition to his return ever since, including a large group of female supporters organising a protest on United's opening game of the season. As a result, Neville has summed up the club's handling of the whole situation as "pretty horrible".
The former United and England fullback told Sky Sports during their Monday Night Football show, "I think it was clear from day one, for me or anyone who obviously saw that evidence that was initially released, that he wouldn't play for Manchester United again.
"They have got there [in the end] but I would say that the process of getting there has been pretty horrible. When you have significant situations and difficult situations like this, it requires strong authoritative leadership — and that comes from the very top. Manchester United don't have that."
This comes just a few months after the 48-year-old had to quickly apologise after what he admitted was a "clumsy" tweet reminding people online that those under investigation "are innocent until PROVEN guilty".
Sitting across from former WSL star Karen Carney, she added: "Personally I feel really uneasy with the situation. I think Manchester United, as an institution and a football club and what it stands for, have handled this really, really poorly."
Read more:
There have also been calls for CEO Richard Arnold to resign after it was reported he told the key figures that Greenwood would be returning before ultimately making a U-turn following the immense backlash.
As for Greenwood himself, the young footballer has finally broken his silence on the whole scandal, writing in a statement that he "fully accepts I made mistakes in my relationship, and I take my share of responsibility for the situations which led to the social media post."
However, the now exiled academy product still insisted he was "brought up to know that violence or abuse in any relationship is wrong" and "did not do the things [he was accused of".
Nevertheless, he and the club have said that the decision to part ways is a mutual decision, with both agreeing that it is best for him to try and continue his career elsewhere so as not to be "a distraction for the club".
For all the latest news, events and goings on in Greater Manchester, subscribe to The Manc newsletter HERE.
Featured Image — Mason Greenwood (via Twitter)/Sky Sports