Sport
Dorking Wanderers manager's X-rated rant after being battered by Oldham Athletic is as hilarious as it is honest
No hard feelings though — he even spent time with Oldham fans in the pub. Think we've found our new favourite manager.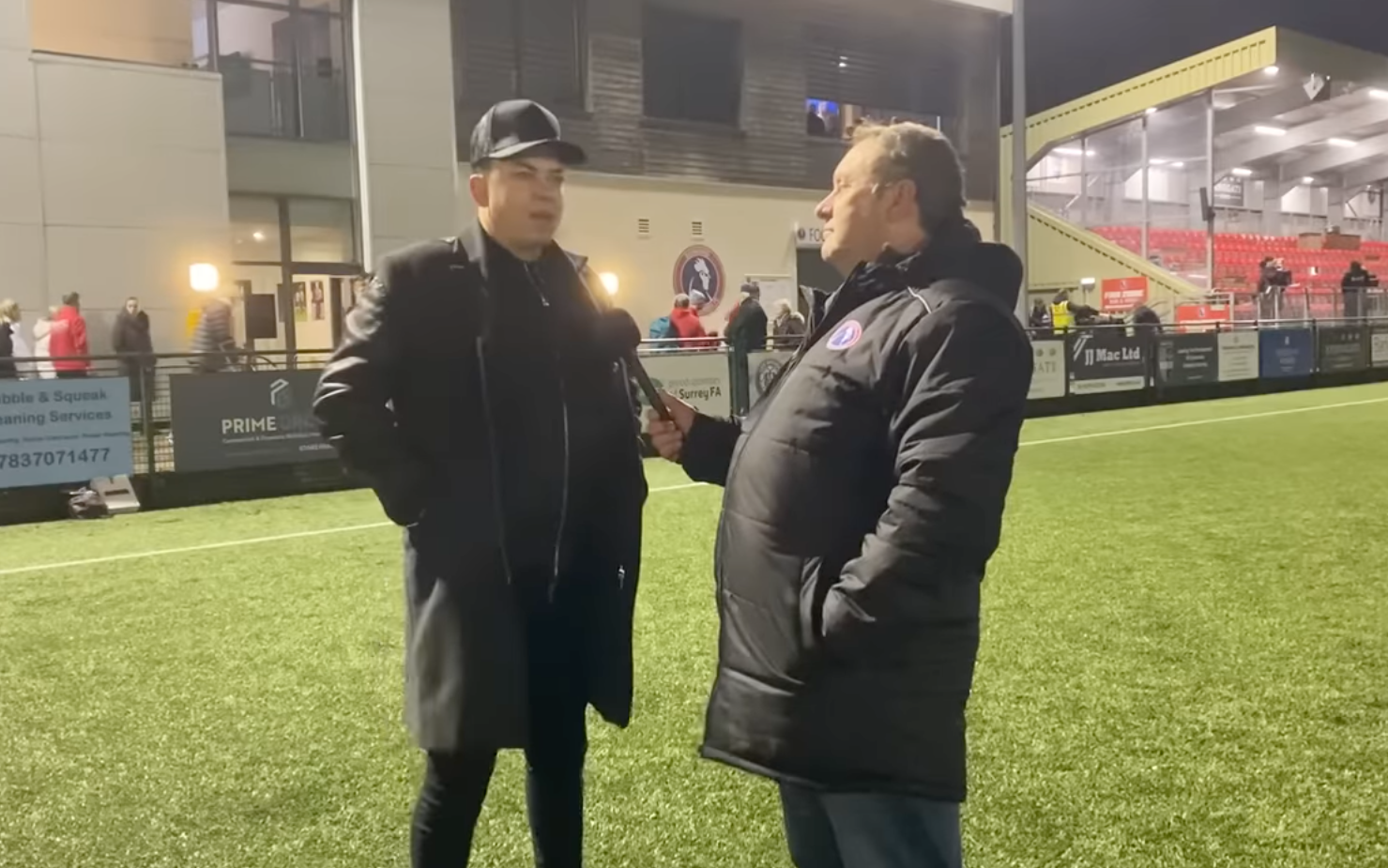 Marc White, manager of National League side Dorking Wanderers FC, has gone viral after his brutally honest and downright hilarious assessment of his team's performance against Oldham Athletic.
Some top-notch casual cussing, here.
White was speaking to the club's official YouTube channel after his side's hefty 5-1 defeat to the Latics on Saturday, 7 January, and didn't mince his words for one second.
Although David Unsworth's team put on an impressive display, with striker Karl Mike Fondop Talom bagging a hattrick as the Greater Manchester outfit cruised to victory, the Dorking manager not only praised the opposition but also went fully in on his own players.
Here's just a taste. Tell us how you really feel, Marc…
The 49-year-old coach and founder of the ever-ascending semi-pro team kicked off the no-nonsense appraisal of his team by breaking down things into the simplest terms possible: "Well, from our perspective, obviously sh*t."
We appreciate your brevity, Marc.
After making sure to thank the Dorking fans for their "loyalty" and for "getting behind the team", as well as giving a "big thanks to the Oldham fans for getting piss wet through", White wasted no time digging into his squad.
He summed up the root cause just as succinctly: "Oldham won 5-1 because we're sh*t at defending". Penny for the centre-half's thoughts right now.
Here's his rant in full.
We counted at least six references to 'sh*t' and or 'piss'. Just under one a minute.
As you can see, he also had very little time for the referees on the day, insisting that the "officials were so bad it was unbelievable.
"I've got to say, honestly, they should pack it in — literally pack in doing what they do". He really wasn't letting anyone off the hook."
He went on to argue that the National League should get rid of what he perceived as an obstructive over-reliance on headsets, describing the refs as appalling and akin to "Domino's drivers all talking to each other" to the point that the first official "can't ref his own game anymore".
Read more:
While we can only sympathise with the Dorking players who are undoubtedly in for a rough week of training and equally hilarious bollockings, we're just glad we got to better familiarise ourselves with a straight-talking manager as they're an increasingly rare commodity these days.
Sitting 16th in the standings, Dorking face Kidderminster Harriers in the FA Trophy on Saturday, 14 January and travel to 21st-placed Gateshead for their next league game next week.
Part-time or not, White and his men will no doubt be hoping to get back to winning ways against two very beatable prospects.
For now, you can watch the full Dorking vs Oldham highlights down below. We're sure Oldham fans will be happy more than to.
For all the latest news, events and goings on in Greater Manchester, subscribe to The Manc newsletter HERE.
Featured Image — DWTV (via YouTube)