Sport
Why Ronaldo blanked Gary Neville before United vs West Ham
As Sky's David Jones pointed out, Ronaldo is not one to forget when someone 'speaks against him.'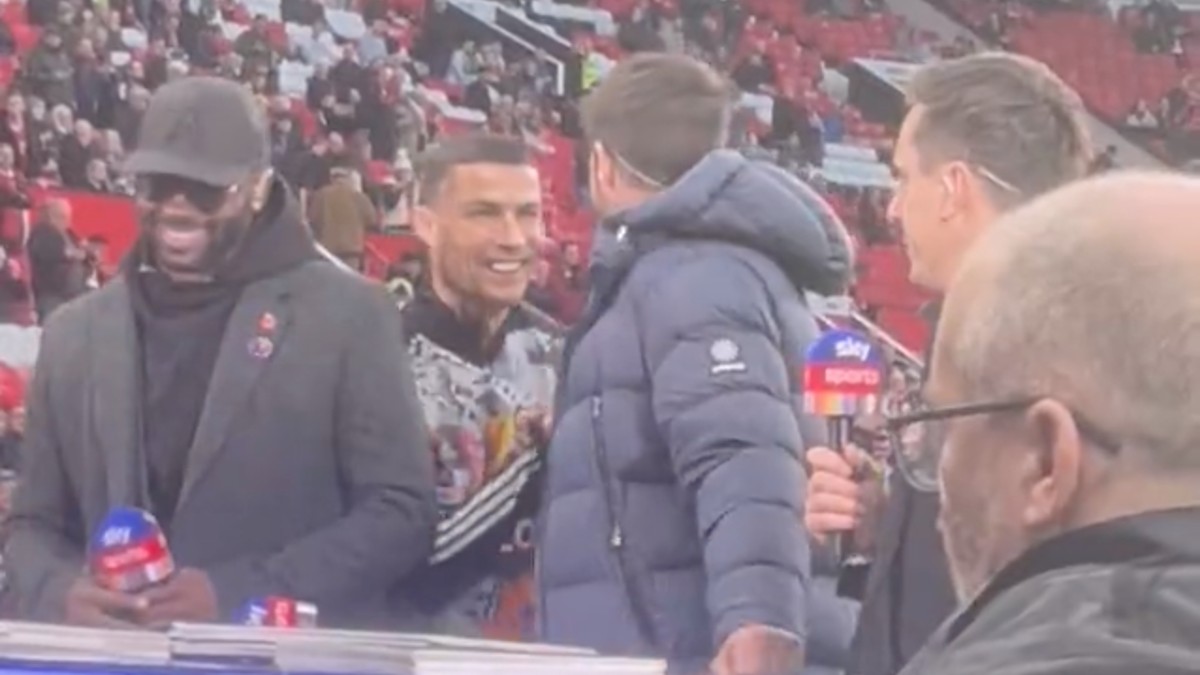 Man United made it eight games unbeaten with their win over West Ham on Sunday and while there was plenty of action in the game, one moment, in particular, was all anyone could talk about.
Cristiano Ronaldo blanking Gary Neville.
Yes, while Marcus Rashford scored his landmark 100th goal in the 1-0 win, it was this moment with the Sky Sports pundits that went viral as Ronaldo greeted everyone but his former teammate.
As you can see, while Neville brushed off the awkward moment – joking that he was "off the Christmas card list" and ignoring Ronaldo fan number one Piers Morgan's attempts to rile him up – if we've learned anything about CR7 over the past season or so, he has form for taking things to heart.
Sky colleague and Monday Night Football co-host Jamie Carragher wasted no time in quipping "welcome to blanked by Ronaldo club", having suffered similar treatment earlier this season.
It also led to a healthy selection of memes:
The reason
While most will have seen the numerous memes, some might still be scratching their head as to why Ronaldo blanked Neville in the first place.
For those who didn't catch Neville's thoughts on Ronaldo refusing to warm up and storming down the tunnel after being snubbed to start against Spurs earlier in the month, the former United fullback said the team is "better without him" and suggested that they should consider selling him in January.
Speaking on Sky after the 1-1 draw with Chelsea, Neville said: "there aren't many Manchester United fans who would now have Ronaldo in their starting eleven… they score more goals without him and they win more points without him."
While the stats do back up his point, the 37-year-old was clearly angered by them, especially given some of the important goals he has scored — including the hattrick he scored the last time they played Spurs, hence his obvious frustration at being benched.
Read more:
Despite playing with him as a United teammate for six seasons during his first stint and playing a big role in helping him mature as a professional, Neville now believes Ronaldo has left Erik ten Hag with "no other option", noting that is the second time Ronaldo has left Old Trafford" before full-time.
The 47-year-old concluded that this sort of behaviour is "unacceptable", no matter the profile of the player, and urged the manager to either end the beef or at least sort "a truce to get to the World Cup".
While the Dutch coach seems to have calmed things down in the dressing room, it might take more than a nice Christmas present from Gary to mend fences with his old mate Ronny.
For all the latest news, events and goings on in Greater Manchester, subscribe to The Manc newsletter HERE.
Featured Image — Kian Hunt (via Twitter)